Planning The Ultimate Bachelorette Party Doesn't Have To Run You Ragged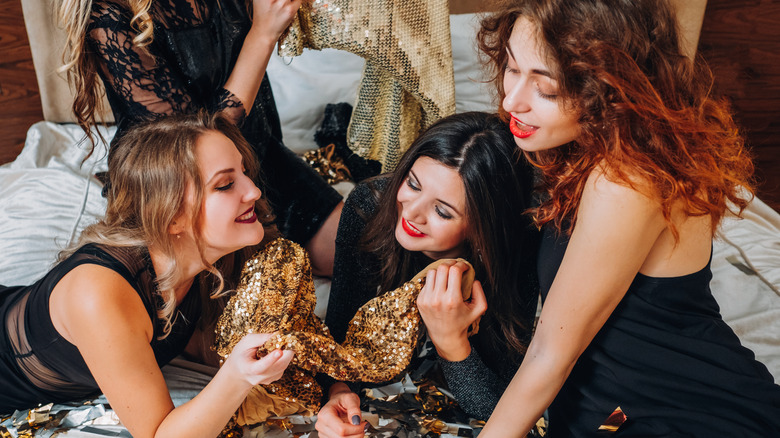 Golubovy/Shutterstock
We may receive a commission on purchases made from links.
We understand that planning weddings is incredibly stressful. All the venue searching, figuring out the perfect seating arrangement that everyone is going to be happy with, and dealing with all the family drama that might come with it. Traditionally, it's your job as maid of honor to host your bestie's final soirée (along with the bridesmaids or closest girlfriends). That said, having the privilege of being a maid of honor means it's your job to allow the bride to unwind one last time with the girls as an unmarried woman and not lay a finger on the planning side of things.
Getting all the details right and ensuring your bride is happy and stress-free for her bachelorette party might determine the rest of your friendship as you know it. She's been dreaming of the absolute perfect bachelorette party since you were both in high school swooning over your crushes in P.E. class every day.
Being the good friend you are, you understandably want to make sure it goes smoothly. Planning her ultimate bachelorette party can be an overly stressful time period (for everyone involved), but if you follow our advice, it doesn't have to be.
Stay organized using planners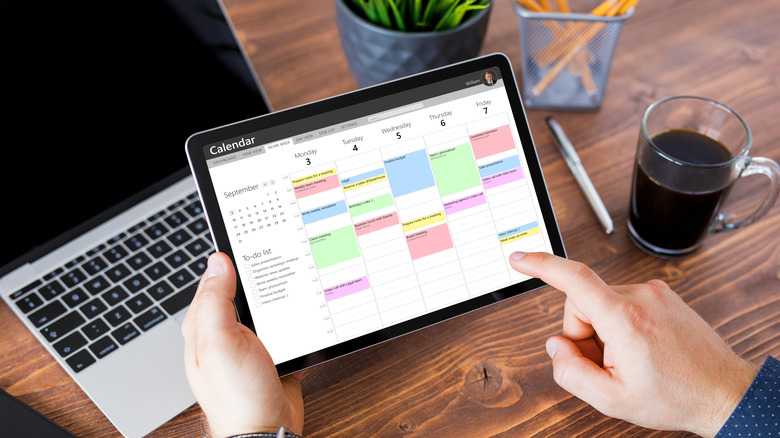 Kaspars Grinvalds/Shutterstock
The key to planning anything successfully is staying organized in whichever way your heart desires. Some ways you can do this is by utilizing paper planners or different digital resources like Notion or Google Calendar. Either way, knowing how to properly organize your planner is also going to be important. It's one thing to keep track of your sporadic bullet points and stream of consciousness in your planner, and it's another thing to have an organized system with a clear why. Having your end goal in mind is important if you choose to stay organized using a planner.
As maid-of-honor, your why is to make sure your bride's bachelorette party goes as smoothly as possible. How you decide to organize your planner is up to you, but a few key points you might want to jot down include keeping track of your guest list, flights, hotel reservations, dates with meetings for potential venues or vendors, confirmation numbers, contact information — the list goes on.
As long as you have an organized system that works for you, there is no "right" or "wrong" way to use a planner. In the end, you'll find that using a planner will ensure a smoother planning experience.
Plan ahead and don't rush anything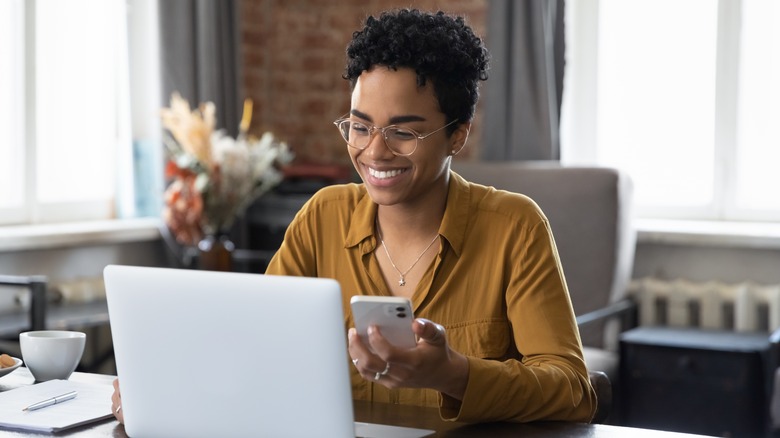 fizkes/Shutterstock
A few months ahead of time is ideal for planning. This way, the lucky woman won't be bogged down with other matters come party time. This will also give you time to get all the details right. However, having extra time on your hands to plan ahead doesn't mean you should procrastinate and hold everything off until the last minute. When was the last time you procrastinated and thought it was a good idea afterward?
This ultimately means you have enough time to plan one thing at a time! Contrary to popular belief, there actually is enough time in a day (if you manage your time more effectively). This means multitasking isn't an option here. Multitasking should be avoided because our brains are not programmed to handle multiple projects at the same time and, in time, will put you at risk of making 50% more errors in the long run, per Select Health. Avoiding mistakes equals a smooth ride for everyone involved.
The party budget is also a major topic of discussion to have with the bridesmaids beforehand; make sure you're all on the same page and then plan accordingly. Planning ahead also means less money being spent and more time to take advantage of finding the best deals you can possibly find. If you're going by the traditional rulebook of bachelorette parties, don't forget that you're also paying for the costs of your bride.
Leverage the bride's social media for inspiration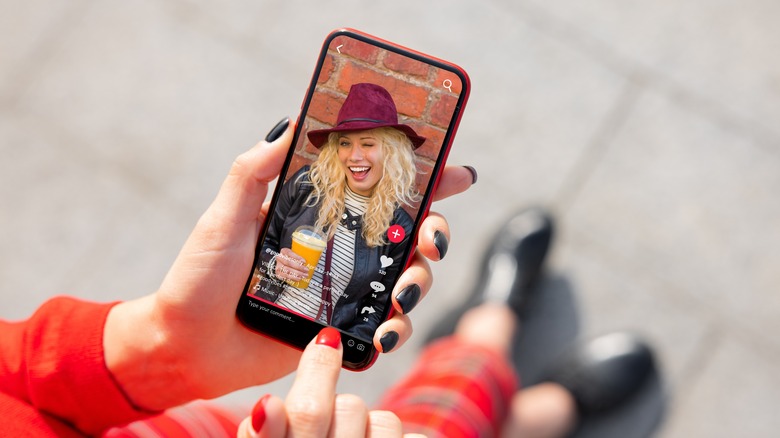 Kaspars Grinvalds/Shutterstock
If you're a human being living on planet Earth, you're utilizing social media. Whether you're still on Facebook or upgraded to Instagram, your bride is no exception. If she doesn't already have an idea of what kind of party she wants, having her follow Instagram pages that center around bachelorette parties or brides-to-be more generally will give her the inspiration she needs. Furthermore, having her start creating Pinterest boards will be the magic sauce you need to use when planning her dream bachelorette party.
If your bride already has an idea of what she wants, get down to work and study her Pinterest boards, TikTok likes, and saved Instagram Reels. This will ultimately save you from planning the worst bachelorette party she can possibly have. Imagine throwing a pink country-themed party when the bride hates the color pink and the last time she listened to country music was when her ex broke up with her. Yikes.
Download group planning apps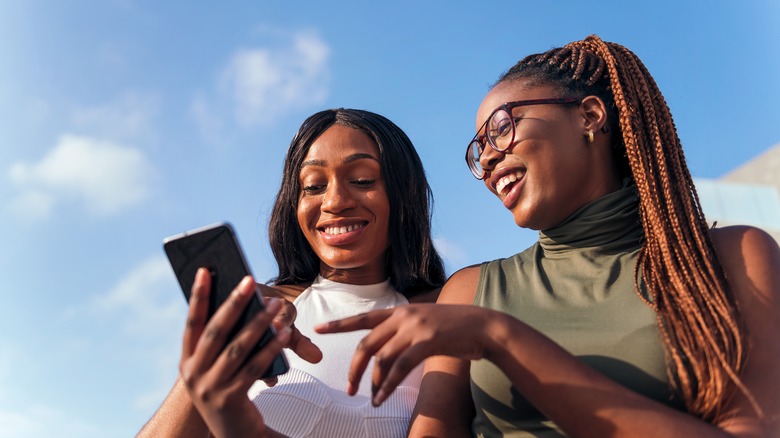 Raul Mellado Ortiz/Shutterstock
For invitations, transportation, finances, and more: you name it, and there's an app for it. Again, if you're a human being living on Earth, you know apps make life infinitely easier. We live in a digital age where we wouldn't know what to do if we got stranded in the middle of nowhere and couldn't use our phones' integrated Maps app. Throwing a bachelorette party (or any big party for that matter) is no exception.
For invitations, apps like Evite and Canva are incredibly useful, as they give you the creative freedom to draft an invitation however you like, including both free and upgradable options. A few things you want to include in your invitation are the date(s), location, time of the event, and special instructions that might be necessary (i.e. dress code). The best thing about apps like these is the fact that you're not dealing with physical mailing addresses. All you need is your invitees' email addresses, and voilà — the invitation is in their digital mailbox. Easy peasy.
When discussing finances, there is a plethora of apps out there to consider looking into. Apps like PayPal, Venmo, and Cashapp are highly ranked and make transactions that much easier for you and everyone involved, while an app like Slittr and Splitwise will allow you to easily split expenses to figure out who owes you what by the end of the bachelorette party. Apps like Uber and Lyft for transportation are also must-haves that you should make sure to have downloaded and ready on your phone, though you already knew that.
Delegate projects to fellow bridesmaids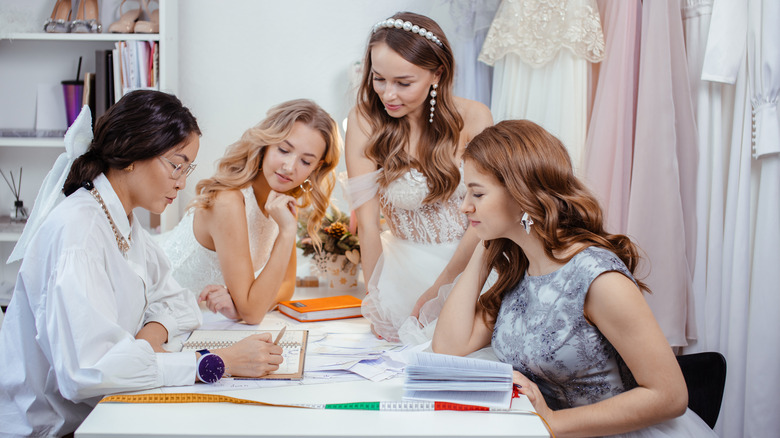 UfaBizPhoto/Shutterstock
As the saying goes, many hands make for light work. So delegate, delegate, delegate! There are a few reasons why this step is essential in stress-free planning. Firstly, delegating small tasks to bridesmaids will take so much weight off your shoulders. It's the simplest of party planning tasks that take so much unnecessary time. Picking up the party supplies, grocery shopping, setting up decor, and everything in between. It can get time-consuming very quickly. Focusing your efforts on the bigger picture of the logistics and keeping it all organized and ready to go will benefit you in the long run.
Secondly, giving each bridesmaid a job to complete also gives you an opportunity to lead a positive teamwork effort! Your bride will be thoroughly impressed that everyone pitched in and you're giving the bridesmaids memories to hold onto forever. Yes, memories. They're always going to remember that time they stayed up until 4 a.m. together decorating the Airbnb, cutting out photos of the hubby-to-be and taping it on a wooden stick. A team effort will lead to a bonding experience for everyone, with memories being made, less stress resting on your shoulders, and less multitasking running you ragged, which means fewer mistakes in the end. It's a win-win!
Ditch the extra party favors and plan around unique experiences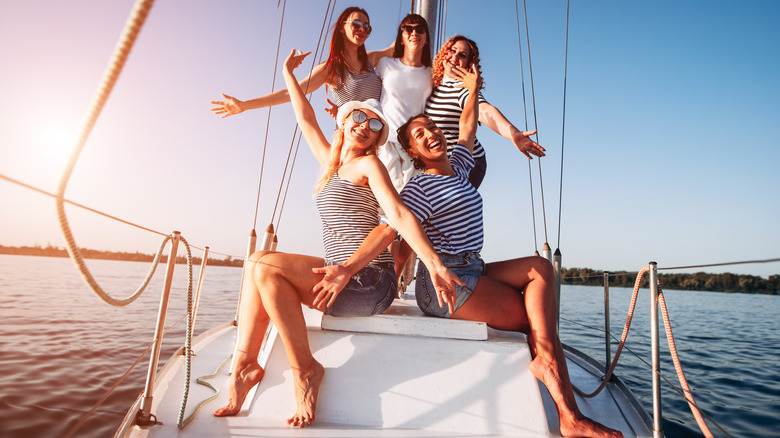 vladee/Shutterstock
Don't get us wrong, party favors are great. Those monogrammed tumblers and matching heart sunglasses are cute, but we would be lying if we said those are the things that everyone will remember in ten years.
Professional bachelorette party planner Allison Odhner suggests ditching party favors and investing in cool experiences instead. She explains how having unique experiences in a destination that you or your party have never seen before is what makes for a memorable time (via Insider). Experiences that cater to your bride's interest like tequila tastings in Mexico, winery tours in Napa Valley, camping trips in Joshua Tree, boat rides in Miami, or even classy tea parties in the Upper East Side of New York are great ideas to take into consideration, though you don't have to choose anything expensive, either. You could have a pottery date with the bridal party, for instance.
If you're not sold yet on throwing out the party favors, it's also important to consider how quickly the prices of these elaborate decorations can add up. If you don't have the highest budget to work with, keep the decorations minimal and allocate your funds instead to those memorable experiences.
Pack a bachelorette party survival and a hangover kit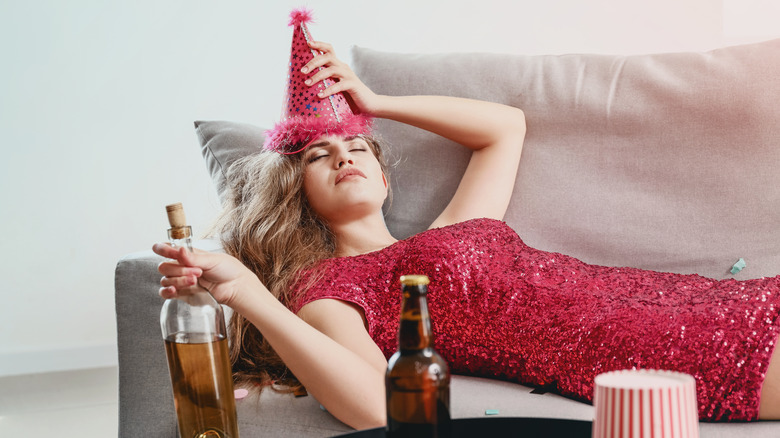 Pixel-Shot/Shutterstock
We've all been in a situation where we feel completely helpless and weak the morning after a wild night out. The last thing we want to happen is to have an ever-so-lovely hangover ruin your bride's entire bachelorette weekend. We recommend packing a bachelorette party survival and hangover kit to make sure the chance of anyone suffering from a hangover is slim to none.
In an interview with Brides, migraine expert Dr. Sara Crystal, M.D., explained how staying hydrated by drinking non-alcoholic beverages and eating healthy foods before drinking will decrease the chances of a hangover. As part of your survival kit, packing water bottles and nutritious snacks like nuts, dried fruits, or whole-grain granola bars will help with the prevention of hangovers. You never know what might happen: if your party ends up at a last-minute bottomless mimosa yacht fiesta on an empty stomach, you want to be ready with ammo to take on whatever and wherever the night may bring you.
Jessica Bishop, the author of "The Budget Savvy Wedding Planner & Organizer," shared a useful guide to putting together a DIY survival kit, including essentials like Advil to-go packs, Band-Aids, Tic Tacs, makeup remover wipes, hand sanitizer, and hair bands to keep you prepped. To be even more prepared, investing in hangover health essentials like Liquid I.V. Hydration Multipliers and hangover pills such as AfterDrink will be helpful.
Invest in a good portable charger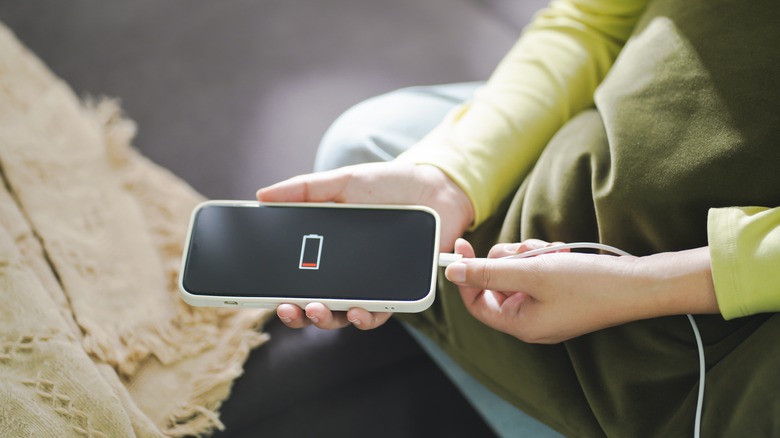 Lee Charlie/Shutterstock
We depend on technology so much that the worst thing that could possibly happen in this day and age is your phone dying. It's catastrophic, really. There's also a high likelihood of you, or at least one other person, getting separated from the group (it's inevitable). That's why it's important to invest in a quality portable charger that will potentially save you and your party from spiraling. There are a few things that could go wrong if you don't have your phone: You lose a body (and the bachelorette party turns into a search party), and/or your entire itinerary and all those apps you were depending on are thrown out of the window.
Worst case scenario, you can buy a charger last minute. After all, most of the time, you can walk into any corner store and buy one. However, planning and buying ahead will give you time to research the best kind of chargers to buy. A great option is the highly-rated Satechi Quatro Wireless Power Bank. This device notably lasts a while, so you can potentially get several charges before needing to plug it in to charge itself.
Avoid overpacking and create a packing list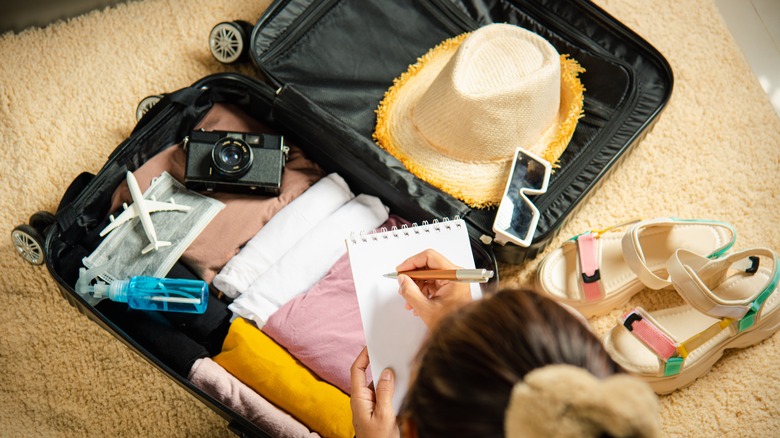 Sorapop Udomsri/Shutterstock
The art of packing is a skill that takes practice. One way to avoid overpacking is creating a packing list. If the bachelorette party is going to be a weekend at a beach resort, build your list based on what you absolutely need at the resort. A few essentials might include two swimming suits, three pairs of pants or shorts, three tank tops — you get the gist. Restricting yourself to a specific number for each type of clothing will be helpful and ultimately save everyone time and luggage space in the long run. Need inspiration? You can also find many different packing list templates on websites like Canva and Upgraded Points.
Another way to avoid overpacking is to plan your outfits ahead of time. It's easy to procrastinate on how you're going to put together the eight tops you just threw into your suitcase with the other eight pairs of pants you packed. Plan ahead and you'll notice a huge difference (and we do mean huge).
Create a few different mood-based playlists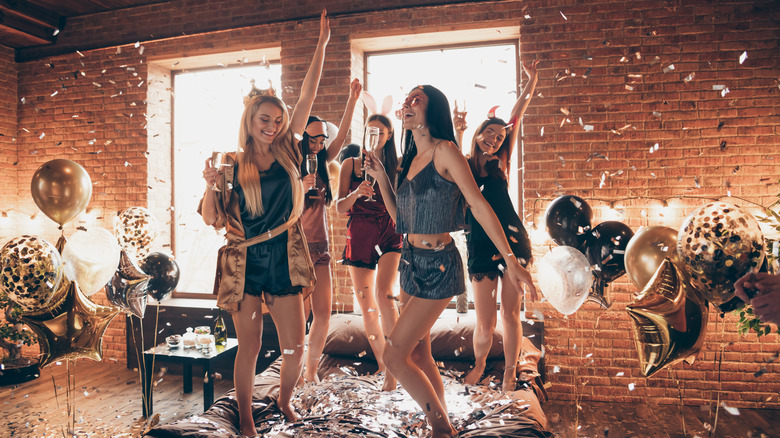 Roman Samborskyi/Shutterstock
Music is a powerful tool that affects the way our bodies handle emotions, identities, memories, moods, and so much more. Knowing this, along with the fact that musical memories live longer than any other form of memory (via Psychology Today), it only makes sense that creating quality playlists that the bride will love and appreciate is major. What's a song that takes you back to your teen years? Or the first album that brought out your inner diva?
The bride-to-be deserves to create memories that she will cherish forever. Consider making a playlist for each downtime event; for example, if everyone is in a happy, party-time mood, Spotify's Party Vibe or Throwback James playlists might be good options. If everyone is all partied out, playlists like Chill Tracks or Calming Acoustic on Spotify might be more appealing. Otherwise, tune into the bride's musical preferences and put together customized playlists with songs tailored for her (if y'all have a song you've been obsessed with since your middle school sleepovers, include it for the sake of nostalgia)!
Confirm attendance beforehand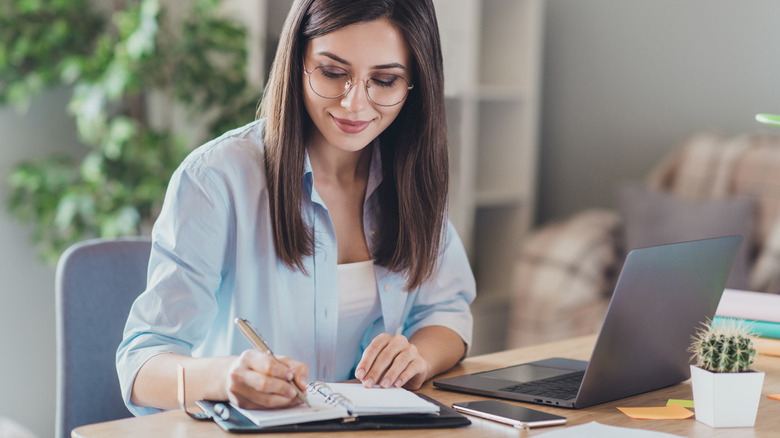 Roman Samborskyi/Shutterstock
T-minus one week before everything finally comes together, and you throw the ultimate party you've been planning for months now. The only problem? You're waiting for the last couple of invitees' RSVPs to come through.
Waiting last minute for attendance confirmation is not ideal and will absolutely leave you ragged. Follow up with your invited guests and confirm attendance weeks in advance to make sure you know what to expect and if reservations or group activity plans need to be modified. The more complicated the logistics of the party are, the more important it is for everyone to confirm on time. If you're booking flights and accommodations, you'll need that extra time to plan ahead. Make sure to communicate with your invitees about your "deadline" to RSVP (noted on the invitation is a good idea). Consider using helpful services like Evite and Rsvpify for invitations that allow you to RSVP through their e-mailed invite.
Create a finalized itinerary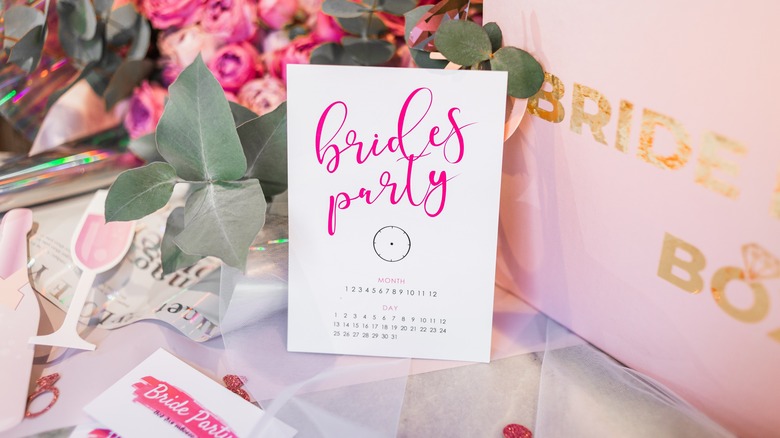 luchik08/Shutterstock
Have you ever gone to a party where you had no clue what the vibe was going to be? Or no idea how the event was going to unfold? It can be overwhelming all at once if your guests don't mentally prepare ahead of time. With that said, the last thing on your to-do list is to create a finalized itinerary. Having a proposed outline of what the party is going to look like will be useful for two reasons. It will keep the party organized, and your guests will thank you later for informing them what to expect ahead of time. This will allow everyone to prepare both mentally and physically for the trip.
Apps like Wanderlog and TripIt are convenient, easy options to download and share with your group. These apps allow you to create your own digital itinerary, organizing your trip in one spot. The best part of these apps is the fact that you can easily share the itinerary with your invitees. After sharing your final itinerary with your party, you can take a deep breath, grab a glass of wine, and relax because the bride's bachelorette party is going to be perfect. She's going to remember this forever and this party is going to be the crème de la crème of bachelorette parties. Happy planning!