The Photo Rule To Keep In Mind While Building Your Dating Profile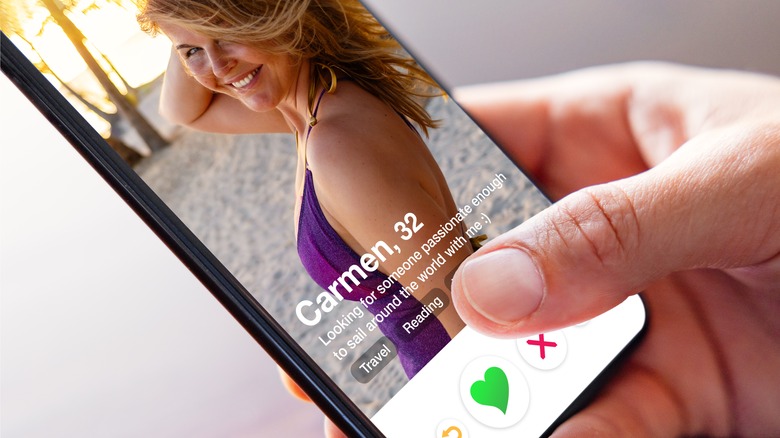 Kaspars Grinvalds/Shutterstock
If you're trying to navigate the modern singles scene, chances are good that you have at least one online dating profile — if not more. Nowadays, there are dating sites for practically every preference and demographic, letting users connect with potential partners both near and far. But despite the convenience, it's not always easy to find good matches. Between fending off unsolicited nudes to making sure you're using your dating apps safely, there are a lot of considerations.
Advertisement
One major obstacle is how intimidating it can be to build a profile that accurately represents who you are and what you're looking for. You may find yourself agonizing over the written details, trying to remember what your hobbies are and debating whether your musical taste will be a deal breaker for your dream date. But the text in your profile isn't the only section deserving of scrutiny. A picture is worth a thousand words, and your profile picture is the very first thing other users will see. So how can you ensure that you're featuring photos that will get you the attention you deserve? For starters, there's one major photo rule to keep in mind while building your dating profile.
Avoid posting group photos on dating apps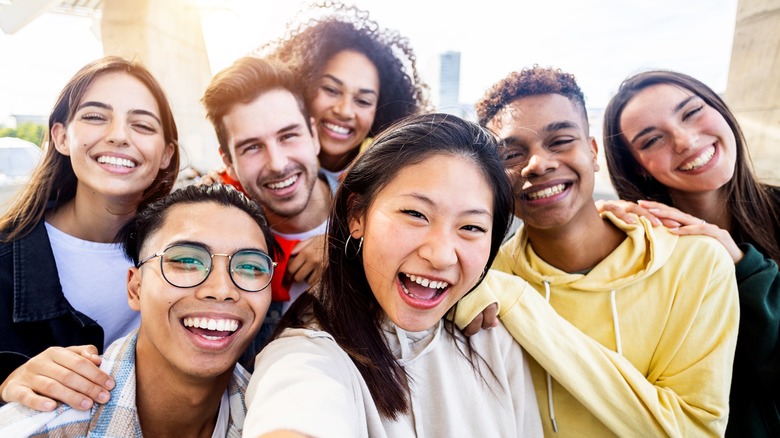 Xavier Lorenzo/Shutterstock
Building your dating profile can feel awkward and embarrassing, almost like writing a cover letter for a job. How do you walk that fine line between acceptable self-promotion and arrogance? And as for profile images, when does your array of cute pictures veer into narcissism? To undercut this feeling of vanity, it can be tempting to pad your collection of selfies and headshots with group photos. There's safety in numbers, and besides, you might look extra cute in a few of those shots. But there are actually several good reasons to leave group photos out of your dating profile.
Advertisement
First and foremost, too many group pictures can confuse potential matches about what you look like. Unless your aesthetic is radically different from every other person in your family and circle of friends, including a bunch of group shots can muddy the waters when you're trying to make a strong first impression. If you absolutely must include a group photo, limit yourself to one favorite, and don't use it as your main profile picture. Other users will respond better to a lead image that shows who you are — not your cousins, your sorority sisters, or your brunch squad.
Be extra sure to avoid that include an ex or anyone who could be mistaken for an ex. No cute hair day, good angle, or flattering lighting will make up for the fact that you're hinting at romantic baggage before someone even has the chance to message you. Finally, did you ask every person in those group photos if it was okay to put the images up on a dating site? Not everyone is thrilled to have their likeness floating around on the internet, even for the sake of your love life.
Advertisement
How to pick eye-catching profile images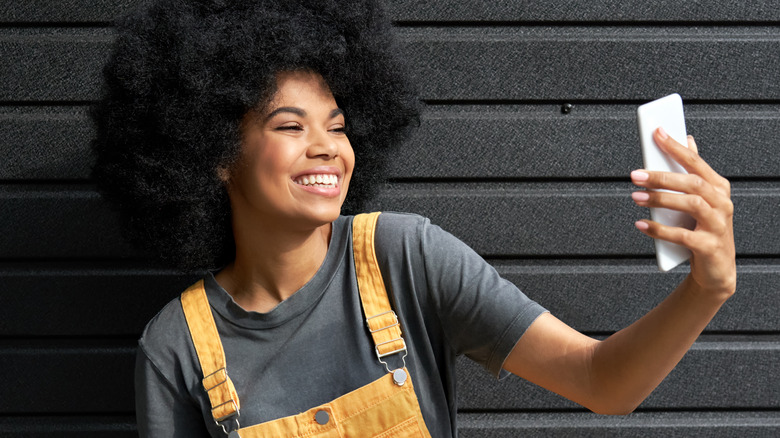 Ground Picture/Shutterstock
So, if group photos are a no-no, how can you choose the best pics for your dating app profile? Instead of relying on group shots, unearth favorite solo images or enlist the help of a friend to take new, visually dynamic photos of yourself. Ideally, skip selfies that only show your face. Rather, choose or stage pictures where you're out in the world enjoying a favorite activity or embodying the vibe of your dream lifestyle. This will help potential matches get an idea of not only your physical features but also your personality.
Advertisement
Depending on what kind of connection you're looking for, your photos may also perform better if you're smiling, which gives a warm, inviting appearance. While a moody, atmospheric photo may look gorgeous and artsy enough to attract a purely physical hookup, it might not be the best tool to inspire long-term dating. If you hope to spend quality time with your next partner, you probably want to prioritize friendlier images that put your potential matches at ease and show that you're pleasant to hang out with.
And, of course, it should go without saying that your pictures should honestly reflect what you look like now. Avoid shots that are heavily filtered or years out of date. If you match with someone and then show up looking completely different than your photos, it's sure to throw your date off and leave them wondering how true the rest of your profile was. By the same token, you should never use pictures that show someone else altogether. That's catfishing, and it's no way to start any new relationship — casual or otherwise.
Advertisement