Tips For Writing A Lovey-Dovey Instagram Caption That Isn't Totally Cringe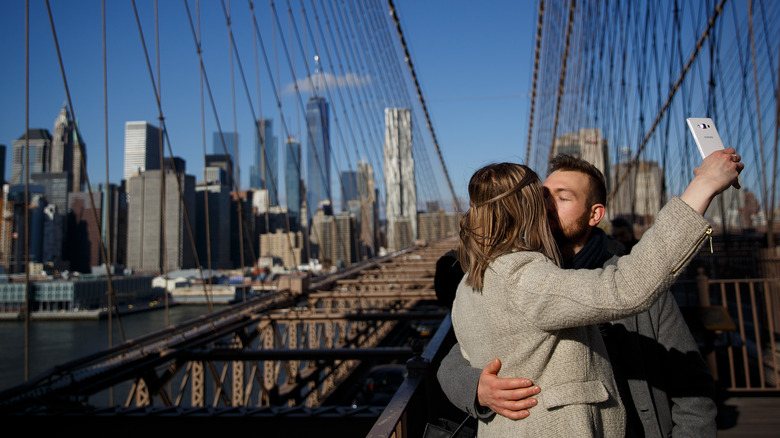 Drew Angerer/Getty Images
There's a famous episode of "Seinfeld" where Jerry starts dating a new woman, and the loved-up pair are so infatuated with each other, they keep calling each other "schmoopie" in front of George (and George is, understandably, cringed-out). If "Seinfeld" was on the air today, the over-the-top saccharine PDA would most likely be on social media, with Jerry "schmoopie-ing" his girlfriend so much that he loses hundreds of Instagram followers. Yes, as much as we love it when people fall in love and live happily ever after, there is a small but significant part of society that just CANNOT. EVEN. when the PDA is all over the place. 
In the digital age, it's inevitable that we're all going to post about our partners in loved-up ways. In fact, many of us have learned the hard way about changing our status to "in a relationship" too soon, and then when it all goes south, having to mass-delete every trace of that person from your profile. So if you're going to post about your partner (and we know you are!), there are now a few solid tips and tricks to doing it without making everyone you know online cringe (and mute you). 
Your partner cannot be your #MCM or #WCW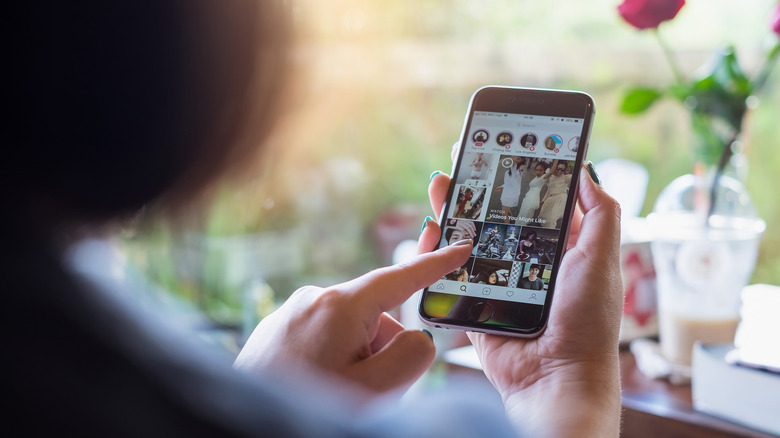 Worawee Meepian/Shutterstock
On Instagram, it's a common practice to post a #ManCrushMonday or #WomanCrushWednesday (or the inclusion non-binary #ThouCrushThursday). Most of us will use the hashtag to gush over our crushes-du-jour, like Timothée Chalamet, Paul Mescal, or Kim Petras. However, when we start dating someone new that we are totally infatuated with, it might be easy to swap your fave sexy celeb for your new partner. Here's the thing — don't. Fight that urge. As GQ points out, doing that might confuse your followers into thinking they're supposed to fancy your partner, which is a bit weird. Sure, you are allowed to fancy your partner by all means, but when you gush about all their great attributes in the caption, it's off-putting. Instead, it's better to keep your weekly crush posts to people we can all crush on while we're doom-scrolling.
But what if you truly feel the need to dedicate a post to your lover? Here's the best rule of thumb.
Only yearly anniversaries count, not monthly!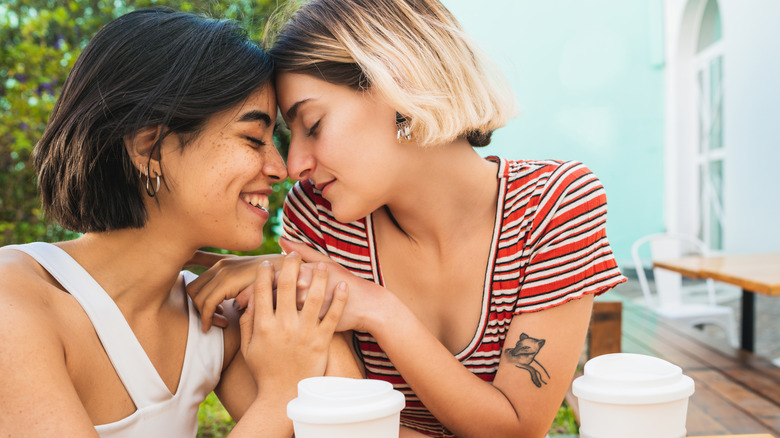 Mix Tape/Shutterstock
During the honeymoon period, we can get so convinced that our lover is the one, that we can perhaps get a bit ahead of ourselves. You want to celebrate every milestone, but perhaps you should keep those little victories off of Instagram. Your followers most likely aren't going to "like," "comment," or "subscribe" if you're posting lovey-dovey, mushy captions for your three-month anniversary. The same goes for your six-month anniversary. This is your sign that you are only allowed to celebrate annual anniversaries. First, fifth, twentieth ... these are signs that yes, you two are in love and in it for the long haul. Posting a "happy one month anniversary to the love of my life!" is not only going to increase your follower's skepticism, but they're also going to roll their eyes and scroll on by. Why? Because as CNN notes, you don't actually really know your partner very well after so few months, and your followers know that. 
Be authentic and take your time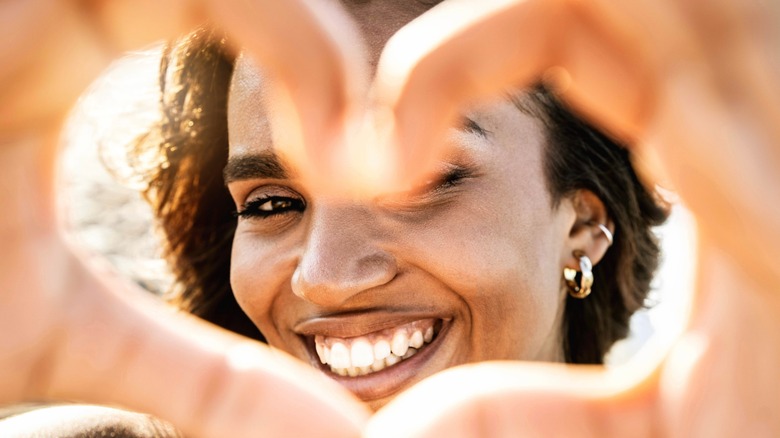 DavideAngelini/Shutterstock
So now we've instructed you thoroughly on what not to do, but what should you write in your Instagram caption that won't make your followers gag? First of all, it might be a futile endeavor, because when it comes to couples' posts, there's always going to be someone who rolls their eyes. There's just no pleasing every single person, and you cannot carry everyone's jaded and pessimistic opinions on your shoulders. So if you're the type of person to gush about your burgeoning love, you might just have to own it and be your most authentic self. Yes, you're a mushy, gushy mess! Yes, you're a smitten kitten! Honestly, that tactic might actually be the best one to win over even the most hardened follower, because authenticity will always win out.
So, perhaps don't use a caption that you didn't even write. It's way too easy to rely on Pinterest to write our IG captions, and you know what, your followers (and your partner) will easily be able to smell a rat. "I love you today, tomorrow, and forever," or "home is wherever I'm with you" are both easily Google-able, fam. Take the time to craft your captions yourself, saying exactly what you want in your own words.
Don't use social media to mend your relationship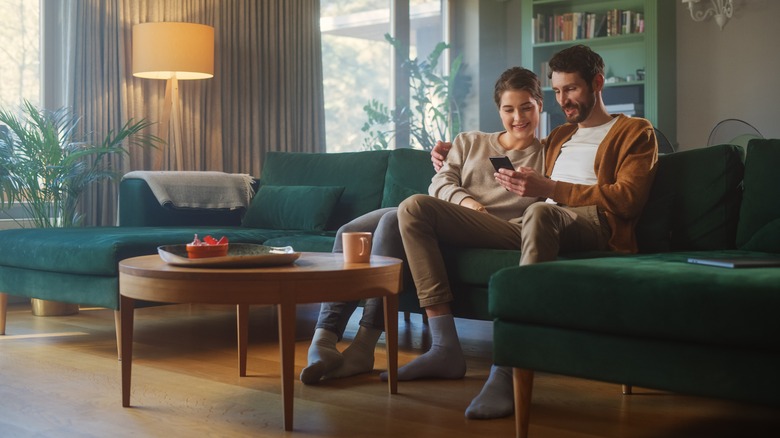 Gorodenkoff/Shutterstock
Over-posting on relationship milestones can seem performative rather than authentic. There's an entire Reddit thread dedicated to how romantic relationships that play out on social media tend to land on the wrong side of cringe-worthy. In fact, experts say the more you post about your SO, the less satisfied you are offline. As sexologist Nikki Goldstein told Mail Online (via Inc.), "Often it's the people who post the most who are seeking validation for their relationship from other people on social media. The likes and comments can be so validating that when someone is really struggling, that's where they get their up from — not the person making the gesture, but what other people will say about it."
It gets even worse when you start to blame your followers' interest in your relationship for causing its problems. "Blaming it on the technology means you don't have to exercise self-control," Dr. Pamela Rutledge, Director at the Media Psychology Research Center, told Cosmopolitan. So just remember ye old caveat emptor: post about your partner on social media at your own risk. The more you post, the more you might have to explain your relationship to others.