The '90s-Inspired 'Chopped Cut' Is Everywhere, And For Good Reason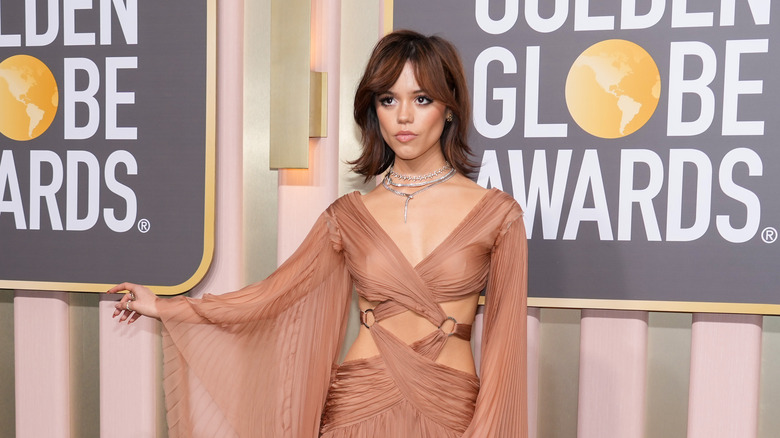 Kevin Mazur/Getty Images
It's safe to say that the '90s have taken over 2023. Things like cargo pants, claw clips, and thin eyebrows have all come back to rock the trends list once again. Whether or not you are a fan of this era, there's no denying that we will continue to see it everywhere we turn. Just in case you haven't seen enough retro haircuts recently, there's a new hairstyle that's making waves at hair salons. The chopped cut is the newest hair trend that will have you wanting all of the texture and volume. This haircut is all about bringing out your hair's texture by giving you a laidback and unkempt style.
Advertisement
The chopped style recently got a boost in popularity thanks to actor Jenna Ortega, whose most recent haircut made everyone miss the retro shaggy look. Ortega's hairstylist David Stanwell showcased the look via Instagram, where everyone was treated to a close-up view of the actor's voluminous and low-maintenance hairdo. While this era might not be everyone's favorite in terms of fashion (thanks to low-rise jeans), it definitely is known for its "cool" girl hairstyles that everyone wants to repeat.
Laidback hairstyle
Perhaps the main benefit of getting a chopped cut is the fact that it's a low-maintenance haircut that requires zero styling to look good. In certain cases, this haircut even looks more authentic and chic when left completely undone. For those constantly on the go, this kind of hairstyle can prove to be both a life and time saver. Mix up the haircut with a few front bangs for more of a surfer-chic look that will have you looking like the ultimate '90s cool girl.
Advertisement
Curly chopped cut
You don't need to have a specific texture of hair to pull off the chopped cut. This chopped cut is chic and stylish on all hair types, meaning anyone can join the fun. With curly hair, this chopped cut brings out your hair's beautiful texture and showcases it with no styling. If you have curly hair, the chopped cut might be the best option to help keep your hair styled without having to maneuver with different techniques and routines. The shorter the cut you reach for, the more volume your hair will appear to have, making it ready for any moment's notice.
Advertisement
Polished chopped cut
Having a low-maintenance and unkempt haircut can make it very easy to walk out of the house without having to do much styling, while still having a polished look. Simply apply some styling cream and grab your curling iron for some perfect curls, then brush them out into waves. Styling cream or oil can help tame some of the natural frizz that comes with this type of haircut, making your hair look more polished.
Advertisement
Mullet chopped cut
Another hairstyle that made major waves this past year was the mullet hairstyle. Made popular by celebrities like Miley Cyrus, the modern mullet is nothing like we've seen before. More styled and structured, the modern mullet is all about bringing nostalgic vibes back to your tresses. Combine the mullet hairstyle with your chopped cut for the ultimate texturized and shaggy hairdo that will mix some of the peak '90s hairstyles. 
Advertisement
Short chopped cuts
Pixie and short haircuts are other favorites of those who lived through the '90s. These iconic hairstyles slowly declined in popularity in favor of longer hairstyles. However, thanks to the current '90s revival, get ready to grab those scissors once more. A short chopped cut is the perfect way to go for something drastic but still modern and trendy. While short hair might be scary for some, this texturized hairdo will always be the perfect way to maintain your volume.
Advertisement
Chopped cut bangs
Recently, many have opted for curtain bangs to give the hair more movement and volume without the usual maintenance that comes with getting bangs. Add a chopped cut to your curtain bangs for a hairstyle that will always look like it is perfectly imperfect. If you want the ideal "I-woke-up-like-this" haircut, you can't go wrong with curtain bangs with a chopped cut.
Advertisement
Chopped cut bobs
Along with other short hairstyles, bobs have also seen a growing interest from consumers. Bobs are not typically trending, meaning this newfound popularity is a major shift in hair trends. Styling bobs does require some maintenance as you don't want the style to fall flat throughout the day. Adding a chopped cut to your bob will ensure you always have the right amount of movement. Additionally, chopped cuts will help your hair appear fuller, even if you have a shorter hair length.
Advertisement