The Claw Clip Hack That Will Make You A Believer In The '90s Trend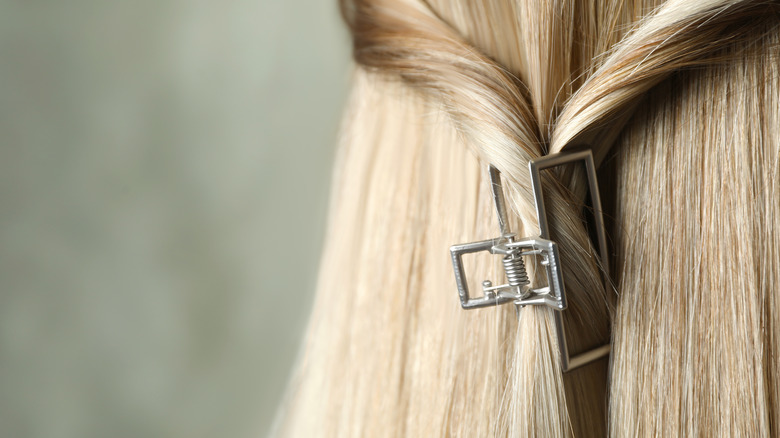 New Africa/Shutterstock
We may receive a commission on purchases made from links.
The '90s and early aughts girl aesthetic is making a comeback and there are some trends we couldn't be happier about. With the resurgence of claw clips, we finally have an excuse to get our hair off our necks and let our inner Y2K girl come out and breathe. In fact, just a pair of mini hoops and a claw clip can do the job of giving you that effortless main character look.
A claw clip hairstyle just might be one of the easiest looks out there, considering it doesn't require some ridiculous trick to achieve or a clickbait product that takes weeks to ship. Most people can pull off the claw clip look — the only exception being those with short haircuts like bobs or pixies — and there are multiple ways to style the accessory. But there's one clip claw hack, in particular, that's changing the game.
This claw clip style keeps your hair in place all day and will make you look like you just left a French bakery. If you're looking for a classy European-style twist that will keep your hair secure all day, then this look is for you.
A twist on the French twist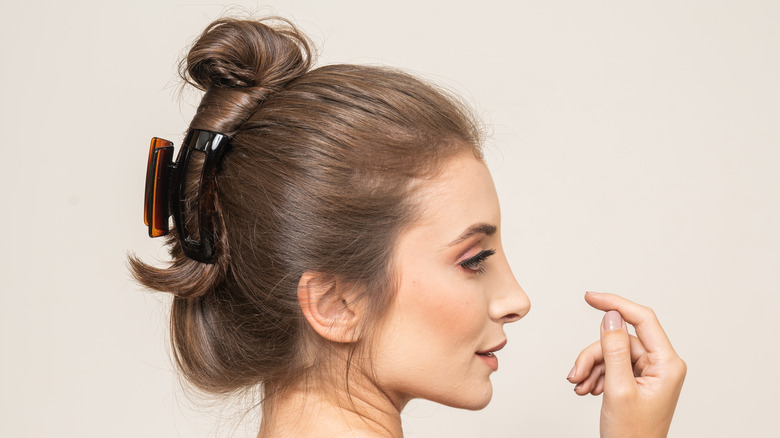 w10/Shutterstock
The '90s were all about the French twist. Girls were wrapping up their hair in hopes of achieving supermodel Kate Moss' effortlessly chic look. Now, Gen Z'ers are using claw clips to put their own twist on the updo.
On TikTok, Molly Fritz is one of many influencers demonstrating how to achieve the claw clip French twist. If after watching Fritz's video, you are feeling intimidated, we promise, the hack is easier to achieve than it looks. 
The trick is to use one hand to pull your hair back as if you are about to tie a low ponytail, then face your other hand backward and upside down. Your palm should be facing the wall behind you with your fingers pointed down. Still with us? Next, use your pointer finger and thumb to create a loop around the hair. Then pull the hair upwards, twisting it while wrapping it around your thumb. If you've made it this far, your job is nearly done. Finally, clip your claw on, and there you have it — a gorgeous claw clip French twist.
Up the glam factor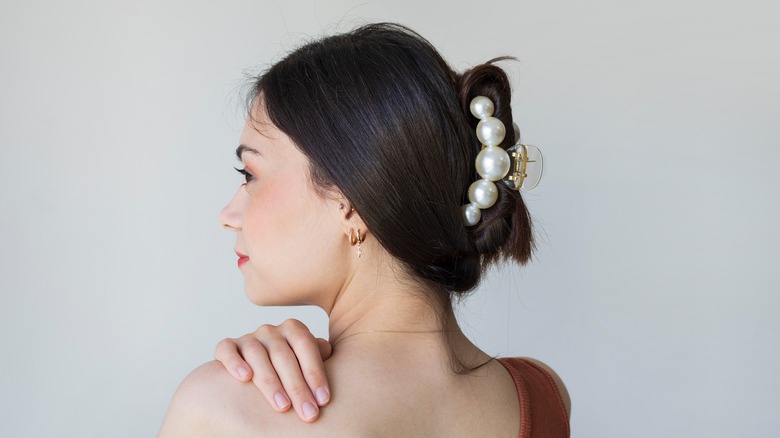 Hazal Ak/Shutterstock
While neutral-colored claw clips may be your usual go-to for everyday wear, consider throwing caution to the wind and opting for fun colors or materials instead. You can get a pack of four claw clips on Amazon for less than $12 in a variety of colors, including pink, turquoise, and yellow. If you're looking for something more elegant, choose from a range of pearlescent tortoise shell claw clips available on Etsy. Or show off more of your hair in the twist with sleeker, minimalist clips. Embellishments like pearls and rhinestones or crystals can also up the glam factor and are great options for special occasions.
If you've been blessed with thick, luscious strands or locks that go past your shoulders, look into getting jumbo-sized claw clips that can keep all your hair in place. Yes, the French twist hack already keeps hair locked and loaded by default, but you'll find even more comfort with a clip appropriately sized for your amount and length of hair.
When it comes to this classic hairstyle with a twist, your style options are nearly endless. Have fun with it!