'Honesty Bombing' Is The Intense Trend That Can Help You Find Exactly Who And What You Want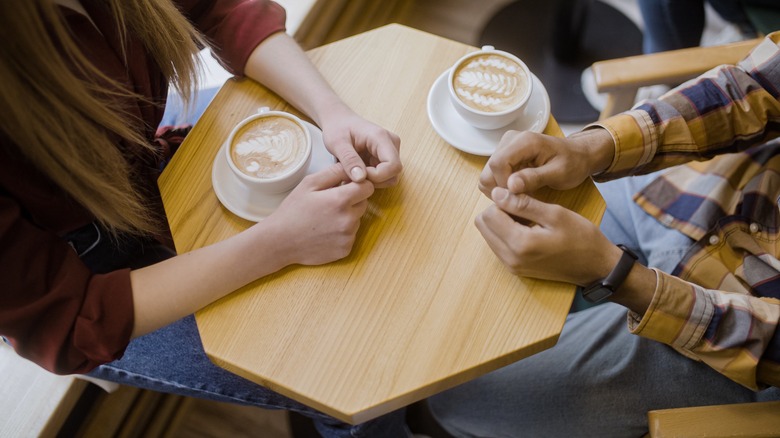 SynthEx/Shutterstock
It's officially been over three years since the pandemic shut everything down and we all went inside for lockdown. For those that were married, the restrictions of the pandemic proved to be a challenging time that tested the strength of several unions. The BBC reported that in 2020, Stewarts, a top law firm based in the UK, reported a 122% spike in those looking for divorce information. Stateside in the same year, there was a 34% increase in the sale of pre-written divorce forms sold by Legal Templates, per CNBC. That's a lot of freshly-minted singles now in the dating market, not to mention those who were already single during lockdown and have been consistently looking for a partner despite social distancing, masks, and you know, no bars being open.
So now that restrictions are easing and things are slowly opening up, people are not only flooding back onto the bar scene, they are using online dating apps to find the partner they didn't have during lockdown. If you're also on the apps, you might have noticed that people are approaching dating in a much different way these days contrasted with pre-pandemic. The prevailing dating approach is called "honesty bombing," and it is no-holds-barred, straight-to-the-point, and worth exploring. 
Honesty-bombing is taking over dating post-pandemic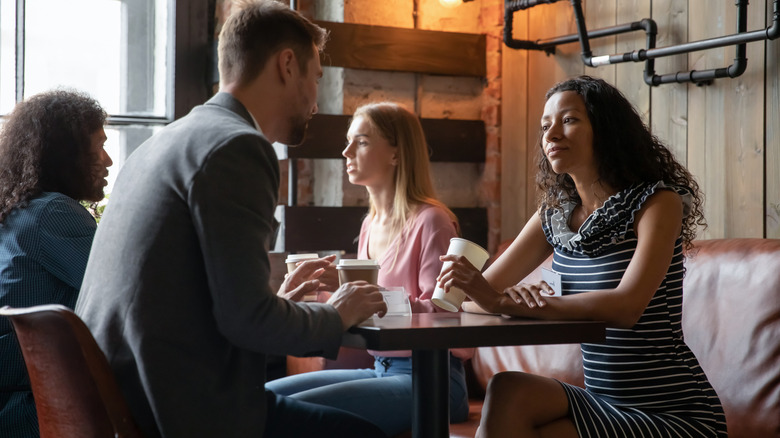 Fizkes/Getty Images
Pre-pandemic, you might have approached a first date as just an opportunity to wear makeup, have a drink with someone new, and have zero expectations. It was only around the fifth or tenth date that the convo of, "So, what are you looking for?" or "Do you see marriage in your future?" or "How about kids?" might come up. But post-pandemic, there is a rising trend of people who refuse to beat around the bush. Now, singletons are employing the "honesty bombing" tactic, where they are upfront and honest on the first date about what they want and what they're looking for, and they're not afraid to say it. 
Dating app Badoo found that 72% were more willing to cut to the chase than they might have been pre-pandemic, while 82% were down to say, "hey, I don't want kids" (or the opposite) on a first date (via Metro). A further 69% were done playing hard-to-get as well as other typical dating games (no three-day phone call rule here!). Honesty-bombing allows assertive singles to cut to the chase about who they are and what they want. 
You are still allowed to take things slow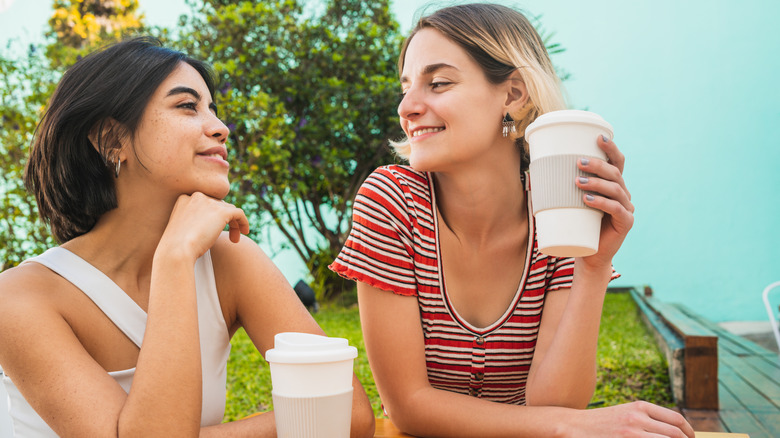 Mix Tape/Shutterstock
Remember that person you dated for two months before they revealed they're polyamorous and not interested in making you their only partner? Wouldn't that have been nice to know on date one? Breathe a sigh of relief now. One of the benefits of "honesty bombing" is that it can truly weed out those who you find unsuitable to pursue going forward, and allows you to be more selective. We all have our preferences for those that we romantically date: maybe your partner has to be a feminist, or be environmentally-conscious, or they can't be on the FBI's Most Wanted list. You know, basic stuff. However, the argument can be made that, on a first date, we run the risk of overloading our potential partner with too much too fast. 
You don't want your first date to play out like this famous scene from the TV show "NewsRadio" where they negotiate the number of children they'll have like a cattle auction! There is a fine line between being honest and revealing too much too soon. You are still allowed to keep some things private and allow yourself to trust your instincts, feel a little, and enjoy the chemistry. Don't forget, maybe living your truth means not wanting anything serious at all! Life is short, and while none of us are here for a long time, some of us are definitely here for a good time (wink-wink).