Making The Swap From The Salon To Press-On Nails Makes More Sense Than Ever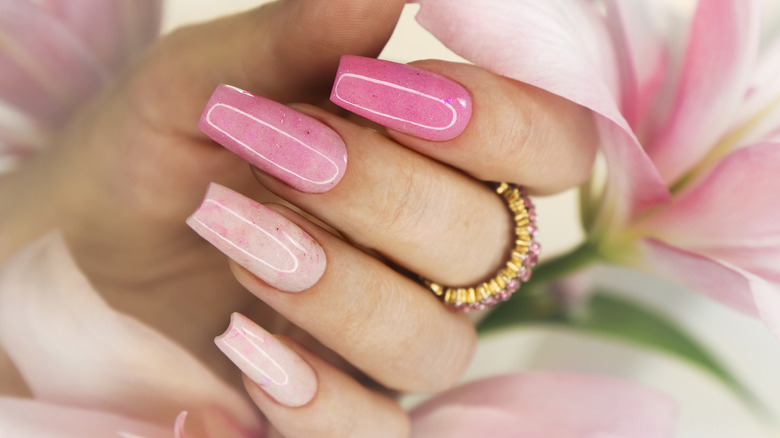 Marigo20/Getty Images
We may receive a commission on purchases made from links.
There are always many cute, fun, and trendy nail colors and designs that we want to try. Sometimes we crave a classic French manicure. On other days, we want to rock lively red nails for the ultimate power look or striking black nails for a timeless appearance with some edge. Then, there are those periods when we want to explore flirty floral designs or add bold sparkle for nights out. We love experimenting with different manicures! However, frequently visiting the salon is costly and doesn't always fit into our busy lives. Meanwhile, dealing with nail polish at home isn't as expensive but can get messy and frustrating.
Luckily for anyone who doesn't want to spend ridiculous amounts of money at the salon or hours on end messing with nail polish, there are more ways to achieve classy-looking or colorful nails than in the past. "There are so many velvet magnetic nails, press-on nails, and gel nail strips to choose from at home," Zola Ganzorigt, a celebrity manicurist, told Marie Claire. Press-on nails are a great option; everyone should give them a chance.
Press-on nails will help you avoid spending too much time and cash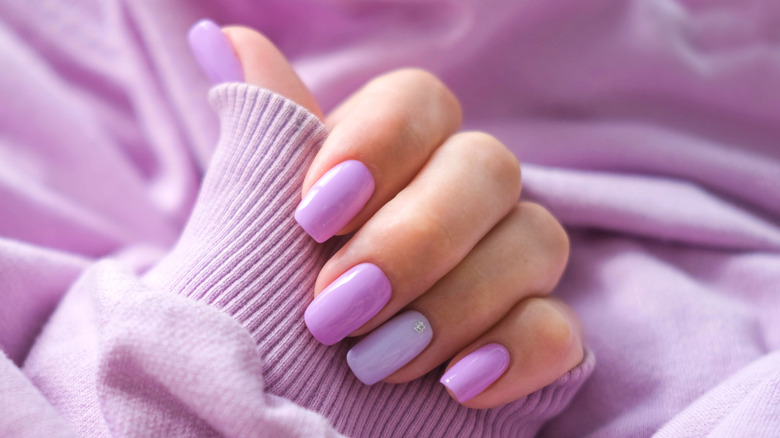 Irina Tiumentseva/Getty Images
People are finally starting to understand that press-on nails offer too much allure and convenience to ignore. So, instead of frowning upon them, beauty enthusiasts are now stocking up on press-on options to match all their outfits and moods. After all, how could anyone say no to such an easy, inexpensive manicure alternative, especially when you can make your press-on nails look like the real thing? 
"Press-on nails are a serious game-changer when it comes to saving time and money, [as] you can give yourself an on-trend mani in less than five minutes and for a fraction of the cost that it would be in-salon," Bailey Stanworth, founder of Quickies, a brand of press-on nails, told Bustle. Stanworth continued, "Personally, one of my favorite parts of having a press-on manicure is the daily compliments and seeing people's reactions when they find out they're press-ons. They're always shocked at how natural they look."
Anyone who needs to see more proof that press-on manicures are worth trying should search #pressonnails on Instagram. Under this hashtag, you'll find more than three million examples of people flaunting press-on nails, featuring various colors and designs, such as ethereal blue looks, sunset-like styles, and playful pinks — and those are only a few of the many examples. Next time you're thinking of buying a new bottle of nail polish, get some press-on nails instead — we think you'll be impressed.
There are many excellent options
If you want to find press-on nails to help you express your style and personality, now is the perfect time to get shopping! You'll find a plethora of intriguing options online, so you'll have many choices. For instance, the OPI xPRESS/On Long Solid Color Press On Nails are available at Ulta Beauty for less than $15 and are ideal for anyone who wants a sleek look. These long press-on nails come in your choice of white, light pink, ultra-dark purple, or a shiny option, so whether you want something classic, girly, edgy, or unique, there's something for you. Lasting for two weeks, these press-on nails have a rating of 4.6 out of five stars at the time of this writing.
Anyone looking for an even more affordable choice should consider the Kiss Everlasting French Nail Manicure, available for only about $5 on Amazon at the time of this writing. This bestselling item is perfect for anyone who enjoys a timeless French manicure, and it has 4.5 stars with more than 44,000 ratings. 
On the other hand, if you want an ultra-fun, playful vibe, the PaintLab Cherry Bomb Gell Press On Nails Kit is available at Walmart for around $10 and features an adorable cherry print. A very happy customer gave this product five stars, writing, "I LOVE THEM!!!!!!!!!! AHHHH! I AM OBSESSED!!!!!!!!!!"