High Vs. Low Fade: The Difference Between The Hairstyles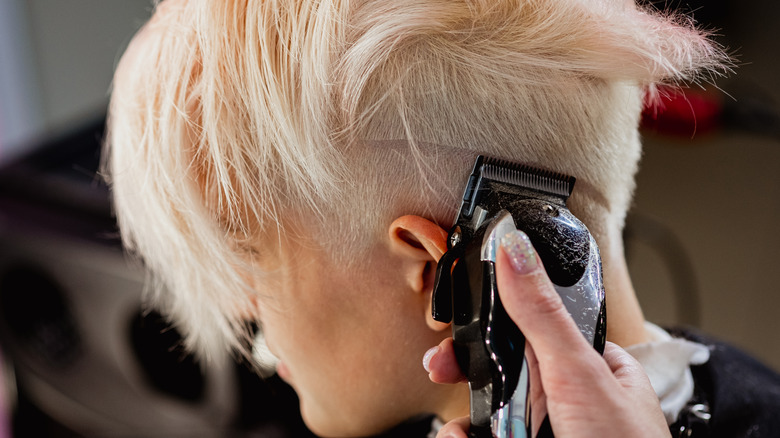 Spaskov/Shutterstock
With the ability to convey personality, culture, and fashion trends, hairstyles are a crucial element of self-expression. None are more overt than the fade, seamlessly blending short hair with long hair. The benefits of a fade don't end there. Care for a hairstyle that not only makes you look like a million bucks but also gives you next to zero maintenance troubles? Look no further than the fade. Not sure if it fits with your hair type? Not a problem. What hair type you have is immaterial when you rock this chic little hairdo.
What's the catch? Nothing too severe. There's just the tiny task of choosing which style of fade to get. And for that, you will need to know the difference between the multiple styles of the fade. And we are here to help you with that. There are two major styles: the high fade and the low fade. Here's how they're both unique.
The high fade
The classic fade styles your hair so that the hair higher up your head has more volume than the hair on the sides and the back. When done correctly, the shorter hair blends seamlessly with the longer hair at the top.
What makes the high fade different from the classic fade is that the high fade begins the transition from long hair to short hair a little higher than the classic fade. Professional barber Jason Biggs tells InStyle, "To create the high fade style, ask your barber to trim the ends of the top of the hair without taking too much length. You can use a close clipper guard length on the sides and blend up into the top length." Edgy? Yes. Hot? Also yes.
Also known as the high skin fade, the taper cut, or the high bald fade, this style is a good choice for people with round-shaped faces.
The low fade
Subtle, stylish, and convenient are a few words that can describe the work of art known as the low fade hairstyle. It gets its name from the fact that it begins much lower than in the high fade. The fade starts just above your ears in a low fade, as opposed to a high fade which starts near the corner of the forehead.
This one gives you a full head of hair on top with the delightfully freeing sensation of neat, short sides — the best of both worlds. The low fade works exceptionally well for people with heart-shaped faces, as it helps to slim the head down.
Being a very versatile haircut, the low fade can be pulled off by nearly anyone regardless of their hair type or texture. And if that was not enough, it also requires virtually no daily maintenance. What more could you possibly ask for?
Making a choice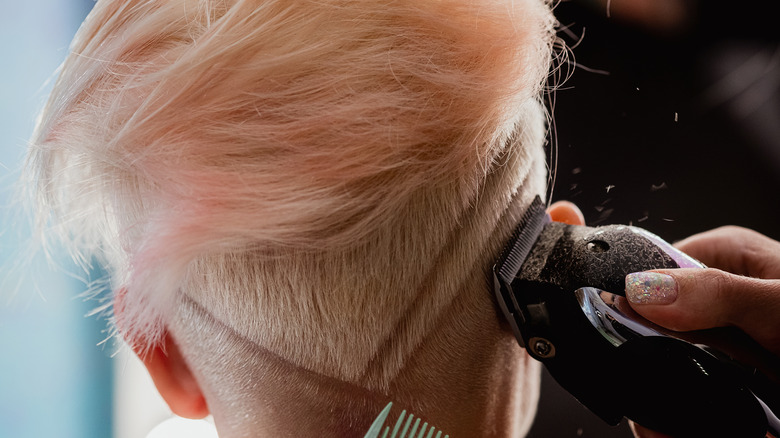 Mikhail Spaskov/Getty Images
Now, you're going to have to choose. But not to worry. What matters when choosing a style is that it should feel like you. Your personal preference is key to giving you confidence. And confidence makes you look amazing in whatever style you pick.
If you like how the shorter length and volume look on you, you might like the low fade. Touch-ups every couple of weeks might be necessary to keep the fade looking fine and crisp, but it requires little to no effort otherwise. Your heart-shaped or round face will thank you for picking the 'do of your dreams if you get this one.
On the other hand, if you're craving that edgy-but-cute look, then look no further than the high fade. It requires less frequent trips to the barber, so you'll still look just as gorgeous as the day after your haircut, even three weeks later.
Now that you made a choice, here's how you style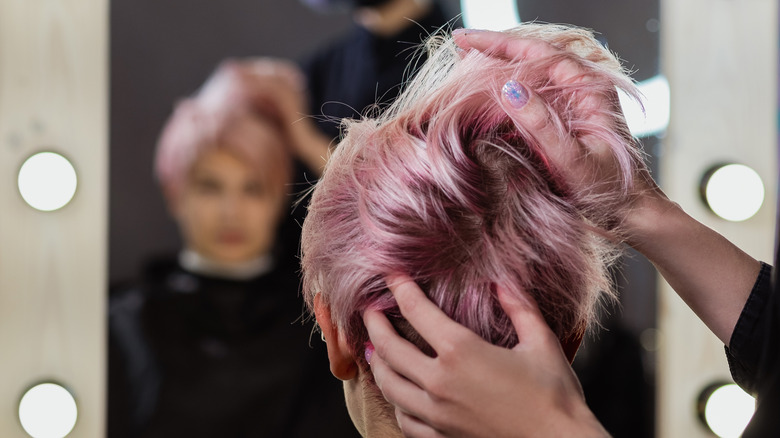 Spaskov/Shutterstock
We've already stressed how easy styling is with the low fade since it looks amazing with almost zero effort. However, if you think you need some flair. Go for it.
Use a brush with soft bristles (to be gentle with your freshly trimmed locks) to help your hair lay elegantly on your head. A pomade can also help you if you think you need a product. Who needs pick-up lines when you can just let your stylish new low-effort low fade do the work for you?
The high fade allows more room to style in multiple ways since it has greater length and volume on top. Soren Roi, senior barber at Fellow Barber Soho, talking to InStyle, recommends you use paste or pomades to give the hair more movement and volume. Why? Well, why not? This will give you that well-put-together look that simply oozes charisma.
Caring for your fade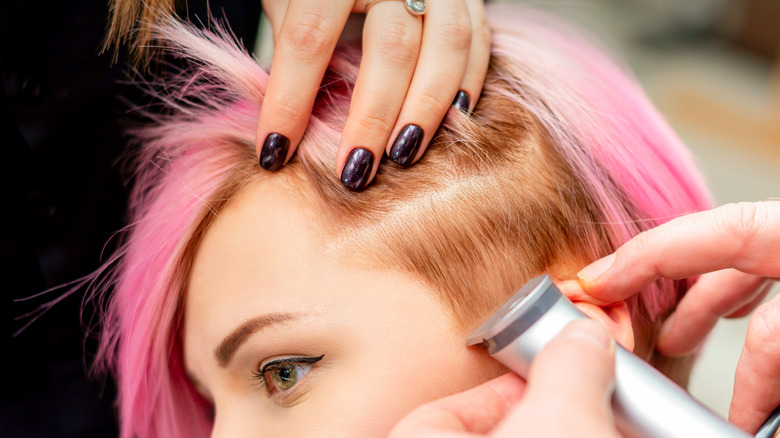 Okskukuruza/Getty Images
Here's the cherry on top. Who doesn't love convenience? Both styles of fade are ridiculously easy to care for. No need to fret. You just have to work hand-in-glove with your barber. Even though an elegantly done fade can look just as good when growing out, you still might prefer the beauty of a well-defined fade. So whenever you feel like your fade is not quite as sharp as you'd like, go to your barber to add a little more definition to your fade.
The low fade might require barbershop visits every couple of weeks to maintain its short length and fade line definition. That's a small price to pay for entrancing hair, don't you think? The longer length of the high fade means that you need less frequent touch-ups. Every two to three weeks should do the trick for easy maintenance and a captivating style.
Do your thing
Now we say, "Let there be glamour!" And glamour is just what the fade can accomplish. Whether it's the low fade or the high fade, making the right choice will give you that "it girl" look you crave. Each fade style has its merits and ways of making you look stunning. With the right properly cared for fade, you'll be the proverbial "sight for sore eyes." And that is what you richly deserve.
Of course, there are no rules when it comes to this sort of thing. As we said, your preference is key. The fade style that makes you feel the best about yourself and makes you feel most confident is the one for you. With our help, picking the style that ticks all the right boxes should be as easy as ABC. Get the style you want, make it your own, and just do your thing!