Keratin Isn't Just For You Hair - It Can Bring Strength Back To Your Nails, Too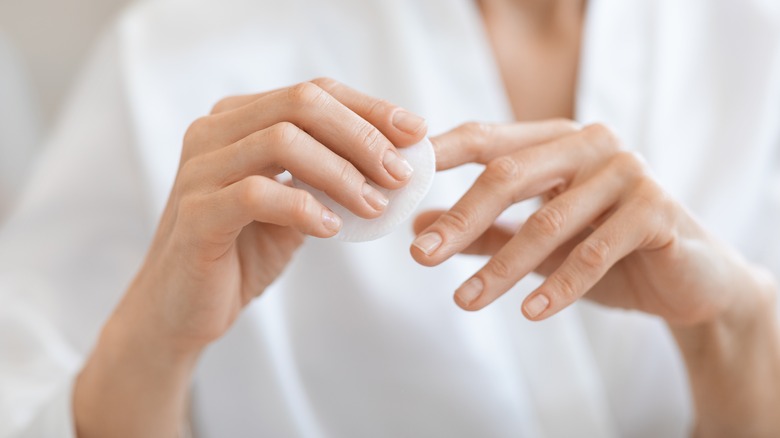 Prostock-studio/Shutterstock
Most people know their hair is made of keratin and can benefit from a protein treatment to strengthen it, but did you know you can do the same for your nails (via Cleveland Clinic)? Keratin is made up of a combination of different proteins and enzymes, and your body needs it to produce healthy skin, hair, and nails. Without it, these features can become weak and brittle. However, even if you're growing healthy nails, they can get damaged.
Overusing polish is a common reason for nail damage, mainly if the ingredients include DBP or formaldehyde, per Sunday Edit. Keratin granulation can also occur if you are constantly wearing nail polish. This is when the polish dries out your nail beds, causing the protein to bind together. 
Nails that need more strength may be thin, flimsy, dry, brittle, chipping easily, or have white spots. If you want to bring them back to their healthy state, you should use a keratin treatment. You can get this done at a nail salon or purchase products to use at home.
Go to a nail salon for an IBX treatment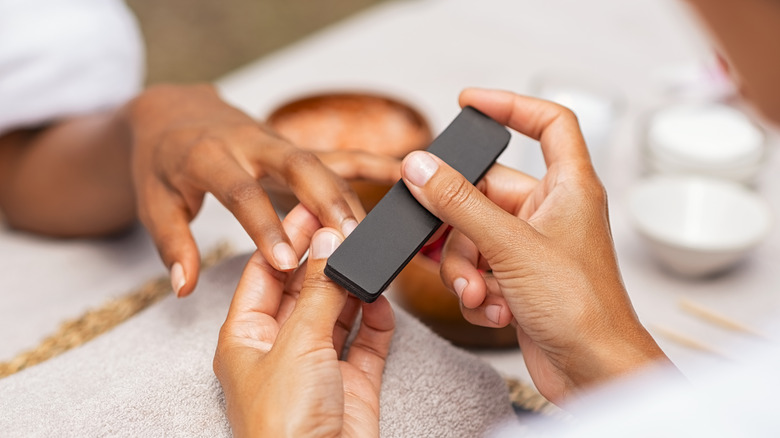 Ridofranz/Getty Images
If you choose to go to a nail salon, you can get an IBX keratin treatment. As You Magazine explains, it'll add only 10 more minutes to your manicure, and you'll still be able to wear polish over it. You can expect the process to start by being asked to wash your hands. Then the nail technician will push back your cuticle and trim any hangnails. After the nails are prepped and in the shape of your liking, it's time to apply the treatment.
First, your nail beds will be cleaned to remove any debris from the prep. Then the first IBX repair serum is applied to your bare nails. After the second serum is applied, they will use low heat to dry the serums. A final swipe with a lint-free cotton pad will remove any excess product. Then you can have your nails painted or finished with cuticle oil. To see the best results, you must return to the salon every two to three weeks until your nails are healthy.
Strengthen your nails at home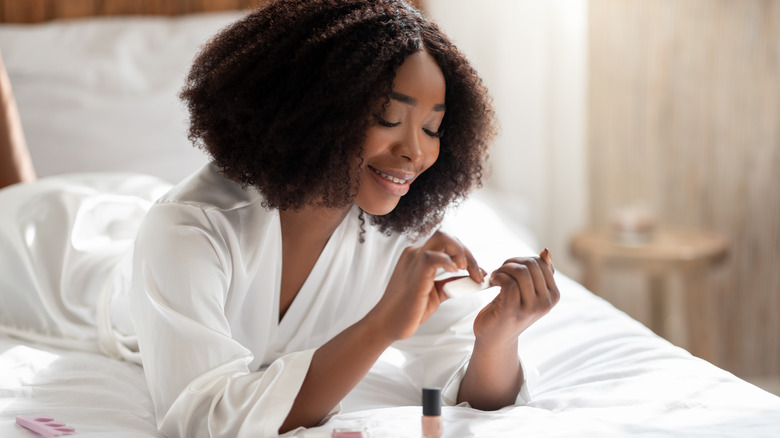 Prostock-studio/Shutterstock
Not everyone has time to go to the nail salon. Luckily, there are at-home keratin treatments you can apply yourself. The CND RescueRX is what Q Nails and Spa recommends. It's a quick and easy product that doesn't require special training to use. You should always start with clean hands and bare nails. A swipe of acetone-free remover will ensure there isn't any polish left. Then you will prep your nails the same way the salon would. Shape your nails and cut them shorter so they won't chip, then push back your cuticles.
After you're done with the prep, it's time to apply the keratin treatment. Paint it over each of your nails, paying attention to one at a time. Then massage the product into your nail, including the edge and the cuticle. This treatment should be used twice daily for one to four weeks. You'll need to do it longer if your nails are fragile.