Third Time's The Charm: Triple Washing Your Hair May Change The Game For Your Scalp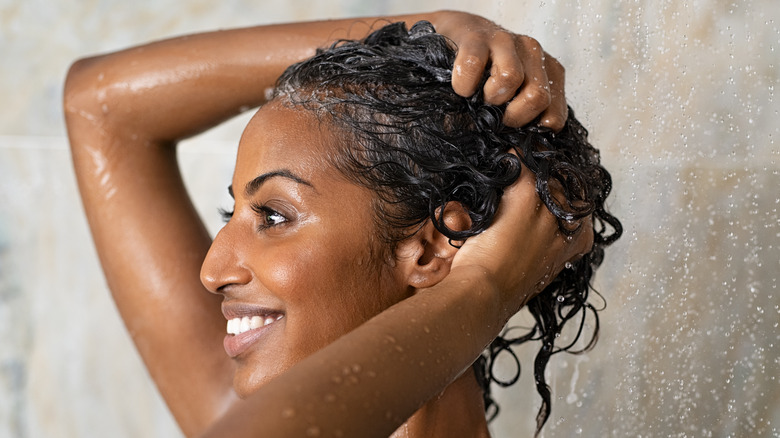 Ridofranz/Getty Images
Many people are finally starting to understand the importance of having a healthy scalp and devoting more time and effort to maintaining it. For instance, influencers love head spas, the new go-to places for scalp health. Meanwhile, some beauty enthusiasts enjoy the benefits of scalp steam treatments. Before you think about how you can better care for your scalp, you need to know what a healthy scalp looks and feels like. "A healthy scalp is pink in tone, well hydrated, smooth, and free of flakes and any redness," hair specialist Abe Ayesh told Real Simple. "When brushing your hair, there also shouldn't be any pain or flakes."
Advertisement
Of course, we know that not everyone who wants a clean, healthy scalp can afford trips to head spas or elaborate treatments. However, there are other, more practical ways to care for your scalp — even in your shower. Believe it or not, one way to help clean your scalp is to wash your hair three times during your shower instead of once.
Washing your hair three times per shower can lead to a healthier scalp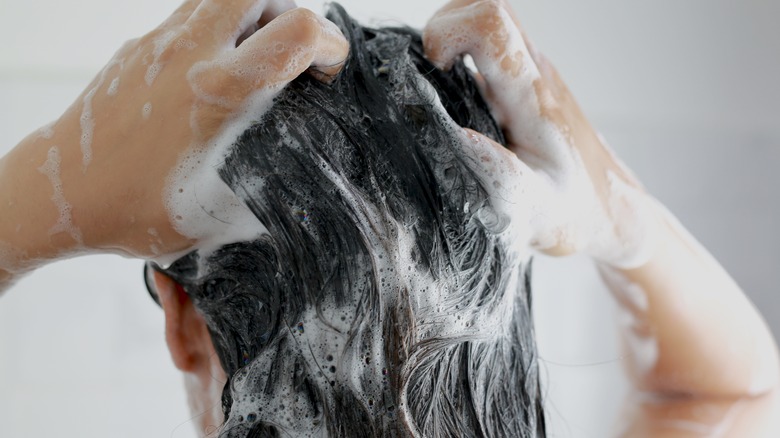 fongbeerredhot/Shutterstock
We're aware that triple washing your hair during your shower probably seems time-consuming and tiring. If you try it, though, you might realize that this ultra-thorough technique can do wonders for your scalp. "We recommend doing two or three washes because you have to ensure complete removal of residue on the hair and scalp ... When we wash our hair, we should not rub it, but massage the scalp and hair, looking for the absorption of the nutrients of the product we use. In addition, wet hair is more sensitive and should not be rubbed or handled aggressively," the experts at Salon YÖY told Vogue. Taking the time to carefully massage shampoo into your hair three times during your shower can significantly improve your scalp health and hair.
Advertisement
This diligent hair-washing strategy will likely take some time out of your day — especially if you have long locks — but it doesn't require you to do anything super expensive or out of the ordinary. All you'll need to do is gently wash your hair more times in your shower than you did before. You should try this triple-washing strategy on a day when you have a lot of free time and aren't too tired, as rushing through it might defeat the purpose.
You can find more hair-washing tips on social media
While triple washing your tresses can drastically improve your scalp health and hair, it isn't the only hair-washing technique that can help your locks. You can find many other suggestions on social media to discover more ways to get a healthier scalp and hair. For example, a TikTok video by @abbeyyung explained that after you squeeze the shampoo into your hand, you can rub and spread it out between your hands to make it more effective before applying it.
Advertisement
Moreover, a video by @anneli.bv shared that you should brush your tresses before shampooing. You can also use a scalp massager to apply the shampoo and get rid of excess water prior to conditioning. Various hair masks and oils might help you get a healthier scalp and more luxurious hair. Consider trying the triple wash technique, along with a few of these other tips, and see if your hair or scalp benefits over time.