Is There A Benefit To Using Leave-In Conditioner On Dry Hair?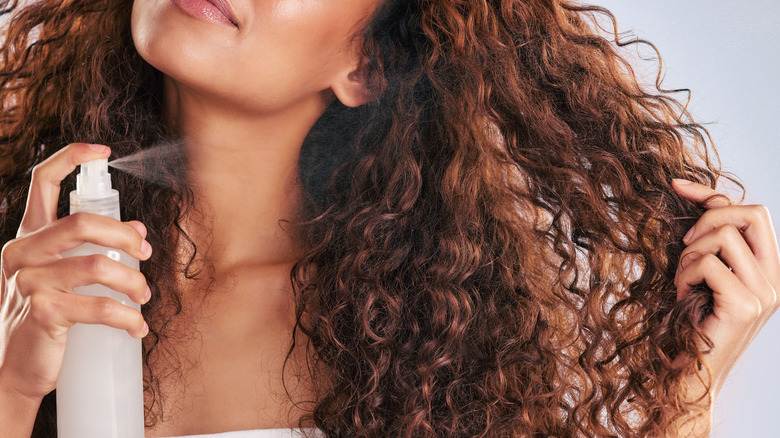 Peopleimages/Getty Images
For anyone looking to care for their hair, keeping the hair strands healthy is essential. A helpful tool for achieving healthy and hydrated strands is a leave-in conditioner. This hair product is usually applied to wet hair to help hydrate the strands and to help the brushing process. You're at high risk of damaging your hair when you brush your wet hair. Damp hair is when the strands are most vulnerable to split ends and damage. Leave-in conditioner coats the strands to make brushing easier. Instead of tugging and pulling your hair, your brush will glide through and get you the untangled hair you want. 
A leave-in conditioner can be a great product to add extra moisture and hydration to your hair. However, typically we only use leave-in conditioner once the hair is wet. While this is the perfect way to detangle your hair before styling, it isn't the only time you can use the multi-use product. You can also use leave-in conditioner on dry hair, and there are various benefits for your strands to doing so. Besides the immediate benefits, adding moisture and hydration to your hair can help keep your strands healthy in the future. 
Leave in conditioner on dry hair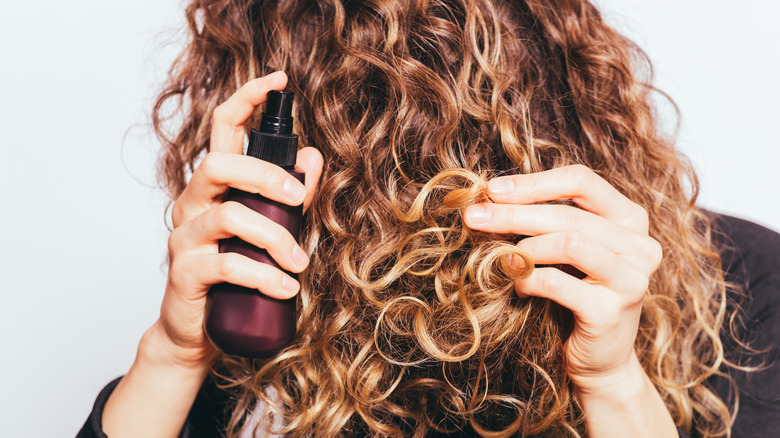 Iprogressman/Getty Images
Besides damp hair, you can also apply a leave-in conditioner on dry hair. Putting on the hair product can help hydrate and moisturize dry strands without wetting them first. As Aiir Professional recommends, you want to avoid spraying your scalp but focus on spraying the strands themselves. Spraying the scalp will cause your hair to become greasy and weighed down. While the leave-in conditioner won't give you the same benefits on dry hair as wet hair, you'll still get a smoothing effect on dry strands that can save you a wash. It will also help control frizz and aid your brushing routine. If you're still waiting for another day to wash your hair, a leave-in conditioner can help untangle any knots that might make styling harder.
Leave-in conditioner is a less concentrated and lightweight product that is meant to be a softer version of the conditioner you use in the shower. This product can help smooth, hydrate, and nourish hair strands and fortify them in the process. No matter your hair type, a leave-in conditioner can help in creating shiny hair that will look great on its own or in any hairstyle.
How to apply leave-in conditioner like a pro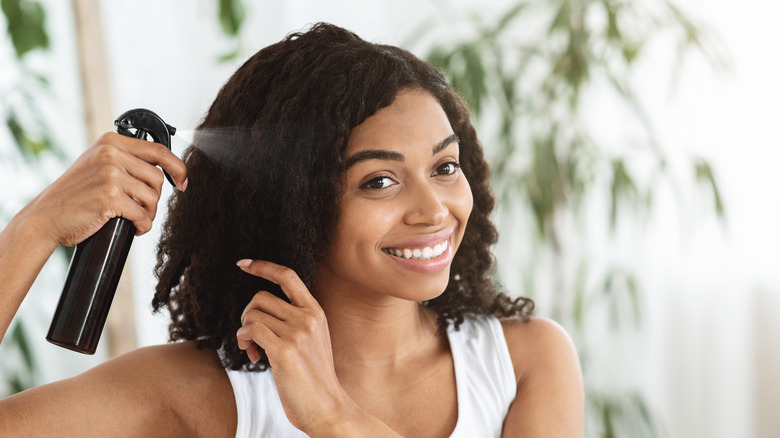 Prostock-studio/Getty Images
Whether you are applying the product to dry or wet hair, you'll want to avoid contact with your scalp. Focus your target on the mid-shaft area to the roots to hydrate the drier parts of the hair strand. Divide your hair into sections to better focus the product where it needs to go. Once you've sprayed your product, brush your hair with a wide-tooth comb or brush to distribute the product throughout the strands. Once you've completed these steps, you can go ahead and proceed with the rest of your hair routine.
No matter what hair type, texture, or length you have, you should always have a leave-in conditioner on hand for your routine. While it's rare that products can be as universal as this one, a leave-in conditioner can add these benefits to any type of hair. Even those with oily hair can enjoy some of the extra hydration and nutrients that this product can give. The truth is that a leave-in conditioner is necessary if you want to have an easier time managing your hair. If you're someone who puts a lot into their hairstyling, a leave-in conditioner can help protect it now and in the future.