A Skincare Organizer May Be Key To Maintaining Your Morning Routine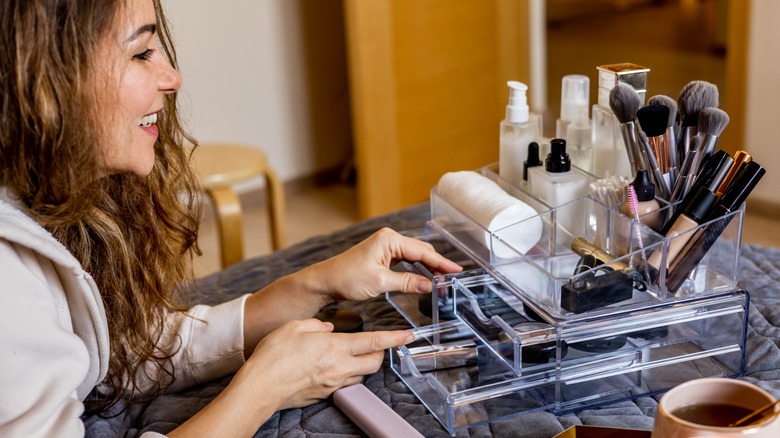 Kostikova Natalia/Shutterstock
Having a complete skincare routine can be a fun habit. Picking products and working towards your dream glowing skin, a skincare routine is vital for achieving healthy and glowing skin. The downside of an extensive skincare routine is that there's no logical way of storing it all. Whether you have a small or large collection of products, organizing them is essential for the best skincare routine. While organizing isn't always the most fun activity, it can be the only way to maintain a productive skincare routine. Any sort of disorganization can cause you to lose items and become overwhelmed with the mess. Although it's no one's favorite chore, it's a known fact that an optimal organization process can lead to better success in anything and can help relieve stress as well as time and money spent. For skincare, this could mean tons of products are going to waste due to poor organizational skills.
To organize your skincare products, you'll need some tools to separate and divide your products. Like any habit, getting used to managing your skincare products is all about creating a routine that is simple enough to go with your daily flow. Before you begin arranging your skincare products, you'll need the help of an organizer.
Why you need a skincare organizer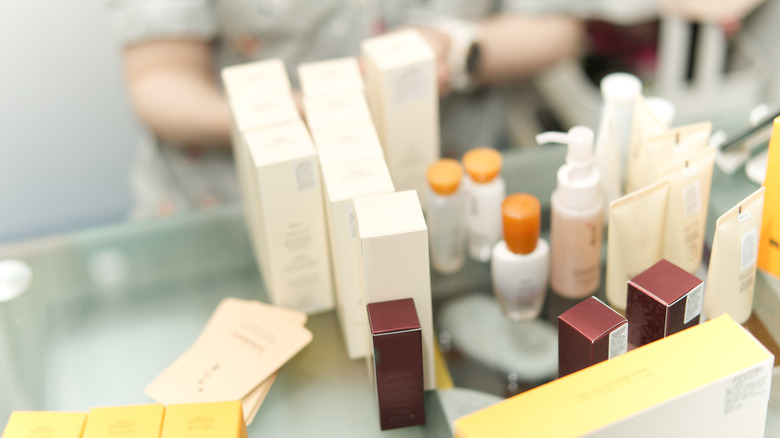 Vacharapongw/Getty Images
Let's face it, having a messy bathroom or dressing vanity doesn't make for the most motivation to get your skincare routine done. An organized skincare collection will help you get ready faster as you no longer have to spend ten minutes looking for your moisturizer. Putting everything in one spot will make it quicker to get ready in the morning as you no longer have to spend time looking elsewhere for your products. You can designate sections for specific products or steps in your routine by using an organizer. 
Besides spending less time looking for products, having a skincare organizer will better help you assemble a complete collection. If you currently have products scattered in various places, it's challenging to know what products you currently have or don't have. Organizers can help you take better inventory and know when to pick up more of one product since having your products displayed in one place will make it easier to do a multi-step skincare routine instead of only using the first product you find. Whether you have everything on display in a transparent organizer or tucked away inside a drawer, organizers can save money, time, and your skin's glow.
How to organize your skincare products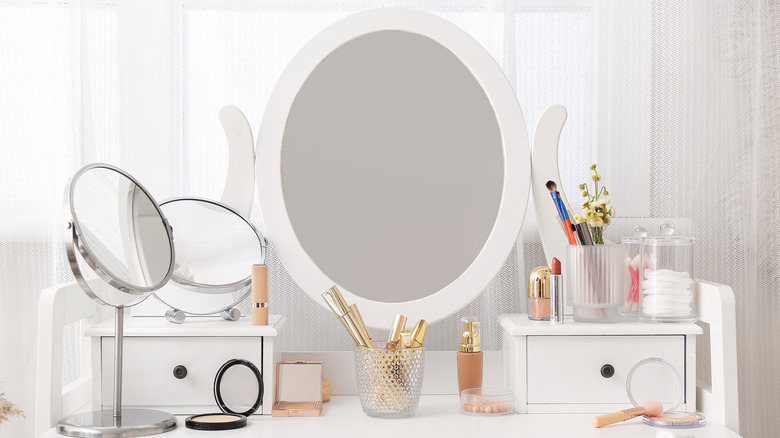 Pixel-Shot/Shutterstock
Organizing your skincare products will primarily depend on how you work best. The most important part to establish before organizing is knowing how and when your skincare products will work best. If you are in the habit of applying your skincare routine in the bathroom, finding a spot for your products in this space is the best chance of getting your skincare routine done more often. Start your organization by dividing everything into groups. Once you've grouped everything in the same category, you can continue by checking the expiration of all your products. Toss any expired or empty products to begin your new collection with only products ready to use.
The size of your skincare collection will also play a factor in how you can organize your products. If you only have a few products, you may find it easier to have your products displayed on top of your vanity. However, skincare organizers are typically a better location for these products as they keep everything out of sight and protected. Lazy Susans and divided containers are some of the best skincare organizers as they will let you access all of your products but still have them categorized by product type. No matter the skincare organizer you get, you can't go wrong with adding some organization to your skincare routine.