The Major Wedding Color Set To Be 2023's Hottest Trend, According To Pinterest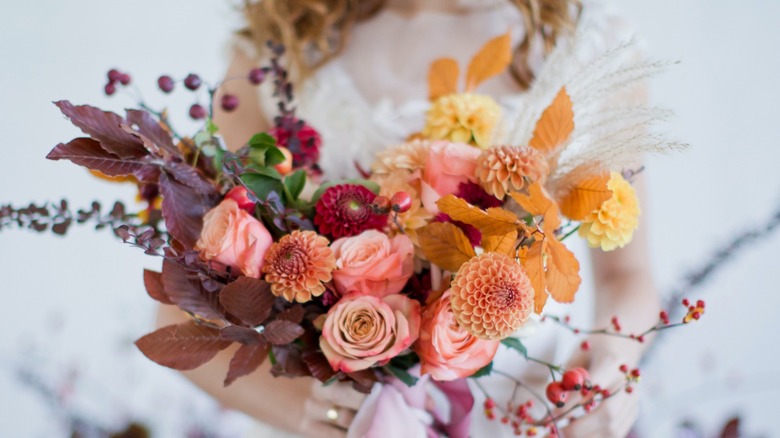 aprilante/Shutterstock
With every wedding season comes a new cycle of trends, from wedding dresses and engagement rings to that critical element of wedding planning: the color scheme. Color trends rapidly come and go in the wedding world — we're looking at you, teal and hot pink weddings of the 2010s — and keeping track of popular colors is key if you want to plan a wedding that feels current.
Advertisement
If you're trying to stay on top of the hottest wedding trends, there's no better place to go than Pinterest. After all, the platform has upwards of 900 million wedding-related posts, with users posting new content every day (via Sprout Social). Folks looking for color scheme inspiration are in luck: the latest report from Pinterest Business offers all the details on what to expect for color at weddings in 2023. Per the report, one trending wedding hashtag stood out from the rest: "rust married." And no, that's not a typo. Wedding content on Pinterest has been all about shades of orange, terracotta, and, you guessed it, rust.
Orange is the wedding color of 2023
Before you cringe at the mention of orange, be assured that this 2023 wedding concept is not taking inspiration from traffic cones. Based on the report from Pinterest, the trending color searches for weddings have been focused around warm, soft shades of orange that evoke sunsets or summer blooms.
Advertisement
The Pinterest report shows that the popularity of "burnt orange wedding theme" on the platform has increased by a whopping 695%. For reference, burnt orange is similar in color to the natural orange that you often see in flower petals or autumn leaves. The interest in orange appears to range across all aspects of wedding planning, including attire ("copper saree" and "orange dress outfit wedding" were both up by 285%) and decor (orange wedding centerpieces are trending as well).
The orange trend coincides with the rising popularity of colorful, over-the-top weddings in general. On TikTok — which is arguably usurping Pinterest as the preferred wedding research tool for younger soon-to-be-weds — the colorful wedding tag has over 18 million views. Overall, all signs point to 2023 weddings being rich with oranges, pinks, and other fun expressive colors.
Advertisement
How to style an orange wedding
If you want to get in on the orange wedding trends, you'll have lots of style options. For the color scheme, you can choose two or three shades of soft orange, or you can pair an orange with another color, like dusty blue or coral pink. Another popular choice for 2023 wedding color schemes is to design a collection of colors that go well together, almost like a personal rainbow for your special day. A multicolor approach is a good way to go if you're hesitant about fully committing to orange.
Advertisement
You can incorporate orange into all kinds of wedding themes. Burnt orange and terracotta, for example, are excellent colors for a '70s-inspired wedding. Alternatively, you could pair a tangerine orange with a crisp shade of blue for a summery, Mediterranean style. If specific themes aren't your vibe, you can also use orange as a way to add some festive energy to the event.
In terms of decor, a little bit of orange goes a long way. Stick to nature for your bright oranges, such as orange flowers and even orange foods like citrus. For other decor items, look for subtle and dynamic takes on orange, such as amber glassware or apricot linens.
Orange sounds like a bold color choice for a wedding, but once you start looking for ideas you'll find that it is the perfect hue for bringing warmth and joy to a special occasion.
Advertisement