Everything You Need To Know Before Buying A Facial Cleansing Brush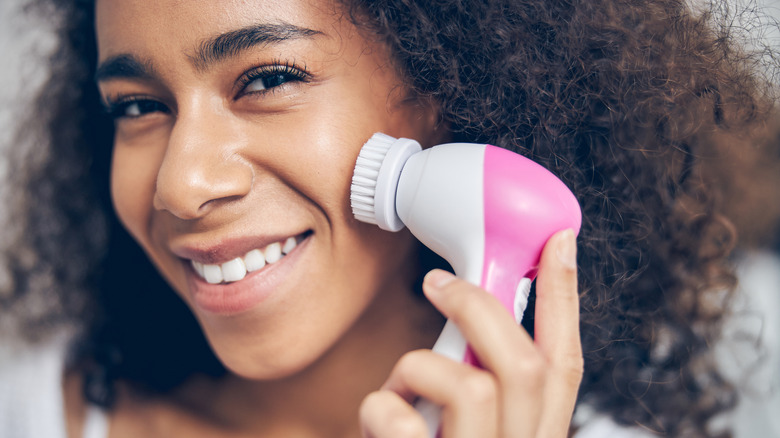 RossHelen/Shutterstock
We may receive a commission on purchases made from links.
Facial cleansing brushes are all the rage in today's beauty industry. This self-care cleansing method has risen in popularity, with A-list celebrities like Kim Kardashian, Halle Berry, and Chrissy Teigen swearing by these devices. Facial cleansing brushes come in two forms: manual and electronic. Both varieties are meant to cleanse your face and remove makeup more effectively than any other standard method. They're relatively affordable as far as beauty products go — and thanks to their size, facial cleansing brushes are quite portable. They also come in various colors so that you can choose your ideal shade.
Advertisement
Between cleansers, moisturizers, toners, face masks, makeup removers, under-eye patches, and other accessories, skincare routines are seemingly becoming increasingly complex. Is adding this device to your routine really worth the effort? You'll have to decide for yourself  — and we're here to help. We explore the ins and outs of the trendy device, including how facial cleansing brushes function, potential benefits and downsides associated with use, different design options, shopping tips, and product recommendations, as well as how to use and maintain your face cleansing brush. 
How facial cleansing brushes work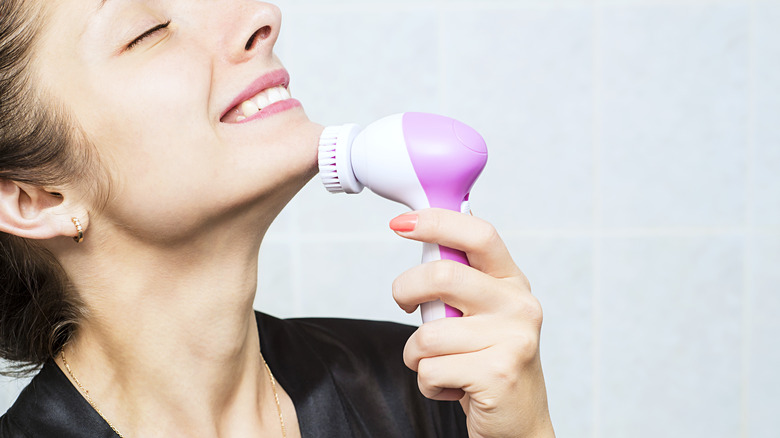 Alena TS/Shutterstock
Facial cleansing brushes work by using either a "battery-operated motor" or manual arm work. "Some use circular motion and others move back and forth, but it's the repetitive motion of the bristles combined with cleanser that makes them work," dermatologist Neal B. Schultz tells WebMD. "Since they deliver constant pressure and many have timers, these brushes are a more standardized way to clean than just using your hands," dermatologist Papri Sarkar adds.
Advertisement
These devices cleanse dirt and oil from your pores, providing gentle exfoliation. By sloughing away dead skin cells on the surface, you're left with smoother, cleaner, younger-looking skin. Many facial cleansing devices come with multiple brush head attachments for different purposes, and it's important to know which one is suitable for certain skin types. A soft facial brush head is often used for gentle cleansing and sensitive skin, while a makeup removal head is great for surface cleansing. An exfoliating attachment is an excellent option for deeper cleansing, and a rolling massage head improves circulation and rejuvenates facial muscles.
The benefits of using a facial cleansing brush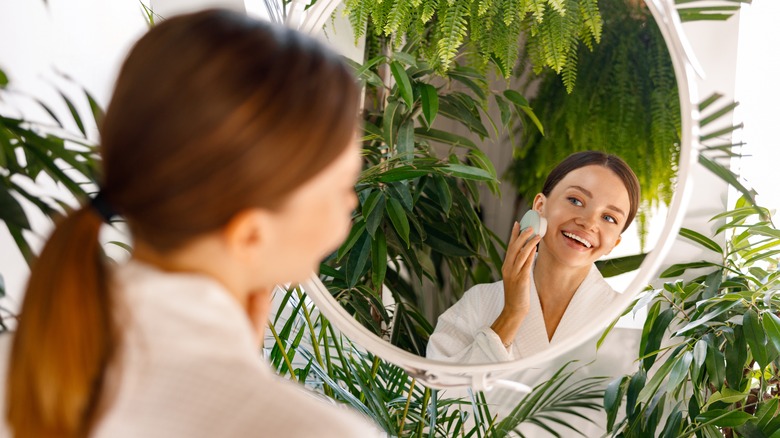 RossHelen/Shutterstock
Facial cleansing brushes offer a multitude of benefits to your skincare routine. Exfoliating your skin with a cleansing brush allows post-cleansing skincare products to absorb more quickly and evenly, as well as provide a silky-smooth complexion. Exfoliation can also help treat acne by unclogging your pores and removing dead skin cells on the surface.
Advertisement
Another big benefit of exfoliating with a cleansing brush: The process boosts collagen production. Collagen naturally occurs in your skin, nails, and hair. As we get older, the skin starts producing less and less collagen, causing wrinkles and fine lines.
On the flip side, increased collagen production reduces the appearance of wrinkles, which is a massive bonus of facial cleansing brushes. What's more, they can help with uneven skin tones and textures. The act of cleansing with one of these brushes can also be soothing, like getting a facial at a spa.
Manual vs. electronic facial cleansing brushes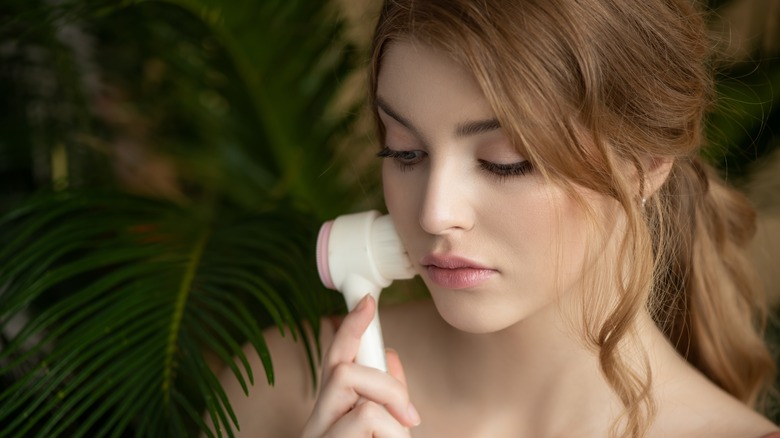 Juta/Shutterstock
When shopping for a facial cleansing brush, you have the choice between manual and electronic devices. Manual cleansing brushes typically cost less than electronic models. Manual brushes also tend to be more compact and portable. The tradeoff is that you have to put more effort into the cleansing process with a manual device.
Advertisement
Electronic facial cleansing brushes come at affordable price points, despite being more expensive than their manual counterparts. Plus, a motor powers the brush head, so it requires less effort to cleanse the skin. Since the bristles go beyond the call of duty to provide deep cleansing, you can be confident about having thoroughly cleansed skin.
Electronic brushes are heavier and larger than manual options due to the weight of the batteries and the space required to store them. That said, electronic facial cleansing brushes typically don't weigh more than 15 ounces. The downside with electronic models is that you're limited by battery life and have to charge the device or replace the batteries regularly.
Advertisement
Choosing the right brush head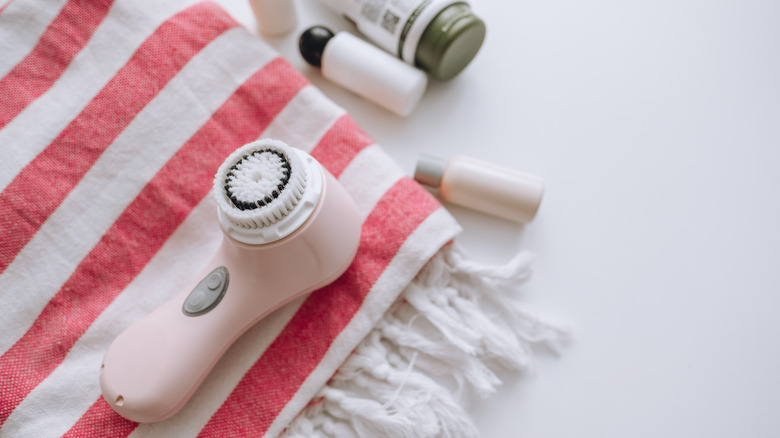 Nikkimeel/Getty Images
Facial cleansing brushes are made from various different materials. Today, brushes with silicone bristles are becoming more popular — and, according to celebrity dermatologist Dr. Azadeh Shirazi, they are the best option. "Silicone bristles are non-porous and thus resistant to bacterial buildup," Dr. Shirazi tells HuffPost. "They are up to 35% more hygienic than nylon bristles ..." However, as long as you clean the nylon bristles regularly (which you should be doing anyway), you shouldn't have to worry about bacteria buildup affecting your skin. 
Advertisement
Silicone bristles are often gentler compared to nylon bristles. They're suitable for all skin types, especially sensitive skin. On the other hand, if you have tough skin and want deeper exfoliation, firmer nylon bristles may be more effective. Keep in mind, though, that nylon bristles are more likely to irritate the skin when overused. 
Some facial cleansing brush heads are made of bamboo fibers infused with charcoal. Bamboo fibers are softer than silicone or nylon, so they're ideal for sensitive skin. Activated charcoal has anti-inflammatory and antibacterial properties, making these brushes particularly suitable for clearing up acne and preventing new spots from forming. Additionally, unlike nylon and silicone, bamboo is both sustainable and biodegradable.
Advertisement
Tips on shopping for a facial cleansing brush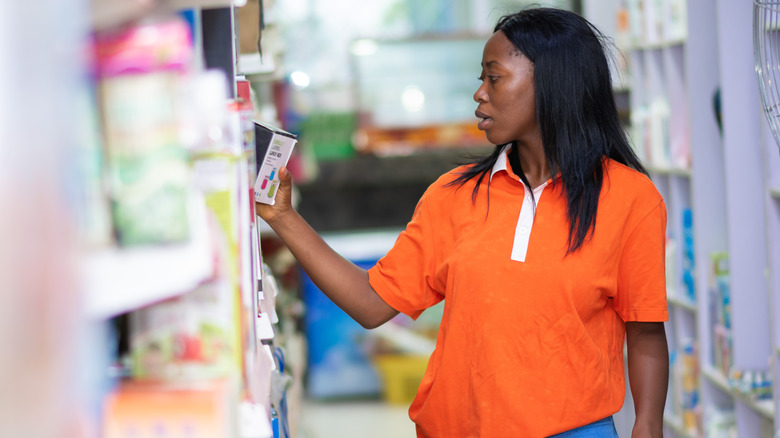 i_am_zews/Shutterstock
There are a number of shopping considerations to keep in mind when choosing a facial cleansing brush. Once you've decided between a manual or electronic device and narrowed down the type of bristles, think about other features that are important to you. Some people want all the bells and whistles of a multifunctional device, while others just want the basics. Make sure to review all the cleaning settings and attachments in the device you're interested in; otherwise, you'll overpay for features you won't use. 
Advertisement
Ease of use is another key factor to consider. Look for water-resistant or waterproof products, especially if you plan on using your cleaning brush in the shower. Some facial cleansing brush designs are more intuitive than others, and you may prefer a simpler interface. The best options on the market have a solid grip or finger holder, so you won't have to worry about the device slipping out of your hands when wet. Do you want a facial brush that is easy to store, especially while traveling? If portability is a priority, choose a lightweight brush that comes with a storage case. 
Facial cleansing brush pricing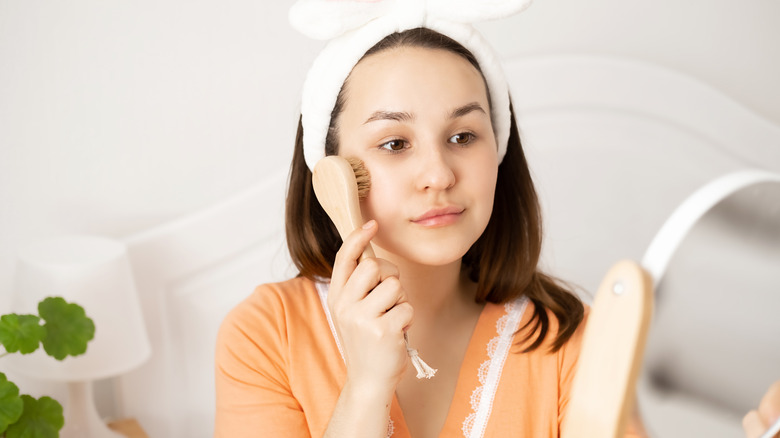 Irina Belova/Getty Images
Pricing may be another priority for you — are you looking for a device that's inexpensive, high-end, or somewhere in between? Naturally, prices differ between manual and electronic devices. Manual cleansing brushes are available in the $10 to $50 range. You can expect to pay that price for an inexpensive to mid-range electronic model, while high-end options can cost up to $200. With a high-end electronic model, you'll get extra features and attachments, as well as the ability to recharge the device; less expensive options usually involve disposable batteries.
Advertisement
Keep in mind that brush heads should be replaced every three months. Some electronic facial cleansing brushes come with extra brush heads, while others don't. Be prepared to spend an additional $10 to $25 (or more) on replacement brush heads for electronic devices; these attachments usually come in packs of multiples, but it depends on the brand. Manual brushes, on the other hand, are typically designed to be disposable. As such, you may end up spending more money on a manual brush over time.
The top facial cleansing brushes
We did a deep dive into some of the most popular, well-designed facial cleansing brushes on the market and compared the top manual and electronic devices available. The best overall electronic facial brush seems to be the PMD Clean Pro Smart Facial Cleansing Device. The dermatologist-recommended PMD Clean Pro is the best in its class. Nearly 700 customers rated the device on Amazon, averaging 4.4 out of 5 stars. "SonicGlow technology" tackles impurities with "7,000 vibrations per minute," while the "ActiveWarmth" heat therapy "combined with SonicGlow" penetrates deeper into the skin. The water-resistant PMD Clean Pro has a handful of "customizable modes." This cleansing brush comes in pretty blush and berry hues with a rechargeable battery included.
Advertisement
The best overall manual facial cleansing brush is the Sisley Paris Gentle Cleansing Brush. Sisley Paris is one of the leading skincare brands in the industry, so it's no surprise that this device is ranked high among consumers. This high-quality cleansing brush has raving reviews across multiple sites, including Nordstrom and Amazon. Thanks to the gentle, flexible bristles, this device can be used daily for "all skin types, except skin prone to acne or reactive skin," according to the website. It's on the pricier end for a manual device but well worth the money for its superior performance. 
How to use a facial cleansing brush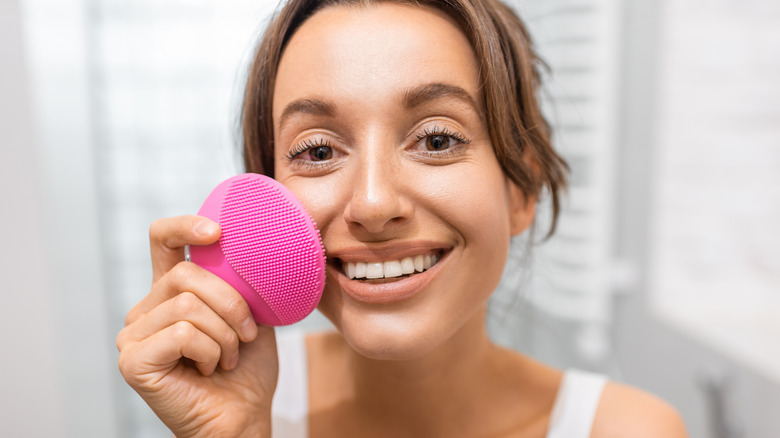 Svitlana Hulko/Getty Images
There are a few key steps you'll want to keep in mind for a successful face-cleansing experience. First, remove any eye makeup, foundation, and lipstick with a cotton pad and makeup remover. If your cleansing brush comes with multiple attachments, choose the appropriate brush head for your complexion and skin concerns.
Advertisement
Use warm water to wet the brush and apply a dime-sized amount of face cleanser to the bristles. Note that you'll get the most effective clean if you choose a cleanser that lathers. Avoid applying a scrub or cleanser with exfoliating beads, as it can be too harsh on your skin when combined with the exfoliating properties of a facial cleansing brush. Do not work the brush over your eyelids or the delicate skin around your eyes.
Next, work the brush in circular motions across your face and neck without staying in one spot for too long (this can lead to skin irritation). Rinse your face with lukewarm water, then pat it dry with a clean, dry towel. After washing your face, apply any topical medications and finish off your typical skincare routine. Let the device air dry and store it in a cool, dry place to discourage bacteria growth.
Advertisement
How often should you use a facial cleansing brush?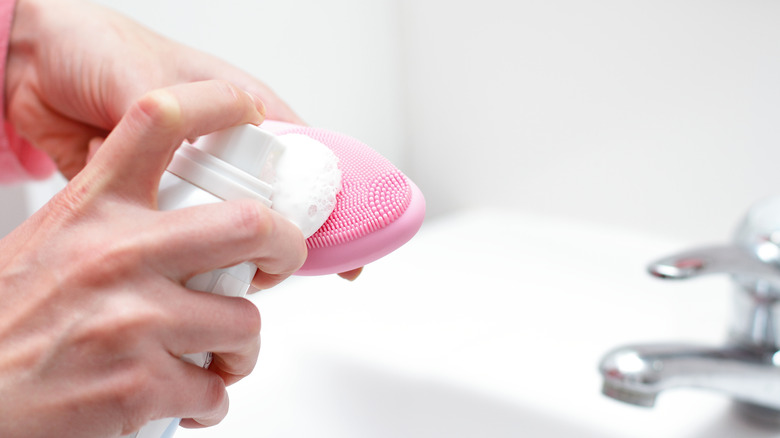 Olga Berezhna/Getty Images
Do you have normal, oily, sensitive, dry, or aging skin? If you're not sure, consult a dermatologist to determine your skin type. For normal skin, a facial cleansing brush can be used a few times a week to start and potentially every day if your skin responds well. Oily skin can also benefit from more regular use, as often as two times per day in some cases (so long as you work up to it slowly). 
Advertisement
Those with sensitive, dry, or aging skin have to be careful and avoid overuse. For these skin types, a facial cleansing brush should not be used more than two times per week. Moisturizing after washing your face is important for all skin types, especially if yours is naturally dry.
You should clean the bristles on your cleansing device after every use — this will help prevent bacteria buildup, which can worsen certain skin conditions like acne. You can easily wash the beauty tool to keep it germ-free with soap and water, but an antibacterial soap is most effective. 
Are there negative effects of using a facial cleansing brush?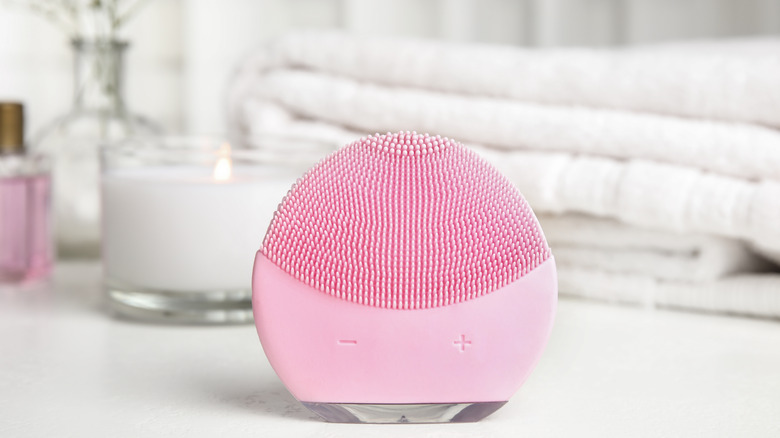 New Africa/Shutterstock
While many dermatologists recommend them, you may wonder if facial cleansing brushes are good for your skin. These devices can have adverse effects if used improperly, and certain skin conditions are unsuitable. Facial cleansing brushes should not be used by individuals with psoriasis, eczema, or broken skin, since the cleansing method might exacerbate symptoms. According to Dr. Schultz, overuse is a common problem with facial cleansing brushes, as using a facial brush too often can be abrasive and lead to irritation. "It's even possible to have first-degree burns from too-aggressive cleansing," he tells WebMD. 
Advertisement
"Too much of anything is never a good thing," skincare line creator Dr. Dennis Gross tells HuffPost. "Overuse [of face cleansing brushes] can lead to broken capillaries, excessive dryness, irritation, redness, and sensitivity. If these warning signs occur, it is important to stop or alter your usage immediately." Similar negative effects can happen when the bristles on the cleansing brush are too firm for your skin type. Additionally, if you're currently using acne medications, consult a dermatologist to ensure you're the ideal candidate for a facial cleansing brush. Ultimately, facial cleansing brushes are safe for most individuals when used and maintained properly.