What's A Foundation Facial? What To Know About The Semipermanent Treatment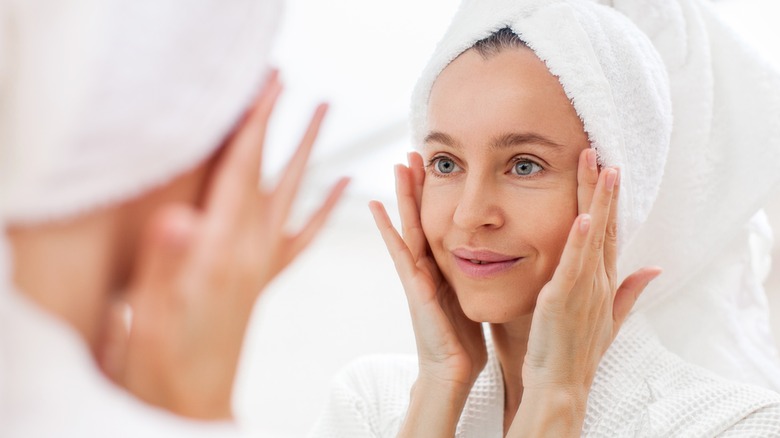 Gladskikh Tatiana/Shutterstock
Semipermanent makeup has been popular for decades now, and it looks like not only is it here to stay, but it's also growing. "Tattooing" the eyebrows has become a sought-after procedure for those who want to fill in sparse hair. Much like tattooing the body, permanent makeup adds pigment to the skin and lasts for years. It has become in demand for those who want the look of full brows but don't have the time to do makeup every day or want a waterproof option.
Eventually, eyeliner tattoos also became popular, as well as adding semipermanent color to the lips. In addition to enhancing features, micropigmentation is used to cover up scars or add the appearance of nipples and areola after breast reconstruction surgery. Semipermanent makeup can also camouflage vitiligo by depositing color onto the white areas of the skin.
Those who don't need paramedical tattooing but want to even out their skin tone can opt for a newer treatment called a foundation facial.
Foundation facials even out your skin with BB creams
Foundation facials are the newest trending procedure in the semipermanent makeup world. The technique involves depositing a BB cream that matches your skin tone into your skin using microneedling. The treatment evens out any discoloration, including redness and dark undereye circles. It also helps reduce fine lines and large pores, and it leaves the face tighter and brighter. The best part about foundation facials is they last for up to a year, which means majorly cutting time and money on products. You also don't have to worry about the color coming off in the water, as with any semipermanent makeup.
During the procedure, the professional will prep the skin by cleaning the surface thoroughly. They will then exfoliate any dead skin cells and then tone the face with a pH-balancing solution. Next comes microneedling a custom serum into your skin, followed by microneedling the BB cream chosen for your skin shade. A nourishing mask completes the procedure to provide a soothing and calming effect on your face.
It's important to note that foundation facials aren't a one-and-done deal. While you will see results after just one session, the results won't last long if you don't come back for touch-ups. Pros recommend at least three sessions every two to four weeks for long-lasting results. While foundation facials might seem enticing, there are some risks involved, and not everyone is a good candidate.
Those with skin conditions should avoid foundation facials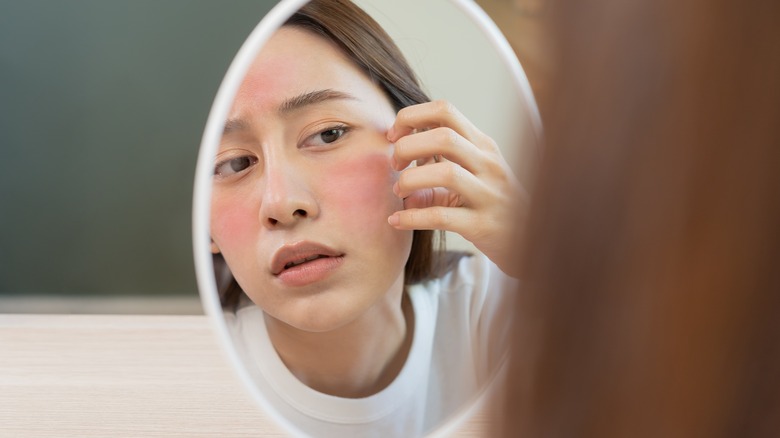 Kmpzzz/Shutterstock
As with any invasive procedure, no matter how minimal, foundation facials come with risks. Because microneedling penetrates the skin and can cause slight bleeding, there is the possibility of infection. However, if your skin care professional uses safety measures, the risk is low. Per the American Laser & Aesthetics Institute, some side effects include redness, irritation, and swelling, but they will go away within a few days. Following the procedure, it's advised to not wash your face or use any products, including makeup, for 24 hours. Saunas and baths are also prohibited for at least a week.
The Institute also warns against foundation facials for those who are pregnant, have skin disease or skin cancer, have diabetes, or are on blood thinners. If you're getting fillers in your face, it recommends waiting at least two weeks after your BB cream foundation facial. Those who are prone to cold sores may want to take medication prior to their appointment.
With minimal risks and short downtime, foundation facials are a great option for those who want to look made up without putting in the daily effort. The benefits seem to outweigh the risks, and if you've got the extra money to spare, why not try this new trend? Your smooth, even skin tone will have everyone wondering if you have makeup on or are just naturally blessed.