Using Negative Statements In Your Dating Profiles Could Be What's Keeping You Single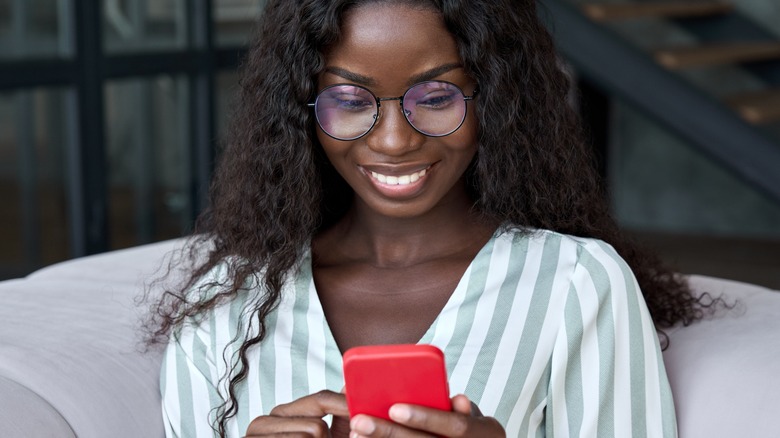 Ground Picture/Shutterstock
"If you don't go to the gym, swipe left."
"Not looking for someone who takes themselves too seriously."
"No crazies, please."
As a dating app user, you would have seen your fair share of profiles with statements like these. And though you might not be able to put your finger on the exact reason why, you probably automatically swiped left, even if you liked certain elements of that person's profile. There are inherent red flags surrounding these blunt statements ("not looking for someone who takes themselves too seriously" often translates to "looking for someone who will let me mess them around"). But there's another reason why they're so off-putting.
According to dating coach Erika Ettin, it's the negativity in these statements that tends to repel prospective suitors by the shipload, per The Union Democrat. While you're absolutely entitled to your preferences, framing them in a negative way during someone's first impression of you probably won't do you any favors.
The impact of negative statements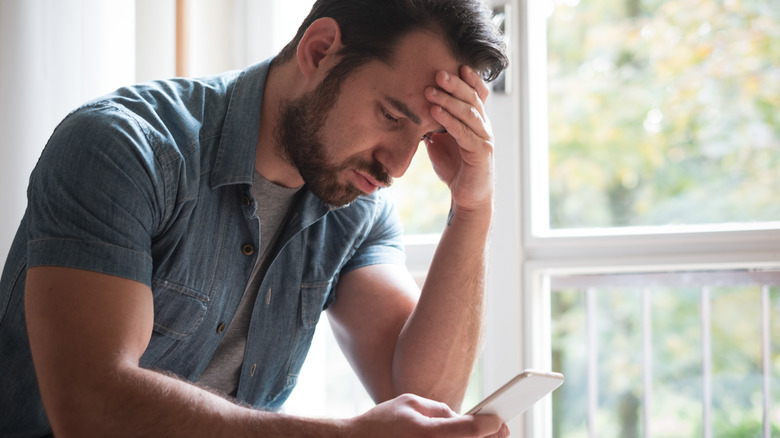 Paolo Cordoni/Getty Images
Generally, humans are attracted to things that are positive and light-hearted, while tending to be turned off by things that are negative. The same logic applies to the dating world. If your profile is overly negative thanks to statements containing the words "don't" or "won't" or "no," you'll likely end up with a bunch of left-swipes.
As Ettin explains in her Union Democrat piece, negative statements do more than just filter out the people you're not interested in. They also paint you as someone who is close-minded and judgmental. The fact that you're willing to state your preferences in such a "hostile" way right off the bat makes you seem like a pessimistic person, so even people who do share your values will be less inclined to match with you.
You can still list your preferences on your profile, but doing this in a positive way will help you to leave a better impression with potential dates. If you don't want to match with someone who's lazy or not career-oriented, state that you get on best with ambitious people with big goals, for example. This lets people know what you're interested in and who you're looking for, without making it look like you're judging everyone who doesn't fit into your ideal vision.
Other classic mistakes on your profile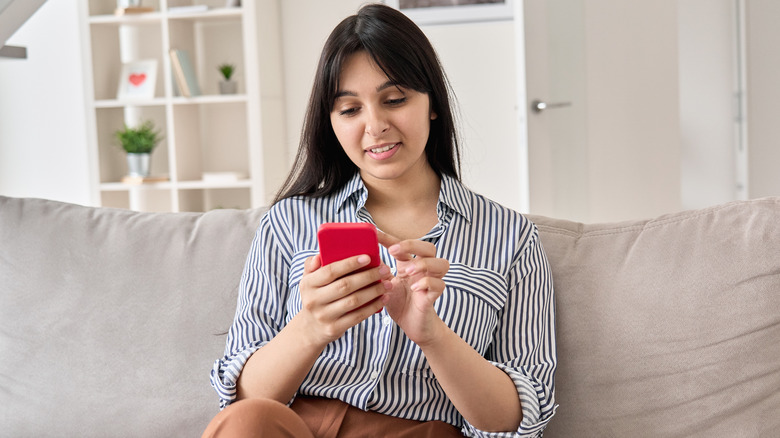 Ground Picture/Shutterstock
Being too negative is a common mistake that most people don't even realize they're making on their written profiles, but it's far from the only blunder. Another damaging move is failing to fill out your profile properly, or just being lazy with your statements and prompts. You would have seen these profiles, too — the ones where people write "don't know" to questions about themselves, or even worse, write full stops as their answers. Way to let people know that you'll put no effort into an actual relationship, since you can't muster 10 minutes of effort for a dating profile.
While you don't want to be lazy and not fill in your prompts properly, you also don't want to give away your life story. Keep things on a need-to-know basis and select a few highlights to reveal about yourself to hook interest. Then as you match and start chatting, you can slowly open up in more detail. Too much information up front is likely to overwhelm even the most interested users.
Another profile turn-off that may be keeping you single is showing your insecurity. People are attracted to confidence, so writing self-deprecating things (unless obviously and successfully executed with humor) is not the move. No one is swiping right on a dating profile that tries to win sympathy by saying, "Go ahead and swipe left — everyone else does."
Be positive, confident, and brief but thoughtful, and see how many bees fly into your honey jar.