Your Ultimate Guide To Airbrush Makeup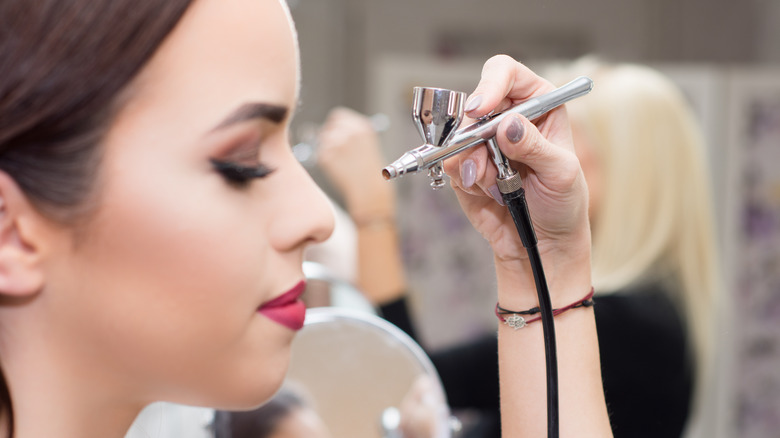 Milkica R/Shutterstock
While traditional makeup can be found in most households, airbrush makeup seems like a luxury and an added expense. But isn't it a relatively new technique that is just now gaining traction? It may surprise you to learn that it has been around for quite a long time. In fact, the airbrushing technique would find its way into Hollywood during the late 1950s, thanks to the film "Ben-Hur," where the makeup artists onset used it during the film's production. Since then, it has enjoyed varying degrees of popularity, and it seems to be making a return again.
When you think of airbrush makeup, you may feel it is only used for special occasions like weddings or photoshoots, but this is simply not the case. You can even purchase your own kit to practice from the comfort of your home. There is a lot to like about the flawless finish — but it has limitations. It won't look great on all skin types, and it can be challenging to match your skin tone. Let's discuss the pros and cons of airbrush makeup to determine whether it's the right choice for you. 
How is airbrush makeup applied?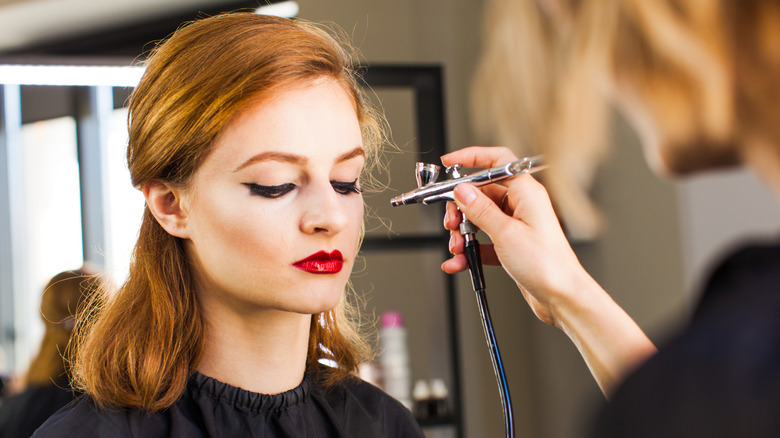 Sunflower Light Pro/Shutterstock
Airbrush makeup is applied with a specially-designed air gun with an air compressor tool that sprays the foundation directly onto the face. "The difference between airbrush and regular foundation is in the application," professional makeup artist Anabelle LaGuardia told Good Housekeeping. "With airbrush, you work with an applicator gun, which is a compressor with air that delivers a very even stream of makeup."
The application is celebrated for how lightweight and buildable it is. "You can start off light and build it up," LaGuardia explains. "Some people think that it's going to be too heavy or not natural, but that is not the case." The appeal of this technique is that it is long-lasting and delivers natural results. There are also several formula options, depending on how much coverage you want and your skin type.
As for how the technique is applied, you want to make sure you work in layers, using a circular motion. "Unlike traditional makeup, it's not bendable, so you'll want to make sure you work in circles when you apply,"  makeup artist Stephanie Flor told Women's Wear Daily. 
What formulas are used for airbrush makeup?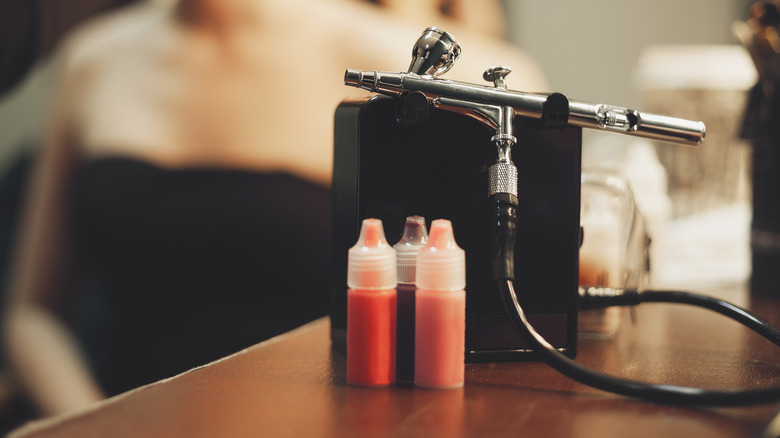 hurricanehank/Shutterstock
Airbrush makeup is not created with only one formula. There are several to choose from, including water-based, silicone, mineral-based, and alcohol-based — and each has its pros and cons. Before deciding on the right formula for your skin and what will suit your needs best, it is essential to understand what each one is used for.
Water-based formulas are more forgiving on different skin types. They are lightweight, breathable, and great for controlling shine. The downside is that water-based formulas won't last as the other formulas. Silicone-based products provide more coverage and have a sheer glow. They are water-resistant, last a long time on the skin, and are great for creating a smoother finish. 
Mineral-based formulas are lightweight and will last a long time. They can be worn on most skin types, even dry skin, which can be challenging to pair with airbrush makeup. Last but certainly not least, you have the alcohol-based formula, which provides excellent coverage but is very drying. This option should be avoided for sensitive skin.
Is airbrush makeup considered safe?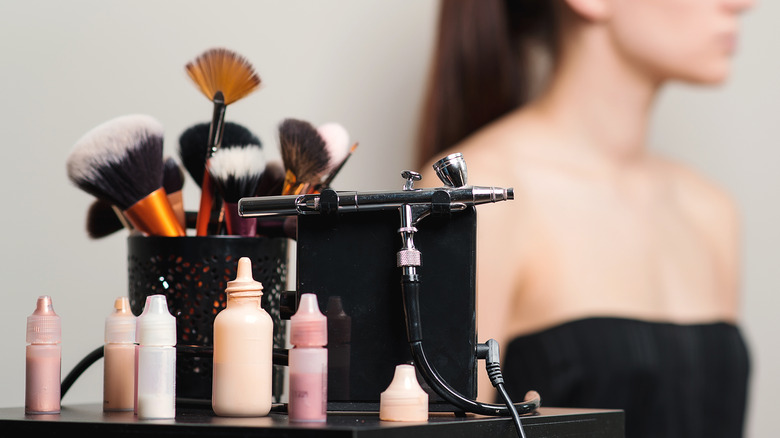 Volurol/Shutterstock
For most people, airbrush makeup is perfectly safe; however, although rare, an allergic reaction is possible depending on the products used. Although there are different formulas to choose from, depending on your preference, it is recommended for those with sensitive skin to use water-based makeup for the best results because they are the least likely to irritate the skin.
To ensure that you are not allergic to airbrush makeup, it is essential to request a patch test beforehand, which will determine if the product causes any reaction. This is done by applying the product in a small amount onto the skin and waiting several hours (you will be advised how long) to see how your skin reacts. If there is no reaction, then it is safe to use.
Choosing the right professional makeup artist (or being very cautious if performing on yourself) is also essential. This is because a poor or improper application could result in the product getting into the eyes, potentially leading to an eye infection or discomfort.
How long will airbrush makeup last?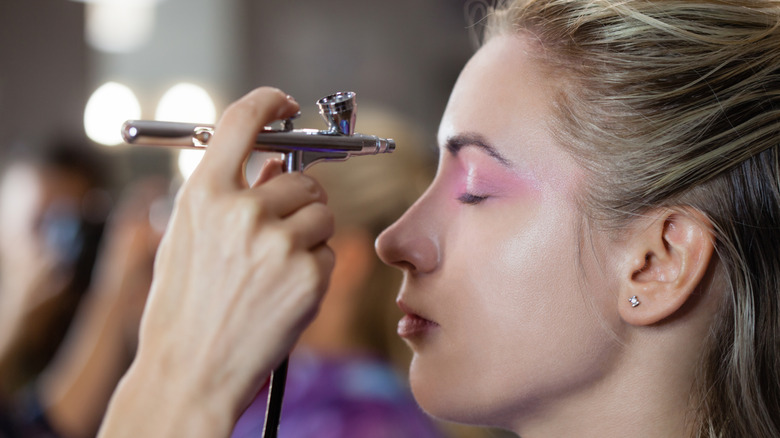 Sunflower Light Pro/Shutterstock
Determining exactly how long your airbrush makeup will stay put can be challenging. This depends on several factors, including the temperature, how much you sweat, the application, and the formula used.
"Traditionally, airbrush makeup lasts about 6 to 10 hours longer than traditional wedding makeup," makeup artist Stacie Ford told Wedding Wire. "Mainly because it's an ultra-fine concentrated mist that absorbs directly into the skin — not merely sitting on top of it — giving it longer durability. Overall it feels featherlight on the skin yet can withstand heat, humidity, tears, and sweat."
Some airbrush makeup can last for around 12 hours or longer. As for how it can last so long? If you choose an alcohol or silicone-based formula, it is often more water-resistant than your traditional makeup, giving it staying power. Great news if you want to dance the night away without worrying about your makeup fading! 
How long does airbrush makeup take to apply?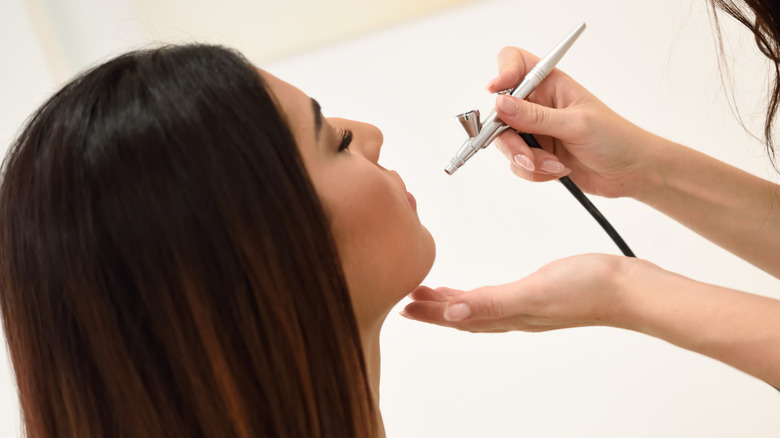 Javi_indy/Getty Images
Airbrush makeup can be completed very quickly, but this will depend on the look you want to achieve. It can take as little as 10 minutes or much longer, so communicate with the makeup artist beforehand for a clearer picture, especially if you are getting your makeup done for an event and are on a strict schedule. Things that impact the time will include the coverage you want, how much you want to be done, and the machine itself.
One of the pros of airbrush makeup is that in the hands of a skilled professional, they can perform the procedure fast and efficiently. Because the formula is lightweight, it requires less time to blend. "It's much faster to apply than traditional makeup and much less product on the face too," makeup artist Melanie Cristescu told Elle. It feels like nothing on the skin. And most of all, it's an HD application, so you look photoshopped straight from the lens."
Can airbrush makeup cover acne?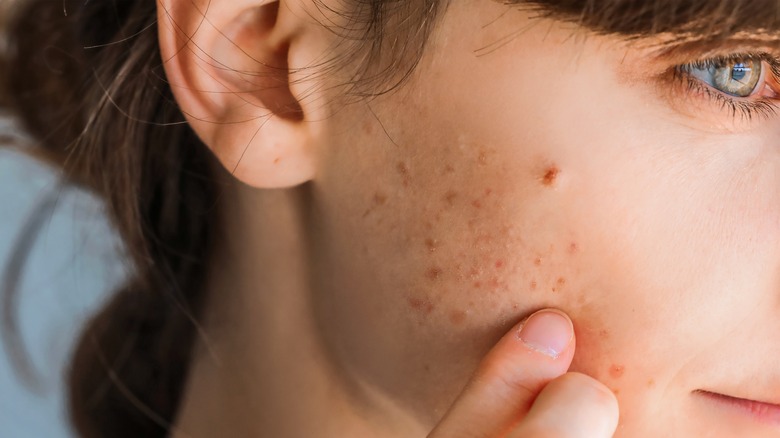 Kim Kuperkova/Shutterstock
If you have a special occasion and want to wear makeup that covers your acne or other problematic areas of your skin, airbrush makeup could be the solution. Covering acne with makeup is challenging because, depending on the ingredients and your skin's sensitivity, the makeup could worsen it (via the American Academy of Dermatology). The good news is airbrush makeup is suitable for acne.
"The lack of brushes is a huge help when it comes to acne," airbrush makeup pro Jalyka Smith told Elle. "Airbrush doesn't transfer oil, dirt, and bacteria onto your face that traditional makeup brushes do. I have sensitive skin, and airbrush makeup has never made me break out."
The appealing thing about airbrush makeup is it's also breathable and potentially less likely to clog your pores. "Whether you're the makeup lover that doesn't walk out of the house without a full face on or that person who has never worn foundation, you'll love the fact that airbrush makeup lets your skin breathe," lead makeup artist with Luminess, Heather Hughes, told Editorialist.
What about using airbrush makeup on skin conditions?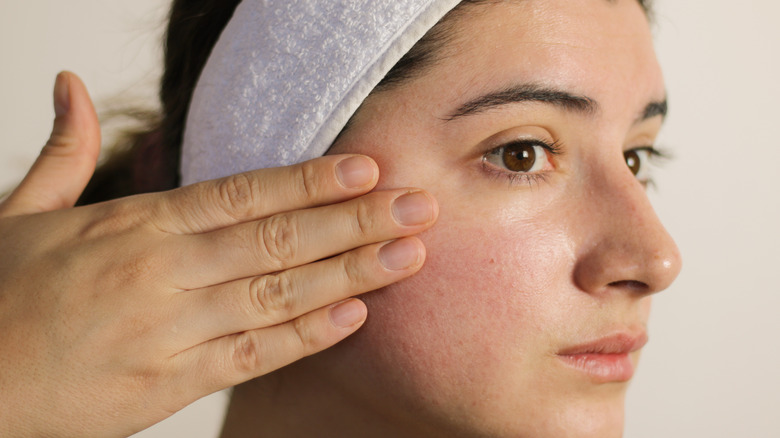 Liz Jara/Shutterstock
It is not just acne that airbrush makeup can be used on; it can also cover discoloration, birthmarks, dark circles, and skin conditions like rosacea. "It's also great for people with texture and fine lines because it sits on the surface, not sinking into the skin," Melanie Cristescu told Elle.
The technique of airbrush makeup creates a softer and smoother appearance of the skin, which will detract from and minimize any perceived imperfections while still looking natural. The best formulas for coverage are silicone-based and alcohol-based because they provide heavier coverage.
Despite its ability to cover various conditions (which can boost your confidence and empower you), airbrush makeup is not a miracle treatment. This means you need to have realistic expectations for what it can and cannot do, and using a concealer first could also be beneficial. If you are concerned about how much of your skin condition will be covered, discuss this with your makeup artist beforehand. It is never a bad idea to ask questions to help you avoid disappointment.
How much does airbrush makeup cost?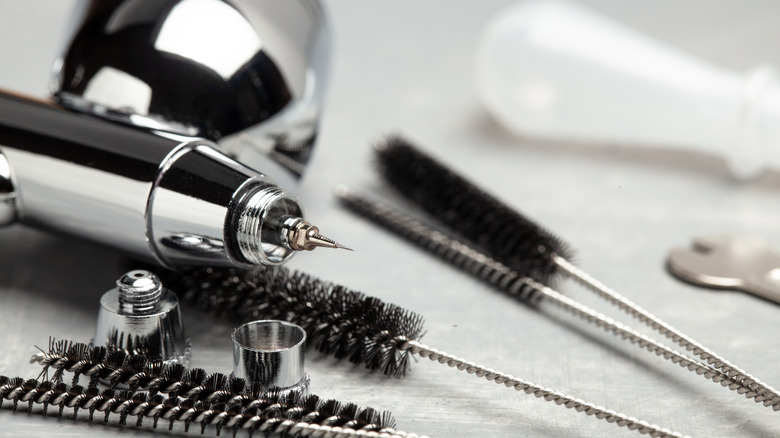 ADragan/Shutterstock
Airbrush makeup is often more expensive than opting for a full face of traditional makeup, and you can expect to pay upwards of $200 for the application. The cost is an obvious drawback — not everyone has that kind of money, especially when you are choosing it for a special day (like a wedding) and may have other people to pay for. Nevertheless, it's recommended you do your research to find a skilled professional (and prices may vary).
For some people, airbrush makeup is worth it because they love the results and how the makeup makes them feel. But this is not true for everyone, and there will be varying results. You may want to do a trial first to weigh the pros and cons and determine if this technique is better for you than traditional makeup. If it is, you won't mind parting with your hard-earned cash. And who knows, you may love it so much that you invest in your own airbrush kit to perform at home! 
Your makeup will look gorgeous, but it's also high-maintenance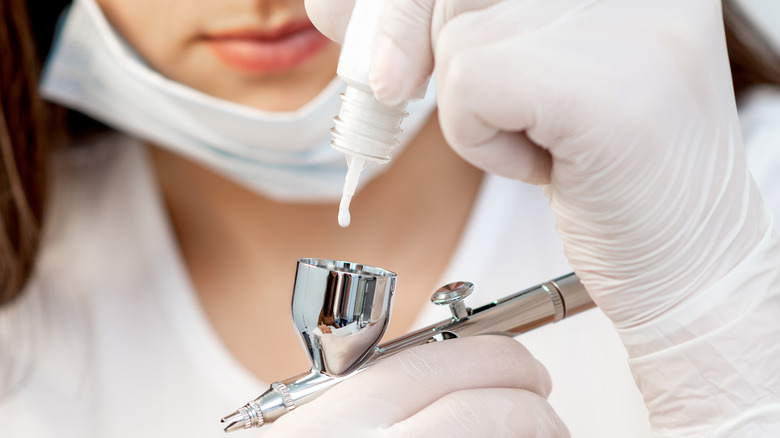 Okskukuruza/Getty Images
As flawless as airbrushed makeup looks, the downside is how complicated the application is — meaning you will likely need to hire the services of a professional. Or, if you decide to do your airbrush makeup yourself, you'll definitely want to practice a lot beforehand — and by a lot, we mean way more than once or twice. 
Compared to traditional makeup, airbrush makeup can also appear uneven and flaky if not applied properly, and your skin must be prepped and hydrated before application. And what if you need to retouch it? The real problem lies here: Airbrush makeup is difficult to reblend. Mistakes happen, especially when you have chosen the makeup for long-wear, like your wedding day.
What if someone kisses you on the cheek and leaves their lipstick behind? What about tears and sweat? Despite being an excellent option because of how water-resistant the formula is, it is not magic. "If there's an appearance of any smudge due to an accidental rub or too much perspiring, it's a problem to repair airbrush makeup," makeup artist Hope Henderson told Bridal Guide. 
Can people with dry skin try airbrush makeup?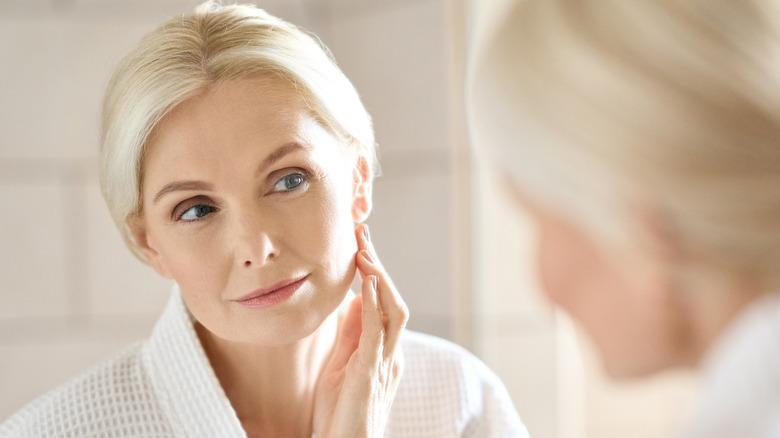 Ground Picture/Shutterstock
Those with dry skin often avoid airbrush makeup because the formula is not as creamy as a traditional foundation. If your skin is dry already, this can result in an uneven and flaky application. This is especially true for specific formulas, like alcohol-based, which are known to be drying.
Traditional makeup may indeed have a better result for those with dry skin. But before you disregard the possibility of trying airbrush makeup, it is always a good idea to consult a professional makeup artist because they can advise whether the product will look good or not.
"If someone is on the dry side, I recommend silicone or oil formulas," makeup artist Holly Gowers told Refinery29. Prepping your skin first by applying a great moisturizer and hydrating primer could also make all the difference. For those with oily skin, airbrush makeup could be the solution you have been looking for, especially since it's water-resistant, so it will stay on for long periods and help keep the oiliness at bay.
Airbrush makeup is ideal for weddings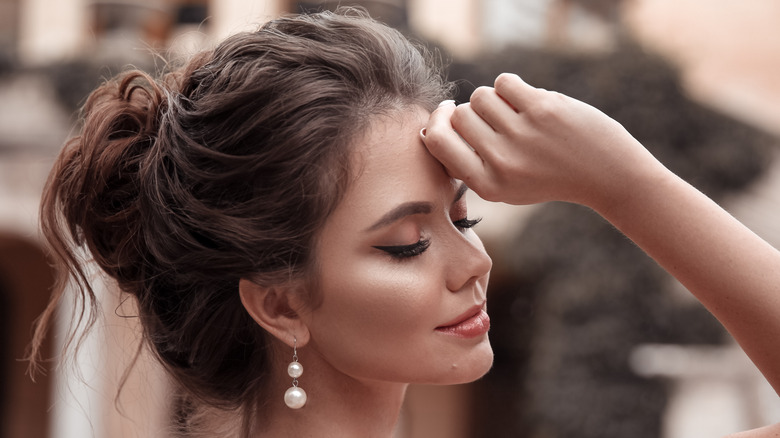 VAndreas/Shutterstock
For many women, their wedding day is one of their life's most important and memorable events. It makes sense that you want to look your best and feel confident and beautiful — and the right beauty products will add to this. Airbrush makeup has become a popular option for weddings because of how flawless it looks in photos. It is a type of makeup application not typically used daily (although it can be) and is most often reserved for special occasions.
Your wedding day is also a time to take a lot of photographs, so you have memories of your special day. "Many brides believe that they have to have a heavier foundation in order to look good in photographs, but in fact, it's the opposite," makeup artist Jane Cohen told Bridal Guide. "To be able to see the skin glowing underneath, a sheer foundation creates an amazing close-up beauty shot in bridal portraits."
Does airbrush makeup come in all shades?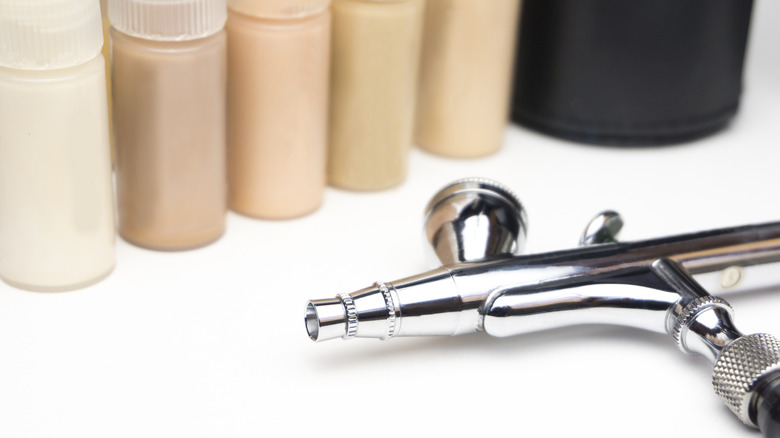 Mimi Lee/Getty Images
One of the biggest drawbacks to airbrush makeup is that it is challenging to match your skin tone, and there are limited shades. There is the option to create custom colors by blending foundations, but this may still not be enough, which is why for some women, traditional makeup is a better option because it is much more versatile. Plus, traditional makeup has been around longer, and there are many more colors available to provide a better match. 
It is not just the lack of diversity to consider when determining the color, but also how it will match with the rest of your body. There is also another important factor to consider: If you tan your body but not your face, it can be challenging to determine which color to use. You want to match the shade with your face for coverage and then add a darker color after to build upon and blend it.
You'll love how hygienic it is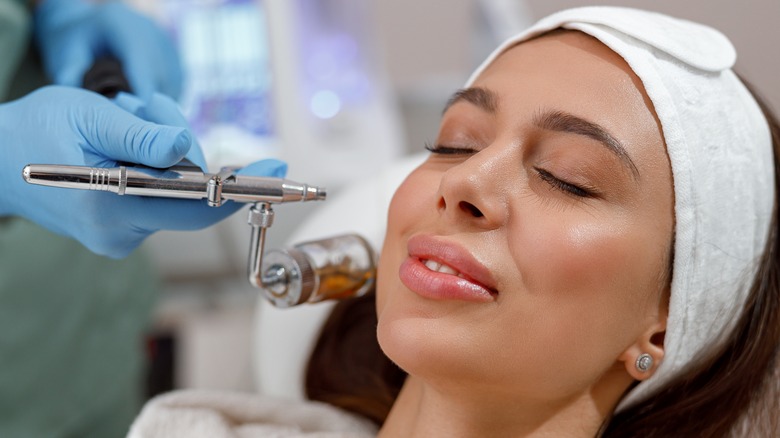 Yaroslav Astakhov/Shutterstock
As previously noted, airbrush makeup is applied to the face using an air gun and does not directly touch the skin. For this reason, it is often considered more hygienic (of course, the equipment will need to be cleaned correctly). This means bacteria and germs are less likely to be introduced into the skin. In contrast, traditional makeup uses brushes, sponges, and even fingers to blend foundations better, which could lead to a breakout.
Since no brushes are required, the hygienic factor also leads to a more spreadable and flawless finish. Celebrity makeup artist Nydia Figueroa told Brides, "Since it's not applied using conventional methods such as brushes or sponges, you can guarantee that the product spreads evenly on the face and stays put. It prevents any smearing or gaps that could be caused by the bristles of a brush or the absorption of a makeup sponge."
Can you do airbrush makeup at home?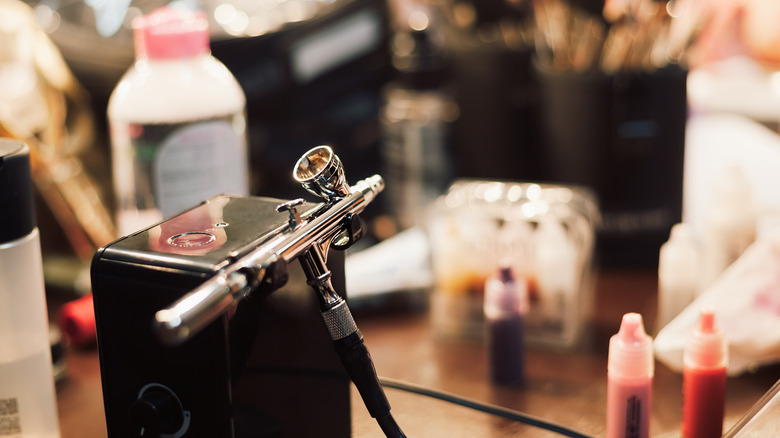 hurricanehank/Shutterstock
If you want to use airbrush makeup for a special occasion, then it is recommended to seek the help of a trained professional. However, if you want to experiment with new techniques, you can definitely do your airbrush makeup at home. Several kits are available to purchase at various prices and are designed to use different formulas.
When choosing the perfect airbrush makeup kit, you will need to figure out what features you are looking for. Do you need a cordless kit? Or perhaps you want a kit with a video guide or booklet to help get you started. The good news is that there is an option to suit everyone.
Some are beginner-friendly, while others require you to have more knowledge of the products to use them well. If you plan to purchase one online, always read through the customer reviews before clicking "add to cart" to better understand what you can expect and help you weigh the pros and cons.
Is airbrush makeup just for foundation?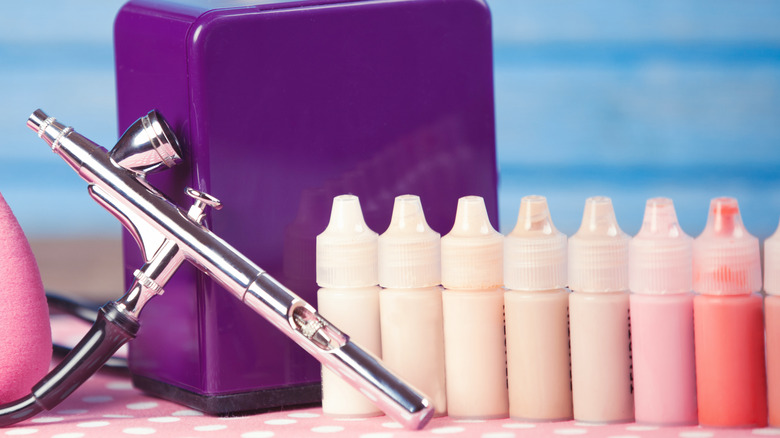 Masson/Shutterstock
Airbrush makeup may seem like a dream technique, helping you achieve the makeup look you have seen in photoshoots — but you may not realize there are limitations to it. This product is usually not used on the eyes and lips (unless you are using a special formula that can be used there).
Instead, airbrush makeup primarily focuses on base makeup: foundation, highlighter, blush bronzer, and contour. After the skin is prepped, the airbrush foundation will be the first major step, which is applied in circular motions and sprayed onto the skin by holding the kit around six inches away from the face.
After this, your makeup artist will come closer to add the blush, bronzer, and then a highlighter, which will be created using a C-motion. You can top off your flawless airbrushed complexion with setting powder to keep your makeup in place. Then, prepare for all the "oohs" and "aahs" as those who come in contact with your complexion admire its smooth, flawless finish.