The Skincare Products That Should Be In Your Routine In Your 20s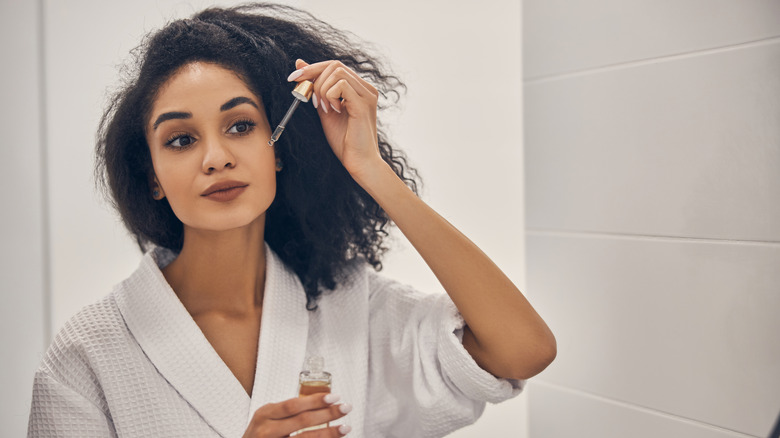 Yacobchuk/Getty Images
We may receive a commission on purchases made from links.
In your 20s, as you're hitting milestone after milestone, it's important to keep skincare at the forefront of your mind. Developing a proper routine that provides thorough cleansing, moisturizing, and vitamin introduction is key to putting on your best face for the rest of your life. One thing to remember as you develop a skincare routine is to keep it simple if you are just getting started. No matter how good the products you buy are, introducing your delicate facial skin to a bunch of lotions, serums, and other skincare ingredients all at once can be counterintuitive.
At this point in your life, the best thing you can do for your skin is protect it. Carrying healthy care habits further into your adulthood will allow you to keep your skin in great shape for many years to come. 
Though the skincare world can be overwhelming, just a handful of products can provide you with everything you need. In addition to the 12 skincare products that follow, washing your face twice per day, never going to bed with makeup on, and using the right ingredients for your skin type will go a long way in helping you achieve radiant and smooth skin that lasts.
Oil-based cleanser
Cleansing your face properly is the first step in any good skincare routine. Though many of us have been trained to wash our faces once, double cleansing may be a better option for some. Using a quality oil-based cleanser before a water-based gel or foam cleanser can help break down products and pollution that are clogging our pores. Oil-based face wash, such as the DHC Deep Cleansing Oil, is capable of removing makeup, sunscreen, sebum, and dirt as the oil binds to them and washes them away. You'll want to choose an option like this that is free of fragrance and colorants. Some oil-based cleansers with added ingredients can lead to breakouts or other irritation.
Washing your face with this product first allows your normal face wash and subsequent products to work better as they more easily penetrate the skin. Be sure to apply oil-based cleansers to a dry face. Adding water before rinsing will make the oil unable to do its job correctly. After massaging it into your face and neck, you can wash it off, but make sure to leave your face wet to follow up with a water-based cleanser.
Water-based cleanser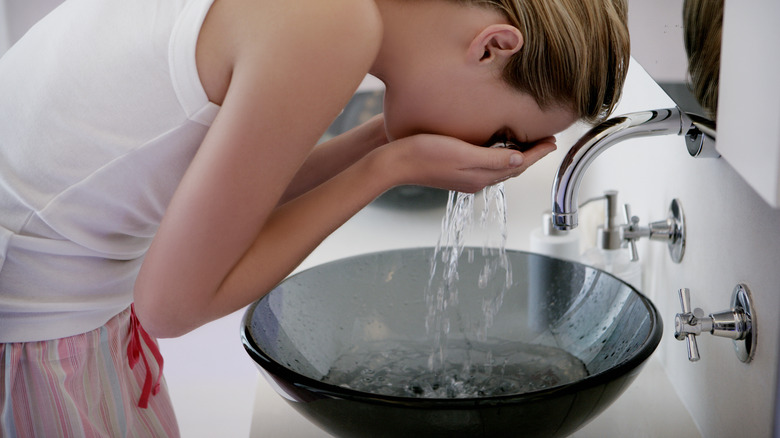 Jupiterimages/Getty Images
The second and final step in a double cleansing routine is using a water-based cleanser. Unlike oil-based face washes, there are many more options available depending on skin type. The well-loved Guinot's Microbiotic Cleansing Foam is a good choice if you have oily skin. And if you have dry skin, try the La Roche-Posay Toleriane Hydrating Gentle Face Cleanser.
Most water-based options will come with different ingredients to target skin concerns like acne, discoloration, fine lines, and more. In general, salicylic acid, glycolic acid, and benzoyl peroxide are good for young skin that is acne-prone.
Keep in mind that double cleansing isn't necessary for everyone every single day. A water-based cleanser alone is often enough for people with normal or oily skin that don't frequently wear makeup or get their skin dirty at work. You can save the double cleansing routine for days when you wear heavy sunscreen and makeup or on days when your face is extra oily.
Toner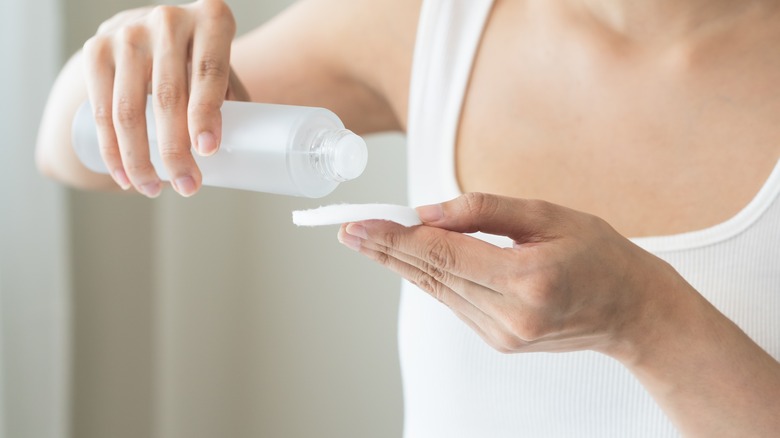 Pormezz/Shutterstock
Just like you use a primer before applying your makeup, toner is a sort of primer that is best to use after cleansing but before moisturizer. In days past, toner got a bad wrap for its harsh ingredients that usually left the skin worse than it was before, especially if you already had dry skin. As time has gone on, we've got a better grasp on what toners are supposed to do. Now there are more targeted options that can hydrate, fight breakouts, and refresh and calm the skin. Often, they come in spray bottles to apply a light mist over the entire face, but others may be applied with a cosmetic cotton round or with your hands.
There are several great toners out there. You can go with the tried-and-true Thayers Original Facial Toner, which is available at most stores. The brand is known for its witch hazel formulas that clarify the skin while keeping it hydrated. Alternatively, some prefer a gentler and more moisturizing option. We love Baszicare's Roseus Floral Hydrating Toner which soothes, nourishes, and revitalizes the skin. Even though it has a much heftier price tag, it does come in a large bottle and it's formulated with trustworthy ingredients.
Hydrating serum
In your 20s, serums in general may seem like a pointless and wasteful addition to your skincare routine. Still, if we were to convince you to add any of these things to your arsenal, a good serum that targets your main skin concerns would be near the top of the list. A hydrating serum can be used on any skin type. Though the name implies that it adds moisture, it actually does so much more. In addition to giving your face some much-needed hydration, it also smooths and tightens the skin to combat fine lines and premature aging. On top of that, it's an important step for protecting you against dry air, daily pollutants, and even the sun to an extent.
The Ordinary is a brand that has blown up in popularity over the last few years for its affordable and naturally formulated serums. Among their hydrating options, the 100% Organic Cold-Pressed Rose Hip Seed Oil and the Hyaluronic Acid 2% + B5 are well loved. Both options combat dryness, however, one has an oil-based formula while the other is water-based. No matter which one you choose, these serums will help to fortify and protect your skin barrier to provide you with healthier skin.
Vitamin C serum
Everyone should be using vitamin C in at least one part of their face care routine. We suggest getting it as a serum, but you can also find vitamin C-infused moisturizer, lip balm, sunscreen, under-eye cream, and more. This ingredient, which is usable for all skin types, is known for brightening the skin as well as hydrating, reducing discoloration, and promoting collagen production. The miracle product is great for use in your twenties and throughout the rest of your life as it can help to slow the appearance of aging and protect your skin from things like UV rays and oxidative stress damage.
The Inky List's 15% Vitamin C + EGF Serum is a good place to start if you're unfamiliar with vitamin C products. It can be used in the morning or before bed just before applying your moisturizer. This one, which includes naturally derived epidermal growth factor in its formula for faster skin cell regeneration, targets dullness, hyperpigmentation, and scarring left by acne and other environmental causes. The serum should only be used once per day and it should not be put onto your face at the same time as any of your retinol treatments or chemical exfoliators.
Retinol treatment
People are really starting to understand the importance of retinol in a skincare routine. The product, which exfoliates, unclogs pores, and increases proliferation, is one form of vitamin A. Overall, its most-loved benefits are its anti-aging and acne-fighting abilities. Many retinol treatments can only be prescribed by a doctor due to their high strength and potential side effects. Though prescription retinol treatments like Tretinoin may work more efficiently on the skin, countless over-the-counter options are great for young and proactive skincare enthusiasts that strive to keep their skin smooth and supple for as long as possible.
Retinol treatments come in many forms including serums, creams, and ointments. If you aren't particularly worried about fine lines and wrinkles at the moment, a mild retinol serum such as The Ordinary Retinol 0.2% in Squalane is an amazing option. Remember that it should not be used at the same time as vitamin C or other retinoids. 
To combat the irritation and drying that can be caused by retinol, some people have had great success with azulene oil. Or you can try applying Acure's Seriously Soothing Blue Tansy Night Oil after your retinol serum to leave your skin feeling soothed.
Acne spot treatment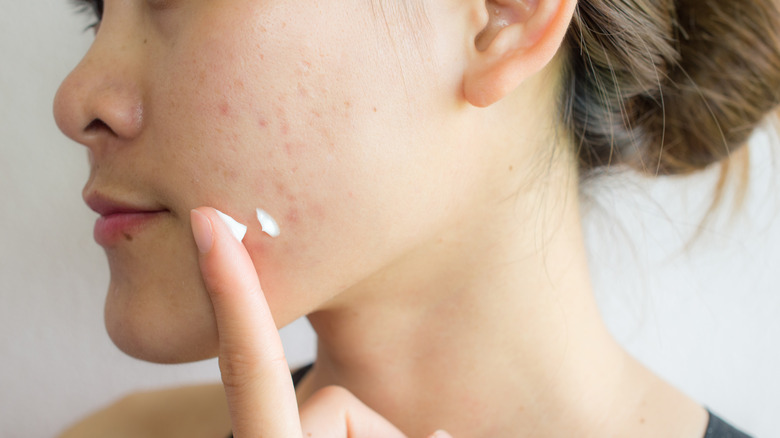 Boyloso/Getty Images
If you've struggled with acne since childhood, you've likely encountered several spot treatments. Spot treatments work by introducing concentrated amounts of acne-fighting ingredients such as salicylic acid, benzoyl peroxide, or retinoid creams directly onto your pimples to unclog the pores and dry them out. They are tricky because there are so many different options out there, but just a few might work on your pimples. What's worse is when you do finally find something effective, using it for an extended period of time could cause it to stop working entirely.
People who have never used spot treatment before may have the most success with salicylic acid treatments which are typically gentler than the other options. Clean and Clear's Advantage Spot Treatment consistently receives positive reviews for its ability to clear up breakouts fast. Formulated with witch hazel and 2% salicylic acid, the gel treatment easily reduces the appearance of acne, clearing up redness and minimizing swelling. If salicylic acid doesn't work for you, Tula's Go Away Acne Spot Treatment with benzoyl peroxide may be a better option.
Whenever using any type of spot treatment you should always patch-test it first. Do not immediately rub lots of it onto your face or you may end up with a nasty chemical burn. Use a small amount and allow your skin to acclimate to the harsh ingredients that are meant to make your pimples less visible.
Moisturizer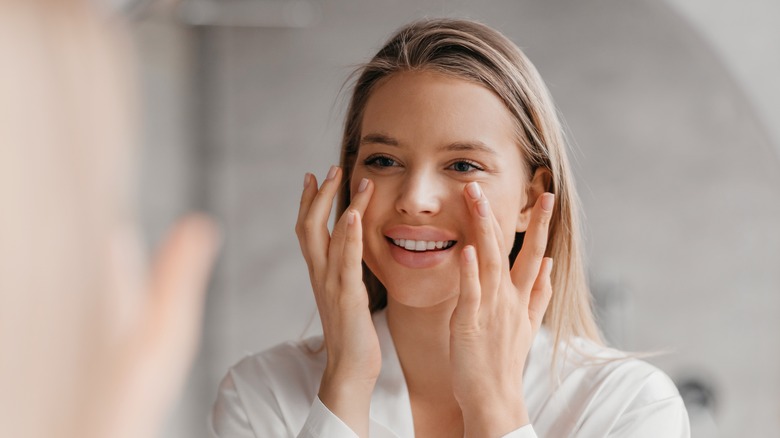 Prostock-studio/Shutterstock
We beg you to use a moisturizer. Even if you don't use any other product on your face, moisturizer is an essential step for anyone. Without it, your skin can become dry, irritated, itchy, and unhappy. Thankfully, it's not difficult to find a good face lotion as there are seemingly endless options out there that cater to all kinds of skin types, skin concerns, and budgets. 
Among the most widely recommended lotions is CeraVe Daily Moisturizing Lotion. This one can actually be used on any part of the body, and it is suitable for normal and dry skin. It's also formulated with hyaluronic acid and three essential ceramides, so you get the benefits of a few different products in one.
If you have oily skin, there are other moisturizers to choose from, including St. Ives' Moisturizer Collagen and Elastin Facial Moisturizer, which is non-comedogenic and dermatologist tested. The formula is non-greasy, very light, and great for sensitive skin as indicated by the reviews. One explains the moisturizer perfectly saying, "I have used most expensive skincare creams, La Mer, Shiseido, etc. Without fail, this is the best! ... I love the way my face looks! Softer, tighter, fewer wrinkles, great base for makeup!"
Sunscreen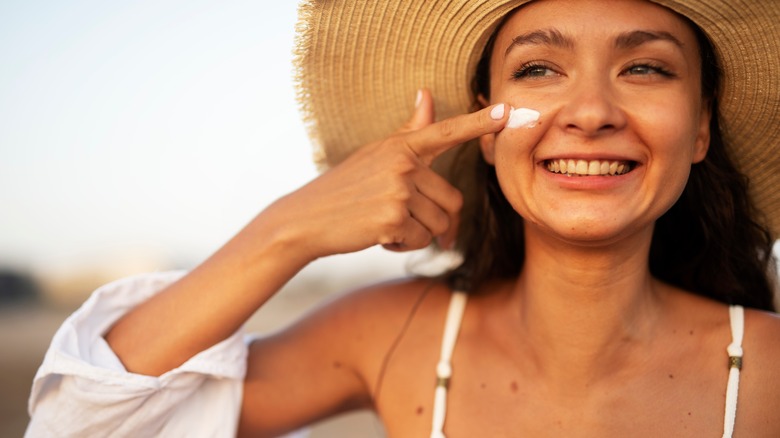 Pepper cinema/Shutterstock
If sunscreen isn't a daily part of your skincare routine year-round, what are you doing? The harmful UV rays from the sun are among the worst things to expose your skin to on a regular basis. Yet, they are also very simple to avoid. A high-quality sunscreen with at least SPF 30 can protect you from the sun's rays for hours and there are so many different options. You can apply sunscreen as a lotion with your skincare, as makeup with your foundation, and even as a powder from certain brands.
The EltaMD UV Clear Face Sunscreen is the #1 best-selling facial sunscreen on Amazon, and it has gained a lot of popularity through TikTok and other social media sites. People love this sunscreen for its lightweight and oil-free formula that works well under makeup. It also has some skincare ingredients in it as well such as hyaluronic acid and niacinamide that hydrate and reduce the appearance of fine lines while protecting your skin from UV rays with broad-spectrum SPF 46, which is higher than the American Academy of Dermatology Association's minimum recommendation.
Under-eye cream
After applying many of these products to your face, under-eye cream may feel unnecessary. But, something to keep in mind is that the skin under your eyes is quite unlike the rest of your face. It's much thinner and also very fragile. Typically, the skin under and around your eyes will look as though it's aging faster than anywhere else on your body, especially if you often rub your eyes often or neglect that area during your skincare routine. The fine lines and wrinkles that form here can be minimized by an under-eye cream that will correct exactly what you need it to.
The first thing to look for in one of these creams is hydrating ingredients. Usually, shea or cocoa butters are a good place to start, or if you prefer something with a less creamy consistency, something like Glow Recipe's Guava Vitamin C Bright-Eye Gel Cream made with encapsulated vitamin C complex, peptides, and niacinamide may be even better. Either way, it's a good idea to review the ingredients in any eye cream you are considering to make sure that they really contain vitamins and compounds that treat discoloration, puffiness, wrinkles, and/or sagging. When applying be sure that you tap it in with your fingers. Don't rub! And you should always go in with a quality moisturizer all over your face when you're done.
Chemical exfoliator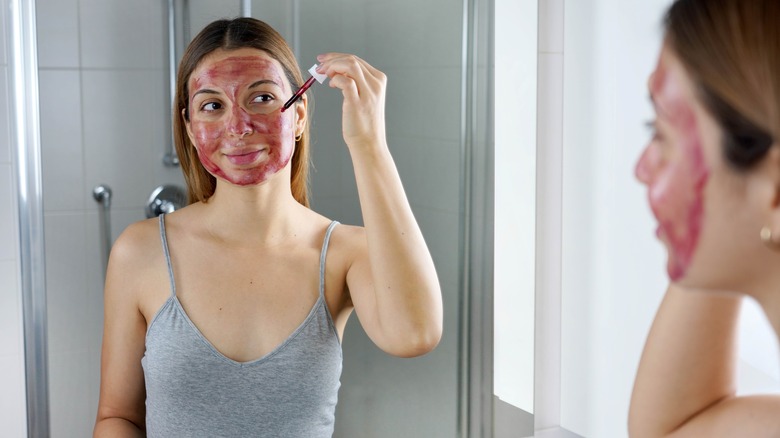 Zigres/Shutterstock
Chemical exfoliators for your face sound scary, but they are usually better for you than traditional facial versions that use harsh exfoliators like ground-up shells, fruit pits, and volcanic rock. Though these scrubs claim to be just fine for facial use, any of them that use sharp and abrasive ingredients are problematic for the fragile skin on your face. They are known to cause damage, called micro-tears, on the skin surface that weakens your skin's natural barrier. Instead, chemical exfoliators are considered to be the safer option as they use acids to rid your face of dead skin cells. They also may be the more effective choice since they can work into the skin much deeper and more evenly.
Most chemical exfoliators sold over the counter only need to be used once per week or less to keep your skin healthy and even its tone. There are three main types of chemical exfoliators: AHAs, BHAs, and PHAs, and all of them are available in different concentrations for different concerns and skin types. AHAs and PHAs are the most similar, and they are both relatively gentle. For very sensitive skin, you may want to go for PHAs because they can't penetrate quite as deeply as AHAs. BHAs are more intense. Salicylic acid is a BHA, and it easily rids the skin of clogged pores and excess sebum. However, overuse can lead to chemical burns and other negative effects, so you must use it as its directions instruct.
Lip balm and lip masks
After all this work to protect the skin on your face and neck, it's important that you don't neglect your lips. Our lips are surprisingly fragile and easily affected by things like the weather or the amount of water we're drinking. Too often, the lips are an afterthought of our beauty routine, left to become dry and crusty. Hopefully, you can start keeping a lip balm on you at all times for quick moisturization, and if your lips need some more TLC, consider purchasing a lip mask. These long-wear masks are made with thicker and more hydrating formulas that offer intense rejuvenation with little effort. Unlike your average lip balm, a lip mask is often infused with skin-loving ingredients like powerful antioxidants and nourishing oils that bring your kisser back to its luscious self.
You might be familiar with the TikTok famous Laneige Lip Sleeping Mask that uses shea butter, murumuru butter, and coconut oil to hydrate. However, a common complaint is that it's overpriced. If you're searching for something more affordable you could also try the e.l.f. Holy Hydration! Lip Mask or the Burt's Bees Natural Overnight Intensive Lip Treatment which offer similar results at a fraction of the price.