Your Guide To Moisturizing After Showering: What To Use, How Often, And How It Helps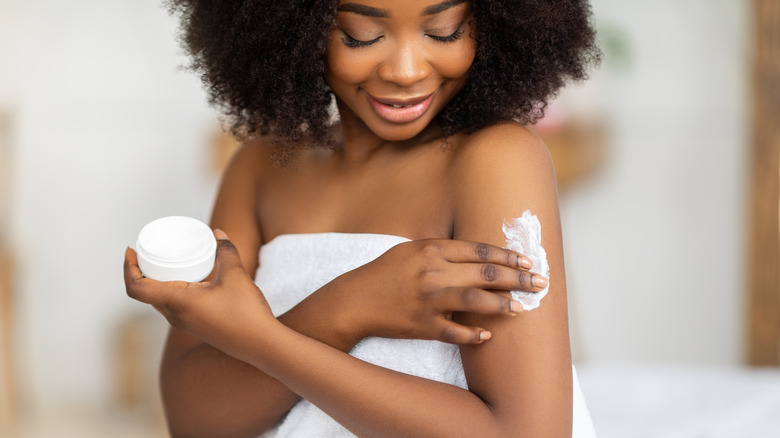 Prostock-studio/Shutterstock
Is there anything better than that freshly showered feeling? You know the one — you've indulged in your favorite products, and you've emerged a renewed and revived version of yourself. Only the goodness of the experience doesn't end right there. In fact, it's the post-shower moisturizing routine that helps your skin continue to look and feel its best even hours later. It's especially important not to overlook this step if you have dry skin. Loading up on the hydration is an easy way to comfort your skin, lock in the moisture from your shower, and promote a more consistently soft and supple texture.
According to the American Academy of Dermatology Association, "By 60 years of age nearly everyone has dry skin." It can happen for any reason, from a deficiency in vitamins and minerals to certain medications to conditions like dermatitis or diabetes. The earlier in life that you start nurturing your skin, the better you can stay on top of dryness and keep it as soft as possible. Here's why moisturizing after your shower is the most effective strategy.
Why moisturizing after your shower is necessary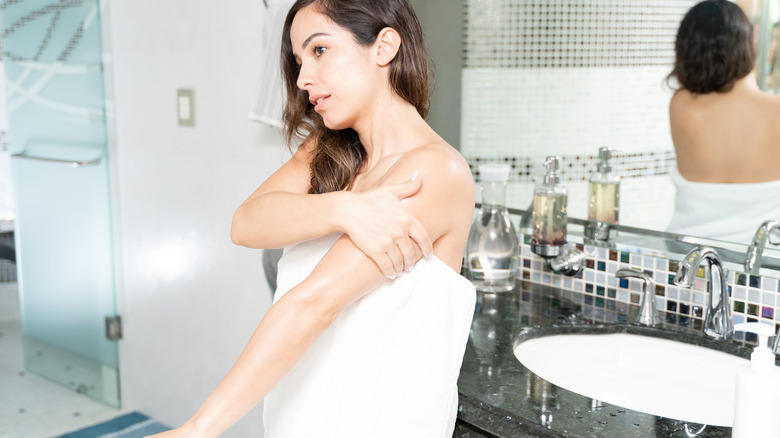 Antonio_diaz/Getty Images
Although you can apply lotion any time your skin feels a little thirsty, it's especially important to slather on your moisturizer after your shower. The hot water that feels so amazing as you wash away your worries in the shower is the same water that strips natural oils from the skin. The result is a dry, dehydrated finish that can grow more uncomfortable with time if it's not properly addressed. 
Moisturizing post-shower is essential because the water that remains on your skin is locked in when you add a layer of cream, lotion, or oil on top of it. It's crucial to prioritize this step if your skin ever feels dry or itchy, but even if it doesn't, it's a good habit simply because it helps your skin look and feel its best. The same principle applies when you emerge from a bath, especially after you've shaved or exfoliated your skin. Both slough away the dead skin cells on your body, leaving a fresh and renewed layer behind — and that fresh and renewed layer can only feel smooth and supple when it's coated in a nourishing moisturizer.
Know the difference between body lotions, creams, and oils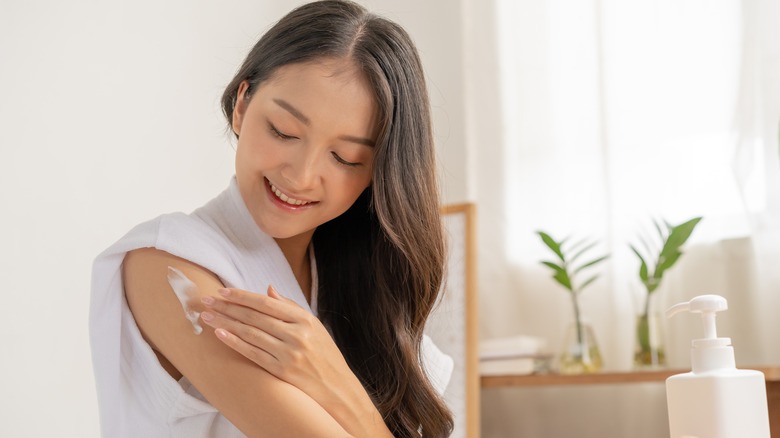 Kmpzzz/Shutterstock
There's a commonality that body lotions, creams, and oils all share: They're nourishing, deeply hydrating emollients that drench your skin with moisture and leave it soft and supple. However, for all their similarities, these formulas differ considerably from one another. It's helpful to understand those differences, so you can make the right choice for your skin type.
The most lightweight option is body lotion. It glides onto the skin easily and is perfect if you have normal or oily skin. The natural slip and light texture of lotion come from its water content, but these products are typically also enriched with something like hyaluronic acid or glycerin to lock in moisture. By contrast, a body cream is a far more concentrated formula that contains more oil and less water. It's especially well-suited for people with dry skin. Creams are typically enriched with richer ingredients, such as shea butter, coconut oil, or jojoba oil, to nourish even the driest skin and leave it as soft as possible.
The richest of all is body oil, a heavily concentrated emollient that is generally made with some form of skin-safe oil, like argan, coconut, jojoba, or oat. These products nourish the skin, leaving it soft and deeply conditioned while imparting essential moisture. Body oils are best for those with stubbornly dry and mature skin.
Understand different types of moisturizing agents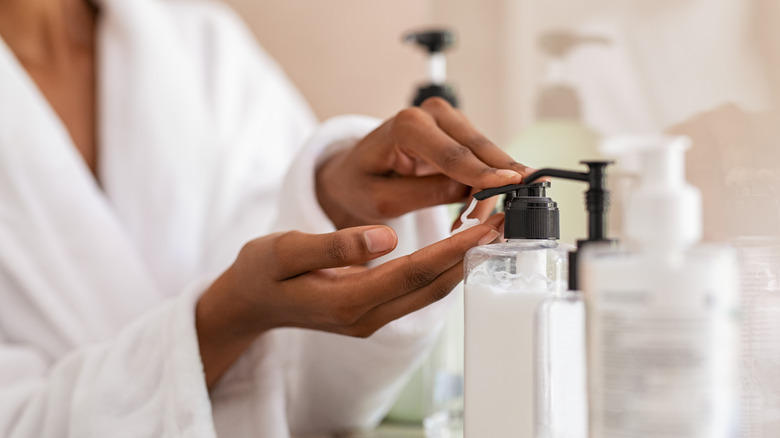 Ridofranz/Getty Images
You know about the different types of moisturizers, but what about the specific agents that make them so hydrating and effective? It's helpful to understand how emollients, occlusives, and humectants differ from one another, so you can determine which category of moisturizer is right for your unique skin type.
Humectants lock moisture into the topmost and deeper layers of your skin by drawing water from the air, leaving your skin even softer and more supple. This type is ideal if your skin is especially dry and difficult to manage, as the formula can replenish your moisture stores. Common varieties include hyaluronic acid, glycerin, and urea.
If your skin is rough and dry, you might also benefit from an emollient. This formula supports your skin cells, leading to a smoother texture, while creating a protective layer that prevents your skin from drying out over time. Common varieties like shea butter, coconut oil, and cocoa butter wrap the skin in moisture. If your skin is more damaged than merely rough, you might need an occlusive. It creates a barrier over your skin, limiting evaporation to ensure your skin stays extra-soft after moisturizing. Common varieties include beeswax and petrolatum.
Look for the right ingredients for your skin type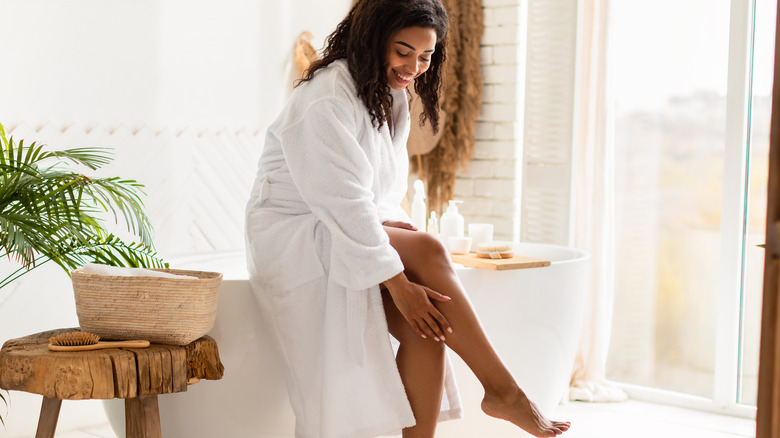 Prostock-studio/Getty Images
There's more to selecting a body moisturizer than focusing on the formula. Whatever you choose should contain effective ingredients that address your skin's unique needs. What works for one person may have little impact on you, and vice versa. Understanding what works for dry, oily, sensitive, and mature skin is key.
Dry skin benefits from something that hydrates and provides lasting moisture. The right combination of ingredients restores your moisture barrier at the same time. Look for emollients that soften on contact, such as cocoa butter and shea butter. Fatty lipids are also excellent, as they safeguard your skin from free radical damage. For oily skin on the body, a lighter-weight moisturizer, like a gel, will keep pores clean and limit greasiness. Ingredients like aloe vera and salicylic acid can control sebum and reduce body breakouts.
If you have sensitive skin, opt for something that is fragrance-free and dermatologist-tested. Common ingredients that soothe and nurture the skin are chamomile and oatmeal. Mature skin types can combat wrinkling and dehydration with plumping ingredients like retinol, hyaluronic acid, and vitamin E to provide antioxidant protection.
How often you should moisturize after showering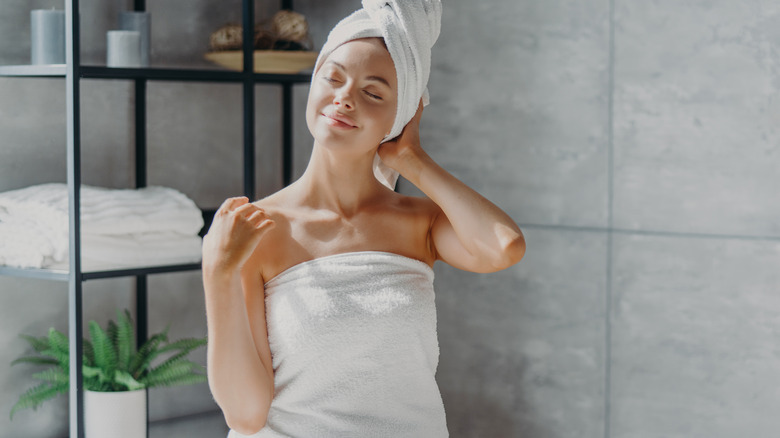 Viorel Kurnosov/Getty Images
The general rule of thumb is that you should moisturize your skin after every shower. That's when your skin is slightly damp, which makes it receptive to the moisturizing layer you add on top. You generally shouldn't skip the step, since it's an easy and effective way to restore the oils that are stripped away during the shower.
However, it's especially important to do so each time if your skin is dry or sensitive. The right ingredients do more than just moisturize — they also nourish and nurture, so the dry skin that feels tight can find relief, and the sensitive skin that burns can calm down the moment that you apply your moisturizer.
If you have oily skin on your body, you might not feel comfortable moisturizing after each shower, particularly if you suffer from acne on your chest or elsewhere. Some formulas are made with ingredients that target the oil and tackle the breakouts, so they provide a more specific benefit than just softening your skin. An oil-free formula could be applied either daily or every other day if your skin is especially oily.
How the season might affect your moisturizing routine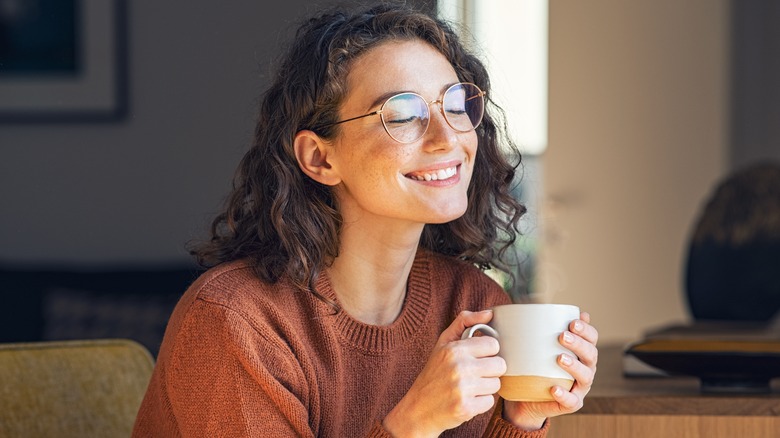 Ground Picture/Shutterstock
The weather definitely plays a role in both the condition of your skin and how you might treat it. Different climates, temperatures, and seasons can affect the texture of your skin, making it especially important to consider their effects and how you can prevent problems that might otherwise leave your skin drier.
Dermatologist Dr. Hadley King tells Fashionista, "It completely depends on your skin, your environment, and what other skin products you're using. If you have super oily skin and live in [a humid area], then you may never need a moisturizer at all — or, a light moisturizing serum or lotion might suffice, even in the winter."
Winter in particular sees the air grow colder and drier, and heated indoor spaces also lack humidity. These can result in especially dry skin that requires more moisture in winter than it might during the rest of the year. Some people might have oilier or more breakout-prone skin when it heats up, so a lightweight lotion might be more appropriate for summer. You can determine what to use during spring and summer based on what your skin needs, and how it responds to the conditions. Generally, though, with milder conditions in the spring and fall, you won't need to make any dramatic changes based on the weather.
Benefits of using in-shower lotions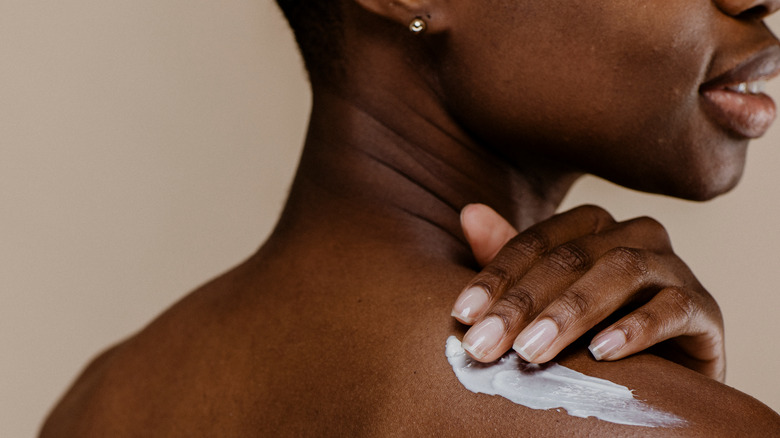 Rawpixel.com/Shutterstock
Not everyone has time to moisturize their skin thoroughly after they shower. When you're in a rush, it's probably the lowest on your priority list of things to do. Luckily, in-shower lotions provide you with an easy way to streamline your routine without sacrificing the very important step of moisturizing post-shower. Dermatologist Dr. Donna Bilu Martin tells Marie Claire about the many benefits of using the product saying, "In-shower moisturizers are a specially formulated mixture of these that are activated by water and deposit a layer of oils and emollients on the skin that are absorbed before they are rinsed off."
They can shave considerable time off your routine since you apply them while you're in the shower, and because they're applied on wet skin, they can effectively reduce dryness and keep your skin moist for longer periods. Many formulas are enriched with nurturing ingredients like coconut oil and shea butter, ensuring that they leave skin silky, smooth, and deeply nourished.
Cleansing and exfoliating help moisturizer application and absorption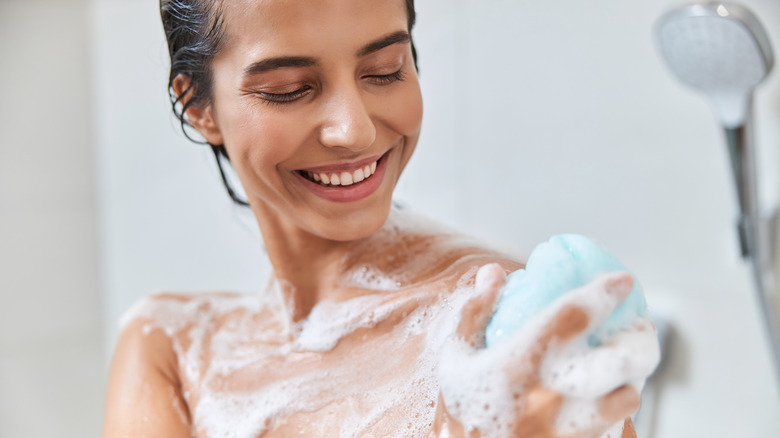 Svitlana Hulko/Getty Images
Cleansing your skin helps eliminate oil and buildup and creates a smooth canvas for your moisturizer. Begin with water that's warm, but not too hot — water that's too hot can actually leave skin drier (per Healthline). That hot water can damage the keratin cells (which support your skin's structure and resilience) in the top layer of the skin. When the cells are disturbed, they can't hold onto water as effectively — and that leaves your skin dry. Then, rinse your body and apply a soap or body wash of your choice. Rinse carefully, making sure to remove all traces of residue.  
Body scrubs play an equally important role in creating a smooth canvas for moisturizer. Mild exfoliating products are ideal, as they slough away dead skin cells without stripping your natural moisture barrier. Removing those dead cells can also improve the appearance of your skin, preventing it from becoming flaky or looking lackluster. The scrubbing process also naturally improves your skin's ability to absorb moisturizer, as it removes the cells that would otherwise prevent your product from penetrating the dermis.
There's something very therapeutic about exfoliating the skin, and it can add to the quality of your self-care routine and help you relax and unwind. Most importantly, it improves the texture of your skin, ensuring that your arms, legs, and anywhere else you apply lotion feel as silky-soft as possible. When you're done showering, pat your skin dry and apply your moisturizer.
How to mostly dry your skin before moisturizing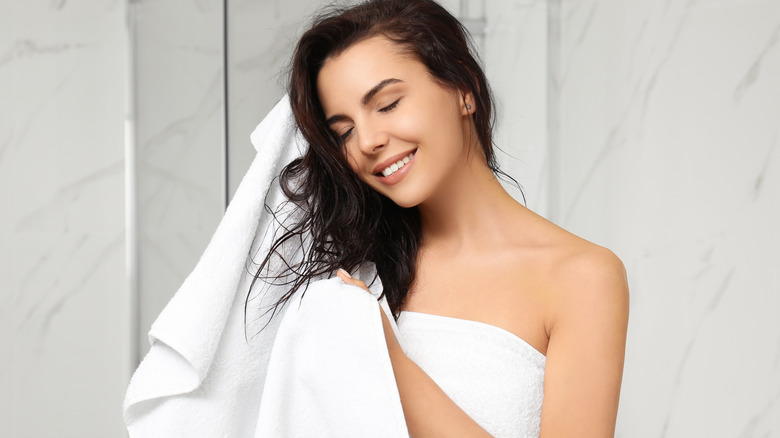 New Africa/Shutterstock
While drying your skin may seem like a straightforward enough process, there's actually more to it than meets the eye — particularly if you want to do things the right way. You'll need to begin with a soft towel that won't treat your skin aggressively as you dry. Look for materials made with microfiber or cotton, as these are especially gentle on dry skin. Plus, the right towel absorbs just enough water as you dry, still leaving it damp enough so you can lock in the moisture when you slather on the lotion after you're done. That's key — leaving a bit of moisture behind ensures that your moisturizer actually has something to cling to and lock into place.
This is why you should pat your skin as you dry instead of rubbing it. Rubbing not only removes most traces of water but can even irritate your skin and potentially leave it feeling drier and rougher. Your skin should ideally feel a little wet when you're done patting it dry. That's how you know you're ready to moisturize.
How to make moisturizer application more enjoyable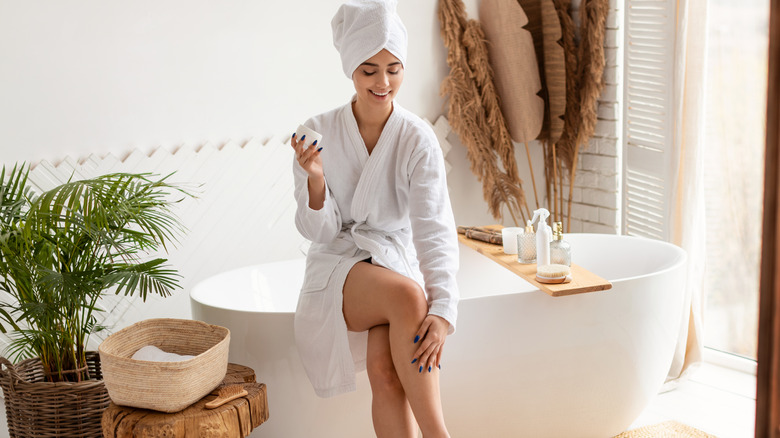 Prostock-studio/Shutterstock
Some people might find moisturizing after a shower to be a tedious and time-consuming task that's not always worth the effort. You can flip the script simply by rewriting the way you approach this essential step in your self-care routine. Begin with a high-quality moisturizer that you love, such as something containing ingredients that are especially good for your skin type or a fragrance you can't resist. Turn on some of your favorite music, whether it's quiet spa tunes or something by your favorite artist. Stand on a soft rug, so you can sink your toes into cozy comfort after your shower.
Then, begin moisturizing. Work your way over your body, smoothing the moisturizer on your skin in circular motions. This promotes circulation and helps you feel even more relaxed as your lotion sinks into your skin. Unless you're in a rush, give yourself some time during this process. If you treat it more like a calming ritual, you're more likely to look forward to it on a regular basis.
Best body lotions to use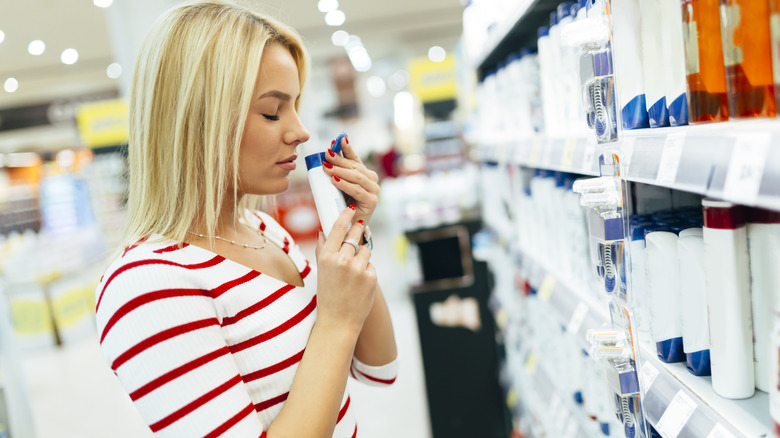 NDAB Creativity/Shutterstock
Choosing the right lotion is a process since your skin likely has very specific needs. There are quite a few varieties on the market, ranging from unscented, highly gentle formulas suitable for sensitive skin to lightweight formulas boasting a fragrance. Among the most popular lotions available on the market today are Jergens Ultra Healing Moisturizer, Neutrogena Hydro Boost Body Gel Cream, Curel Daily Healing Hand and Body Lotion, Nivea Essentially Enriched Body Lotion, Olay Quench Body Lotion, CeraVe Daily Moisturizing Face and Body Lotion, Gold Bond Ultimate Pure Moisture Lotion, Vaseline Intensive Care Advanced Repair Body Lotion, and Aveeno Daily Moisturizing Lotion.
If your skin is sensitive, be sure to perform a patch test before applying the lotion all over your body. And if your skin is especially dry and you don't want to use a cream or oil, look for a lotion formula containing glycerin or another type of humectant.
Best body creams to use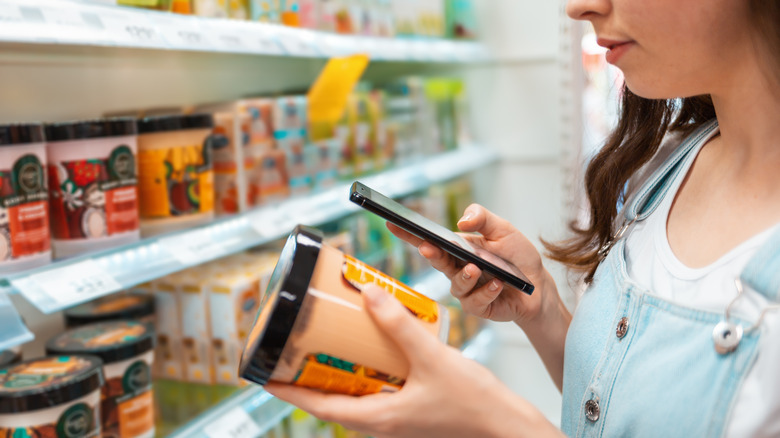 STEKLO/Shutterstock
A body cream is an excellent alternative to a lotion if you favor something thicker and richer. Ideal for people with especially dry skin, creams are intensive enough to deeply hydrate while nourishing your skin with concentrated ingredients. Because they're so effective, they can strengthen the moisture barrier and leave skin naturally softer over time.
Some popular formulas available on the market today include Cetaphil Moisturizing Body Cream, Eucerin Advanced Repair Cream, Kiehl's Crème de Corps, The Body Shop Body Butter, CeraVe Moisturizing Cream, L'Occitane Shea Butter Ultra Rich Body Cream, First Aid Beauty Ultra Repair Cream, Nivea Essentially Enriched Body Cream, Aveeno Skin Relief Moisturizing Cream, and Gold Bond Ultimate Healing Skin Therapy Cream.
Most body creams are packaged in tubs, so you'll typically need to scoop them out and apply them to your skin. If you prefer not to reach into a tub, you can use a small skin care spatula to scoop out the desired amount.
Best body oils to use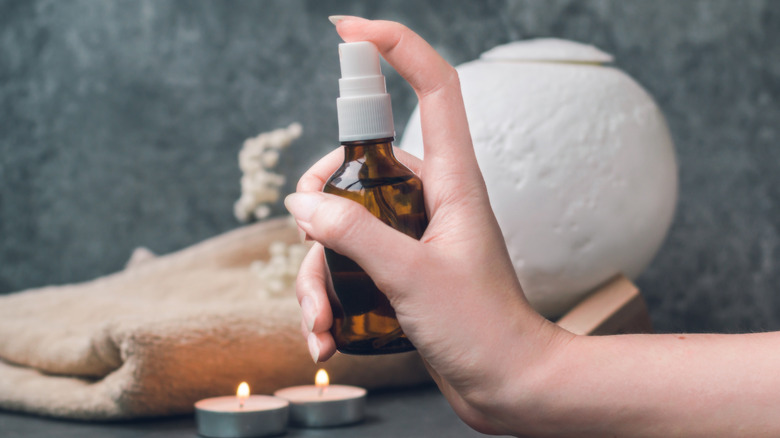 DinaSova/Shutterstock
Some people may prefer using a body oil instead of lotion because it not only drenches the skin with moisture but also leaves it with a soft, flattering glow. Many oils are infused with fragrances, contain nourishing ingredients, and even have a shimmery finish. Popular varieties include Neutrogena Lightweight Body Oil, Kiehl's Crème de Corps Nourishing Dry Body Oil, Aveeno Daily Moisturizing Body Oil Mist, Moroccanoil Dry Body Oil, Palmer's Cocoa Butter Formula Skin Therapy Oil, Clarins Tonic Body Treatment Oil, Josie Maran Argan Oil, Weleda Sea Buckthorn Body Oil, and The Body Shop Hemp Nourishing and Protecting Dry Body Oil.
Oils can deeply penetrate the epidermis, meaning you can expect your skin to feel especially soft after application. Because they leave a slight sheen behind, they're especially appropriate to wear if you're stepping out in a skirt or a dress and want to add a light gleam to your look. Plus, if you enjoy wearing fragrances but don't want to go overboard, a scented oil offers a suitable alternative because the scents are usually more subtle.