Why You Should Hit The Thrift Stores Post-Holiday Weekends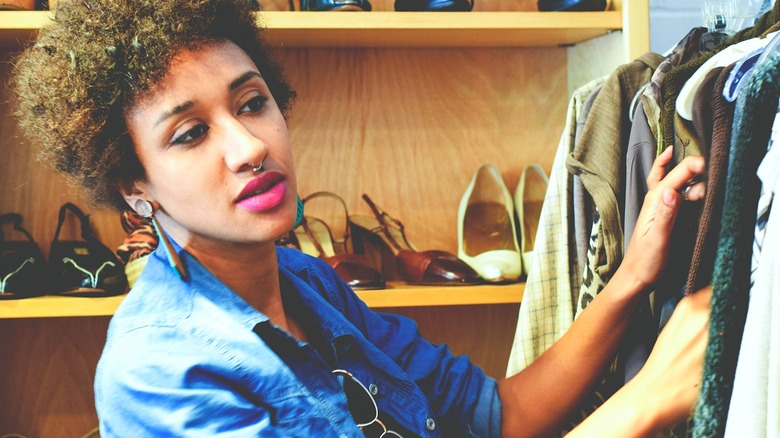 Cabeca de Marmore/Shutterstock
There are about a million reasons to love a good thrift store, from the cheap pricing to the fun and bizarre range of goods you might unearth there. Random ceramic goose? Check. Copy of old "Goosebumps" episodes on VHS? Quite possibly. Articles of clothing with terrible, outdated prints that shouldn't work, but still somehow vibe with an indie sleaze aesthetic? They're practically the backbone of every thrift store in America.
Advertisement
For shoppers on a budget, you just can't go wrong with thrifting. From sporting goods to random tchotchkes, you never know what valuable items you'll come across. And as for clothing, some people love discovering funky fashion pieces that they can wear right off the rack, while others are all about upcycling thrifting finds. That's the beauty of a resale shop: They're eclectic, affordable, and offer a little something for everyone.
But to get the most out of your resale search, there are certain things to know before your next thrift store trip. For instance, when is the best time to find amazing items at your favorite charity shop? If you're dedicated to getting the absolute best thrifting haul, evidence suggests that you should try hitting thrift stores right after a holiday weekend. Here's why.
Advertisement
You can find more thrifted gems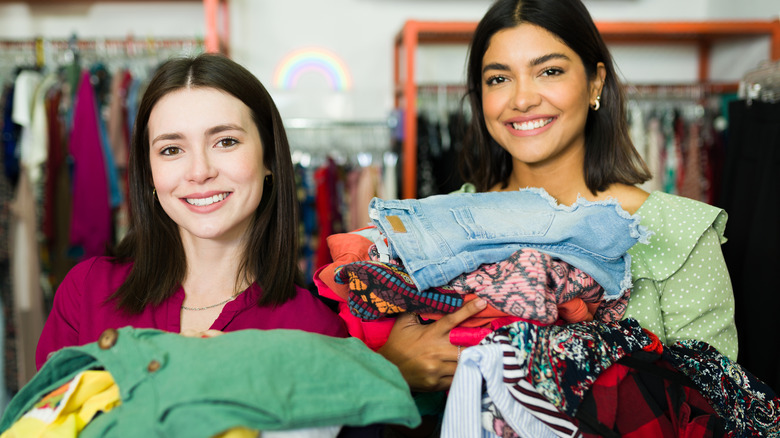 Antonio_diaz/Getty Images
The number one thrill and purpose of any thrift store shopping trip is to find an incredible steal. Whether you're on the hunt for discount vintage, affordable luxury goods, or inexpensive furniture just begging to be upcycled, you want to come away feeling like you've made a smart and serendipitous purchase. And according to the thrifting pros themselves, the days following a holiday weekend are an ideal time to find a wealth of hidden gems at your local resale shop.
Advertisement
As thrifting OG Goodwill points out, holiday weekends mean more downtime for people to clean out their homes. Having three or four days off instead of the typical two gives donors extra hours to cull unwanted items from their wardrobes, kitchens, and living spaces — plus time to actually load donations in the car and drop them off at their closest thrift store.
The resale giant also notes that most shops have more time to restock after the weekend rush. And don't forget that floorspace is a consideration. Many thrift stores sort and price items in their donation bays, then have to wait until there's room available to put them out on the sales floor. So after doing a brisk business over any holiday weekend, shops will have both an influx new donations and free space to restock their shelves — meaning you're more likely to stumble across some fresh, covet-worthy finds.
Advertisement
You'll have less competition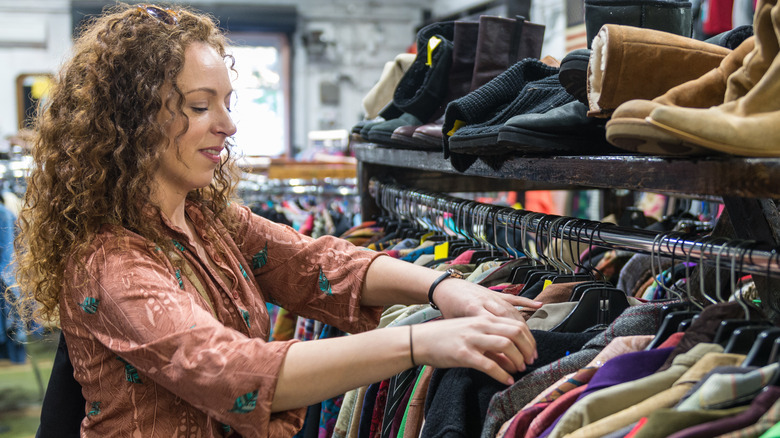 gabriel12/Shutterstock
What could be better than rocking up to your favorite thrift store just in time to sift through new donations? How about enjoying a leisurely search with little crowding or competition from other shoppers? Goodwill reports that their regulars cite Monday and Tuesday mornings as the perfect times to explore restocked inventories while other people are busy with work. And these shopping times may be even more ideal directly after a holiday weekend.
Advertisement
For one thing, the post-holiday rebound means that some consumers will be busy catching up on tasks that they put off during the long weekend. This inevitable pile-up of obligations is one reason that shaking the Sunday scaries can be so tough after a vacation or holiday. "Many people dread the return [to work] as they know that problems may have stacked up in their absence. There may be a pile of new requests of their time on top of the unfinished tasks they left behind," therapist Suzanne Degges-White tells Popular Science. Though that's bad for them, it could spell opportunity for you. While other people are focused on their to-do lists, you've got the perfect chance to sweep up newly donated goodies without fighting a crowd of shoppers.
Advertisement
And since more donors clean out their extra belongings over holiday weekends, more people may also be enjoying their freshly decluttered homes in the days and weeks afterward — which could translate to fewer shoppers at your local thrift store. Riding the high of their successfully tidied spaces, some would-be thrifters may try to limit their purchases for a while, leaving more gently-used treasures for you to discover and claim. So if you'd like a relaxing and rewarding jaunt to your favorite resale shop, try visiting in the wake of a holiday weekend.