26 Stunning Met Gala Looks We'll Never Forget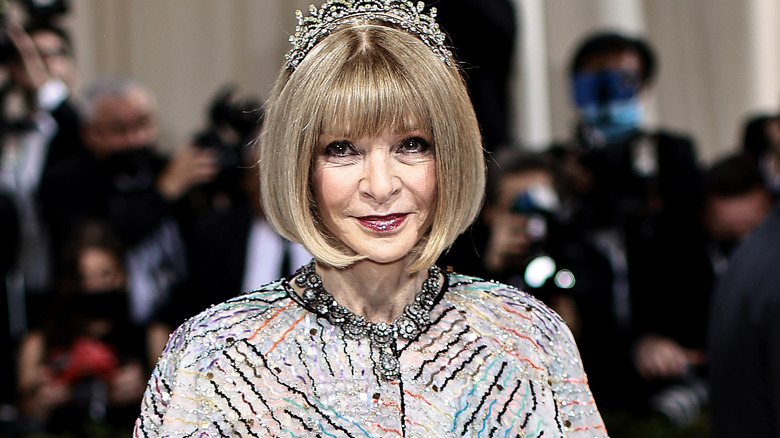 Dimitrios Kambouris/Getty Images
On the first Monday in May (or a random Monday in September if there's a global pandemic), the culturally elite gather at the Metropolitan Museum of Art in New York City to raise money for the Costume Institute. The famous steps (yes, those same steps that Blair Waldorf used as her personal cafeteria in "Gossip Girl") transform into a carpeted runway for those in attendance to show off their looks while we indulgently look on to gush over the fashion and fanciness. This event is none other than the Met Gala.
A longstanding tradition, the Met Gala is one of the most exclusive events in the entire world. Sure, it's a major display of ostentatious wealth, but the fashion brings joy to millions, and it's for a good cause. And, while not all looks are worthy of attention, some are indelibly burnt into our brains. Here are 26 stunning Met Gala looks we'll never forget.
Blake Lively in Atelier Versace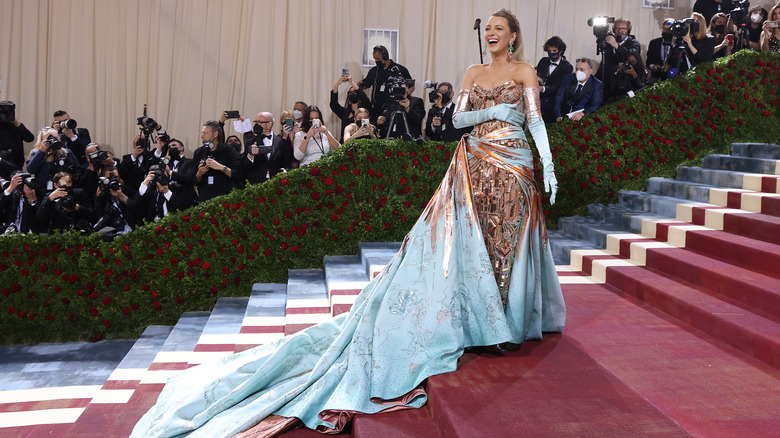 Taylor Hill/Getty Images
Blake Lively was crowned queen of the Met Gala long ago, and she's continued to prove herself worthy of the sobriquet each year she attends. In 2022, Lively served as co-chair of the event, a distinguished title that's been held by Rihanna, Jennifer Lawrence, and Sarah Jessica Parker. Lively clearly took her position and the night's theme – "In America: An Anthology of Fashion" — seriously by arriving in a dress that paid homage to New York City. Lively patinaed a la the Statue of Liberty in real-time on the Met steps. All hail Queen Blake.
Rihanna in Margiela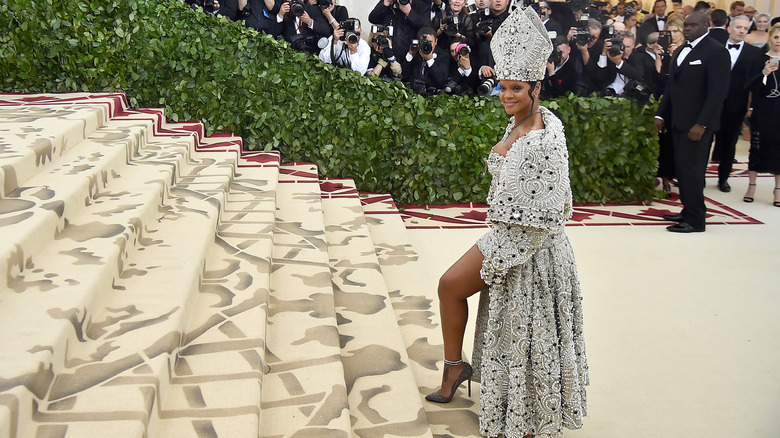 Theo Wargo/Getty Images
Nobody does it like Rihanna. The bona fide fashion icon has arrived at the Met Gala in more stunning looks than there are steps leading to the museum, and, in 2018, she outdid herself by dressing like the Pope in a heavily beaded ensemble. Most would reserve this look for Halloween, but leave it to RiRi to make it high fashion. Rihanna married fashion with the Catholic imagination immaculately to fit the night's theme, "Heavenly Bodies: Fashion and the Catholic Imagination." Rihanna likely will never become the actual Pope, but the Vatican should take some style notes.
Kim Kardashian in Thierry Mugler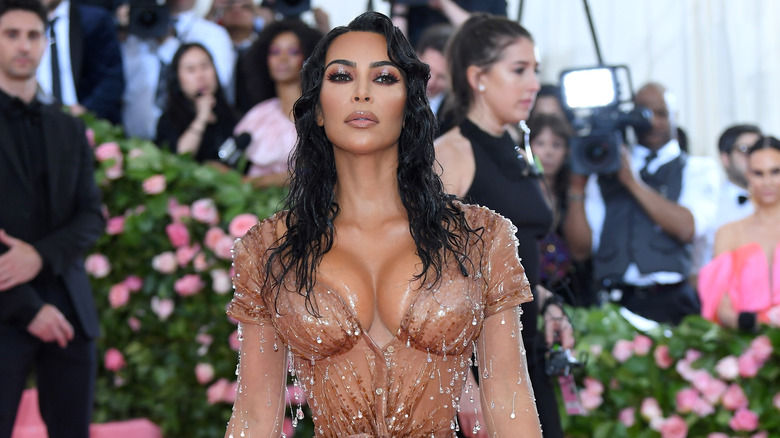 Karwai Tang/Getty Images
Kim Kardashian is slowly but surely making herself synonymous with the Met Gala. Who else would make national news for a rumor that she's not attending the event months before May? Love her or hate her, she's gifted us with some of the most iconic Met looks of all time, including her 2019 wet look for "Camp: Notes on Fashion." Kardashian attended the fundraiser in a nude, ultra-form-fitting dress with beads dripping like water. The look was meant to be reminiscent of Kardashian stepping out of the ocean. Mission accomplished.
Zendaya in Tommy Hilfiger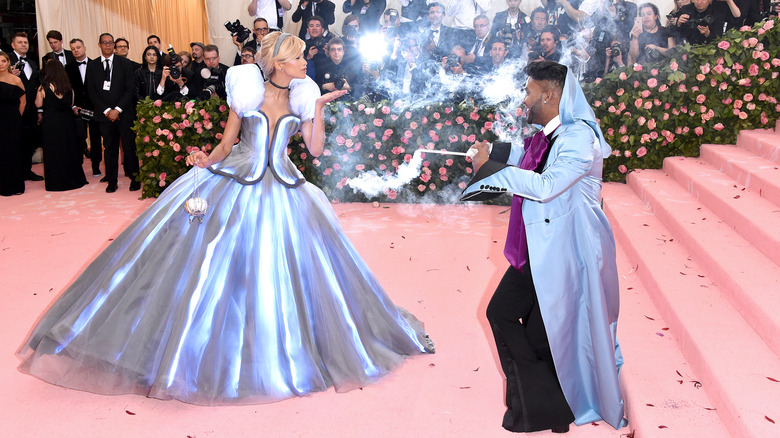 John Shearer/Getty Images
The 2019 Met Gala theme, "Camp: Notes on Fashion," was one of the most talked-about themes in recent history. Based on Susan Sontag's 1964 essay "Notes on 'Camp,'" attendees had ample room for interpretation, and, unlike other years, each ensemble could've been debated over its campiness or tackiness. We filed Zendaya's Tommy Hilfiger look as camp, and we added iconic. The "Euphoria" star arrived as Cinderella alongside her stylist and fairy godmother-for-the-night Law Roach. When he cast a spell with his wand, Zendaya's dress lit up. It was a magical look and a lesson in fashion technology.
Kacey Musgraves in Moschino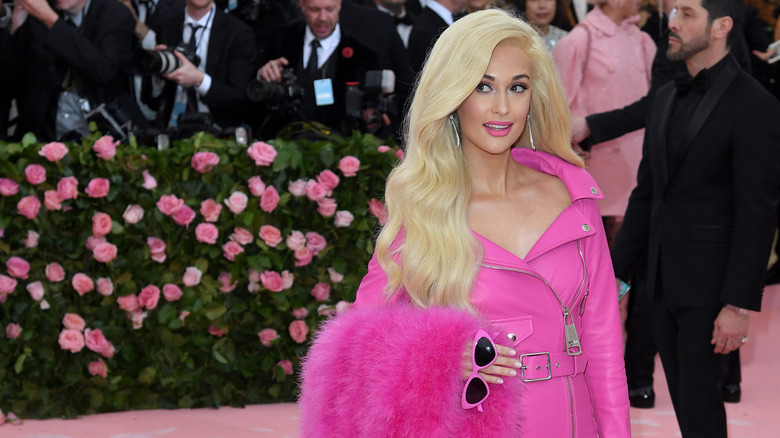 Karwai Tang/Getty Images
Zendaya wasn't the only 2019 Met Gala goer to arrive in character. Country music star Kacy Musgraves' interpretation of camp led her to transform into a literal Barbie doll. Musgraves sported blonde locks and a pink leather dress with exaggerated zippers for the evening, and, like the doll herself, she carried perfect pink accessories including a feathered shawl and a blow dryer purse. Musgraves further committed to the role by holding her pink sunglasses just as Barbie would — with a bent elbow and sans bent fingers. She even arrived in a pink convertible.
Beyoncé in Givenchy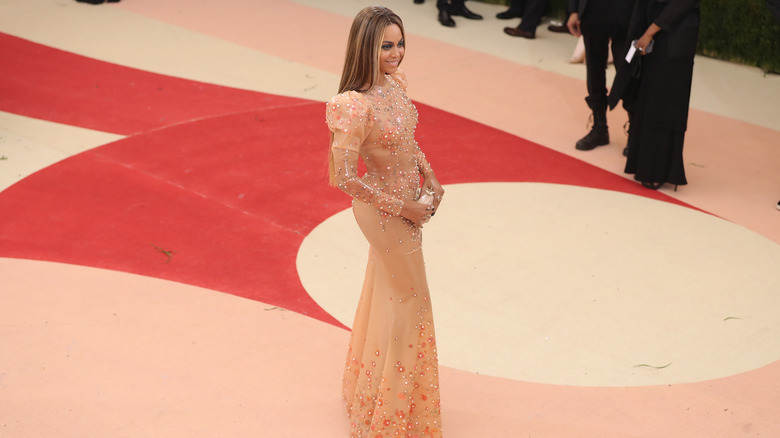 Neilson Barnard/Getty Images
2016's Met Gala theme was "Manus x Machina: Fashion in an Age of Technology." The annual theme is chosen according to the exhibit that opens that night and on display for the next year, and attendees are directed to dress accordingly, often given notes if the theme needs expounding on. For "Manus x Machina," stars came clad in a lot of black, metallic, and structured pieces. Beyoncé arrived in a Givenchy dress totally different from anyone else's, yet still on theme. Her latex dress was laden with details, and she looked stunning as per usual.
Jennifer Lopez in Versace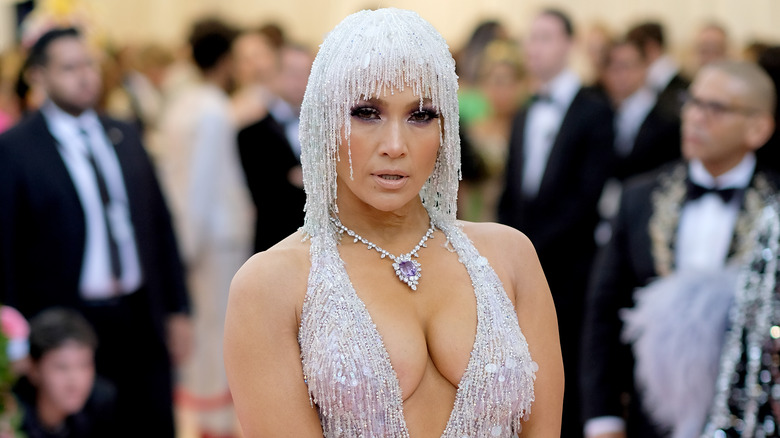 Dimitrios Kambouris/Getty Images
Several looks from 2019's "Camp: Notes on Fashion" were deemed controversial, and many were straight-up polarizing. But one thing all critics could agree on is that what made a person's look was their commitment. This went beyond attention to detail — it required the wearer to arrive unabashedly in their ensemble, no matter how ridiculous they might've looked to New Yorkers on the street unaware of the event. Jennifer Lopez committed to her look, and it showed. The New York native stunned in a silver dress, completing the look with a matching silver beaded wig.
Ariana Grande in Vera Wang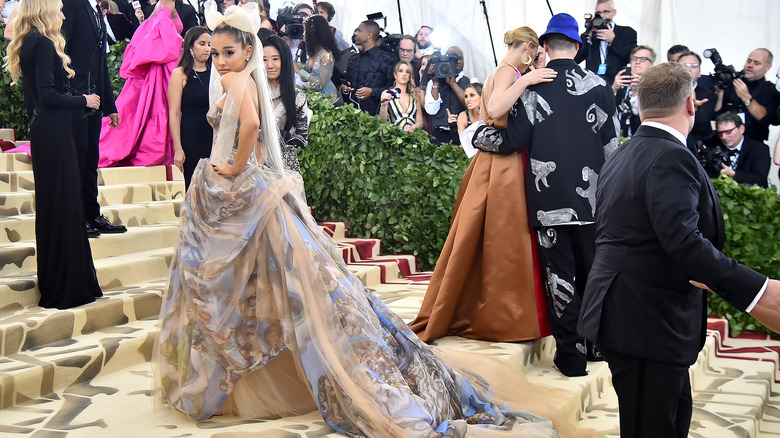 Theo Wargo/Getty Images
Ariana Grande hasn't attended enough Met Galas. (We doubt it's for lack of invitation — the woman could attend any event she wants.) But we'll consider ourselves lucky to have documentation of the one time she did walk up the steps of the Met because it was about as grand(e) as it gets. Taking the theme, "Heavenly Bodies: Fashion and the Catholic Imagination," quite literally, Grande's gown was covered in portions of Michelangelo's "The Last Judgement," the painting on the ceiling of the Sistine Chapel. It doesn't get more fashionably Catholic than that.
Lady Gaga in Brandon Maxwell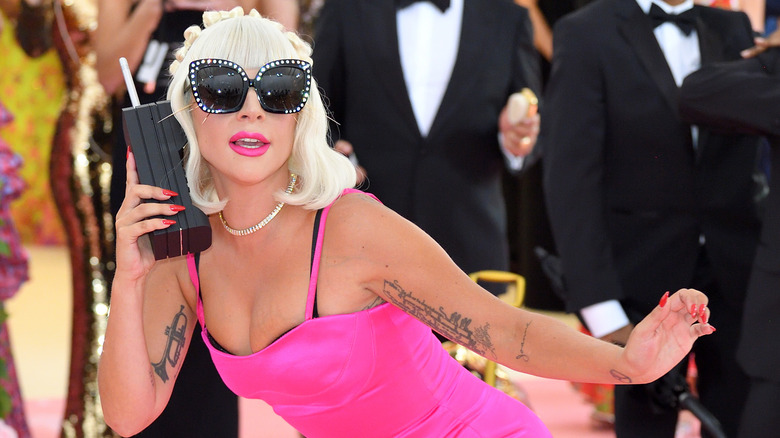 Karwai Tang/Getty Images
Why wear one outfit to the Met Gala when you can wear four? That was clearly Lady Gaga's mentality when she prepared for the 2019 event, for which she served as co-chair. The singer took "Camp: Notes on Fashion" to an entirely new level (something many did not think possible) by changing on the steps multiple times. She started with an enormous pink overcoat, which she opened to reveal a black dress. Underneath was a pink dress, and she stripped a final time to reveal a set of black undergarments. Performance art in its truest form.
Janelle Monáe in Christian Siriano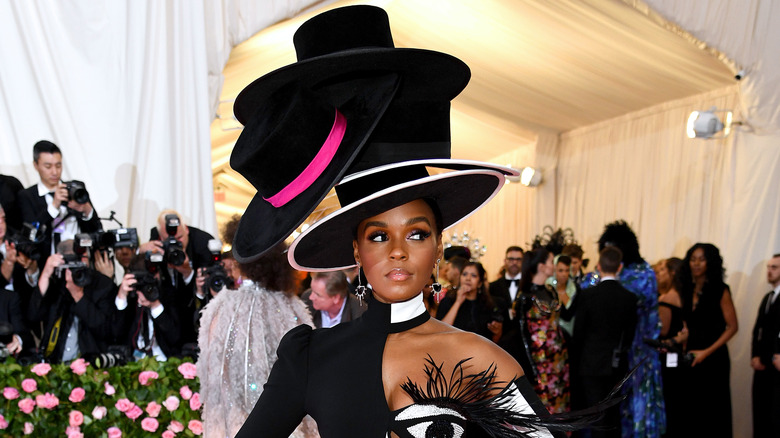 Dimitrios Kambouris/Getty Images
All the good puns about Janelle Monáe's 2019 Met Gala look have been used, so we'll get straight to gushing about what makes it unforgettable. With her structured dress, multiple hats, and giant eyes, the singer paid homage to artists that have come before her, as well as to herself. Monáe is no stranger to bold looks (conduct a quick Google images search if you don't believe us), and this one embodied her personal style. And, in case you were wondering, yes, the evening's theme was "Camp: Notes on Fashion."
Kendall Jenner and Kylie Jenner in Versace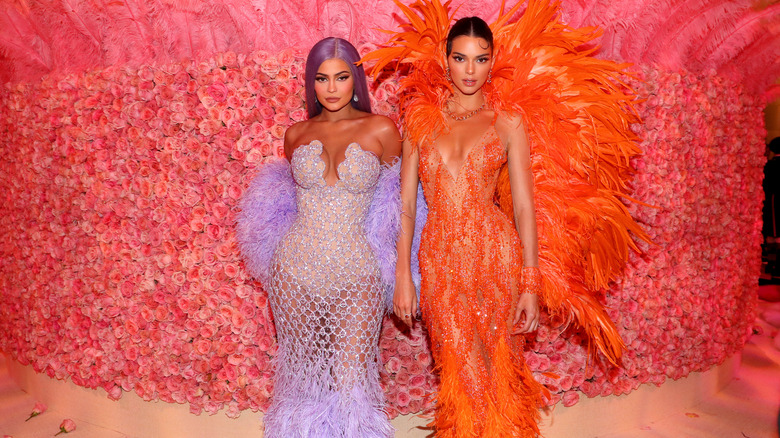 Kevin Tachman/mg19/Getty Images
This isn't the last time we'll mention "Camp: Notes on Fashion" (we could dedicate thousands of looks from that epic night), but we're almost done talking about it. Until then, indulge us in ogling over Kendall Jenner and Kylie Jenner's coordinating looks. Kendall showed up in an orange gown replete with feathered wings, while Kylie stunned in lavender and sported oversized feathered arm pieces. We loved the sororal sartorial moment and hope to see the two matching at the Met again.
Sarah Jessica Parker in Oscar de la Renta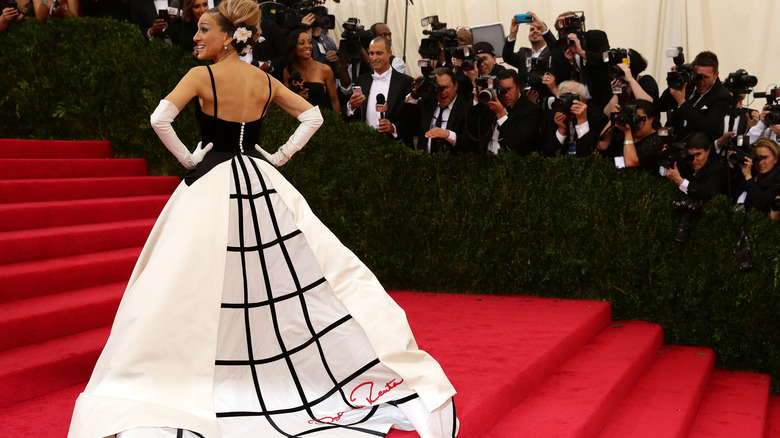 Neilson Barnard/Getty Images
We've praised Rihanna and Blake Lively for their contributions to the Met Gala fashion history, and deservedly so. But long before those two were eligible for an invitation, the original fashion icon, Ms. Sarah Jessica Parker herself, defined the dress code for the event. SJP arrived at the 2014 "Charles James: Beyond Fashion" event in Oscar de la Renta. There was no questioning who designed her dress, as his signature was embroidered on the back of her gown. Take notes, ladies and gents. It's SJP's Met Gala — everyone else is just attending.
Gigi Hadid in Atelier Versace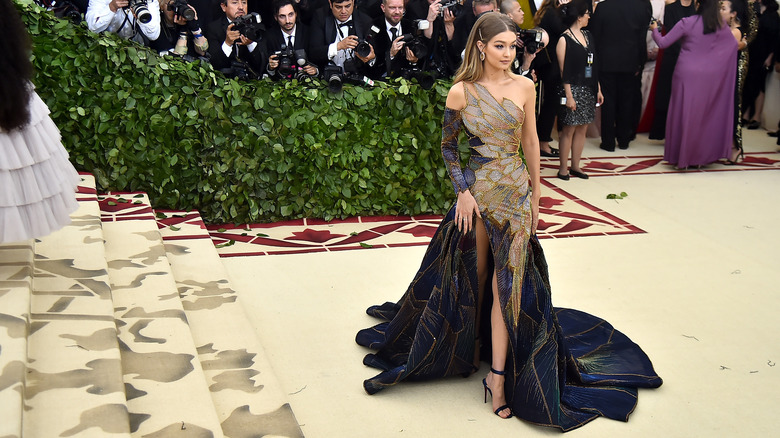 Theo Wargo/Getty Images
Each Met Gala offers extravagant looks that are a sight to behold, but those in 2018 were particularly eye-catching. For "Heavenly Bodies: Fashion and the Catholic Imagination," some took the opportunity to make a political statement. Others went full-on clerical. But many arrived in stunning ethereal looks such as Gigi Hadid. Taking inspiration from classic church architecture, Hadid's gown was made to resemble a stained glass window. It was thematic without being gaudy, and the dress was a true work of art. We hope Hadid still has the gown. It's absolutely worth saving.
Lizzo in Thom Browne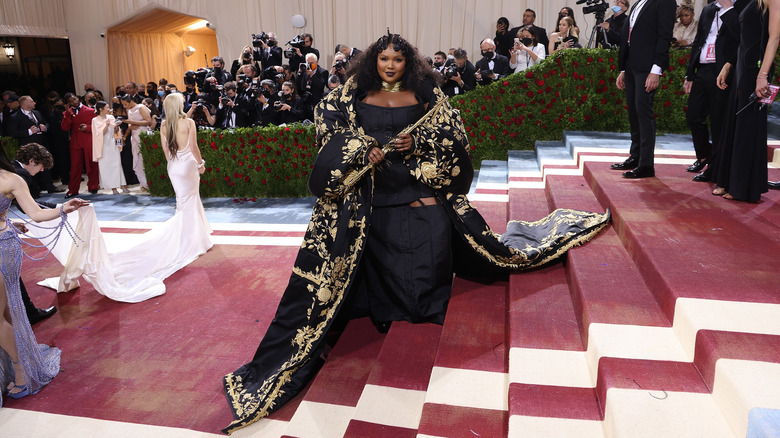 Taylor Hill/Getty Images
2022's Met Gala theme was "In America: An Anthology of Fashion," but attendees were directed to wear "Gilded Glamour." As with all Met Galas, the 2022 attendees interpreted this direction in myriad ways. Some took it as a signal to dress like the women from "Bridgerton." Others went more abstract by making commentary on capitalism. Quite a few, like Lizzo, took the direction literally and arrived in actual gilded glamour. Lizzo stood out thanks to her show-stopping coat and unique gilded accessory — her flute. The flautist even played on the carpet. 10 out of 10.
Blake Lively in Versace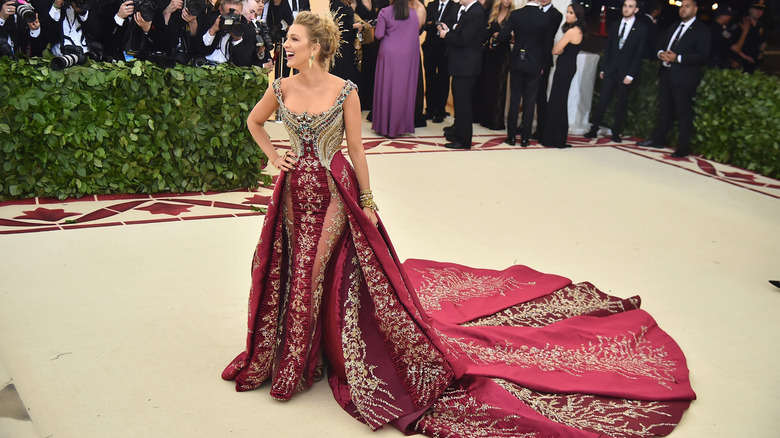 Theo Wargo/Getty Images
We can't talk about unforgettable Met Gala looks without talking about Blake Lively at least twice. The fashion icon earned her position as co-chair in 2022, and we're certain looks like her ensemble for "Heavenly Bodies: Fashion and the Catholic Imagination" helped. Lively arrived at the museum in a burgundy dress replete with a celestial headpiece to play off the "Heavenly Bodies" angle. It also served as one of the many times Lively arrived inexplicably matching the carpet. No matter the theme, we'll always be excited to see what Lively wears to the Met Gala.
Rihanna in Guo Pei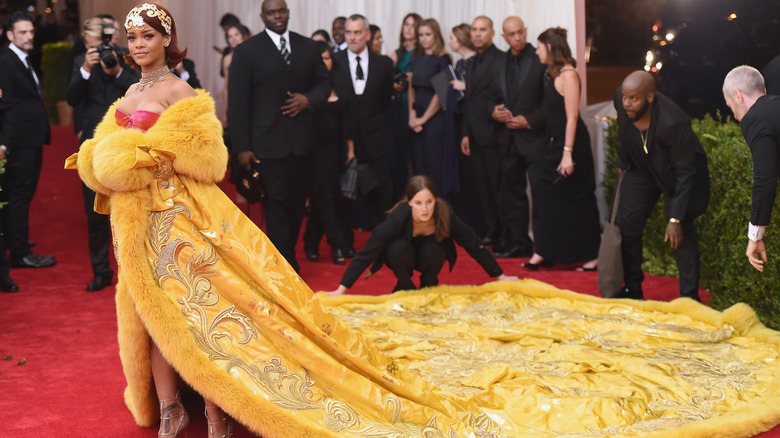 Mike Coppola/Getty Images
Rihanna can do no wrong in our eyes, but one of her Met Gala looks gave her pause before stepping onto the carpet. "I remember being so scared to get out of that car because I felt like, 'I'm doing too much,'" Rihanna told Access Hollywood about her 2015 look. The night's theme was "China: Through the Looking Glass," and RiRi showed up in a sensational yellow gown with an enormous train. Thankfully, the singer disregarded potential criticism and delivered a Met moment we'll never forget. What would the Gala be without Rihanna?
Kim Kardashian in Jean-Louis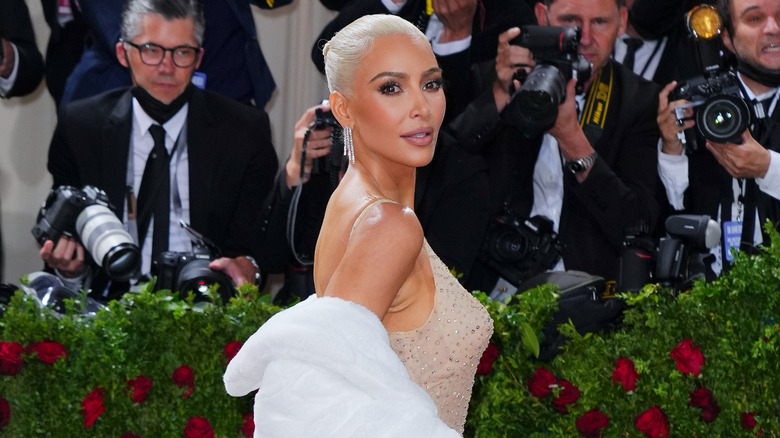 Gotham/Getty Images
In 2022, Kim Kardashian arrived at the Met Gala in one of the few pieces of apparel that's potentially more famous than she is. Kardashian sported the iconic nude dress that Marilyn Monroe wore to sing "Happy Birthday Mr. President" to John F. Kennedy in 1962. The dress had previously been on display at Ripley's Believe It Or Not museum, and Kardashian worked with the company to wear it to walk the carpet (she changed into a replica for the actual event). Whether she should've worn it is up for debate, but it's undeniably unforgettable.
Cher in Bob Mackie
Because the Met Gala has become such a spectacle in recent years, it's easy to think the fundraiser hasn't existed for that long. But, per The Met, the first Met Gala was hosted in 1948 and was just as sought-after a ticket then as it is today (albeit the tickets were much less). And, prior to Anna Wintour's takeover of the event in 1995, stars were still in attendance and looked just as fashionable. Cher served a major look in 1974 when she wore her own nude dress with feathers galore. Unquestionably iconic.
Princess Diana in John Galliano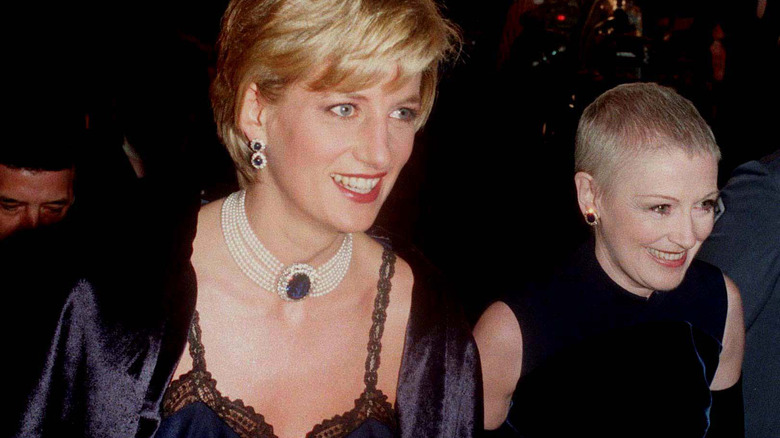 Anwar Hussein/Getty Images
The Met Gala committee has long invited luminaries to its event. (Jackie Kennedy once served as co-chair of the gala.) While we have yet to see Prince Harry and Meghan Markle walk the steps (it's only a matter of time before they do, isn't it?), another famous royal once attended. Princess Diana was in attendance for the 1996 edition, and she strutted in a blue slip dress that perfectly matched the plethora of sapphires she wore with it. This was no revenge dress, but the royal still made history with it.
Lupita Nyong'o in Prada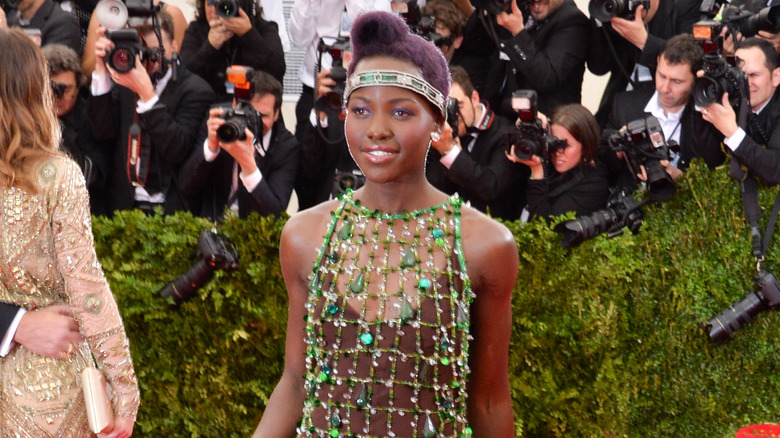 Andrew H. Walker/Getty Images
Lupita Nyong'o is no stranger to the Met Gala carpet. The actor is known for donning looks that range from outrageous to striking, and she made waves with her 2014 look. The theme was "Charles James: Beyond Fashion," a tribute to Charles James, the fashion designer known for creating very structured pieces. Every year, there's debate over whether certain looks fit the theme, and, that year, Nyong'o was the sacrificial lamb. Her green flapper-inspired dress wasn't everyone's cup of tea, but, love it or hate it, people were talking.
Beyoncé in Givenchy again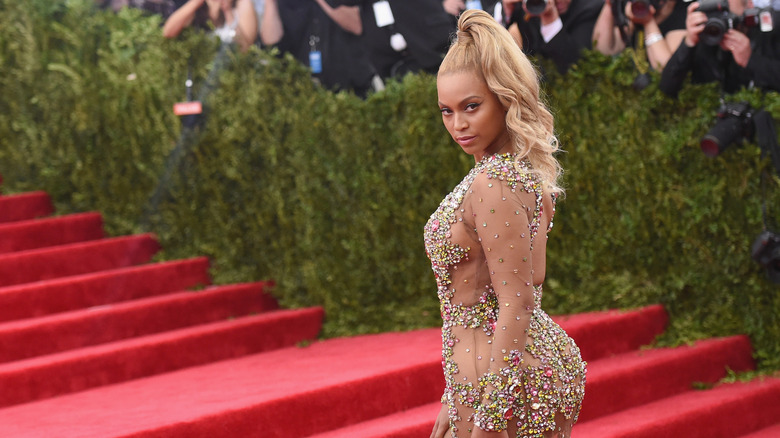 Mike Coppola/Getty Images
A nude dress will always turn heads, as will Beyoncé. Combine the two, and onlookers have no choice but to stay fixated until the singer is out of sight. For the 2015 Met Gala, Beyoncé arrived late, but all was forgotten thanks to her incredible look. The nude dress featured colorful beads affixed in just the right places, and she completed the look with perfect winged eyeliner and a sky-high ponytail. Queen Bey walked alongside her husband, Jay Z, but literally no one cared when they saw what she was wearing. Bow down, b***hes.
Mary Kate and Ashley Olsen in Dior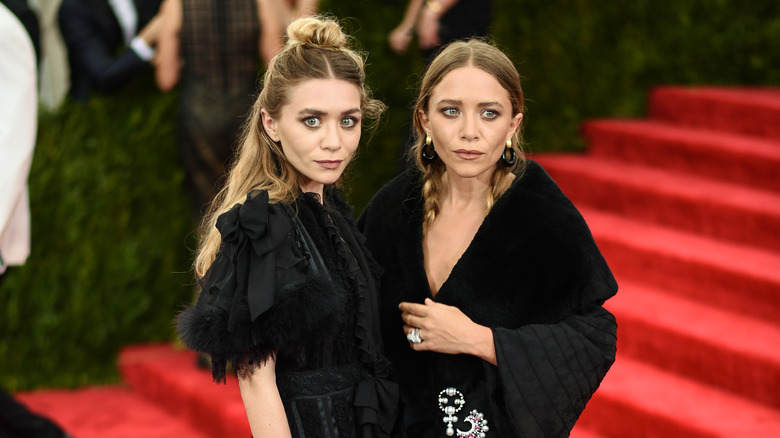 Andrew H. Walker/Getty Images
We don't see Mary Kate and Ashley Olsen often, but when we do, it's major news. If there's anything the sisters are more famous for than being private, it's fashion, so it's fitting that one of the few times they've been photographed in public in the past decade or so was at the Met Gala. The two had been to the event several times before (and have been a handful of times since), but their coordinating couture for the 2015 fundraiser is hard to beat. The fabrics, the glam, the trains — we loved.
Anne Hathaway in Ralph Lauren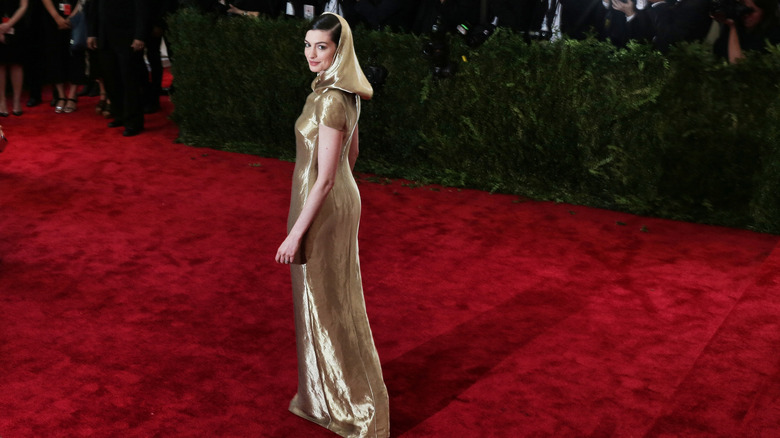 Neilson Barnard/Getty Images
Some themes yield better looks than others, and "China: Through the Looking Glass" proved to be one of the Met Gala's more fruitful motifs. Oscar-winner Anne Hathaway stole the show for a moment in her gold gown and made a strong case for wearing hoods to black-tie events. Hathaway has recently served looks that have her in contention for style icon status, but we'd be remiss to omit her 2015 Met look as evidence in the argument. We the jury find Ms. Hathaway guilty of a major style moment.
Gwyneth Paltrow in Chloé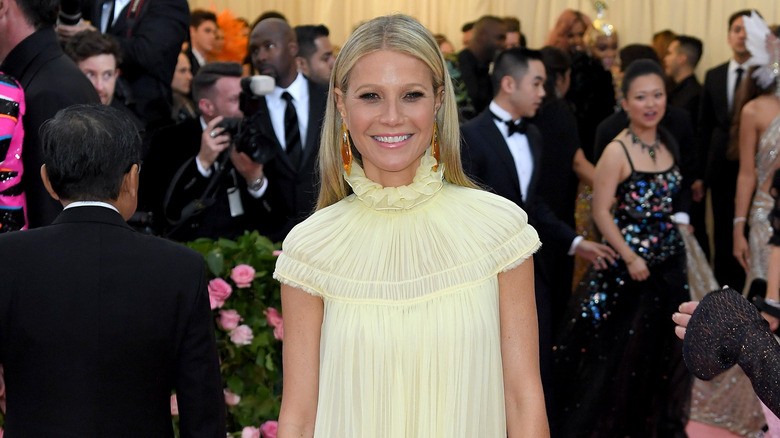 Karwai Tang/Getty Images
If we could turn back time and be invited to any Met Gala in history, it just might be the 2019 event. "Camp: Notes on Fashion" was a near-perfect theme, and seeing the looks in person would've been a dream. That said, we completely understand why Gwyneth Paltrow returned to the Met Gala after publicly criticizing it. She probably just wanted to wear something camp and hang out with her friends. And who can blame her? Her yellow dress was delicate, and, though a change in pace from many of the night's other looks, very memorable.
Sarah Jessica Parker in Alexander McQueen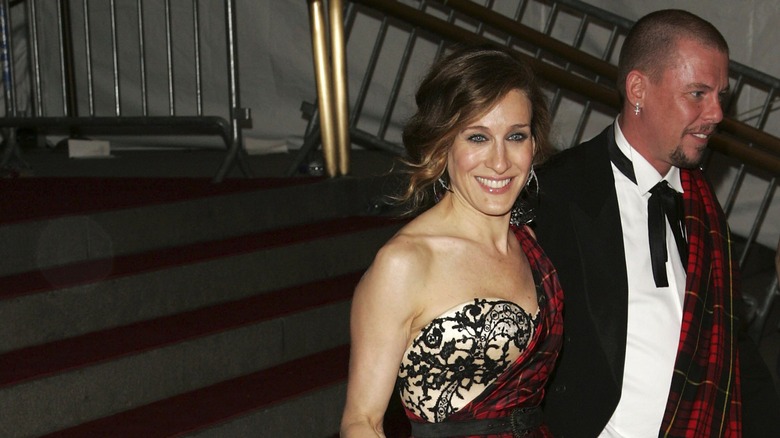 Peter Kramer/Getty Images
If anyone can get a designer to grant even their wildest wishes, it's Sarah Jessica Parker. The woman is fashion royalty, and she proved it in 2006 when she attended the Met Gala with the late Alexander McQueen in custom matching designs. Given the theme was "AngloMania: Tradition and Transgression in British Fashion," SJP wanted a British designer, and she settled for nothing less than the best for the evening.
Dita von Teese in Zac Posen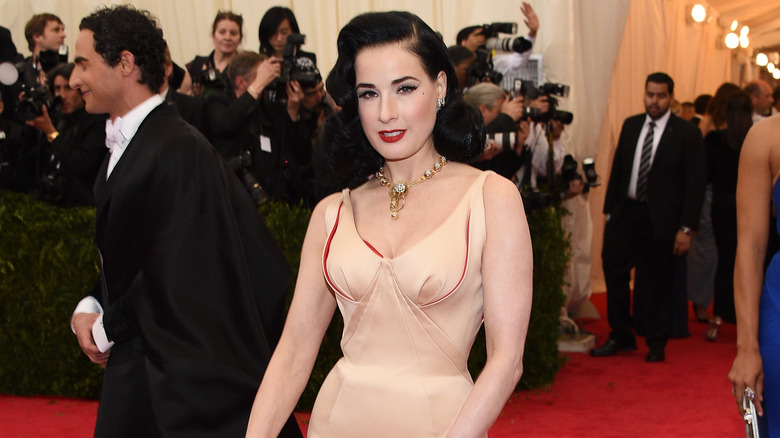 Larry Busacca/Getty Images
Dita von Teese is an icon in her own right, and she proved herself more than worthy of walking up the steps of the Met at the 2014 Gala. Wearing a nude form-fitting gown with red stitching and details to match, the burlesque dancer turned heads and only made us wish she'd attend the event more often. We need more Met moments from von Teese.