15 Ways To Stay Awake During A Movie If They Always Put You To Sleep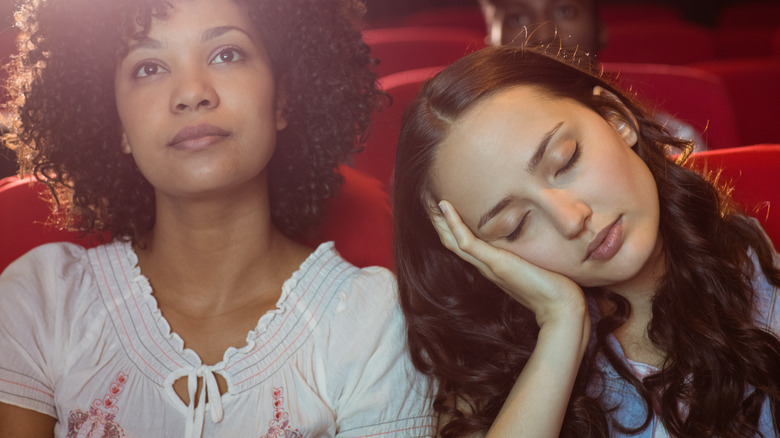 Wavebreakmedia/Getty Images
If you have a reputation for falling asleep, it's time to come up with a creative game plan for making it through your next movie. Maybe your best friend or significant other has been urging you to share some quality time watching wonderful films together; it's possible they want to show you their favorite childhood flick, but they're too scared to sit down and make it happen because they assume you'll fall asleep in the first 10 minutes. Or, maybe there isn't anyone trying to convince you to watch any movies together, but you're ready to alleviate this situation to start enjoying entertainment on a deeper level whenever you're by your lonesome. 
Advertisement
Regardless of your reason, the good news is that there are several methods you can utilize to stay awake while watching movies.  You can — and should — tinker around with a few different techniques until you figure out what works best for you to keep you awake for the duration of your movie, and luckily for you, we've got the best tips in town.
Caffeinate yourself beforehand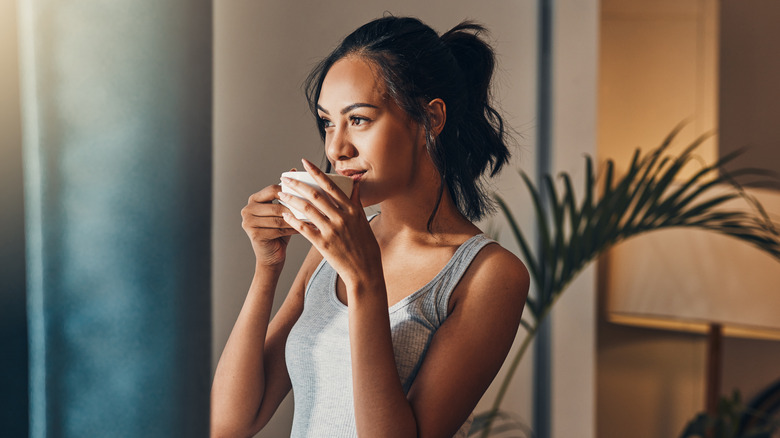 Peopleimages/Getty Images
The easiest solution is to ensure you're caffeinated before getting started with any of your movie plans. If you know you're supposed to watch a movie soon, think about grabbing a coffee from a local coffee shop. If coffee isn't your thing, there are several other drink options available at local coffee shops that don't taste like coffee and still include caffeine — think chai or matcha. 
Advertisement
Other options to think about are energy drinks from brands like Monster, Red Bull, and Celsius. Or, if you're hoping to take a healthier approach with caffeine, a cup of tea is another fabulous idea. You can make yourself a delicious cup of hot tea in many different flavors including ginger snap, mint, and various fruits — but avoid varieties, often herbal by nature, that don't contain caffeine. If you're not too picky about avoiding sugary drinks, there are plenty of soda flavors you can sip on that will give you a jolt of caffeinated energy when needed as well.
Wear a smartwatch or another piece of vibrating jewelry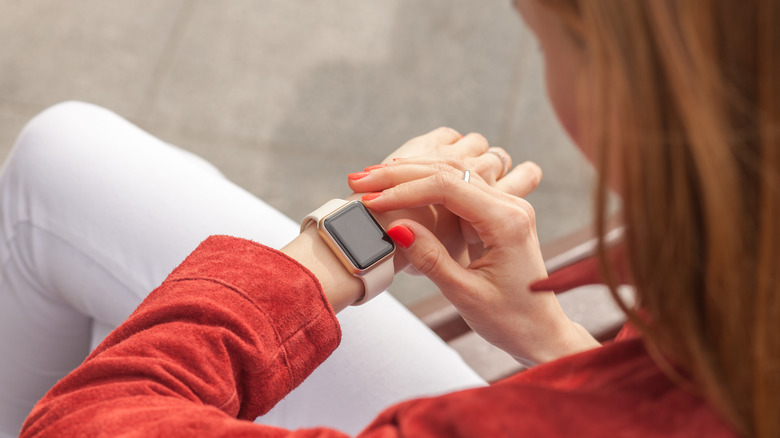 S_chum/Getty Images
Wearing a smartwatch could be your saving grace when it comes to staying awake during a long movie. Smartwatches can be programmed to vibrate whenever you want them to. In other words, you can set your smartwatch to vibrate every 20 minutes as a reminder that you need to keep your eyes open and stay awake for your movie. The vibrating feature on smartwatches is installed to let people know when they're receiving phone calls, text messages, or other social media notifications, but you could set timers to be safe, so you can use the vibration of your smartwatch for this brilliant reason without waiting on incoming notifications to be sent your way. 
Advertisement
If smartwatches aren't your thing, think about other pieces of vibrating jewelry you can wear on your fingers, wrists, or neck instead. As long as the particular item you're wearing will consistently vibrate on a regular schedule, it will be easier for you to stay up.
Schedule something important to do right after the movie ends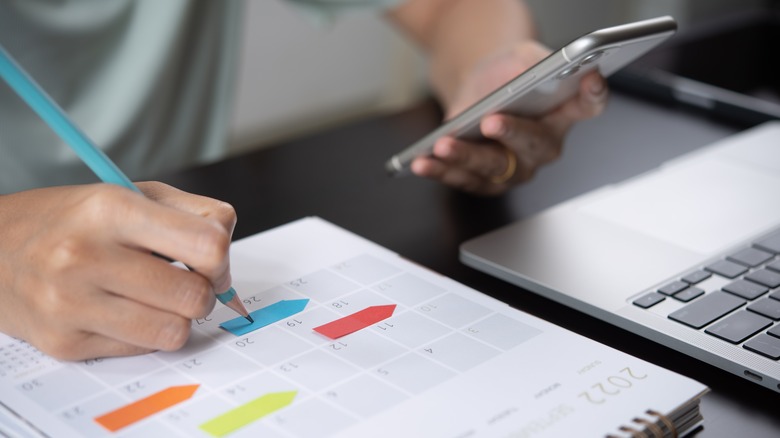 TippaPatt/Shutterstock
If you know you have something important to do right after a movie, it's highly unlikely you'll be able to casually doze off without a care in the world. It's easier to fall asleep when watching the movie if you don't have anything else scheduled for the rest of the day. Instead of putting yourself in that trap, make sure you have something to look forward to after your movie is over. 
Advertisement
You'll be a little antsier throughout the course of the movie, which isn't actually a bad thing in this case. Knowing you have something to do once the movie ends will help you stay more alert and focused since you won't want to fall asleep during the movie and then accidentally oversleep through the appointment you scheduled. You don't have to put anything super serious on your calendar after watching a movie, either. Keep it as simple as making official plans to hop on a FaceTime call with a friend or family member.
Wear special glasses that keep you awake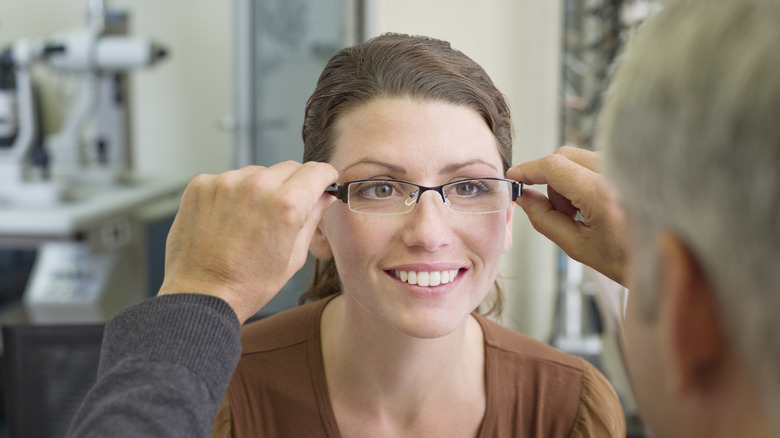 Chris Ryan/Getty Images
You might not be aware that there are special glasses you can purchase that will actually aid you in staying awake. According to Ellcie Healthy, spectacles from Serenity Eyewear have been specially designed to prevent drivers from falling asleep at the wheel. They work in a scientifically intricate way, analyzing different behaviors and eye movements to keep you as alert as possible in case you're at risk of falling asleep and inciting a car accident. 
Advertisement
Although the act of driving a car and watching a movie are two very different things, you can still use these glasses for the purpose of watching movies you're hoping to enjoy in the comfort of your own home. As soon as the glasses start detecting drowsiness based on the movement of your eyes and eyelids, they'll alert you and remind you to keep your eyes open. Once the light and sound signals surface, it becomes nearly impossible to give in to fatigue.
Maintain an upright posture while seated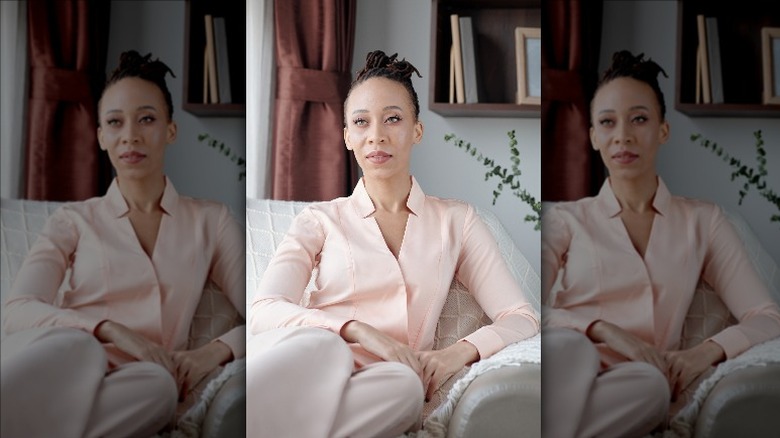 Dragonimages/Getty Images
Do your best to maintain an upright position with perfect posture while watching your movie. Oftentimes when you're watching movies at home, you fall into the temptation of laying down snugly on your sofa or bed. When you're laying down, it's easier to get drowsy and fall asleep without even realizing what's happening. If you're sitting upright with your shoulders rolled back and your neck completely straight, it's pretty difficult to fall asleep. 
Advertisement
The reason why? Sitting all the way up with flawless posture isn't actually that comfortable. Falling asleep happens when your body is in a pleasant position! Keeping yourself from getting into that pleasant position is an easy way to make sure you stay awake. Another way to pull this off would be to avoid watching any movies in bed or on sofas where you'll be able to kick your legs up. Instead, consider opting for a chair made out of hard material. You might be better off sitting on a backless bench or stool. Although you won't be as comfortable, you'll stay awake more easily.
Purchase a drink, snack, or gum to consume while watching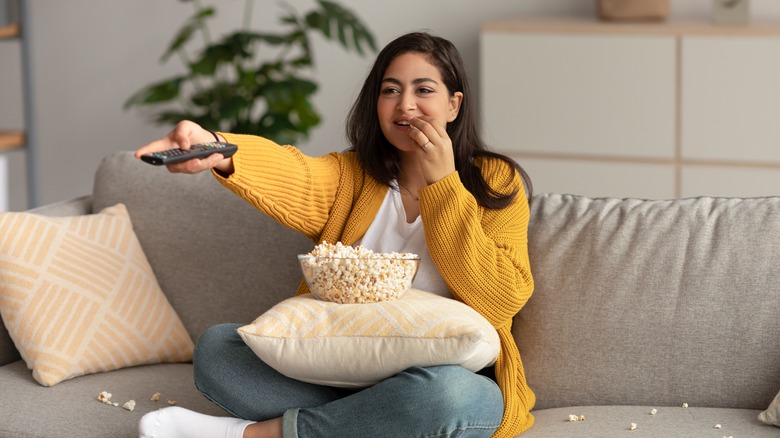 Prostock-studio/Shutterstock
Advice from a nutritionist might tell you to avoid snacking and sipping on tasty treats while watching movies; however, advice from someone trying to help you stay awake while watching movies might say that's exactly what you should be doing. Think about purchasing drinks, snacks, or packs of gum to chew while watching your movie. If you're busy chewing, swallowing, and drinking, it's more difficult to find yourself falling asleep. 
Advertisement
As soon as your food items are fully eaten, though, there's a very real possibility that you'll start falling asleep because you don't have anything else to do aside from focusing on the movie. Eating while watching a movie gives you the chance to multitask, which means your brain is working in more than one area. It's focused on making sure whatever you're snacking on reaches your mouth while also absorbing insight from whatever movie you're watching in front of you. If you take this route, make sure you have an abundance of snacks to eat that will last for the entire movie.
Exercise for at least 30 minutes before the movie starts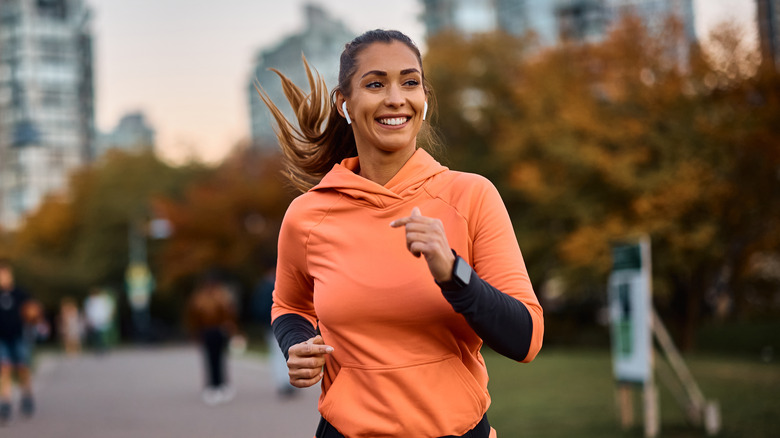 Drazen Zigic/Getty Images
You might want to think about exercising for at least 30 minutes before your movie starts. The reason exercise works so well is that moving your body helps move oxygen around your brain and muscles. The more oxygen you have flowing inside you, the more alert you'll feel. What makes exercising for 30 minutes an even better idea is that it can also boost your mood and raise your energy levels. 
Advertisement
You don't have to go super hard in the gym lifting heavy weights or sprinting on a treadmill. A lot of people are convinced that workouts don't count unless you're completely drenched in sweat and gasping for air by the end of your session. In reality, going for a brisk walk is really all you need to do at the very bare minimum. Get your body moving, get that oxygen flowing, and notice how much better you feel when it's finally time to sit down and watch your movie.
Watch the movie with a high-energy companion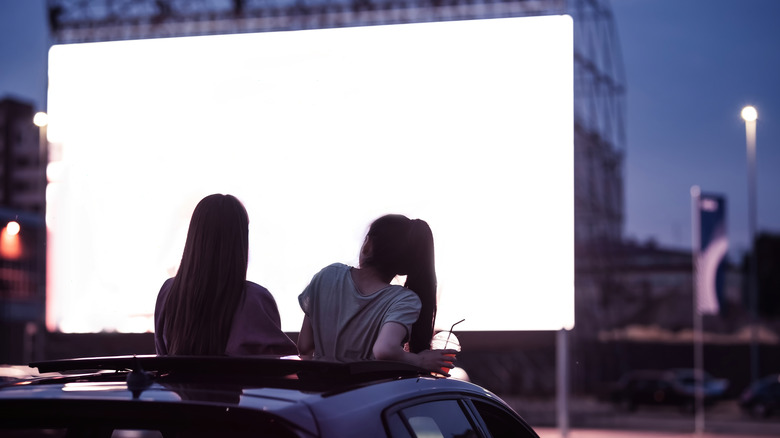 BAZA Production/Shutterstock
An easy way to make sure you stay awake while watching a movie is to enjoy it with a high-energy companion. Your best bet would be to invite a good friend, significant other, or family member to watch the movie with you if you know they're going to be overflowing with vibrancy. You might find yourself getting a bit drowsy in the middle of the movie, but your high-energy companion probably won't let you fall asleep.
Advertisement
You'll feel how bouncy and lively they are by simply having them next to you. High-energy people make movie-watching experiences better because they often want to point things out to you while watching, have mini-discussions, and make predictions about what's coming next. This type of companion will never sit nonchalantly and silently while you get drowsier and drowsier. Odds are, their high vibrations will start rubbing off on you.
Stay alert for talking points you can later discuss with others about the movie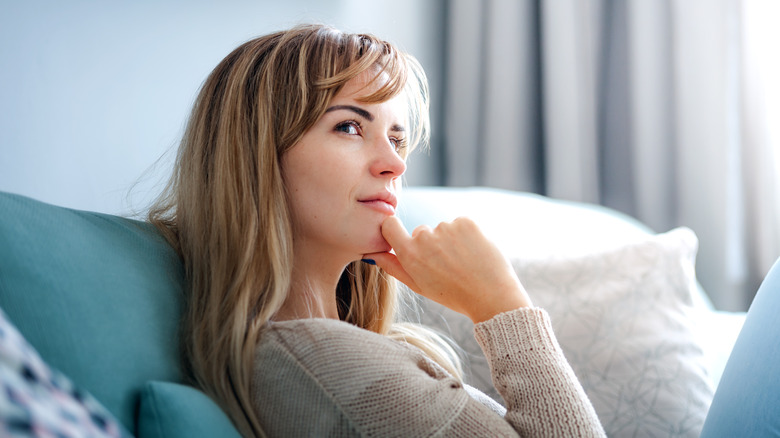 Leszek Glasner/Shutterstock
Think about all the discussions you can have with people you care about once your movie comes to an end. If your goal is to stay alert enough to gather enough talking points to later bring up in conversations, it will be way easier for you to actually stay awake for the entire movie. If all you catch are the first 15 minutes of a movie, it'll be impossible for you to have any real or in-depth conversations about what you saw with other people who are interested in it. 
Advertisement
If all you catch are closing credits, there's no way you'll be able to connect with someone else about what took place within the plot between different characters. You don't have to jot down notes on a piece of paper or on your phone to accomplish this, either. Simply keep in mind that you'll want to be able to talk about the movie with other people at some point, which means need to actually watch the movie to form opinions and collect your thoughts.
Take a 20-minute nap beforehand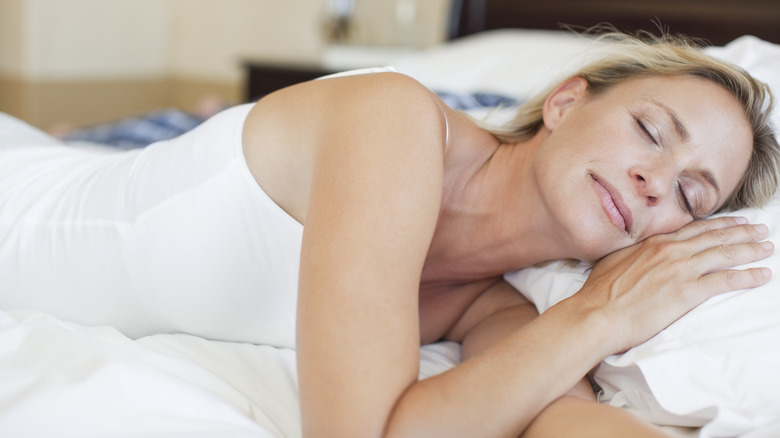 Ojo Images/Getty Images
It might sound counterintuitive to take a nap before watching your movie, but it actually makes a lot of sense to fall asleep for about 20 minutes beforehand. When you take a 20-minute nap, it actually boosts your energy in a way that doesn't leave you feeling groggy or tired. Unfortunately, if you accidentally nap for way longer than your intended plan, it can totally mess you up for the rest of the day. 
Advertisement
A quick nap has been known to improve your mood, increase your alertness, and even enhance your performance. If all you care to do is watch a good movie without dozing off, taking a quick 20-minute nap will help you make that happen. To be sure you don't accidentally oversleep and leave yourself feeling groggier than ever, be sure to set an alarm that will ring at a volume loud enough to wake you up at the 20-minute mark.
Don't eat a heavy meal right before the movie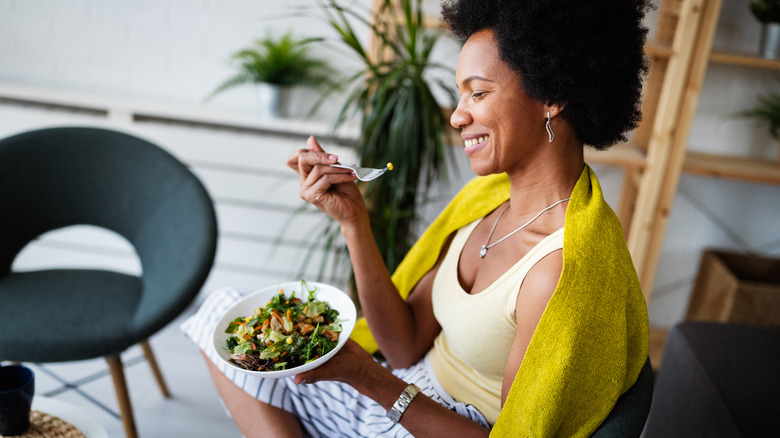 NDAB Creativity/Shutterstock
You might be craving a heaping helping of pasta right before watching a movie, but that could be one of the biggest mistakes possible. Eating a heavy meal before watching a movie is a recipe for disaster. Heavy foods weigh you down and make you want to fall asleep. There's a reason people joke about wanting to go to bed early on holidays that are food-centered, such as Thanksgiving. 
Advertisement
After you've gorged on delicious food, it makes sense that you'd want to lie down and rest to regain some of your energy. Heavy foods can be incredibly filling, but they aren't ideal when you want to stay as energetic as possible. If you definitely need to eat something before watching your movie, don't neglect your hunger signals. Opt for lighter foods such as leafy greens, cooked fish, cheese and crackers, or soup.
Watch the movie during daytime hours when the sun is still shining outside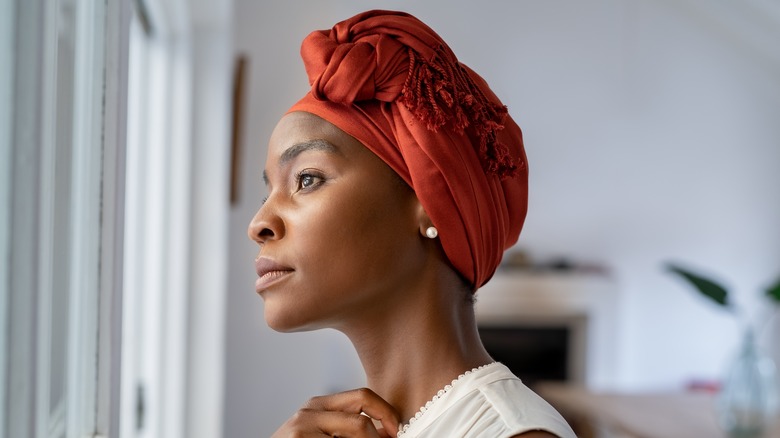 Ground Picture/Shutterstock
When you watch a movie at night after the sun has already set, you're not setting yourself up for success. If it's already dark outside, your brain starts signaling to you that you should be getting ready for bed. In order to avoid this, it's best to watch movies during the daytime when the sun is still shining. This rule still applies if you're watching your movie inside with all of your doors, windows, and blinds closed. 
Advertisement
Just knowing that it's the morning, afternoon, or early evening is enough to subconsciously positively impact your mind about staying awake during a movie. If you know that it's already the late evening or early hours of the night, your thoughts are likely already working against you when it comes to the notion of staying wide awake for a movie.
Take several deep breaths to increase blood flow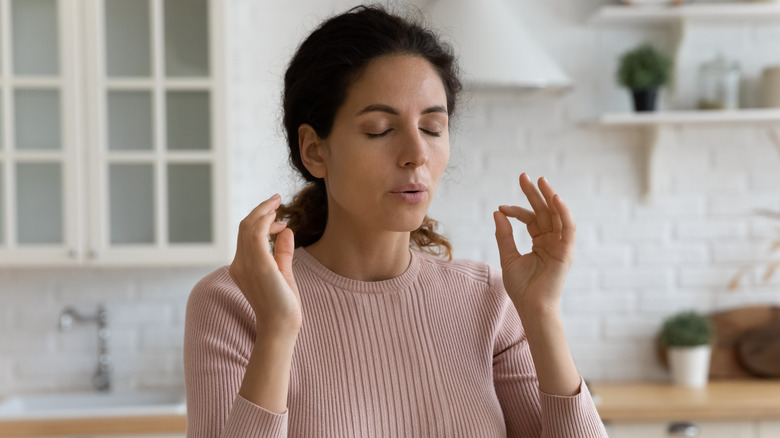 fizkes/Shutterstock
Taking deep breaths is a smart way to help yourself wake up when you're starting to feel drowsy. The reason why? Deep breathing is a surefire way to raise the levels of blood oxygen in your body. The deeper your breathing, the slower your heart rate is. Once your heart rate is slowed down, your circulation improves, your blood pressure lowers, and your energy levels rise. When you really invest time in deep breathing, you learn how different it is from the shallow breathing you're probably accustomed to. 
Advertisement
Shallow breathing doesn't feel good for most people since it's usually what people do when they're feeling super anxious about something going on in their life. Deep breathing brings on the opposite effect, as you take time to inhale all the way into your abdomen and release through your lips. The inhale isn't meant to stop in your chest; it's always supposed to go as deep as your stomach if you really want to help yourself feel more stimulated and alert.
Wear clothing that will have you feeling a bit chilly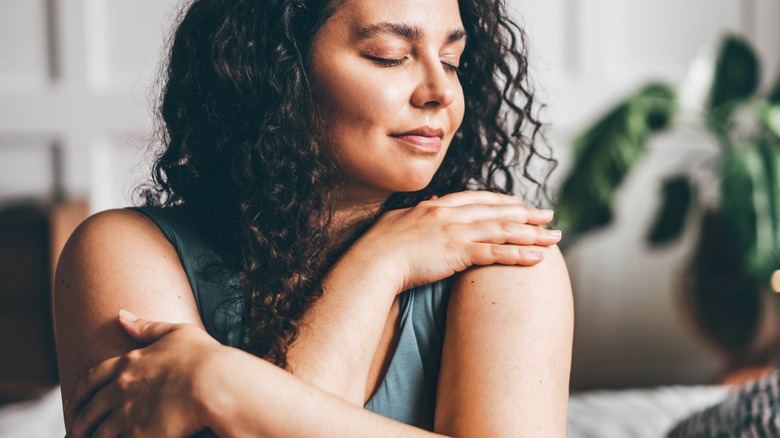 Mariia Korneeva/Shutterstock
Have you ever noticed how difficult it is to fall asleep when a room is too cold? There's a reason people prefer going to bed covered in sheets and blankets. It feels good to be cozy and toasty in a comfy bed with a nice temperature and warm layers draped over you.
Advertisement
There's no way to fully relax or let yourself get comfortable if your body temperature isn't in a good place. Therefore, it makes sense to wear clothing that will leave you feeling a bit chilly when you're watching a movie. As tempted as you might be to grab a warm blanket and wrap yourself up, refrain from doing that to keep yourself more alert. As long as you aren't feeling overly cozy based on your body temperature, your subconscious brain likely won't let you relax enough to doze off.
Briefly stand up and stretch it out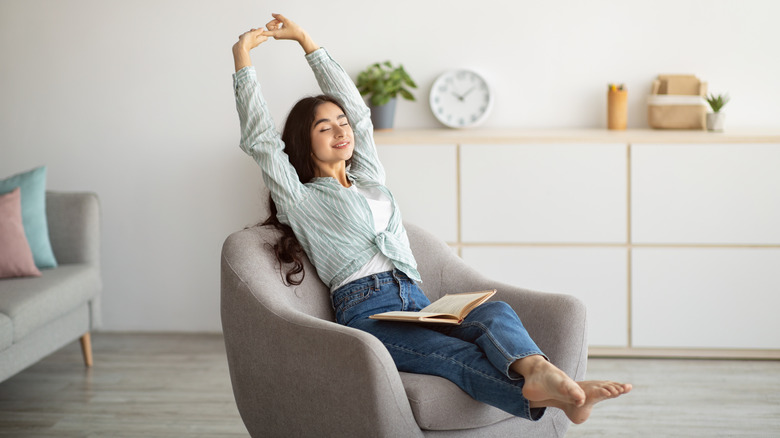 Prostock-studio/Shutterstock
Stretching is such a powerful task for people who struggle with sleepiness at the worst times. If you're in the middle of a movie theater with people seated directly behind, you might want to avoid this step so you don't block anyone's view of the screen, though. Stretching it out to keep yourself awake is something that makes more sense to do at home where you aren't risking the chance of getting in anyone's way. 
Advertisement
Give yourself the space to stand up and stretch out in order to get your blood circulating through your veins. Gently roll your neck back and forth over your shoulders. Raise your arms over your head and reach for the stars. Lean forward and do your best to reach down to your toes as well. Put your legs into lunge positions to stretch them out, too. Loosen yourself up with some stretches that make you feel more zestful before sitting back down to continue watching your movie.