Plum Oil: Your Guide To The Benefits & How To Get The Most Out Of The Hydrator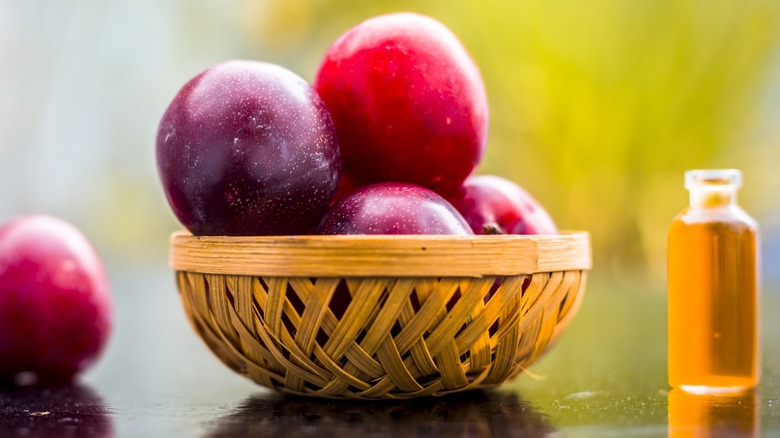 Mirzamlk/Getty Images
In today's fast-moving beauty market, it seems like there's a new must-have skincare ingredient every week. From incorporating mysterious, scientific-sounding substances like ecotin to using surprising yet familiar ingredients like banana extract in your skincare routine, it may seem like your quest for a well-rounded regimen is never finished.
That's why it pays to work smarter, not harder. When trying to build a streamlined, effective skincare habit, every product should pull its weight. Instead of cherry-picking single-use ingredients for every skincare need and goal, you can save yourself a lot of money and frustration by finding superstar ingredients that can benefit your skin — or, better yet, your skin and hair — in multiple ways.
Happily, the past few years have seen an upswell of interest in natural beauty products and brought a number of incredible ingredients to light. One of these recently rediscovered skincare secrets is plum oil, the light yet nourishing hydrator that any skincare queen is sure to fall in love with. So if you're hoping to refresh your routine with a nutrient-rich moisturizer that's all that and then some, here's what you need to know about plum oil.
What is plum oil?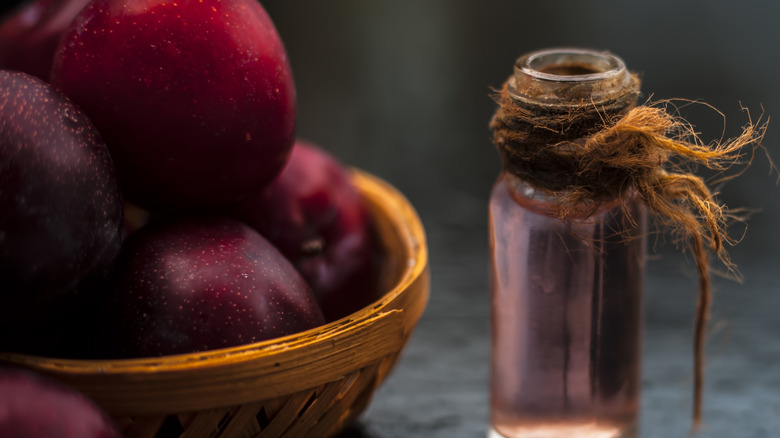 Mirzamlk/Getty Images
Plump, purple plums are highly recognizable. You probably see them in your local grocery store on a regular basis. So when you imagine plum oil, you might envision it being squeezed straight out of these tender fruits. However, plum oil — sometimes referred to as plum kernel oil or plum seed oil — actually comes from the pits at the center of these stone fruits.
Back in the day, plum oil was used in cooking and confectionery, bringing a mild, nutty flavor to everything from pastries to seafood. It was only later that plum oil's boundless skincare potential was realized, and it started to be incorporated into formulas for beauty products like moisturizers, conditioners, serums, and balms. This turned out to be a fantastic move, as in addition to its luscious feel on your skin and hair, plum oil carries a sweet, tempting scent often likened to the fragrance of desserts like marzipan.
But plum oil is no longer just one in a long list of skincare ingredients. A natural standout, it has earned its place as a product of its own. You don't have to go searching through a bottle's INCI hoping to find plum oil in prefabricated cosmetics. Instead, you can now use plum oil on its own to experience the full range of its benefits for your skin and hair — and the benefits are many.
Plum oil supports a youthful, hydrated complexion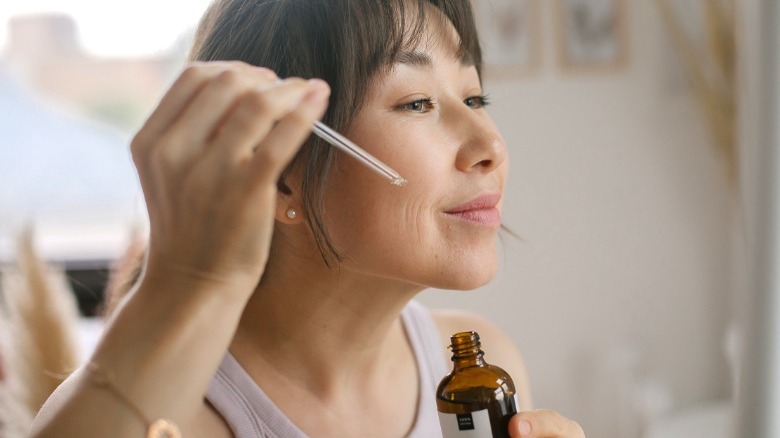 Anikona/Getty Images
When we talk about skincare goals, pretty much everyone is interested in skin that's smooth, firm, and well-hydrated. This makes plum oil an ideal part of your daily regimen, as it offers deep moisture and nourishment. Speaking to Byrdie, board-certified dermatologist Debra Jaliman, M.D., explains that plum oil is "full of omega fatty acids, vitamin A, and vitamin E," which are known to help hydrate the skin. By helping seal in restorative moisture, plum oil naturally contributes to a complexion that's more bouncy and youthful. As Jaliman points out, "Anything that is hydrating will help plump skin."
Plum oil is also brimming with nourishing compounds like cleansing stearic acid, moisture-locking palmitic acid, and anti-inflammatory oleic acid. Oleic acid, also known as omega-9, supports suppleness and moisture while relieving dry skin and lessening signs of aging like wrinkles and age spots (per New Directions Aromatics). Meanwhile, plum oil's lush concentrations of linoleic acid are perfect for a fresher, brighter complexion, as it promotes skin cell turnover while discouraging pore blockages. In short, plum oil is primed to naturally hydrate, refresh, and soothe your skin from the outside in.
Plum oil helps protect your skin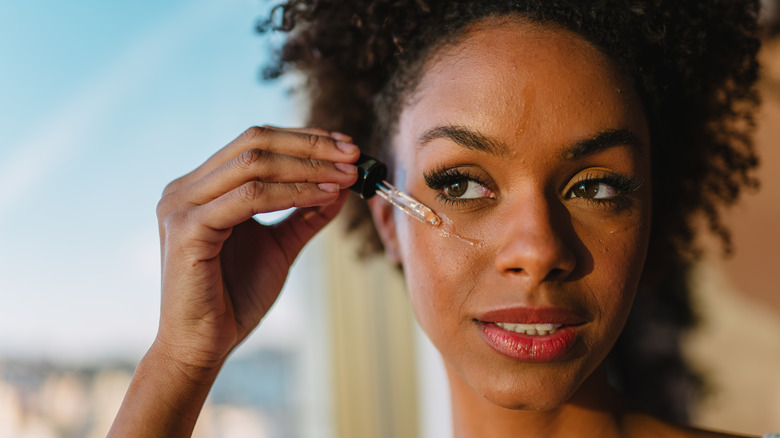 Brastock Images/Getty Images
Plum oil's nutrient-rich composition doesn't just help the look of your skin by adding moisture and bounce — it can actually help defend your skin against damage. Every day, you're exposed to free radicals, which can stress your skin, break down the collagen and elastin that keep your complexion firm and youthful, and even contribute to cancer (per Cleveland Clinic).
As board-certified dermatologist Rachel Maiman, M.D., explains to Oprah Daily, "Free radical damage occurs from various [external factors], like pollution, blue light, and UV radiation, as well as internal processes like inflammation. ... The net effect is dry, dehydrated, inflamed skin with signs of premature aging." But plum oil is chock full of antioxidants, which naturally combat the effects of free radicals in our environment. Antioxidants — such as the polyphenols and fatty acids in plum oil — effectively neutralize free radicals on an atomic level, preventing them from causing cell damage in your body and skin (via Harvard Health).
Plum oil's polyphenols can even help supercharge your SPF. While you wouldn't want to use plum oil in place of sunscreen, Dr. Maiman explains that "polyphenols naturally fortify and protect the skin's barrier from sun and solar UV radiation." So layering this protective oil along with your usual daily SPF may make your defense against UV damage all the stronger.
Plum oil benefits for hair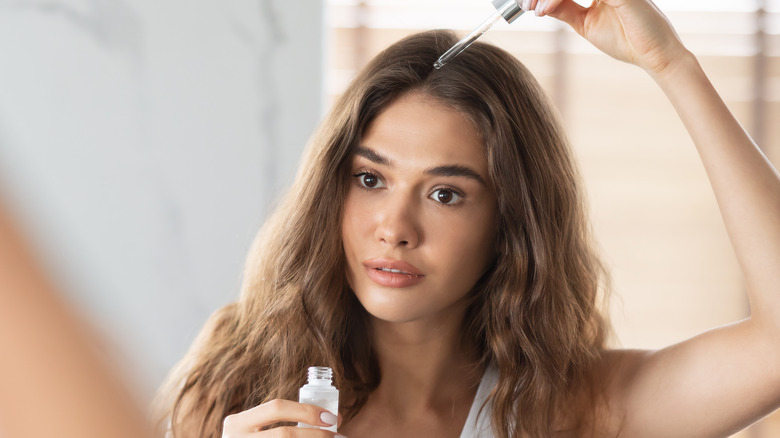 Prostock-studio/Getty Images
As if plum oil's staggering skincare benefits weren't enough, it also has applications for your hair and scalp. For those who struggle with itchy skin or dandruff, Prose suggests that incorporating plum oil is an excellent way to soothe dryness and irritation. Meanwhile, it promotes smoother, softer, and shinier hair by strengthening each strand.
For instance, anyone who struggles with split ends or damage from heat styling may want to apply plum oil down the length of their hair. "Plum oil may also be used for damaged hair on the ends to protect against heat damage (by providing a protective heat resistant coating)," dermatologist Lauren Taglia, M.D., tells HealthCentral. Try warming a little plum oil in your palms and then combing it through your tresses, focusing on the ends to prevent splitting, breakage, and styling damage.
You can also use plum oil more toward the roots of your hair in lieu of a leave-in conditioner. The linoleic acid that makes plum oil so great for brightening and cell turnover is also beneficial for the skin on your scalp, clarifying your follicles and helping prevent clogs.
Who can use plum oil?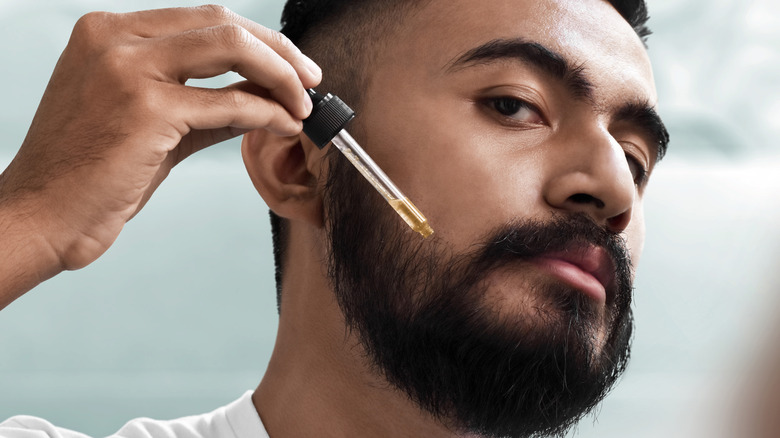 FOTOKITA/Shutterstock
Good news, beauty lovers: Plum oil is approved for everyone, regardless of skin type. Obviously, its strong hydration makes plum oil well-matched for dry or mature skin that's craving a little extra moisture. But it can also be handy for delicate, acne-prone complexions that require hydration without heavy, pore-clogging ingredients. "Plum oil can benefit all skin types, even if you have oily, acne-prone skin, or sensitive skin," board-certified dermatologist Michele Green, M.D., tells Cosmopolitan.
If your skin tends to be reactive, though, Dr. Green advises that "a few extra steps should be taken as with any new skincare product you seek to add to your skincare regimen." When in doubt, try conducting a patch test before diving headfirst into plum oil for the first time. As Dr. Green instructs, "A patch test should be conducted in the inner arm where you apply a dime-sized amount of product for 24 hours to see if you develop a reaction in the form of a rash, redness, and/or irritation." Once that dab of plum oil has rested comfortably on your skin for a day or so, you can then feel confident adding it to your beauty routine on a larger scale.
How to add plum oil to your routine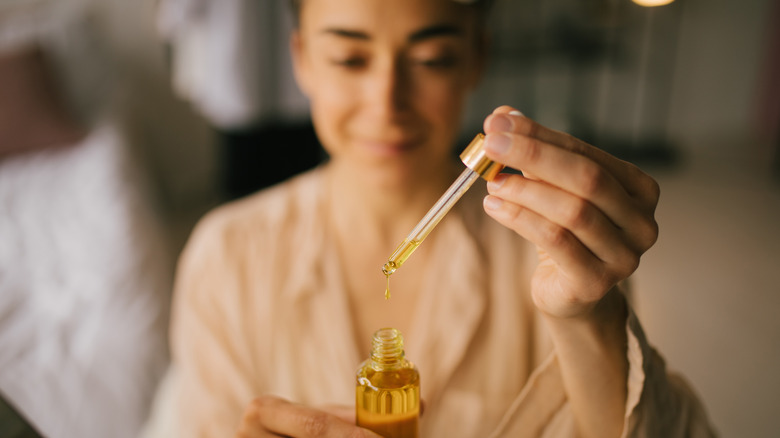 Polina Lebed/Getty Images
Interested in trying out the rejuvenating benefits of plum oil yourself? Dr. Jaliman suggests that you can use plum oil up to twice daily, applying it directly to your clean skin. In the morning, pat plum oil into your complexion before putting on makeup. In the evening, the rule of thumb is to apply light products like plum oil after washing your face, but before any heavy moisturizers or night creams. As it happens, plum oil makes a good partner for other hydrating serums and moisturizers, so you can try adding it straight into your existing regimen without having to tweak a lot of other products in your lineup.
As for where to source your plum oil, there are a number of high-profile options currently making waves in the beauty industry. One of the most popular has to be the Le Prunier Plum Beauty Oil, which costs a pretty penny but boasts thousands of outstanding reviews. This product is great for skincare purists, as it contains no parabens, sulfates, preservatives, added fragrance, chemicals, or even essential oils that might irritate your epidermis — just pure, hydrating plum seed oil.
If the price tag for Le Prunier seems a bit too high, there are also less expensive wholesalers who carry plum seed oil. Before you buy, though, double-check that their oils are undiluted, not mixed with other oils or substances, and are deemed safe for cosmetic use. After all, it's not worth risking your skin on anything that's cheap but ineffective.