Jennie Marries 2023 Met Gala Theme With Spring's Biggest Fashion Trend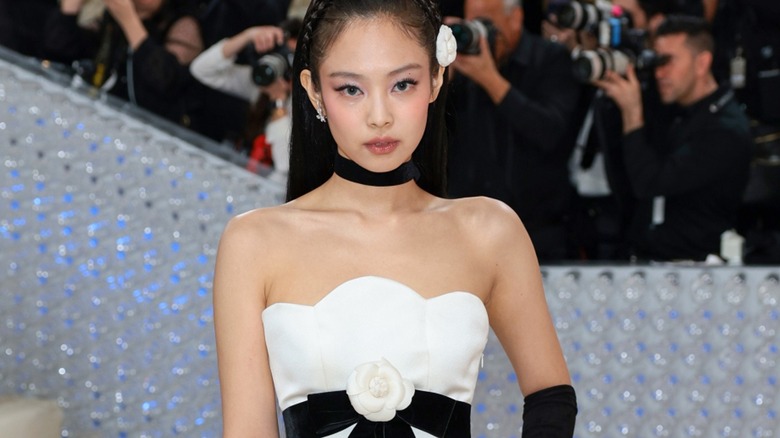 Dimitrios Kambouris/Getty
The 2023 Met Gala is in full swing, and while a slew of starlets have shown up in delightfully retro callbacks to Karl Lagerfeld's lengthy career, the ensembles of the evening have also shown how Lagerfeld's work continues to stay current. This is particularly well-demonstrated by K-pop star Jennie (of Blackpink fame), who arrived at the Met Gala in a vintage Chanel minidress, complete with a rosette below the bust.
With the rosette trend budding everywhere this spring, Jennie's dress could easily be mistaken for a brand new 2023 design, rather than a piece from the '90-'91 line. While the babydoll silhouette is undeniably '90s, the rosette detail feels incredibly modern, almost as if Lagerfeld is posthumously trying to get in on the trend. Jennie's look is accessorized with black elbow-length gloves, tights, and stiletto heels. The finishing touches of a plain black choker and headband with matching rosette make for the ultimate send-up of Lagerfeld's work at Chanel (quite appropriate, considering Jennie is a Chanel ambassador).
From Lagerfeld's camellia to the contemporary rosette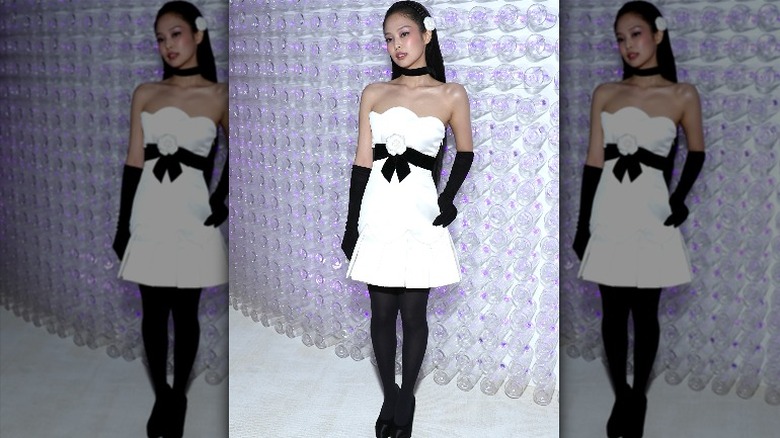 Kevin Mazur/mg23
The camellia, the flower on Jennie's dress, is a signature symbol in Lagerfeld's work and arguably an origin point for the rosette trend we see today. Camellias were Coco Chanel's favorite flower, and when Lagerfeld became creative director for the brand, he continued to use the flower in his designs (via Icon-Icon). You can recognize the camellia's rounded shape and voluminous petals in various ensembles at the 2023 Met Gala, but Jennie's vintage dress shows off a dainty, minimal take on a camellia rosette that is perfectly suited to the contemporary trend.
Rosettes are delicate, feminine details that can add texture and life to a piece without making it gaudy. Although the rosette trend risks turning the corner into overdone — especially when crowding too many or too large rosettes onto one outfit — Jennie's Met Gala look (and Lagerfeld's legacy) reminds us all what it means to make a playful yet understated wink towards classic design motifs.