How To Choose The Gold Jewelry Color That Works Best For You & Your Wardrobe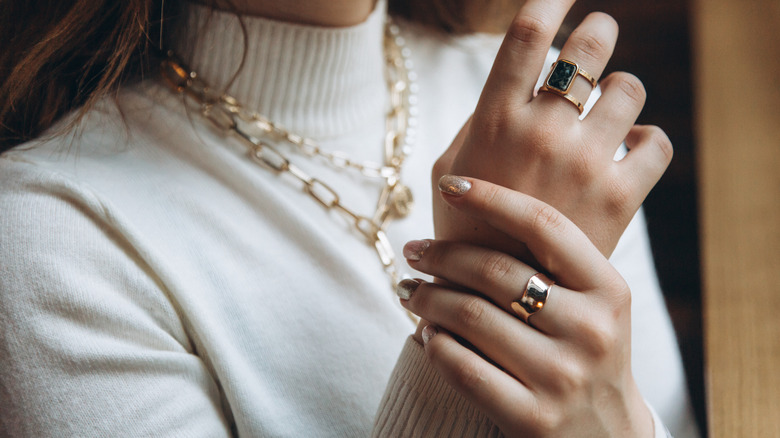 Kristina Holovach/Shutterstock
Since times immemorial, gold has been a coveted metal not only for its value and aesthetic appeal, but the luxurious feeling it gives the wearer. From yellow gold to white gold, rose gold and even black gold, there are a lot of different types of gold to choose from! But all discerning fashionistas know the real trick to making gold jewelry work is to pick the tone that best suits your personal coloring.
Take it from jewelry designer Charlotte Blakeney, who tells Grazia, "Much like make-up, you can use jewelry to accentuate your beauty." She explains that different metals and jewels play differently against the skin, hair color, and eye color of every person. The metal "can illuminate your skin's natural tones, bring out flecks of color in your eyes and complement your hair color," Blakeney said.
The easiest and best way to determine the tone of gold jewelry that works for you is to match it to your skin's undertone, which will be either cool, warm, or neutral. It's important to note that your skin's undertone never changes, even though your skin tone may change with sun exposure. If you have blue-colored veins, you fall into the cool category and are better off wearing platinum and white gold. Green-colored veins indicate you have a warm skin tone, so stick with deeper tones of gold. If your undertone is the same as your skin tone, you are likely neutral, and yellow gold is the best option for you.
How to choose your gold jewelry tone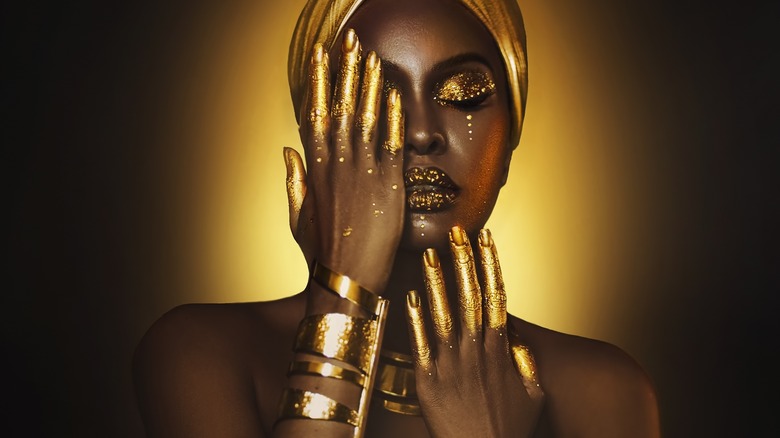 Ironika/Shutterstock
The most popular tone of gold is yellow gold since it tends to suit most people. In recent years, its financial value has increased tremendously, making it worth the investment this spring. David Yurman, CEO and founder of his high-end jewelry label of the same name, tells Net-A-Porter, "In recent years, we have seen tremendous growth in demand for our gold products, specifically yellow gold."
While yellow gold is known to flatter all skin tones from the palest to the deepest, that's not to say that white and rose gold metals aren't also popular choices. Jewelers often advise their clients to invest in different metals depending on what looks best on their personal undertone — cold, warm or neutral — of course.
Baylee Zwart, founder of LA-based brand Azlee, tells net-a-porter, "We find that clients who have lighter skin with a pink undertone often request rose gold, as it actually reads yellow against their skin tone." On the other hand, she added that rose gold can show up "very pink" on darker skin tones, citing it as another reason why yellow gold is recommended for them.
How to determine your specific tones and the corresponding gold jewelry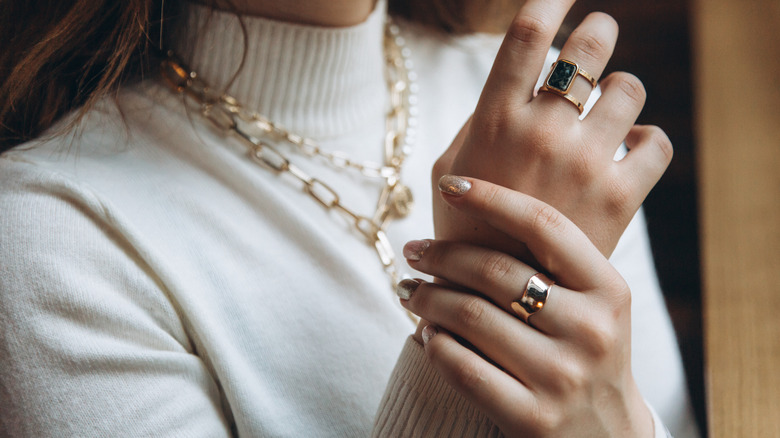 Kristina Holovach/Shutterstock
Your skin tone differs at varying times of the year as a result of increased or decreased sun exposure. That said, your changing color can also be used as a guide to the gold jewelry you should wear. White gold and rose gold options work best for people with paler skin. People with paler skin should stick with white gold and rose gold options. On the other hand, those with olive or tan skin tones look particularly striking with yellow gold jewelry, though they can pretty much pull off any shade of gold.
Your choice of hair and eye color, as well as your wardrobe's primary colors, can also determine the color of your gold jewelry. So, if you have blonde hair, you can pull off yellow, white, and rose gold. Those with red hair should opt for white golds while people with dark hair can wear either yellow or white gold.
Ultimately though, there are no rules to wearing jewelry. It's more about the piece's personal significance to you and whether you like the style or not. Even if you choose to follow these guidelines, be sure to keep your personality at the forefront and pick styles that make you feel like a royal!