Polish Your Winged Liner With This Simple Addition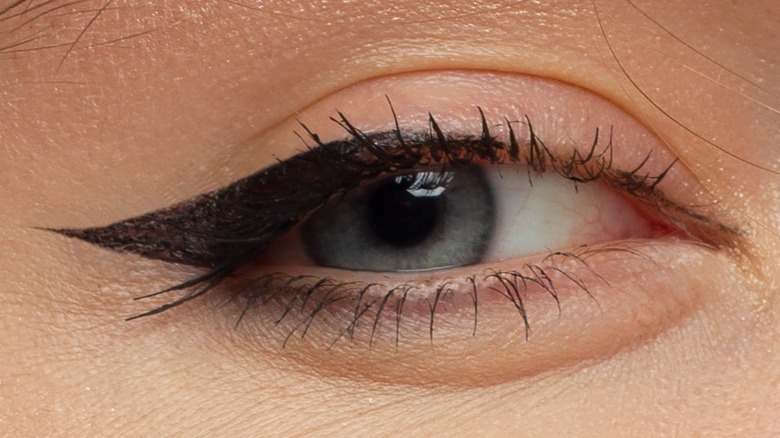 Shtennikova Evgenia/Shutterstock
Everyone loves a winged eyeliner look. A clean and sophisticated winged eyelid effortlessly elevates low-key, edgy, and glamorous outfits. Winged eyeliner matches beautifully with bold lips but can stand alone for a striking look. Both makeup enthusiasts and novices alike often want to learn how to do winged eyeliner like a pro, especially since the technique never seems to go out of style. Of course, many want tips on nailing winged liners on hooded eyes, as people with all eye shapes should be allowed to rock the timeless look.
Advertisement
Like many classic makeup looks, winged liner approaches evolved. While you can't go wrong with that black wing, there are always new ways to make your wings pop more than ever — thanks to the creativity of celebrity stylists and TikTok users. One way to help your winged liner stand out — while being as precisely drawn as possible — involves a bit of eyeshadow.
Lighter eyeshadow can make your winged liner stand out
Do you want your winged liner to appear more sleek? Makeup expert @paintedbyspencer posted a video with some advice on how to achieve that. The makeup artist explained that a touch of eyeshadow that's lighter than your skin tone will attract more attention to your winged liner. How to apply this? Use an eyebrow brush with a flat end and gently tap eyeshadow slightly under the wing in a "stamping" method. Doing this with a lighter eyeshadow makes your wing appear more polished. Also, the contrast creates a highlighted look, so you won't need your highlighter.
Advertisement
With more than 835,000 likes at the time of writing, viewers enjoyed the artist's subtle yet helpful hack. Even Lady Gaga commented, "Amazing." When Lady Gaga likes a makeup tip, we have to try it. One viewer commented: "Love this." Another fan left a sweet message: "You've been teaching me all the little things I feel like I've been missing... I love your vids sm."
There are other winged-liner TikTok tips
Using lighter eyeshadow to enhance our eyeliner wings is a subtle hack, which inspired us to look for more suggestions. TikToker @kbellbeauty shared a video explaining that anyone can add some eyeshadow to a small makeup brush and use it to add a little line at the outer corner of the eye for a small wing — instead of struggling with eyeliner to paint a precise wing.
Advertisement
TikToker @dendiebelle posted a video showing viewers that they can use "wing liner stamps" to gently press on for a pre-designed wing. Viewers commented, "So my frustration will cease to exist," and "This is my must-have eyeliner. It stays all day." Meanwhile, if you want to create an ultra-trendy spin on the classic winged liner looks, TikTok user @frankiedarling3 shared a video showing viewers that double wings are gorgeous and more modern than the traditional one wing per eye.