Underwire Vs. Wire-Free Bras: Is One Really Better?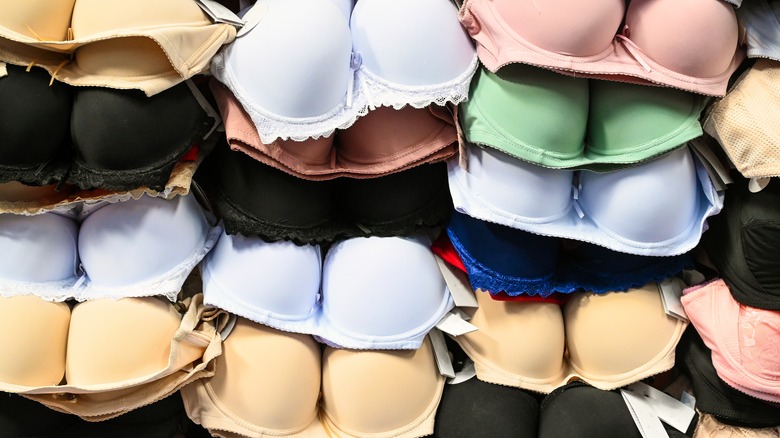 Ajdin Kamber/Shutterstock
When Julia Roberts in "Erin Brockovich" proudly proclaimed that she can get whatever she wanted by virtue of having a set of boobs, a new rally cry was created. The line, "They're called boobs, Ed," can be used as a reason or excuse for anything. Why does your back hurt? What is the cause of, and solution to, all of your problems? See, the answer works with pretty much everything!
So, if you're a person with a little sweater meat, chances are that you may already be a bra connoisseur. You know which bra to wear for a special occasion and which to wear for comfort — and you know when it's time to ditch your stretched-out sports bras. If you are more well-endowed upstairs, then you might also swear by your underwire bras for the extra support they claim to offer. But are underwire bras actually better? Or do they actually cause more damage? We investigate.
What's the difference between underwire and wireless bras?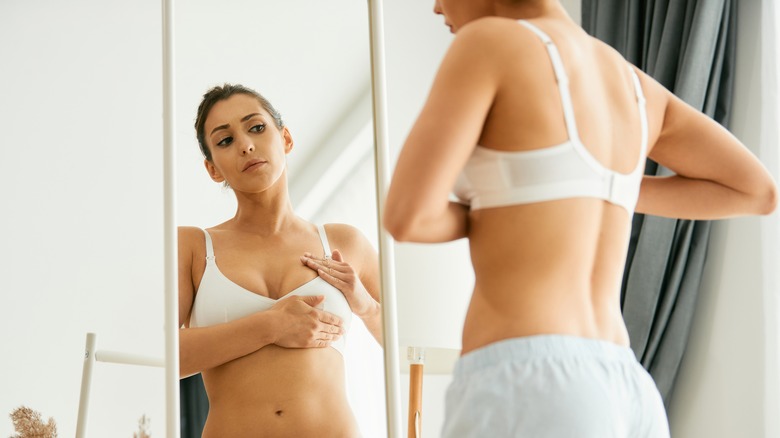 Drazen Zigic/Shutterstock
For starters, you may be wondering about the difference between underwire and wire-free bras. An underwire bra has a wire (either metal or plastic) sewn into the fabric under each cup to provide support and shape to the breasts by lifting and separating them, according to Knix. Wireless bras, on the other hand, rely on fabric, such as spandex or padded cups, to do the job.
Many people with larger breasts swear by underwire bras to keep them in place. On the flip side, those with smaller chests usually gravitate toward wireless bras since they often don't need the extra support. Regardless of cup size, it is generally recognized that wireless bras are more comfortable to wear.
Due to their structured nature, there may be some concerns with the long-term use of underwire bras. Some people may wonder if the added pressure on breast tissue could prevent their armpit lymph nodes from draining, potentially leading to breast cancer. Fortunately, a 2014 study found that underwire bras didn't impact the likelihood of breast cancer. But that doesn't mean underwire bras aren't without downsides! They often don't allow for much breathing room, so when we sweat, the friction can lead to skin irritation, which increases your risk for infections, according to BloomBras. Dr. Waqas Ahmed agreed, telling Real Simple, "It will cause increased sweating, which will clog the skin pores and cause irritation and itching."
Wireless bras can still work for larger breasts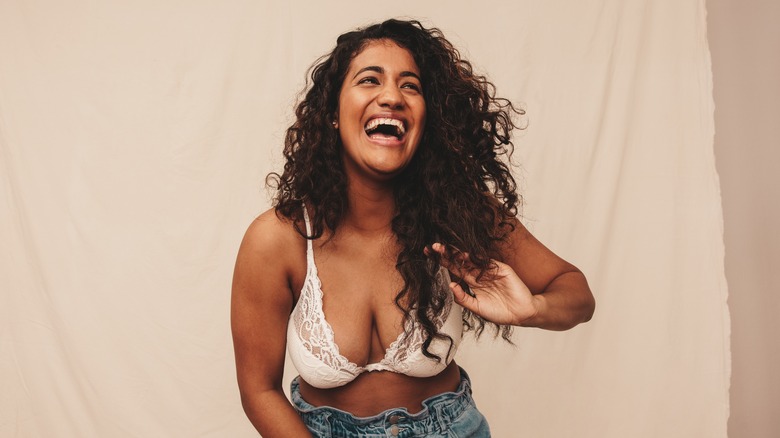 Jacob Lund/Shutterstock
Generally, it is assumed that larger-chested people would opt for an underwire bra for its support and shape, but it turns out that wireless bras can be a great choice as well! As Dr. Anita Helbig writes on her blog, wireless bras offer similar support, and they can be worn for longer periods due to their comfort level.
If sagging is a concern, Dr. Lina Velikova told Real Simple that once you start working out your chest muscles regularly, you can reduce sagging, regardless of if you wear an underwire, wireless, or go braless! "If you want to help the process, you can do targeted breast exercises to develop the muscles and strengthen the ligaments faster," she said. Aesthetically speaking, wireless cups give off a more natural appearance and tend to pair well with a wide variety of tops, blouses, and dresses with lower necklines or backless styles.
At the end of the day, do what works best for you! The choice you make will depend on how you will want to look in your clothes, as well as how much comfort you desire on a particular day. Anything that makes the girls look and feel happy is a good thing.