Dopamine Beauty Is All The Rage - Here's How To Let Joy Lead Your Makeup Looks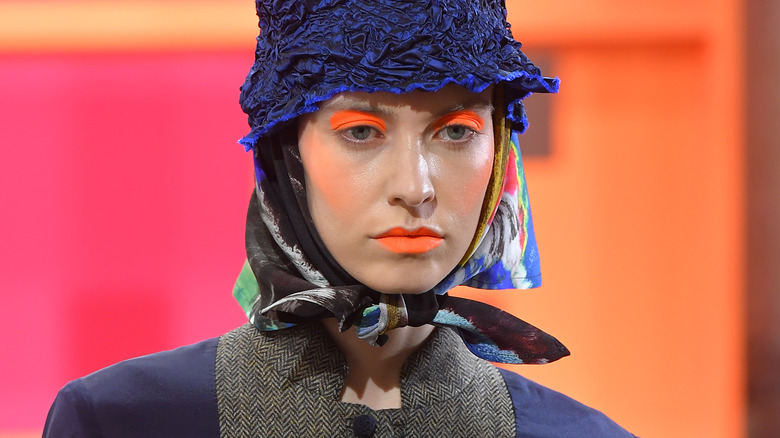 Victor Boyko/Getty Images
You are not alone if you ever feel like your makeup looks stagnant or on the plain side. For years, makeup has fallen on the safer side with a few beauty trends popping up to add some boldness. While everyday beauty looks tend to be low-key and subtle, 2023 has taught us to embrace some color. From dopamine nails to clothing, there are countless ways to brighten your ensemble. These dopamine trends are all about brightening and enjoying your day by injecting massive amounts of bold and vibrant hues into your look. While it's easier to rock neon clothing, there's no reason why you can't bring some fun to your makeup.
Advertisement
Dopamine beauty is the latest trend that ditches neutrals in favor of something bold and saturated. These trends can be as striking as you want them to be, but they all require a departure from your comfort zone. Whether it's your mascara or blush, countless beauty products can help you add something unique to your makeup. Although it's normal to think that colorful makeup is reserved for runways or costumes, this beauty trend is all about bringing fun into your everyday. Knowing how to balance your dopamine beauty looks is the best way to have fun with your makeup, and we found some inspiring looks to help you get started. 
Dopamine lipstick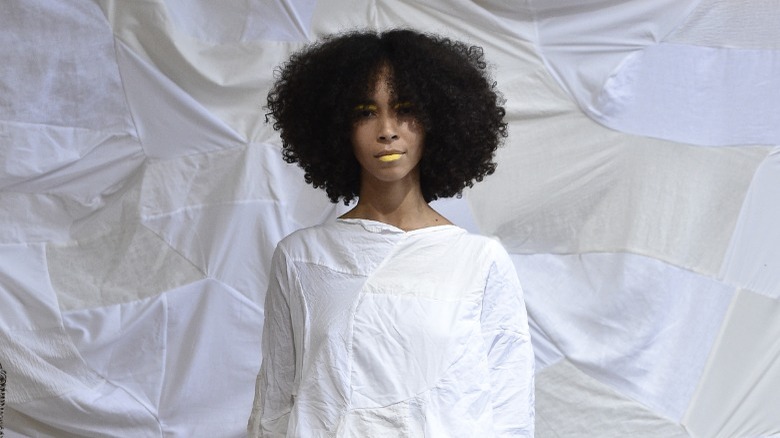 Pietro S. D/Getty Images
If you struggle to find the perfect beauty product that has the right shade of color, lipstick is the solution to your problem. For years, lipstick has been the easiest way to get a unique color in your makeup look. With dopamine beauty becoming more mainstream and embraced, more companies are releasing their best lipstick formulas in vibrant shades like yellow, oranges, and blues. Be sure to prep your lips for the high amount of pigment, since it can be one of the most prevalent issues in bold lipsticks. However, the result will have others wanting to know which fashion show you are walking out from.
Advertisement
Colorful mascara
The dopamine beauty trend won't come easy to everyone at first. If you're looking to ease yourself into the trend, the most subtle change you can make is through your mascara. Since bold mascara only affects your eyelashes, it's a subtle pop of color that can add plenty of happiness to your look. Although this is a subtle way of adding color, you may need to add a few layers to truly get the look that you want. However, a neon mascara color is a more subtle but significant way of adding something fun to your eyes.
Advertisement
Vibrant eyeliners
Throughout 2023, we have seen how eyeliners have become a major player in your makeup look. Whether it's a statement siren eye or a subtle cat eye, there are plenty of ways to play up your eyeliner look. If you're looking for something with a little more pop, a strong under eyeliner can complete your overall eye look. Match your undereye liner with your eyeshadow for a cohesive look that still brings amusement but doesn't lose the chicness.
Advertisement
Vivid eyeshadows
A vibrant eyeshadow might be overwhelming at first, but it can complete your dopamine makeup look. Picking up a bright green or yellow eyeshadow isn't for the faint of heart, as creating a chic and modern look can be challenging. The key to adapting a colorful eyeshadow look is by matching it with other hues that can complement your eye creation. Mix and match your color for a look that still gives you a pop but won't look out of place in your day-to-day makeup.
Advertisement
Natural and dopamine makeup
When you add one colorful beauty product, it can be tough to know how to create a cohesive look that all blends well with each other. The best way you can tackle this problem is by pairing your dopamine makeup with natural finishes. Whether it's going for sheer foundation coverage or nude lips, balance out your dopamine beauty with some softer hues. Not only will this help your vibrant makeup picks pop, but it will help adapt this trend into something that can be used every day.
Advertisement
Highly pigmented products
When pulling off the dopamine beauty trend, you want to ensure you do it with confidence. Lightly dusting color into your makeup will make it appear as a sheer accident or afterthought. Go headfirst into this trend by opting for saturated products with a higher amount of pigment. Bright and bold blushes are an example of how you can embrace this trend without having to veer too off track with your makeup look. Adding an extra layer of blush can give you this haute couture look without picking up any new product. This same principle can be applied to your eyeshadow or lipstick.
Advertisement
Dazzling glitter makeup
Everyone loves a good dose of glitter from time to time. If you're already set on a bold and colorful makeup look, add some extra sparkle through your highlighter, eyeshadow, or blush. Shimmer and glitter can make your looks appear more fun and trendy while emphasizing the vibrant color. If you're aiming for the perfect dopamine beauty look for a nighttime event, glitter is a must-have that will have you shining bright.
Advertisement
All-around color
The saying "go big or go home" was meant to apply to the dopamine beauty trend. Nothing exudes more joy and excitement than going full-on with a colorful makeup look. Complete the trend by adding vibrant eyeshadow, blush, mascara, eyeliner, and lips for a look that is cohesive in the fun it brings. Not only will all of these products make a great statement, but they will help make getting ready even more fun.
Advertisement