Should You Be Using Brow Shampoo? Here's What To Know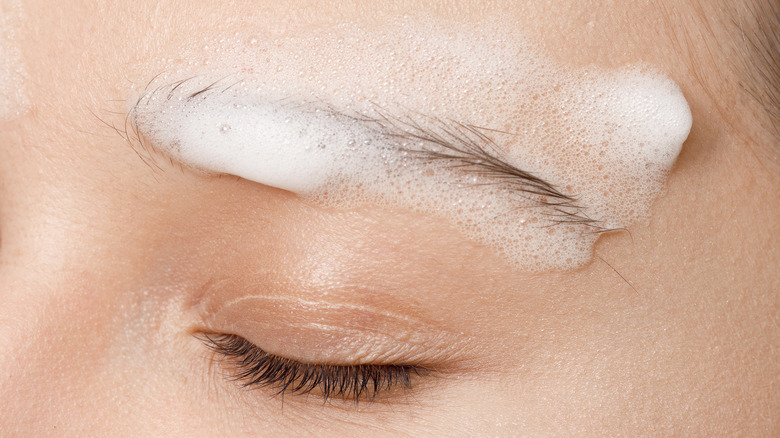 KDdesignphoto/Shutterstock
We may receive a commission on purchases made from links.
We love to see people have fun while experimenting with their brows! From the buzzy eyebrow treatment to powder brows (a semi-permanent tattoo technique), there are so many options to play with these days. In the late '90s and early 2000s, though, society was obsessed with rocking thin brows. Think back to Gwen Stefani and Drew Barrymore's brows, for example. Fast forward to 2023, and it's all about well-groomed but full brows. Celebrities like Lily Collins, Cara Delevigne, Zendaya, and Tracee Ellis Ross give us major brow envy whenever they hit the red carpet.
Advertisement
Turns out, how diligently you care for your brow hair matters just as much as the size and shape! Brow care has become so prominent that some beauty enthusiasts on TikTok are shampooing their brows, causing many of us to now believe that washing our brows is necessary. So, do you really need to invest in a brow shampoo?
Is a brow shampoo necesary?
Nothing terrible will likely happen if you don't use brow shampoo, so if you don't have the time or budget to start shampooing your brows, you don't need to stress. But if you can, brow shampoo can improve your brows, so consider using it. "By keeping the skin and hair around the eyebrows clean and well-nourished, brow shampoo can help prevent hair loss, promote new hair growth, and give you fuller, more defined brows over time," Sania Vucetaj, a celebrity eyebrow expert, told Byrdie.
Advertisement
Washing your eyebrows doesn't have to be a time-consuming, tiring process. For example, TikToker @jenniferasel4 shared how she takes care of her "new brows," and the process is pretty straightforward. After washing your brows, you can follow up with aloe vera gel while styling them, as this natural ingredient does wonders for soothing the skin. Castor oil is another great option for post-brow shampoo care for shiny, stronger hair.
Brow shampoos worth trying out
If you want to start experimenting with brow shampoos, this one from CC Brow has a vegan, cruelty-free formula using jojoba oil, and it goes for under $10 on Amazon. Moreover, the MinaiBrow Brow Shampoo is Amazon's Choice for brow cleansers. It is available for $9.95 and is also cruelty-free and vegan. In a review, one happy customer wrote, "This brow shampoo is really good... I have been using this after I shower and my eyebrows have been looking and feeling great!! I will continue to use this product and take care of my eyebrows!"
Advertisement
Other brow shampoos to check out include the Thuya Brow Shampoo, which features mallow extract for soothing the skin and is available at Lash Elite for $20. The Brow Shampoo by Sania Vucetaj contains biotin for healthy hair growth and can be found at Sania's Brow Bar for under $40. Selling for under $15 at Bronsun USA, this brow shampoo contains betaine, which is useful for shinier and healthier brows. 
Which of these great brow shampoos will you try out first?