Our Best Tips For Rocking A Winged Liner Look On Monolids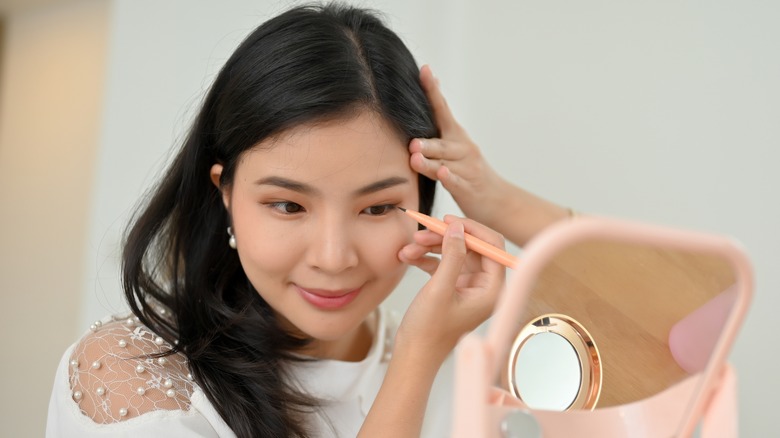 BongkarnGraphic/Shutterstock
Nailing a winged liner can be tricky enough, but drawing one on monolids requires some extra maneuvering. Just like with hooded eyes, liner all but disappears when those with monolids open their eyes. You can keep making the line thicker, but before you know it, eyeliner covers your whole lid. Before tossing out all your liners in frustration, look at K-Pop stars like Dahyun and Yeji! They rock their monolids — and prove that applying makeup on them is a breeze.
Advertisement
While there isn't as much lid space to work it if you have monolids, you can play around with different types of eyeliners. We found that liquid liners are ideal for getting a sharp, winged cat eye. Pencils and eyeshadows work great together if you prefer to opt for a smudged, winged look. To master these different types of winged liner looks, read on for our tips and you'll be a pro in no time.
Follow the shape of your eyes with your liquid liner
If you have monolids, you're blessed with beautiful almond-shaped eyes and you'll want to accentuate them by following the line of your upper lids. Liquid eyeliners are great for drawing super-sharp lines for a winged look. To line your eyes like a pro, start by drawing your wing first. With your eyes open and looking forward, place the liquid liner tip on the very outer corner of your upper lids. Since some of your lids disappear when you open your eyes, don't let your tail turn up too much. Draw a line that's slightly tilted upward and then connect the end to about three-quarters of your lid in a narrow triangle shape. Fill in the blank space with your liner. Next, draw along the rest of your lids, connecting the wing into one long seamless line.
Advertisement
Because you won't see too much of the eyeliner when you have your eyes open, a good way to define them is by lining your waterline for extra definition. This requires a black waterproof pencil liner. Gently pull your lid upward with your finger and fill in your inner upper eyelids with the pencil. For an even more dramatic look, line the inner corners of your eyes with your liquid liner to attain a fox-eye shape.
Smoke out your eyes with a smudged winged liner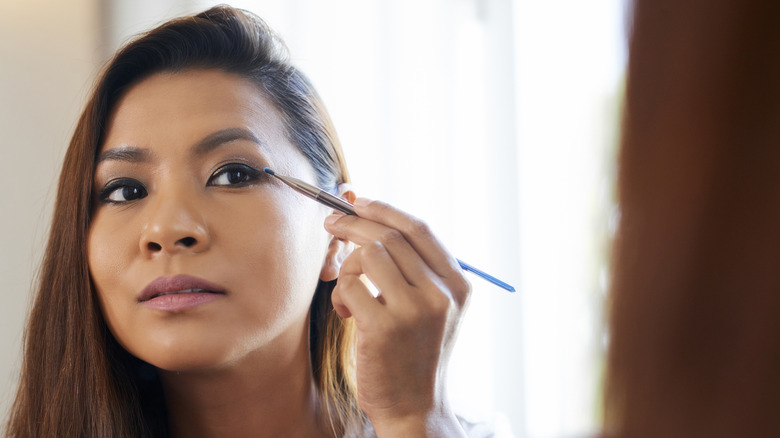 Dragonimages/Getty Images
Smokey eyes look terrific on monolids, as they add dimension and can make your eyes appear larger. First, grab a pencil eyeliner in black or dark brown and draw your wing. You can extend it to where your eyebrows end to add some drama or end it with a slight flick. Next, draw along your lashline and connect the wings. Since you're going to smudge out the liner later, the line can be slightly thick. Using a small rounded brush, place a dark eyeshadow just above your wing, using small, short strokes to blend it in. Take some more shadow and go over your lids.
Advertisement
When you open your eyes, you should be able to see the shadow. If it's missing, simply blend more eyeshadow upward until it gradually fades. You don't want to see a line of demarcation — the smokey eye should be seamlessly blended. To get a sharp wing, clean up underneath with concealer, extending it towards the ends of your eyebrows. Finish off the look by curling your lashes and giving them a couple of coats of black mascara — and you'll have the most enviable eyes around.