No Cuticle Oil? No Problem! 6 Perfect Alternatives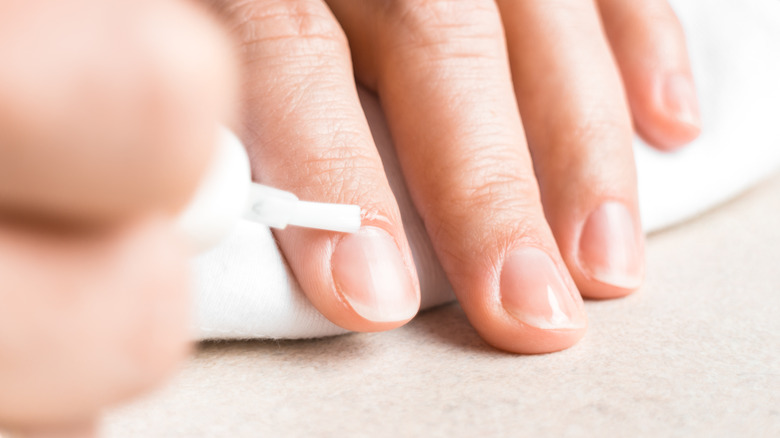 Monika Podlaska/Getty Images
You may only pay attention to your cuticles when painful hangnails happen. But they need your attention more than you think. Cuticles are a sensitive part of your skin that often goes dry due to changes in weather, exposure to UV nail driers, and even from washing your hands too often. And it's likely cuticle oil is never at the top of your grocery list. So when you find yourself needing emergency cuticle care, you may have to resort to alternatives.
Just as good as the real thing, alternatives for cuticle oil will get the job done, and the best part is, you can find most of them in your kitchen pantry. So, if you are looking for healthier nail growth and painless fingertips that look as though they can be a part of a nail polish commercial, but you have no cuticle oil, don't worry. These alternatives are real lifesavers that you can start adding to your skincare regime.
Coconut oil is always reliable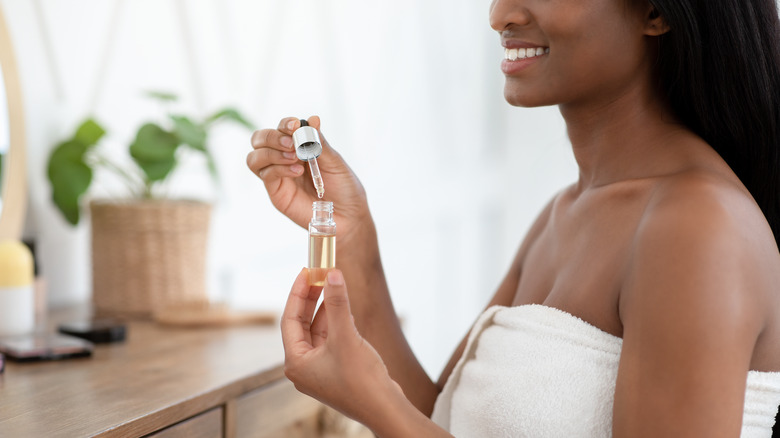 Prostock-studio/Shutterstock
Coconut oil is by far the most versatile oil. It can be used for cooking, and in our haircare and skincare routines. And most households probably already have this miracle oil in their kitchen.
Coconut oil does so much for your cuticles — it doesn't just stop at moisturizing them. It also takes care of those annoying bumps and ridges on your nails, helps heal damaged skin, and helps prevent those painful hangnails. Still not sold on this amazing replacement for cuticle oil? Well, it also promotes healthy nail growth. So, you have no reason to turn your back on coconut oil as a fixer-upper for your cuticles.
Since coconut oil can be used as a moisturizer all over your body, don't forget to rub a little bit on your cuticles the next time you step out of the bath or just as a touch-up throughout the day and night.
You can't go wrong with jojoba oil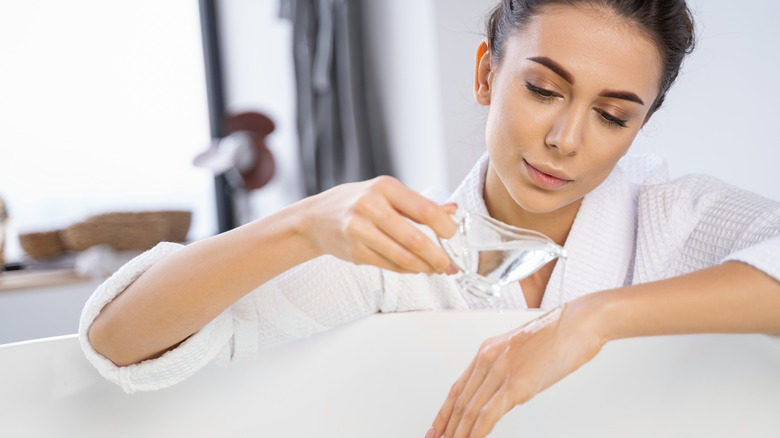 Yakobchuk Viacheslav/Shutterstock
Jojoba oil not only has a fun name but is also a marvel when it comes to keeping your cuticles moisturized and nourished. It contains minerals and vitamins E and B to help strengthen your nails while keeping your cuticles soft. Furthermore, being a gentle natural oil, it can be used daily without worrying about irritation.
The oil has small molecules which allow it to seep into your skin and moisturize it from within. So, don't be afraid to replace your cuticle oil with jojoba oil — you simply can't go wrong with it.
If you are a skincare enthusiast, we are sure you have a bottle of Jojoba oil at hand. If you were only using it for your dark spots and wrinkles, you can now extend its use to moisturize your cuticles. But if you don't have jojoba oil lying around, buying a bottle won't be the worst thing, as you can use it for other skincare needs, also.
Use vitamin E as a moisturizer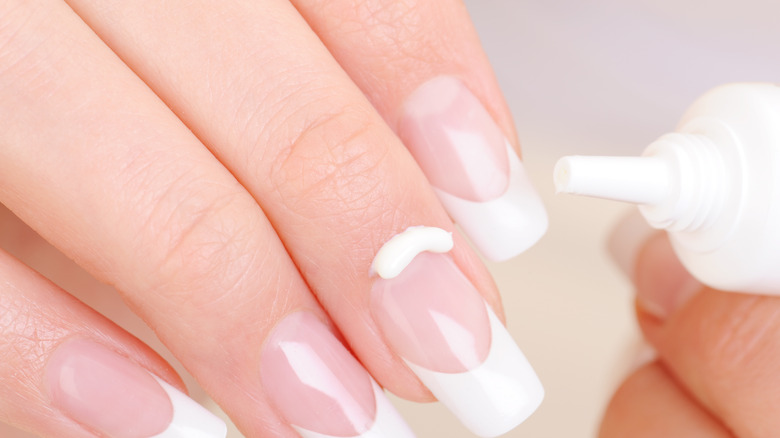 Valuavitaly/Getty Images
Where there is a moisturizer, there is vitamin E. Because it is well-known as a moisturizing agent that helps your skin absorb and retain moisture, it can easily replace your cuticle oil. Not only will vitamin E moisturize your cuticles, but it will also soften them and lead to stronger and healthier nails. So, by using vitamin E as a substitute, you are in no way compromising your cuticle health; you will only be doing them a favor.
The tricky part of using vitamin E as an alternative is that it's not exactly a household staple. But you can use other household oils which are rich in vitamin E. These oils include wheat germ oil, sunflower oil, almond oil, and hazelnut oil. Or, if you have vitamin E capsules around, you can break one open, and apply the oil found within. If you don't want to waste all your capsules on your cuticles, you can always dilute them with other household oils.
Try tea tree oil for protection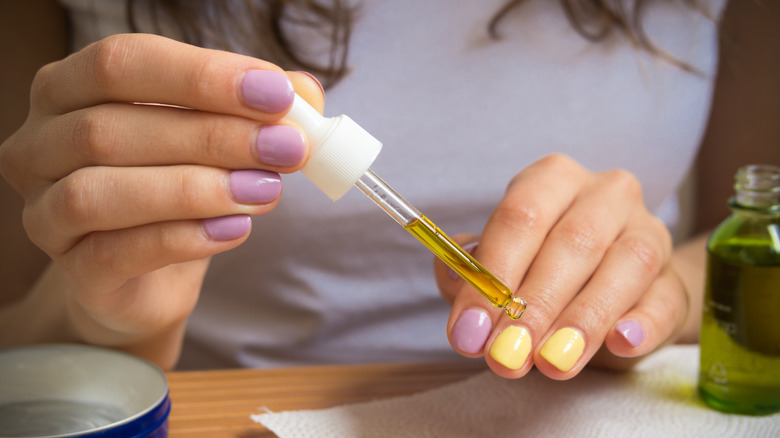 Iprogressman/Getty Images
Tea tree oil, although a bit tricky on your tongue, is an excellent alternative to cuticle oil. It will not only keep your cuticles moisturized but also protect them from infections.
Tea tree oil comes with anti-fungal and anti-bacterial properties, which will help you fight back any infection that's coming your nails' way. If you already have a nail or cuticle infection, applying tea tree oil will save you a trip to the doctor as it will fight off the bacteria and fungi and prevent the infection from spreading. Plus, it also has marvelous anti-inflammatory properties.
In addition to acting as a shield for your cuticles, tea tree oil can also be used to treat acne and dry scalp conditions. So, if you are prone to or suffer from these conditions, investing in a bottle of tea tree oil can be your economical and effective all-in-one solution for multiple skincare and haircare needs.
Lip balm is an effective choice, albeit unconventional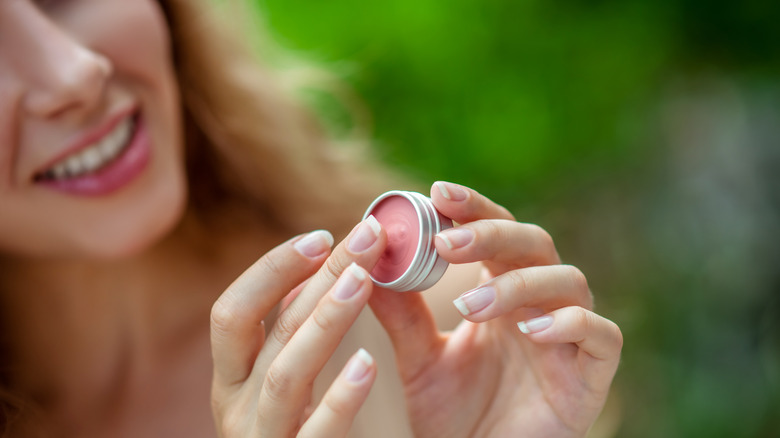 Dmytro Zinkevych/Shutterstock
Yes, moving away from all the natural oils, we have an unconventional but effective alternative to care for your cuticles: lip balm. Just like how you would banish chapped lips with the quick application of a lip balm, you can do the same for your dry cuticles.
Since we are more in the habit of applying lip balm than we are in the habit of treating our cuticles, using your lip balm to do both will help you achieve consistency when it comes to your overlooked cuticle health.
Other than being able to apply it on the go and not having to spend extra money on a product just for your cuticles, lip balms are great at providing moisture to your skin while softening it. Furthermore, lip balms help avoid snags, peel-aways, and cracks in your cuticles. So, you're really looking at the perfect alternative to cuticle oil.
Hyaluronic acid is the ultra moisturizer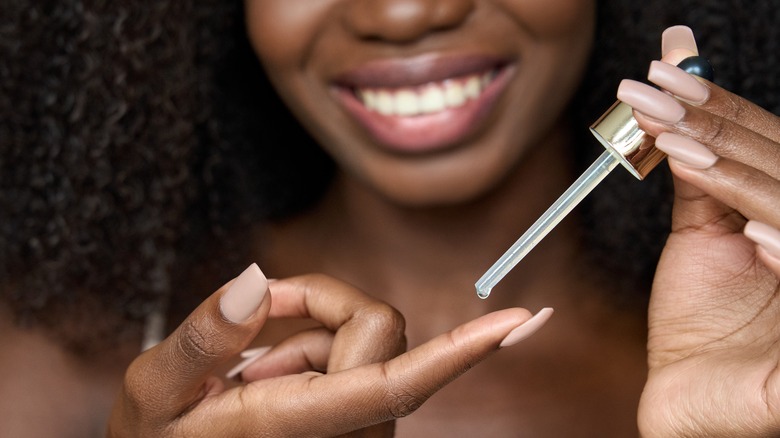 Ground Picture/Shutterstock
Hyaluronic acid is another one of our favorite hydrating ingredients that could do no wrong. We use it mostly on our faces to avoid fine lines and wrinkles, and though the name sounds harsh, it is gentle. So, when applying it on your cuticles, you don't have to be afraid of irritation and can feel free to use it daily or even up to three times a day. Using it more frequently will deliver better results.
When taking care of your cuticles, any of these alternatives will have your cuticles and even your nails looking nourished. But for you to see distinguishable results, like with all things in skincare, consistency is key. So, make sure you are following up your skincare routine with a step for your cuticles. And if you are someone who has naturally dry skin, or if you tend to wash your hands a couple of hundred times a day, make sure you're giving your cuticles an extra bit of care.