Using Your Hands Could Change The Game For Your Under-Eye Concealer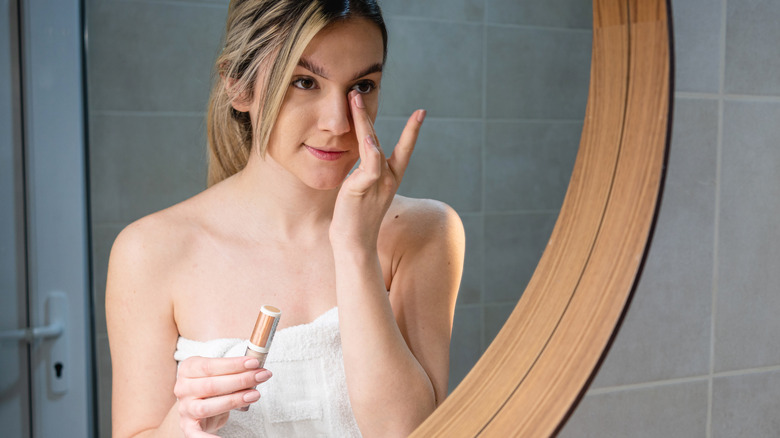 Fluxfactory/Getty Images
Perfecting your makeup routine can be challenging, especially if you're a beginner. You might watch makeup tutorials on the best way to use certain products. Or, you scroll for hours on TikTok, watching how the makeup gurus apply their makeup products to create a flawless look. Whether you're trying to learn how to put a dreamy twist on your cut crease or where you should contour, there's a hack for everything. For example, if your concealer creases an hour after you finish putting all your products, you might want to change how you apply it.
When concealer is applied, it's often done with a concealer brush or a mini beauty blender. Instead of using application tools, try using your hands. While most folks wouldn't think to use their hands since they wouldn't want to transfer any germs to their face, it's been recommended by makeup artists. In addition, using your hands can give you a better finish than a sponge or brush. On the other hand, your skincare products affect how your makeup will sit on your skin, so if all of your products look patchy, you'll want to incorporate more hydrating skincare. However, if you notice that it's only your concealer creasing, here's how to use your hands to make it look better.
Warm up the concealer with your fingertips
We mentioned how most under-eye concealer is applied with a brush or sponge, and while those tools can work for some folks, they might not work for others. For example, sometimes a concealer brush leaves streaks or makes it hard to blend when patting the product. Likewise, sponges might leave the concealer looking patchy instead of having a seamless finish. In addition, when you're using either tool, it's only working to spread it across your under-eye to cover any dark circles, but it's not melding it into the skin.
Makeup artist Allan Avendaño claims he prefers to use his hands when applying concealer because it will "meld into the skin instead of just sitting on top of the skin," via Allure. To get the makeup to meld, warm your fingertips before blending it to help melt the product. Then, use the same patting motions you would use with your concealer brush but with your fingertips, and you'll see how easily blendable the concealer will be without leaving any creases behind. You also have more control over where you're patting the concealer. It's also important to note that your undereye area is a delicate part of your face, so you'll want to use your ring finger since it has the lightest touch.
Always hydrate the under eyes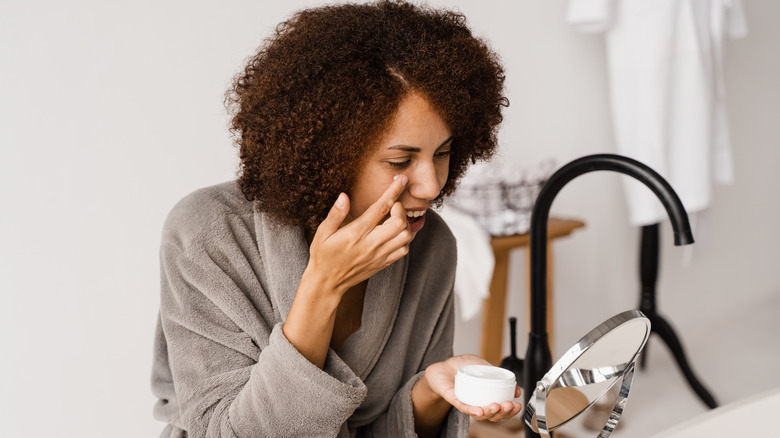 Rabizo/Getty Images
If you switch from using a concealer brush or sponge to using your fingertips but find that it still creases, you'll want to pay more attention to your skincare routine. Skin prep before makeup can affect the results, especially if your skin isn't adequately hydrated. For example, if you're not using toner, your makeup won't last as long. Applying liquid or cream products to dry skin can make it crease or patchy, especially in the under-eye area. Using a rich, moisturizing eye cream before concealer will hydrate the skin and make blending and patting your product easier.
Even if your skin looks like you just finished an intense workout, and your face is glowing after your skincare, you're ready to apply your makeup. When your face is slightly damp from serums and moisturizers, your skin will absorb your products better. Everything will melt into your skin, and your makeup will leave you looking like a glowing goddess. Try using your hands to apply other makeup products, like your foundation or contour, to see if it makes a difference. However, if you prefer a satin finish or matte look, finishing powders will help remove some of the shine. You'll be surprised what the warmth of your hands will do for your overall makeup look.