If You Skip Toner In Your Makeup Routine, You're Missing Out On Big Benefits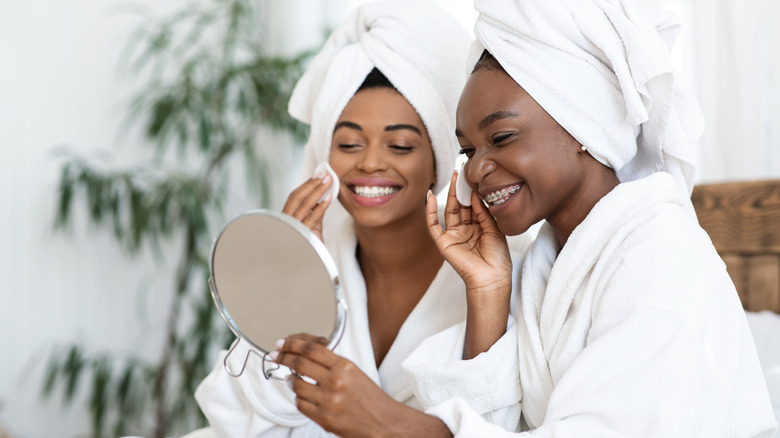 Prostock-studio/Shutterstock
Although toner is not a must in a skincare routine, it can deliver nourishing ingredients to the skin and lend support to other skincare products that you're using, per Kiehls. "A toner refers to a wash or lotion that is made to clean the skin and shrink pores and is usually applied to the face with a cotton ball or applicator," dermatologist Dr. Anna H. Chacon shared with Hero Cosmetics. "It helps to refresh, protect and moisturize the skin. It can be applied in different ways, such as a spray," she added. In a skincare routine, toner comes after a facial cleanser and is often followed by a hydrating serum and then a moisturizer. 
There are various types of toners on the market. Some are geared toward hydrating and exfoliating, while others are designed to restore the skin's pH balance and fortify the skin barrier. Although toning is mostly known as a skincare practice, its benefits extend way beyond skin's health and appearance. As it turns out, toner is also an essential ingredient for a great makeup look. Here's why you should incorporate toners into your makeup routine.
Toner makes your makeup last longer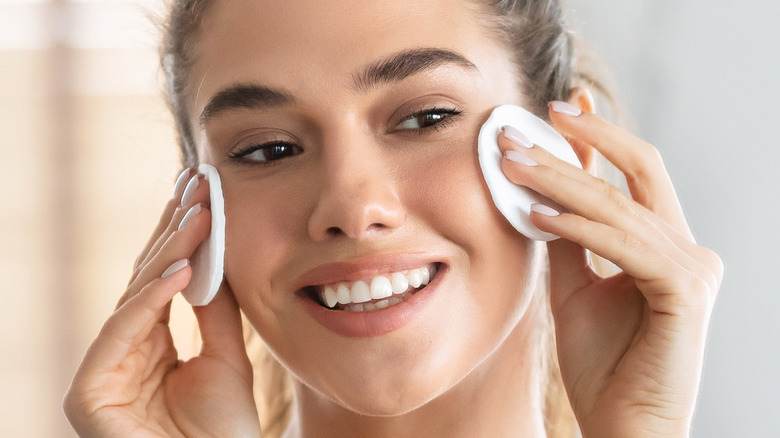 Prostock-studio/Shutterstock
According to The Everygirl, prepping your skin is essential before using foundation, concealer, or tinted moisturizer. After cleansing and exfoliating your face, it is recommended that you apply a toner to balance out your skin's pH and help your makeup last all day. "Using toner during the skin prep stage will help to control oil throughout the day, which in turn will help your makeup last longer," makeup artist Jonet Williamson explained to Makeup.com by L'Oréal. "You won't require as many touch-ups either." 
If you have combination or dry skin, toner can be used as a face mist to keep your skin hydrated and your makeup looking fresh throughout the day. If your face gets shiny and greasy easily, using a toner formulated with both glycolic and salicylic acids can help reduce oil and keep the surface of your skin looking smooth but not shiny, per Women's Health. 
Toner can help you remove stubborn makeup residue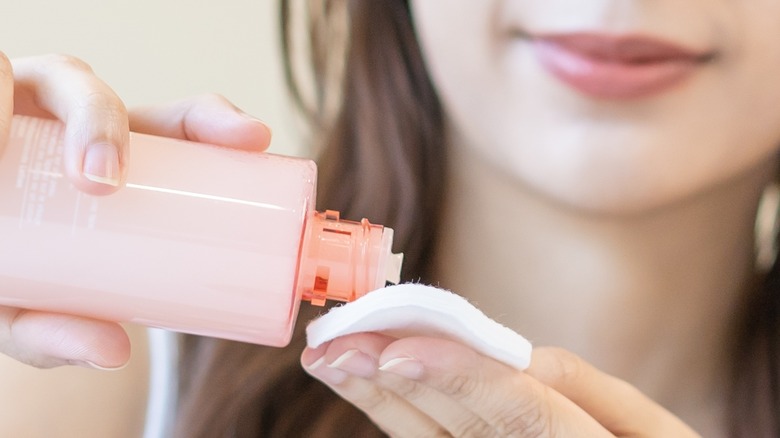 Kmpzzz/Shutterstock
After removing your makeup with makeup remover and a cleanser, you can use a cotton pad saturated with a toner of your choice and gently wipe it over your entire face and neck and along your hairline. "Toner removes oil and traces of dirt, bacteria, and makeup," dermatologist Dr. Debra Jaliman told Byrdie. "It also removes the dust, pollution, and impurities that can still be lingering after washing with a cleanser." Toning after cleansing is like providing your skin an extra layer of protection against gunk and germs while adding moisture to your skin.
While your toner of choice may come as a spray, it may not be in your best interest to just spritz it on your skin and call it a day if you're looking to wipe away impurities and any leftover makeup. If you want your skin clean as a whistle, you should instead soak a pad or cotton ball with your toner before gently wiping your face, per Emme Diane. That said, a spraying toner makes a great on-the-go face refresher, and can also serve as a second round of toner for extra hydration and softness.