Is Your Ex's Current Partner Constantly Reaching Out To You? There's A Word For That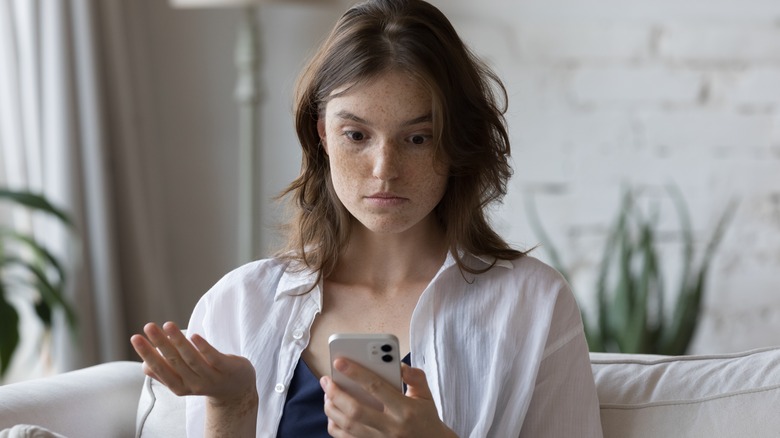 fizkes/Shutterstock
Human beings are curious by nature. Many of us enjoy some gossip, are always ready for the latest tea to be spilled, and even want in on the lives of people we don't know intimately (and are likely to never meet). It's sometimes hard to not want to be in someone else's business if their life looks more exciting or, even better, riddled with more drama than ours.
Advertisement
But where such behavior can get annoying is when it's happening to you. As much as we might be fine with peeking in on others' lives, the same thrill doesn't typically apply to us. Then, if these people actually reach out, it can get weird fast, especially if they happen to be your significant other's ex. Yes, this happens, and yes, there's a name for this trend: exoskeleton-ing.
According to a 2019 survey by Plenty of Fish, 22% of people have been contacted by their current partner's ex through social media, and 6% open up to reaching out to their ex's new partner. If someone is going to stalk their ex, it only makes sense that checking out their new partner would be part of that investigation process. But reaching out and actually making contact? That's a different story. 
Advertisement
Why does exoskeleton-ing happen?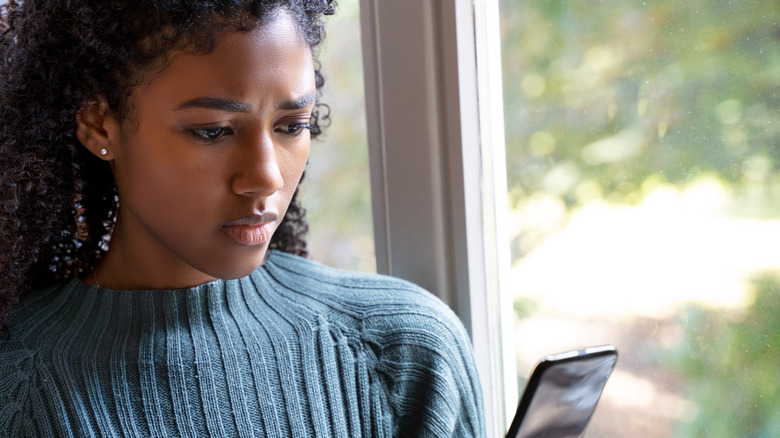 Tommaso79/Getty Images
Why people might reach out to their ex's current partner varies. Some might want information or to cause trouble so they can finagle their way back into their ex's life. Others might be a legitimate concern for the safety of you or your partner at the heart of this behavior. 
Advertisement
"The real question to ask is why are they contacting you?" relationship expert and love coach Susan Winter tells Elite Daily. "It's not proper protocol (unless their ex is genuinely concerned for your well-being)... Talking to your partner's ex can create friction for everyone involved in this fragile new relationship. Exes are exes for a reason, and should be left in the past."
It can be difficult to pinpoint why the ex is reaching out, so it's important to take everything they say with a grain of salt. Even if they say they're concerned for you in some way, it might not be steeped in the truth. You never really know what someone is thinking or the motives behind their actions, so tread lightly. You don't want to be bamboozled and find yourself potentially hurt. (Again.)
Advertisement
What you can do about it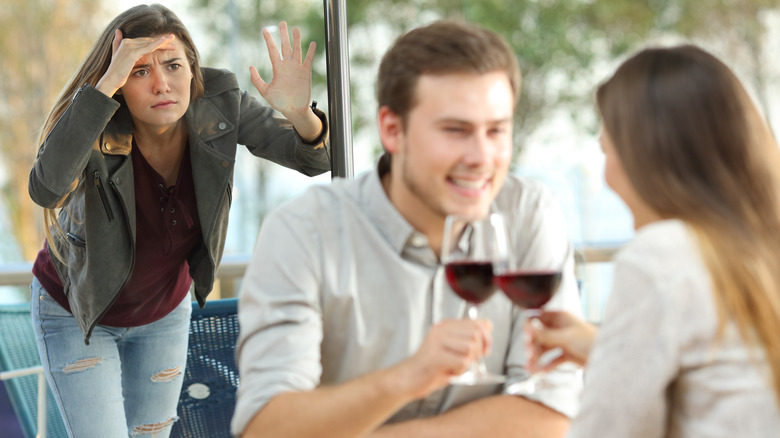 Antonio Guillem/Shutterstock
If your current partner's ex is exoskeleton-ing you, the first thing you want to do is tell your partner. Unlike you, your partner has a history with this person and can shed some light on why their ex may be behaving this way. It's also important to keep in mind that, depending on how new the relationship is, there might be some reality in whatever the ex is telling you and you've just yet to uncover the truth about your current partner. No matter how you slice it, you're up against a lot of confusion regarding who's a more reliable person. 
Advertisement
But if there don't appear to be any warnings and your current partner's ex is reaching out to harass you, threaten you, or generally cause trouble, then blocking them on all social media platforms is for the best. After all, an ex is an ex for a reason, so playing into their hands isn't just going to cause unnecessary drama and chaos but also might run the risk of jeopardizing your relationship with your partner.