Styled By ChatGPT: Why TikTok Is Letting AI In On The World Of Fashion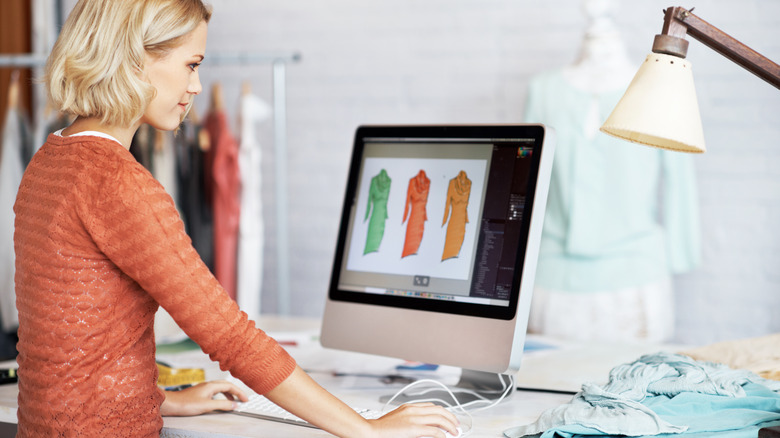 Kupicoo/Getty Images
We're officially in the era of artificial intelligence (AI) doing everything from writing term papers to computer coding, and one chatbot has risen above the rest: ChatGPT. Created by Open AI, ChatGPT emerged at the end of 2022, and its key functionality is simple: Type in a question, and receive an answer from the chatbot based on the information you provided. While many people are split on the ethics of using ChatGPT, TikTok users haven't hesitated to welcome it onto the platform in the name of fashion. "I think it's really interesting because style is so personal and yet there are some things that are pretty practical," TikTok content creator Rachel Schwab told Refinery29 after using ChatGPT to choose an outfit.
Using ChatGPT for fashion can be as simple as asking the chatbot how to style a scarf or as complex as how to select a full outfit for a day out in New York City. "I really wanted to see if it could get me an actual result, like a good outfit," Schwab added to Refinery29. "And I was wildly surprised." However, not everyone feels like they can use ChatGPT to dress confidently, and others might think that some fashion rules aren't made to be broken. "I was impressed that it could do what it could do, but it wasn't necessarily something that I was like, 'Oh, I would totally wear this,'" TikTok content creator Siena Filippi told the outlet. That being said, the bot has still undoubtedly made its TikTok presence known.
How ChatGPT is unexpectedly influencing influencers
The words "chat gpt fashion" has been associated with more than 4 billion views on TikTok to date. Many of the videos that populated upon searching these terms also included hashtags such as "ai," "pickoutmyoutfit," and "aifashion." Some of the content creators featured in these clips show how ChatGPT can speed up the outfit selection process, while others demonstrate how technology is changing fashion for the better.
When you use ChatGPT for fashion purposes, such as planning an outfit, it isn't smart enough to know what you already have in your closet, per se. Instead, it provides you with a series of style tips based on what you ask or offer in terms of information. However, what ChatGPT might lack in specificity is made up for in the extensive feedback it provides. For example, Metro received five tips when it put ChatGPT to the test with one question on how to style mom jeans. The bot also went into detail on the types of clothing — shirts, shoes, and jackets — that could be worn to create an entire outfit.
While the potential of ChatGPT might have some professional stylists shaking in their fashion-forward boots, it's still hard for many people to envision a robot replacing or replicating personal taste. After all, a certain amount of creativity goes into crafting the perfect ensemble, though, with hourly rates for personal stylists sometimes climbing into the hundreds, it's no surprise that people are looking for cheaper alternatives.
When ChatGPT might come in handy for fashion emergencies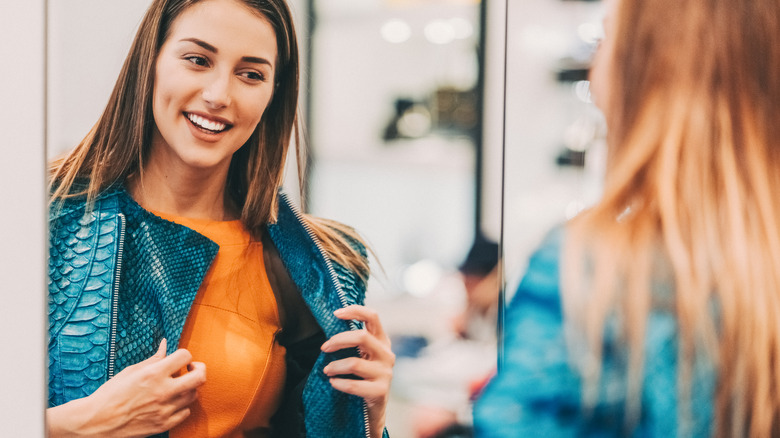 Martin-dm/Getty Images
It may be worth noting that one of the most common complaints about the style suggestions offered by ChatGPT is that they seem dated. As a result, many are questioning whether influencers on TikTok should be relying heavily on the chatbot to rack up views and grow their following. That being said, this doesn't mean that you can't try using ChatGPT yourself to see if it provides any styling benefits.
First, you'll need to sign up for an account to use ChatGPT on the Open AI website. This will require you to input a valid email address and phone number, so if you find this to be a bit invasive, feel free to back out. If you choose to move forward, you'll be prompted to log in to your new account, which is where you'll find the ChatGPT bot. Now, you can begin asking questions to help you create the outfit of your dreams.
It's worth noting that while ChatGPT seems to lack in terms of providing creative, specific styles, it can still give you an extensive outline to work with if you're drawing a blank. In the end, this may be all you need in terms of inspiration on a day when your outfit needs to look on-point, and we need more time to see where AI goes. After all, ChatGPT is already speculating on dating trends, so the future might be a wild ride.