How To Make The Sparkly Glitter Eyebrows Trend Work For You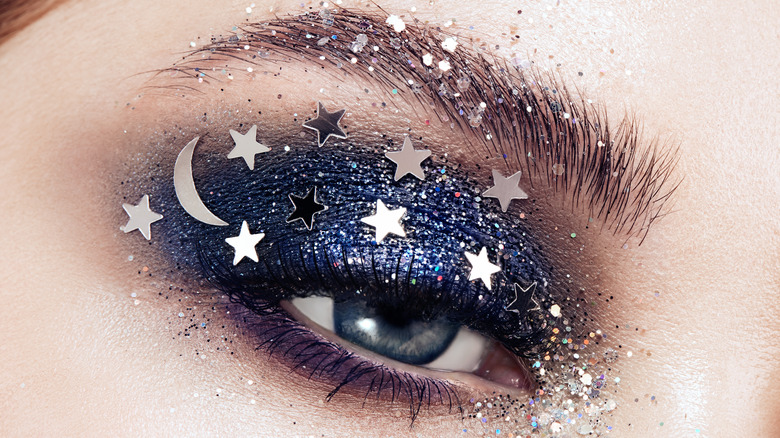 Heckmannoleg/Getty Images
There are many Y2K trends currently making the rounds and one that almost anyone can pull off is sparkly, glitter eyebrows. If you're still hooked on smoky eyeshadow or cat eyes, it's worth taking a break from them to try out this look. All you need is a bit of glitter and brow gel, and you're good to go. "If the 'Euphoria' craze has taught us anything, it's to start having fun with your makeup and not to be afraid of trying new looks out," makeup artist Hayley Kassel told Bustle.
That being said, many people have been steering clear of re-emerging Y2K trends like "disco brows" for fear of looking a bit extra. "Glitter can go very cutesy or over the top, so how do you use glitter in a way that you can understand and not be afraid of it?" makeup artist Francelle Daly said to Allure. There's no doubt that wearing glitter anywhere on your face will draw attention. However, there are several ways you can rock this look, regardless of how over-the-top you think it might make you seem. (Besides, sometimes that can be a good thing!)
Perhaps the most important factor to keep in mind when trying out this trend is that it may require some trial and error. Furthermore, you're going to need a bit of patience (and plenty of glitter glue) to get all of those sparkles just right.
Know when to go subtle or not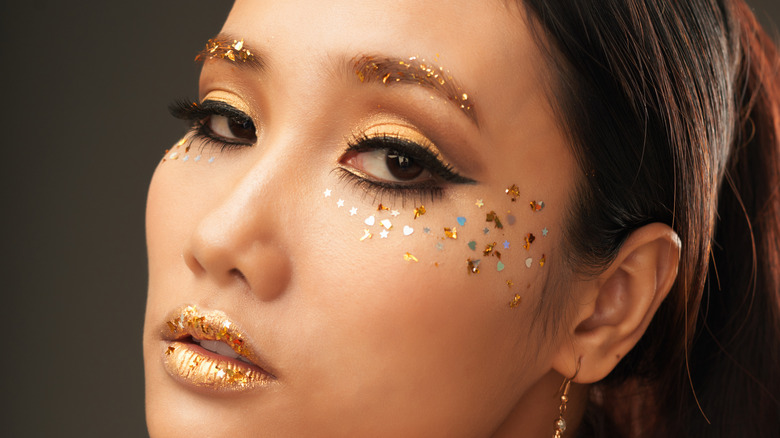 Dragonimages/Getty Images
Before you head to the nearest mirror to start applying your makeup, you'll want to think about the type of look you want to create. Since this Y2K throwback has emerged on the scene, multiple variations have come about, with some being more eye-catching than others. Before you go to town on your brows, it's important to determine what will suit the occasion. For example, a post-work outing might call for more subtle glitter brows, which is doable for even a novice makeup user. 
As you shop for glitter to use on your eyebrows for your next event, keep this factor in mind, in addition to your comfort level. While bold, holographic glitter may immediately attract your attention, think of how elegant and attractive simple gold glitter would be, instead.
When you want to try the subtle version of the glitter eyebrow trend, grab clear brow gel to shape your hair accordingly. Once you've created a sleek, laminated look, give your eyebrows a few moments to fully dry. Then, go over them with an eyeshadow brush packed with your glitter of choice. If you don't want to use glitter throughout your entire brow, consider applying it at the center point, and then work your way toward the outer corner.
Rock a bold, sparkly look like a pro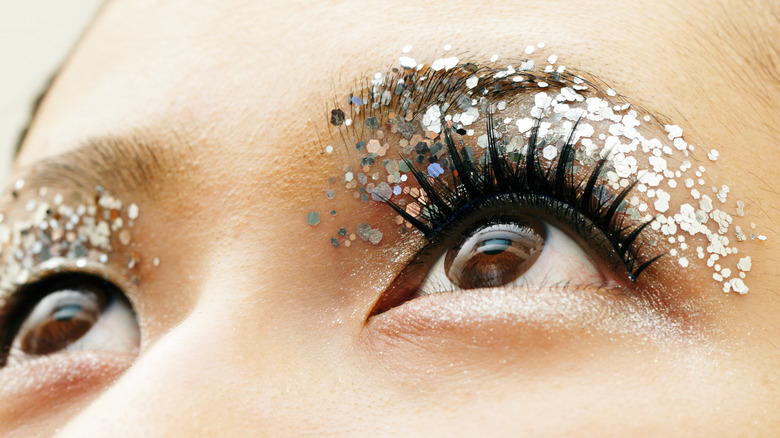 Sot/Getty Images
Whether you have a big bash coming up or you simply want to turn heads at your next social gathering, there's no better time than now to try this Y2K trend. Sparkly, glitter eyebrows are one way to draw attention to your overall look without needing to spend hours on the rest of your makeup. 
As you look for the proper glitter to use to recreate this bold style, don't stray from mixes that consist of larger pieces. While these will inevitably weigh heavy — quite literally — on your brows, they can reflect more light and thus draw more attention. To make it easier to apply the pieces onto your brows, reach for a pair of tweezers, and don't forget the glitter glue.
Generally speaking, the rule of thumb when creating a bold look with glitter is to always err on the side of more is more. Just when you think you've applied enough, keep going! If you don't want to deal with the tedious process of using tweezers, apply glitter glue onto your brows first. Once the glue is on, press the glitter gently into place with your fingers. Keep going until you're satisfied with your look, and don't forget the setting spray.