The Benefits Of Vitamin E Oil For Silky Smooth Skin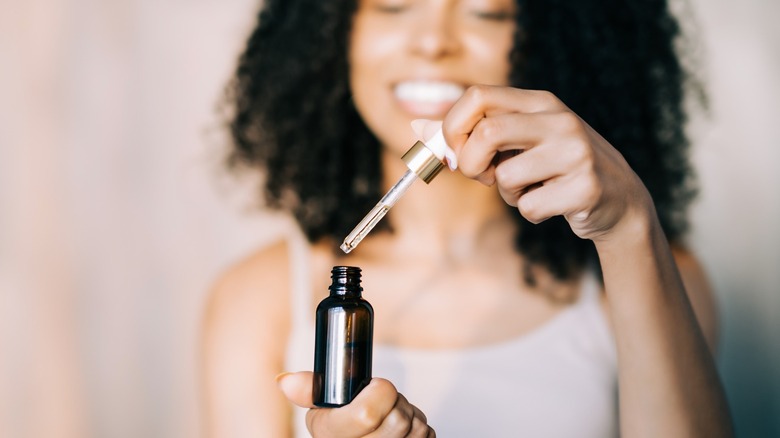 Alex and Maria photo/Shutterstock
We may receive a commission on purchases made from links.
We all want gorgeous skin, no doubt about it. The only problem is the amount of money you must spend in order to get that glowy, healthy complexion ... or do you? Beauty brands will try to convince you that you need the latest and greatest product on the market, promising beautiful, nourished skin. You can spend hundreds of dollars on these high-end skincare products that may or may not actually work, or you can purchase vitamin E oil for a lot less money and often better results.
Advertisement
Of course, there always will be someone somewhere selling an expensive brand of vitamin E oils, but you can find certain products for as little as $7, such as the Jason All-Over Body Nourishment, or the Cliganic 100% Pure Vitamin E Oil for $10. As for its benefits, vitamin E oil offers a ton of them for your skin, both inside and out.
Hydrates and smooths the skin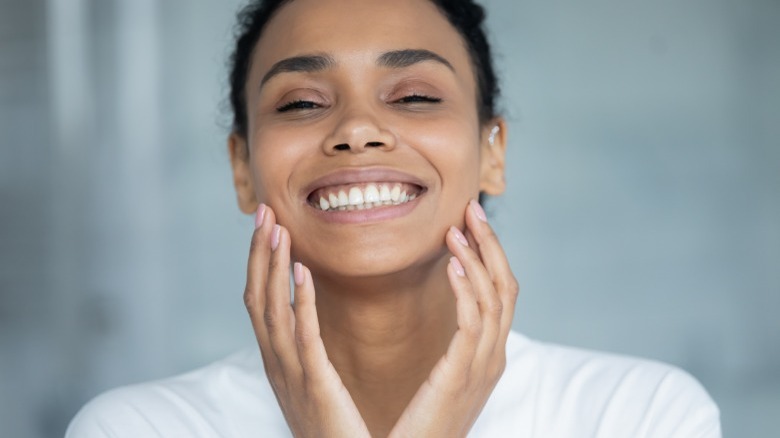 fizkes/Shutterstock
If you're tired of dry, cracked skin, vitamin E oil can help you with that. It is known as an antioxidant, which is meant to defend our cells against harm, such as sun damage, via Cleveland Clinic. You can find it within our sebum, which helps retain moisture in our skin. Therefore, by applying vitamin E oil, you're increasing the amount of sebum in your body, making your skin look and feel much more hydrated. This also gives the appearance of plump, glowy skin, which in turn, creates a more youthful look.
Advertisement
The best part is that you can apply vitamin E oil all over your body, not just your face. This is great news for those of you who deal with dry skin in several areas of the body. Apply it just as you would your facial oil (directly on the skin), then sit back and let the vitamin E work its magic.
Enhances your skin's natural glow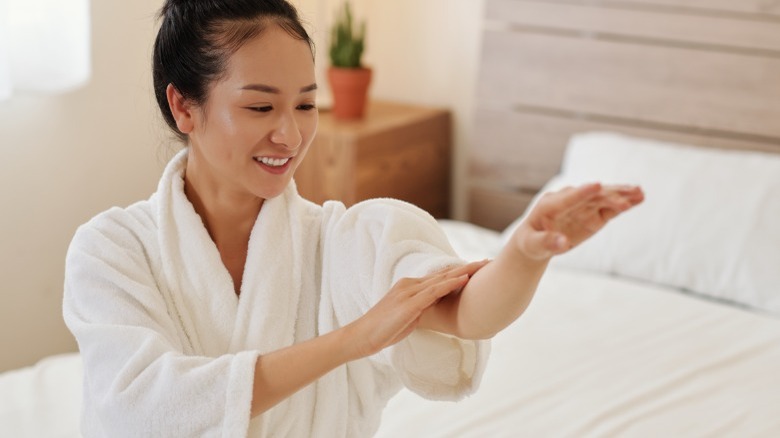 Dragon Images/Shutterstock
Psoriasis is no joke. It causes flaky, itchy patches on the skin, which can be super-uncomfortable, especially during flare-ups. If you've tried other medications or products and have not seen positive results, give vitamin E oil a try. It's been scientifically proven to provide comfort by decreasing red and itchy skin, according to Pelican Healthcare. It also works to fight against eczema by reducing the inflammation that causes the skin condition. It's recommended you apply the oil three times a week to see results, per PharmEasy.
Advertisement
By treating your psoriasis or eczema symptoms, you'll notice how silky and smooth your skin becomes. Not only that, but you'll feel more comfortable — and confident — without those dry, itchy patches covering your face and body. If you don't already own a vitamin E oil or serum, we suggest purchasing one as soon as possible. Your skin will thank you.