So, When Is It Really Time To Replace Your Beauty Tools?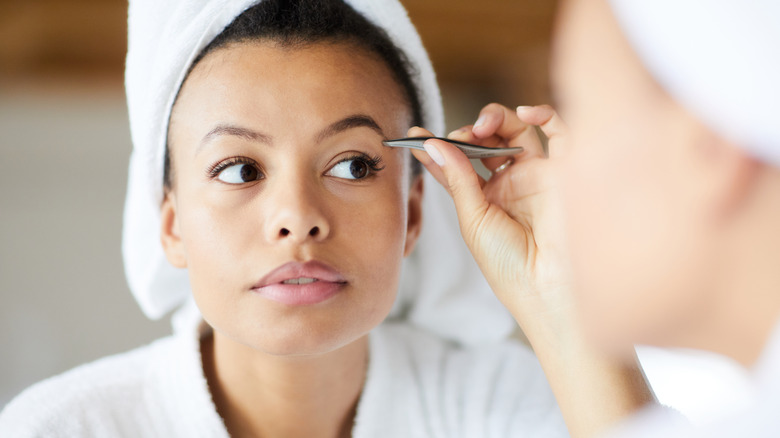 Seventyfour/Getty Images
When you purchase a beauty tool that you've been pining for, it can feel like a small victory once you add it to your collection. However, certain tools only last so long, regardless of how good you are at keeping up with cleaning and maintenance. Everything from tweezers to razors needs to be replaced routinely, and it isn't just to burn a hole in your wallet. Depending on the tool, using these items for too long can result in negative consequences — for example, no one wants nicks or cuts from a dull razor blade.
Many makeup enthusiasts are already aware of the fact that cosmetics have expiration dates. These dates matter because they note when everything from the consistency to the color of a product will begin to falter. Similarly, several cosmetics users already know the importance of keeping their tools clean. The need to sanitize makeup brushes, for instance, has become widespread knowledge — failing to do so can not only result in acne flare-ups but can increase the risk of infection.
That being said, there are many commonly used beauty tools that people don't know they need to replace after a certain period of time. The so-called expiration date on these tools varies and typically depends on how often you use them. However, there are a few tell-tale signs you can familiarize yourself with as you assess your collection.
Don't hesitate to replace these commonly overlooked beauty tools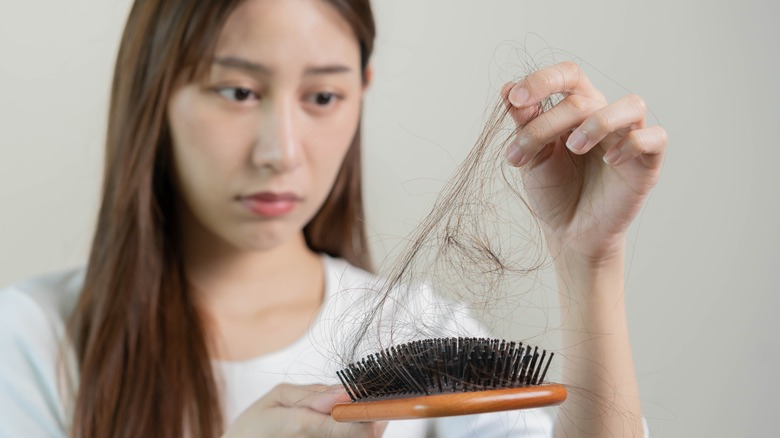 Kmpzzz/Shutterstock
One of the items in your arsenal of beauty tools that might need to be replaced is your tweezers. It's very possible that they're made of a highly durable material, such as stainless steel, and can endure multiple thorough cleanings. However, you may want to consider replacing them if they're dull or challenging to use — those stray hairs shouldn't be hard to pluck if you're using a good pair of tweezers.
Other beauty necessities that are often overlooked (but should be regularly replaced) are in your shower. If you use a body sponge, for instance, be mindful of its appearance — if it begins to fray or change in color, it might be time for an upgrade. Similarly, your body loofah should be replaced at least once a month, according to Skincare by L'Oréal. Like your body sponge, it may become discolored when it has been overused. Even worse, it could develop an odor, which means you should replace it as soon as possible.
If you're a haircare guru, you might be disheartened to learn that your hairbrush could be working against you. This beauty tool accumulates more than just excess hair — debris from your scalp and products you've used (styling creams, serums, and more) are likely lurking in its bristles. Regularly cleaning it every couple of weeks can help, but aim to replace it every six months, per Huda Beauty.
Other beauty tools you might not be replacing regularly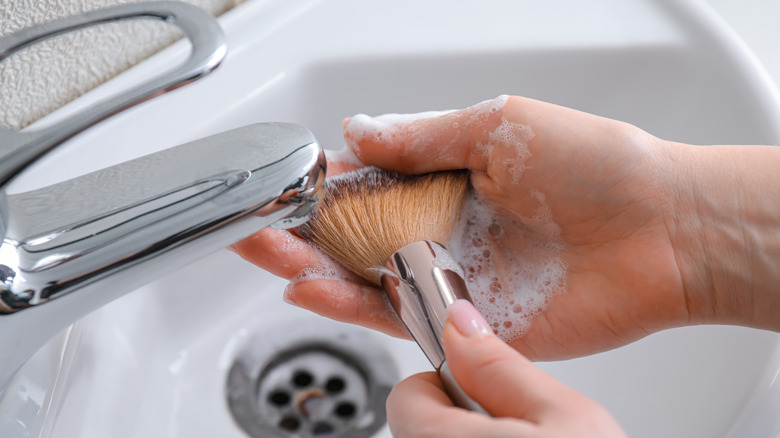 Pixel-Shot/Shutterstock
Despite how often we use our nail care tools — items like cuticle trimmers, nail clippers, and nail files — we sometimes forget that these durable yet helpful items need to eventually be replaced. Some of these tools may last longer than others, especially if they're regularly cleaned and made of strong materials. However, most have a lifespan of only a few years before they need to be changed, and they should never be used if they're damaged.
If you're a fan of exfoliating beauty tools, such as gloves and towels, you might be glad to hear that these don't need to be replaced frequently — as long as you keep up with regular cleaning. Exfoliating towels can be washed just like your bath towels, and exfoliating gloves can be thrown in your washer and cleaned on a gentle cycle. Once they start to become frayed or ineffective, you can consider replacing them.
Although it can be tedious and time-consuming to clean your beauty tools, doing so has several benefits. In addition to preventing the spread of bacteria, dirt, and debris, cleaning them can prolong their lifespan. Ultimately, this means you get more out of your investment, which reduces your need to splurge on these products frequently. For beauty lovers on a budget, keeping it clean is one of the best tips you can adopt.