Arnica: How The Herbal Skincare Ingredient Can Help With Puffiness & Swelling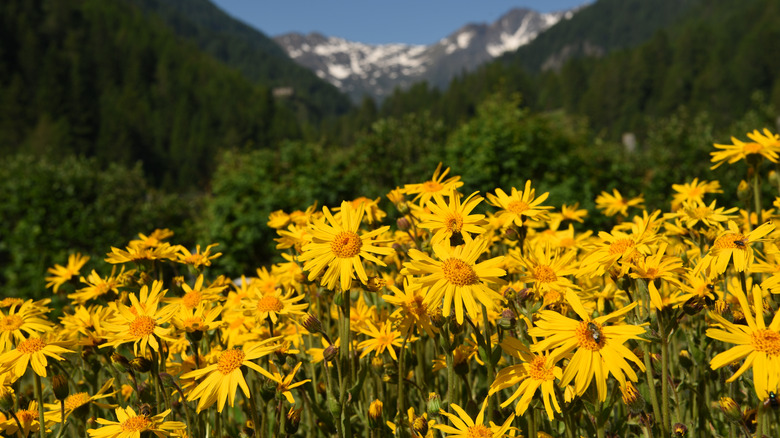 franznikon/Shutterstock
Have you woken up and glanced in the mirror to find your face looking puffy? Or, maybe a plastic surgery appointment awaits and you're preparing for the swelling that comes with the healing process. Arnica promises a natural solution to puffiness and swelling. It increases blood flow so fluid doesn't build up in your tissue — which causes swelling. You can apply this herbal ingredient to your problem areas as a topical or take pills prescribed by a doctor.
A puffy face is not always a reason for concern. Most of the time, it's a natural reaction that happens while one sleeps. It can occur because of PMS, seasonal allergies, drinking alcohol, eating salty foods, or not getting enough sleep. Swelling is also expected when one undergoes surgery. When accompanied by eye or tooth pain and discoloration, it's time to see a doctor. If you're looking for a natural way to treat swelling on your face or any other part of your body, products with arnica as the main ingredient may serve as the perfect solution.
Arnica increases blood flow and prevents fluid buildup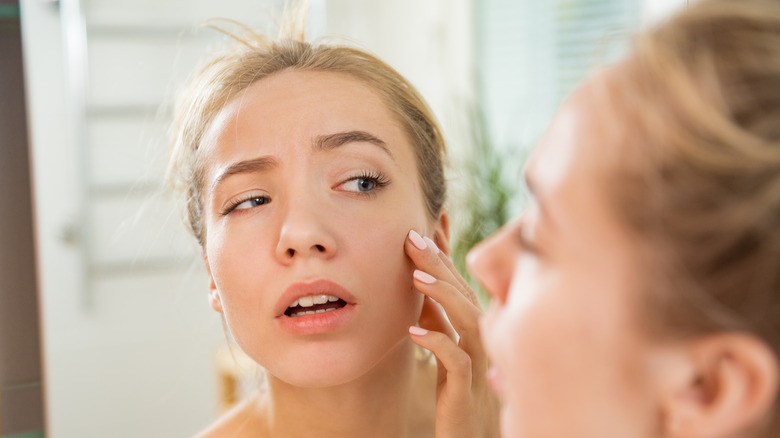 Aleksandra Suzi/Shutterstock
Arnia is a medicinal herb, also known as wolf's bane, native to Europe and Siberia. Its antibacterial and anti-inflammatory properties are extracted when the yellow flowers are steeped in oil. Then it can be used for many different issues, including soothing muscles, healing wounds, and treating acne. Although, it's most commonly utilized for treating bruises and swelling.
Plastic surgeons David Lieberman, MD, and Sachin S. Parikh, MD, explained to New Beauty that arnica works by increasing blood flow so your body heals faster. This also causes swelling to decrease by stimulating the body to remove the built-up fluid in your tissue. It works more effectively if you use it prior to inflicting trauma. However, this depends on your circumstances, since you'll need to predict swelling. That's why arnica pills are usually taken before plastic surgery begins. Prior to deciding to use any product with arnica as the active ingredient, review your allergies. Anyone allergic to sunflowers, marigolds, or ragweed should avoid arnica.
Choose between arnica pills, gels and creams, and oils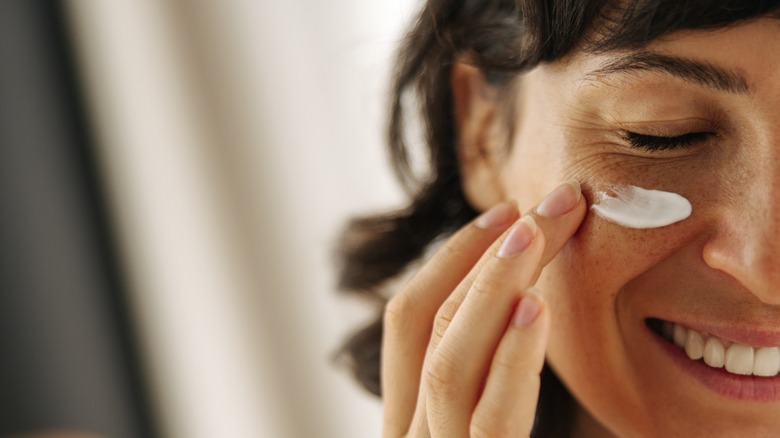 Look Studio/Shutterstock
There are many ways to use arnica. As noted, if you're about to have plastic surgery, pills will likely be prescribed that you should ingest in the days leading up to the procedure. There are also topical gels and creams available over-the-counter that you can apply to the puffy areas. You only need a pea-sized amount. Gently rub it into your skin in an even layer. If you have broken skin, steer clear of putting the product over this area.
Arnica also comes in numerous skincare products but is commonly added to eye creams to reduce the size of eye bags. It's an active ingredient in many facial moisturizers and cleansers, as well, so you can easily include it in your daily routine. Another option? Arnica oil, which should be massaged into damp skin for the best results. If you don't want to introduce more products to your routine, consider purchasing cosmetics that already include it in the formula. Then you can easily reap the anti-inflammatory properties without thinking about it.