Can You Wear Pants To A Wedding? Sure, With These Tips
Here comes the bride -– and her vague wedding dress code. Attending a wedding provides a great opportunity to show off your best fancy outfit, but it can also lead to some confusion about understanding the real difference between wedding dress codes, such as semi-formal versus formal attire. For femme guests, an unclear dress code often results in one crucial question: Can I wear pants to a wedding?
Advertisement
In short, while people have many opinions about what not to wear to a wedding, there is virtually no dress code that would preclude you from wearing pants. Unless the ceremony is taking place in a house of worship with a strict modesty expectation, you can find a way to incorporate pants into any wedding and still reflect the spirit of the occasion. Jumpsuits, pantsuits, and even traditional tuxedos are bold and stylish fashion pieces that will guarantee you a spot on the wedding's best-dressed guest list. Orchestrating the perfect wedding guest pants look requires paying attention to silhouette, color, and texture, as well as giving some extra love to your accessories.
Consider the silhouette
The shape of your outfit can mark the difference between casual and formal attire. Avoid silhouettes that evoke T-shirts or loungewear. If the top of your jumpsuit looks like it could also be the top of a wedding guest dress, it's appropriate. Regardless of whether you prefer a tighter or looser fit, be sure that your suit hangs well on your frame. This may require taking your outfit to a tailor ahead of time to have the pants hemmed or blazer adjusted to ensure you look streamlined and proper for the big event.
Advertisement
Mind the materials
If you choose to wear pants to a wedding, be mindful of the material. Since formal and casual pants are fairly similar, choosing pants made of quality fabric will ensure that your outfit is elevated and wedding-ready. For a summer daytime wedding, look for a suit or jumpsuit made of premium linen or another lightweight material. For evening weddings, wear pants made of a sturdy, luxurious fabric similar to what you would see in a nice dress.
Advertisement
Embrace prints
Don't shy away from a bold print for a summer semi-formal wedding. A floral or geometric design is a clever way to jazz up a pants ensemble. Try to select a jumpsuit or pants set with a print that matches the wedding's aesthetic: fruit or flowers for a garden wedding, something nautical for a beach wedding, or an abstract print for a modern minimalist wedding. Just remember to check that the print doesn't contain too much white or cream, as there's no reason to risk offending the bride.
Advertisement
Try a matching set
If you aren't sure about how to wear pants to a wedding, you might be more comfortable with a matching set. Rather than pairing dress pants with an appropriate top, you can buy a readymade look: either a formal pantsuit or a shirt and pants set. To avoid appearing too corporate, seek out coordinating sets with unique details, festive designs, or bright colors that align with the energy of a wedding.
Advertisement
Always accessorize
When you wear pants to a wedding, you need to pay extra attention to your accessories to ensure your outfit still gives off a formal, glamorous vibe. Nice shoes, a fancy purse, and attractive jewelry are all low-effort options for enhancing the look. For a daytime wedding, go for the statement piece and try a decorative hat or fascinator.
Advertisement
Pull out the classic suit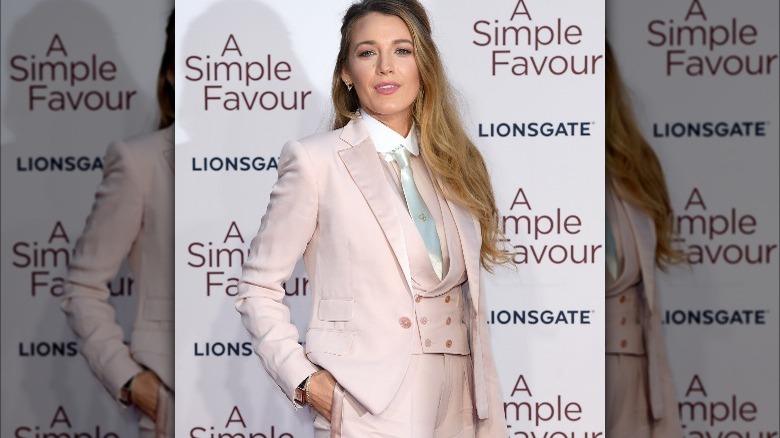 Karwai Tang/Getty
When in doubt, you can't go wrong with a classic suit. Play up the androgyny with a luxurious masculine suit that works with the dress code, such as a three-piece suit for a formal wedding or a tuxedo for a black-tie affair. A femme in a suit is sexy and daring. If you need an example, look no further than Marlene Dietrich in "Morocco." More contemporary suit style icons for you to take inspiration from include Janelle Monae, Kristen Stewart, or Blake Lively on her "A Simple Favor" press tour.
Advertisement