How To Find The Perfect Sunscreen For Oily Skin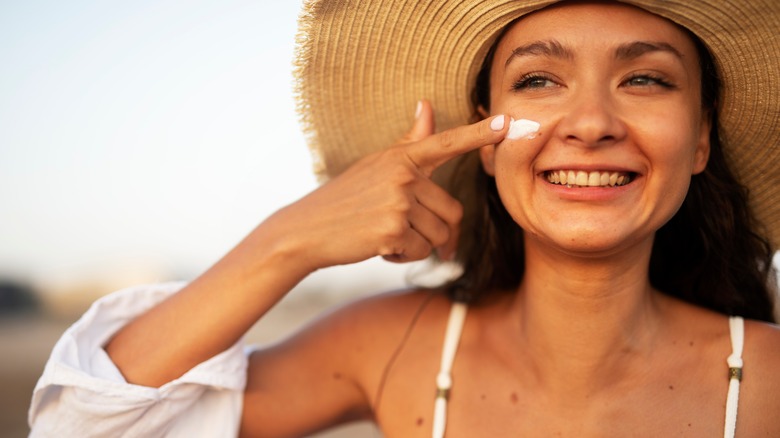 Pepper cinema/Shutterstock
We may receive a commission on purchases made from links.
Every skincare girlie understands the struggle of finding the perfect sunscreen. Those with oily skin, however, usually prefer not to walk around looking like an over-glazed doughnut. In that regard, people with oily, combination, and sensitive skin types sometimes end up with the shorter end of the stick when selecting a sunscreen that provides sun protection without causing shine and breakouts.
Advertisement
Does this mean that your oily skin is the problem? Absolutely not. There is nothing wrong with oily skin. In simple terms, oily skin refers to how the sebaceous glands in the skin produce excessive amounts of sebum or oil to form a protective barrier on the skin. This means you must look for a sunscreen that targets oily skin instead of a generic option that caters to all skin types.
Although it may be challenging to find a sunscreen that works well with your skin type, this is no reason to skip this critical step in your daily skincare routine. If your current sunscreen breaks you out or makes your skin oily, you're likely not using the right one. Here are five easy tips for finding a sunscreen that works for your skin.
Advertisement
Why you should switch to mineral sunscreen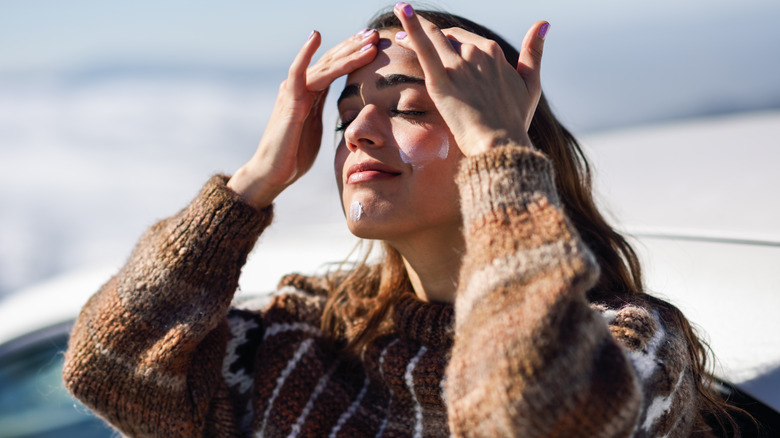 javi_indy/Shutterstock
For most people, using mineral or chemical sunscreen is a matter of preference. Both types of sunscreen prove effective at protecting your skin from the sun's harsh rays, though skin experts often recommend one over the other for those with problematic skin. You should consider switching to mineral or physical sunscreen if you have sensitive, oily, or acne-prone skin, as the ingredients in chemical sunscreen tend to irritate sensitive skin. You are likelier to break out when you irritate oily skin types. 
Advertisement
If that's not enough to convince you of the benefits of mineral sunscreen, then you should also know that the active ingredients found in chemical sunscreens, such as oxybenzone and avobenzone, fully absorb into the skin and bloodstream. On the other hand, mineral sunscreens sit on the surface to act as a reflective barrier, as shown in a 2019 study published in the Journal of the American Medical Association. Although the ingredients in chemical sunscreen are deemed safe, research that focuses on the effects of frequent exposure and build-up of these active ingredients within the body remains limited.
The only notable disadvantage to mineral sunscreen is the dreaded white cast. However, many sunscreen brands offer tinted formulations to prevent chalkiness on medium to darker skin tones, including SkinMedica's Essential Defense Mineral Shield Tinted Sunscreen.
Advertisement
Learn to read the labels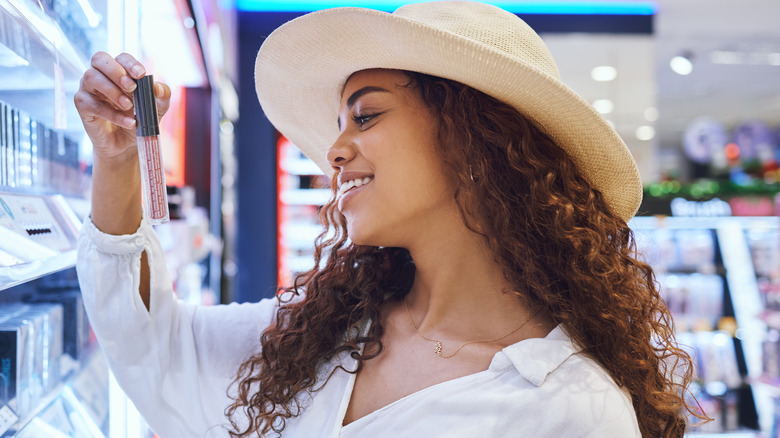 Peopleimages/Getty Images
Whether you use mineral or chemical sunscreen, the ingredients are the key to finding the right product for your oily skin. Discerning between comedogenic and non-comedogenic ingredients will help prevent breakouts and redness. Comedegenic is another way to say acne-causing — products containing these ingredients clog your pores and lead to blemishes. Common examples of acne-causing ingredients include heavy oils, waxes, and butter. For instance, coconut, soybean, and mineral oils are notorious for inducing breakouts, along with cocoa butter and silicones. Jojoba oil remains an exception as this oil also absorbs sebum and contains antibacterial properties. You should also avoid sunscreens with heavy fragrance, benzophenones, and para-aminobenzoic acid.
Advertisement
The active ingredients in chemical sunscreens, such as oxybenzone and homosalate, also irritate those with oily and acne-prone skin. In contrast, mineral sunscreens typically contain non-comedogenic active ingredients such as zinc oxide and titanium dioxide. That said, not everyone reacts to the same products, so feel free to experiment with different sunscreens and note any comedogenic ingredients to determine which ones you need to avoid.
Choose sunscreen designed for oily skin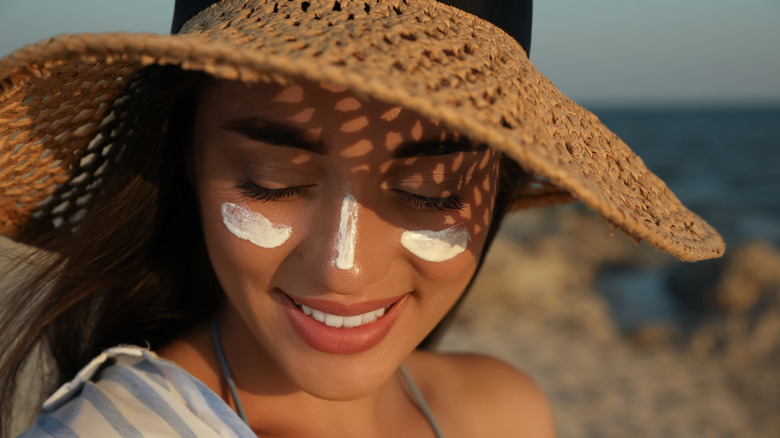 Liudmila Chernetska/Getty Images
Another tip for finding the best sunscreen involves looking for products that work well with oily skin types. Look for sunscreens that cater to oily, blemish-prone, and sensitive skin. Generally, this includes products with labels that read "oil control" or "mattifying." Sunscreen with mattifying ingredients feels lightweight on the skin, and as the day progresses, your sunscreen should not leave your skin greasy. SkinCeuticals' Physical Matte UV Defense SPF 50 sunscreen, for instance, contains aerated silica to control excess sebum production. This mineral sunscreen is perfect for oily or combination skin types as it also unclogs pores and reduces acne thanks to its non-comedogenic formula. However, many sunscreens designed for oily skin contain non-comedogenic ingredients; not all mineral sunscreens do, so checking the ingredient list before purchasing is essential. 
Advertisement
Those with acne scars or melasma should also choose sunscreen specifically formulated for oily skin to prevent further skin damage and hyperpigmentation. Look for a sunscreen with iron oxide as it prevents discoloration and reduces existing pigmentation, according to a 2020 study published in the Journal of Drugs in Dermatology.
Is powder sunscreen a better alternative?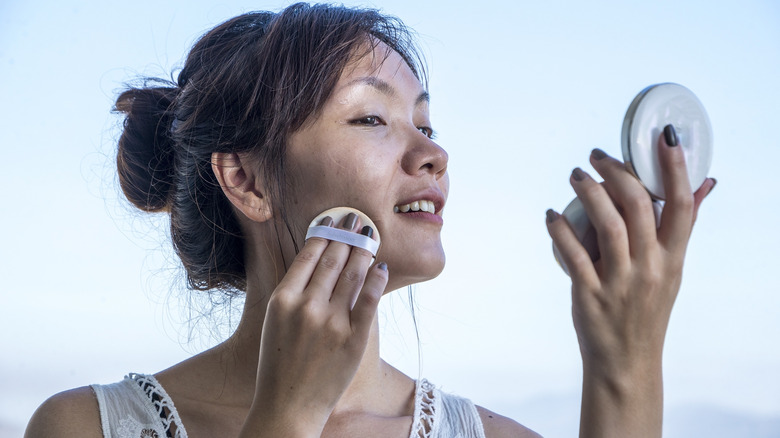 Supavadee butradee/Shutterstock
The short answer is no — but that isn't to say that powder sunscreen doesn't have its benefits. Powder sunscreens work well with oily and combination skin types as they mattify the skin, similar to powder foundations and setting powders. So, how do powder sunscreens compare to liquid sunscreen regarding effective sun protection? Unfortunately, standard sunscreen significantly outcompetes powder formulations. Powder sunscreen doesn't provide enough protection from UV damage as it fails to create an adequate barrier on the skin. The fine powder consistency also makes it easier to rub off throughout the day as it doesn't absorb into the skin.
Advertisement
You may also find that you end up using more products than required to receive equal sun protection as a regular liquid sunscreen with the same SPF value. And keep in mind that powders only tend to come in SPF 30 or lower. That said, powder sunscreen contains oil-absorbing properties, so it's less likely to clog your pores. Most powder sunscreens are mineral-based and non-comedogenic, so they pair well with oily, sensitive, and combination skin.
Don't forget to reapply and mattify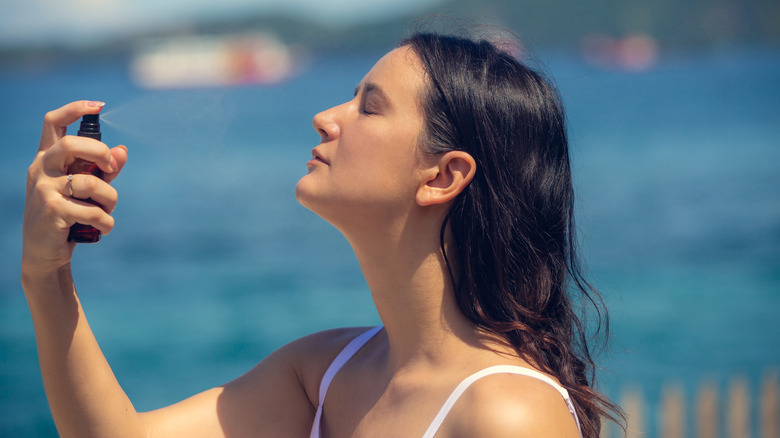 Space_Cat/Shutterstock
The key to maintaining your oily skin is touching up on the go. Your skin produces sebum during the day, so the best way to reduce shine is to absorb excess oil. Dabbing at your skin with blotting papers throughout the day usually does the job well. Or you can mattify your skin and reinforce sun protection by reapplying sunscreen. Applying liquid sunscreen on top of your makeup seems an impossible task, but this is where powder sunscreen takes the spotlight. Apply a powder sunscreen on top of your liquid sunscreen and makeup to reduce oiliness.
Advertisement
And if powder sunscreen isn't your vibe, consider Soleil Toujours' Set + Protect SPF Mist for lightweight sun protection. Thanks to the soothing cucumber and green tea extracts, you don't have to worry about a white cast or greasy skin with this spray formulation. Avoid sunscreen balms or sticks as they veer toward dewy instead of matte. Regardless of which formulation you prefer, it all comes down to selecting a sunscreen that defends your skin from sun damage without aggravating your oily skin.