Can You Use Calamine Lotion To Prime Oily Skin? Yes, But There Are Some Caveats
Calamine lotion is a common item that most people keep in a first aid kit, but it's found a new home in cosmetic bags. TikTok users made this product go viral because of its ability to mattify oily skin, creating a perfect base for makeup to last all day long. While it's effective at controlling shine, using it daily isn't the best idea. Calamine lotion treats rashes and insect bites, from chickenpox to mosquito bites. Beauty enthusiasts across TikTok claim that it's safe to use on the face because the label often states it's a soothing lotion. However, the ingredients can cause excessive dryness when it's used consistently.
Advertisement
Using calamine lotion is an easy process. First, users do their skincare routine. Then they apply a thin layer of the lotion with a makeup brush, avoiding their eyes and lips. Once it's dry, they apply their foundation and concealer as usual. Amrita from _skintobeauty recommends only using calamine lotion as a primer when doing makeup for a special event. Limiting your use is better for your skin, but leaving this product in your first aid kit is the best option.
It works as a mattifying primer but will harm your skin
You may feel tempted to try using calamine lotion as a primer. Not only does it soak up oil before it has a chance to ruin your makeup look, but it only costs a few dollars for a bottle. Unfortunately, this viral hack is too good to be true because using it will ruin your complexion over time. Calamine lotion contains zinc oxide and ferric oxide, which work to calm and absorb the oozing that weeps from irritated skin. They are also the main ingredients that remove grease from an oily complexion. Phenol is another ingredient. It's used as a preservative, but when it's on the face, it works as a chemical peel.
Advertisement
When you continue to use calamine lotion, your skin will begin to dry out. While this sounds good to people with oily complexions, it is only a short-term fix. This product is not meant for use beyond about seven days because it's so drying. It'll damage your skin barrier, making the skin on your face inflamed, flaky, itchy, and painful. Then, any acne you already have will worsen, and rosacea and eczema flare-ups will occur more often. Instead of risking these side effects for short-term gain, you should use makeup and skincare products formulated to fight oily skin safely.
A safe way to control oily skin under makeup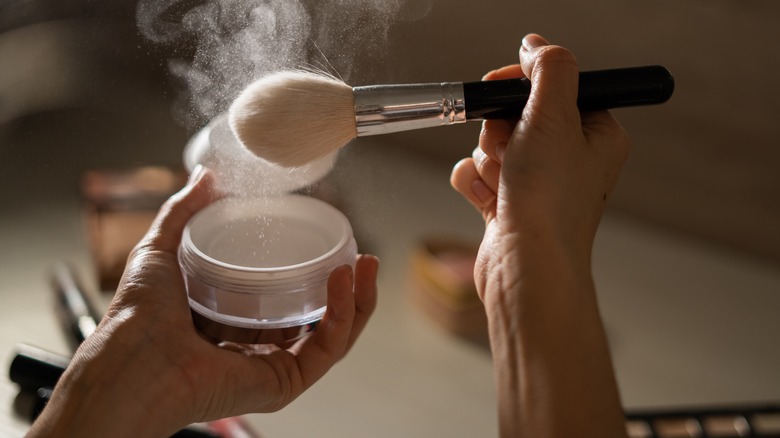 Lysenko Andrii/Shutterstock
Preventing oily skin from messing up your makeup look starts with your skincare routine. Before applying anything, you should always cleanse your face thoroughly. A gentle cleanser formulated for oily skin will give you the best results. Then, you don't want to skip moisturizer. Many believe it'll make their face greasier, but not adding moisture to a shiny complexion only worsens the problem. Double check that the label says oil-free and non-comedogenic so you know it won't clog your pores and cause breakouts, which are more common with oily skin.
Advertisement
Now you can move on to makeup: Instead of using calamine lotion, opt for a mattifying primer. This product is meant to go on your face and control oil. Apply the primer over your whole face, including your eyelids, because they can get greasy as well. The trick is to put on a thin layer of loose powder across your T-zone before your foundation. That way, if oil still shows through, it will be absorbed. Then, you can start applying your base. Powder products are your best friend, so consider switching to this type of foundation over liquid. You should also look for the words natural and matte finish to get an oil-free look. Once you've applied all your products, don't forget to seal them with powder and a matte setting spray.
Advertisement