The Malt Shop Bob Is The Most Retro Take On The Short Hair Renaissance
We might be living in 2023, but the trendsetters almost have us believing we are living in the 20th century — from fashion trends to hair trends, everything that's retro is now in.
Making a comeback with the wolf cut, the pixie, the bixie, and the blunt bobs, short hair has not gone uninfluenced by our obsession with the 1900s. So, now we have the malt shop bob, which is the most retro take on short hair.
Advertisement
We can all agree that blunt bobs are a bit boring, and they could definitely use some personality — the malt shop bob does just that. Adding that bit of excitement to your bob with flipped edges, the malt shop bob is a comeback of the 1960s short hair trend. The hair look gets its name from the "malt shops," which were a hallmark of the 1940s-1960s.
There are different styles for your malt shop bob that suit short hair of different lengths, all of which are pretty easy to achieve. 
The different styles it offers
The malt shop bob is versatile and flexible, so you can add your own flair to it — the only requirement is having short hair that is flipped at the ends. And, your flips are allowed to be of any size. You can have flips with a smaller curve or a more pronounced curve; it's totally up to you. Like other hairstyles, the malt shop bob is about having fun with your hair. Keeping the fun part in mind, try some accessories or add different styling elements. 
Advertisement
The malt shop bob with a headband is the classic, original look that gives off a very authentic 1960s vibe. You can even substitute the headband with a scarf. In terms of flip, a more obvious, curvier flip completes the look.
The slicked-back malt bob is very chic. It's a combination of today's clean look with retro vibes from the past. Having a smaller and less obvious flip makes the look more seamless and sophisticated.
If you don't like your hair styled back, you can try the malt shop bob with a side part or a middle part. Wearing it this way is still very retro as long as you manage to get those edges flipped.
For short hair
When other hairstyles frown upon short hair, the malt shop bob smiles upon it — it's that one style that'll never let your short hair down. And, if you want to achieve a retro yet fresh hairstyle that sets you apart, then the malt shop bob is the way to go.
Advertisement
If you have short hair that is straight and even, the chances are you are lacking in the volume department. Luckily the malt shop bob with its flipped edges creates the illusion of volume. So, while you're looking retro you can also hide your volume problems.
Apart from volume trouble, short hair also struggles with styling options. If you are going out with your hair down, you're not really left with a lot of options on how to style it. The malt shop bob allows you to style your short hair in a fun and interesting way. So, now you don't always have to settle for straightening or curling your hair — you can have a bit of both.
For even the shortest hair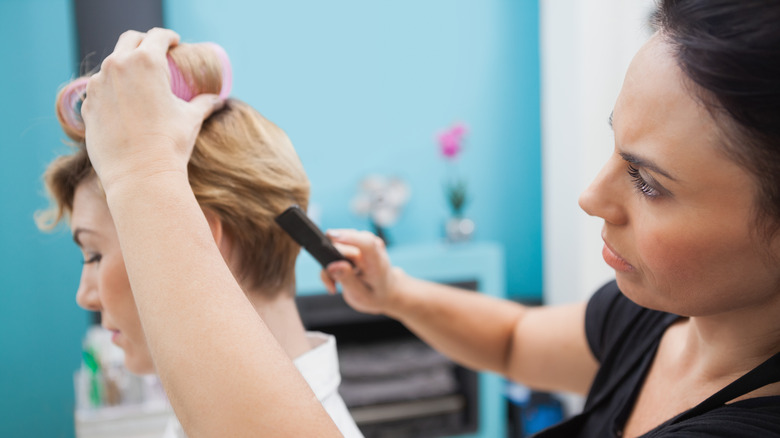 Wavebreakmedia/Getty Images
If you don't really have a "bob," or if you're rocking a pixie cut, the malt shop hairdo is still not out of bounds.
For your pixie haircut, you can incorporate the flipped edges of the malt shop bob hairstyle. This is a fresh take on the hairstyle, and it will give you that retro aesthetic with a bit of modernity. To achieve this look, you'll have to use a lot of hairspray and gel to transform your pixie cut into a bob. The hair at the front can be slicked back, and the ends of your hair that are touching your neck should be curled. Make the curl as big as possible so it resembles an obvious malt shop bob.
Advertisement
Conventionally, according to the prototype of the style, the malt shop bob hasn't typically been a style for those with pixie cuts or very short hair, but there is no harm in giving it a try.
Why the malt shop bob?
The malt shop bob does so much for your face in terms of structure and balance. The flipped edges that are moving away from your neck will give your accessories more room to shine, while also keeping your hair away from your necklace.
Advertisement
The style also helps accentuate your face. The movement away from your face shows your jawline and face structure better, so if you're looking for a hairstyle that doesn't drown your face out or simply keeps your hair away from your face, you'll be quite happy trying out the malt shop bob. The style is also perfect for those who are tired of always wearing their hair up.
How to style your hair into the malt shop bob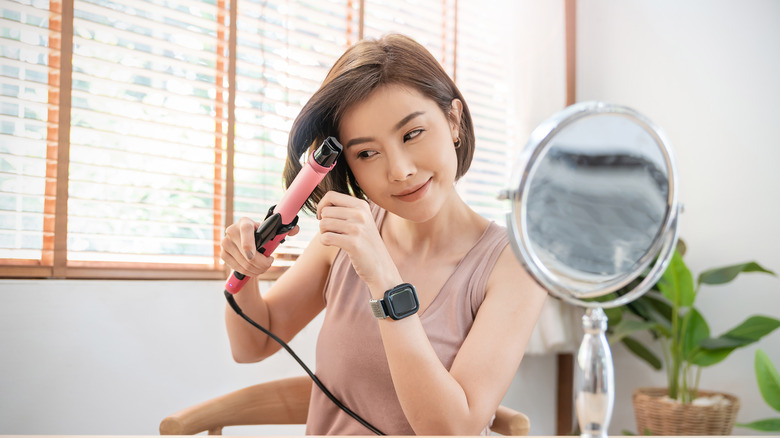 paulaphoto/Shutterstock
This style of bob is easy, fun, cheap, and quick. You are only going to need a heat tool, and the rest is all about technique. But, depending on the kind of bob you're going for, you might need hair spray, hair gel, and a hair band.
Advertisement
For the basic malt shop bob, start by straightening your hair. As you are reaching the end of the lock of hair, twist your hair straighter in the shape you want your flipped-out edges to be, and trace the outline of the curve. You can also attempt this with a blow dryer, you just have to twist your hairbrush. Make sure to apply hair spray to help your hair retain the flipped-out shape.
If you want the side-parted or middle-parted bob, start off by making the part so your bob and edges look more balanced. And, if you are going with a slicked-back bob, comb your hair back, and apply hair gel or hair spray to tame those flyaways. You can accessorize the slicked-back look with a hairband.
Whether it be for a 1960s-themed party, or you just want to have fun with your short hair, the malt shop bob is definitely a very retro way to go about it.
Advertisement