The Viral 'M Lips' Hack That Creates A Full, Luscious Lip Look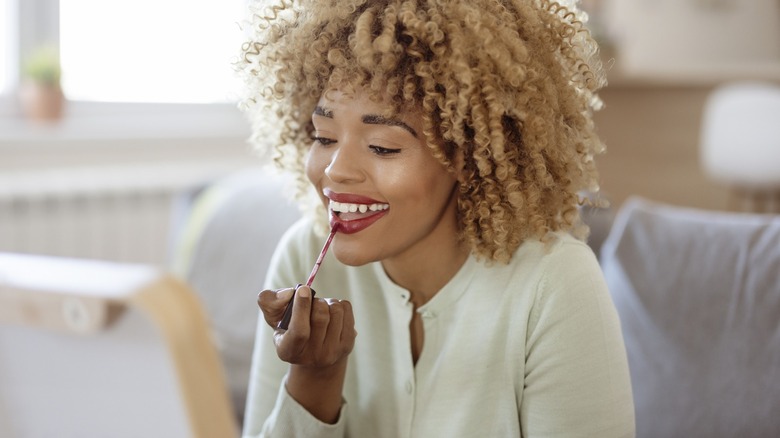 Pixelseffect/Getty
We all love a juicy, well-defined lip, but the days of aggressively overlining our lips are done. Overlining your lips may give you a lip filler vibe at a distance, but up close it appears more like you did your lip makeup without looking in a mirror. Fortunately, there's a more reliable way to plump up your lips that will leave you looking fabulous from every angle.
Rather than focusing on the edges, the key to a fashionably luscious pout is carefully applying product to the center of your lips and blurring it out, creating a voluminous, hydrated look. There are various strategies for achieving the aesthetic of smudged lollipop lips, but one of the best and easiest options is the "M lips" hack.
The M lips hack is a sultry makeup look that comes straight from Xiaohongshu. For those not in the know, Xiaohongshu is an immensely popular Chinese social media platform (sometimes called Chinese Instagram) and the birthplace of many of the viral beauty trends we all love. The M lips hack is exactly what it sounds like — the method has you drawing an M shape on the center of your lips. It may sound a tad goofy, but this beauty hack is a guaranteed way to achieve full, sexy lips with a bright pop of color. 
The secret of the 'M lips' hack
You can find a multitude of M lip tutorials on Xiahongshu, but here are the basics for pulling off this plump lips makeup hack. Begin by lightly applying foundation as a base for your lips. You don't need to make your lips fully disappear, but a thin layer of foundation will even out the tone and give you more contrast when you apply a lip color. For your lip product, you'll want a liquid or glossy formula with a sheer to medium tint. Using an applicator wand or small lip brush, draw a small M on the center of your lips with the color of your choice. This should be a very horizontal, squished M, with the top of the letter extending no further than the midpoint of the upper lip, and the bottom barely reaching into the lower lip.
Next, draw a vertical line down the middle of your lower lip, and another line tracing the bottom edge of the lower lip. For the best plumping effect, you should also put a dot of color at your cupid's bow (the indentation at the top of your upper lip). Finally, use a small makeup brush to blend out the color, keeping most of the product concentrated at those application points, but still buffing it out enough that your entire lips have a sheer tint of color. If you like your lips extra dewy, complete the look with a clear gloss or lip oil.
Tips to perfect the M lips look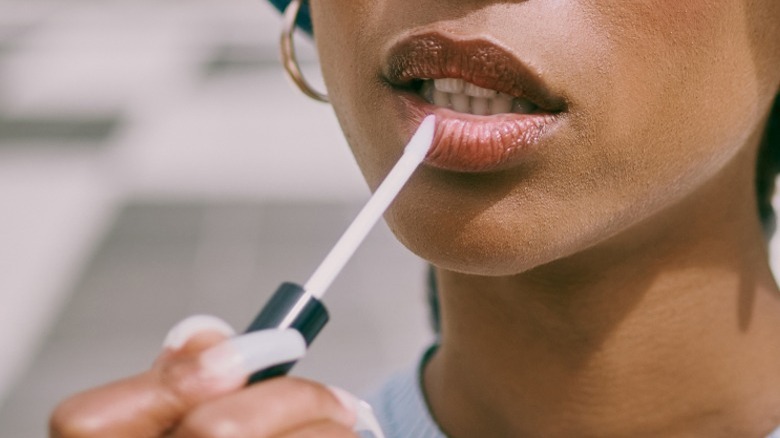 Delmaine Donson/Getty
Since this technique uses minimal makeup application, getting the perfect M lips look relies on starting with a clean base and using the right products. Use a gentle, nourishing scrub to exfoliate your lips. In addition to fixing chapped lips, massaging your lips with a scrub can also help with circulation and give your lips a full, flushed look before you even apply any makeup. 
Smooth, clean lips put you in an ideal starting place for the M lips technique, but you will still need the proper liquid lip color if you want a juicy, glowing pout. Stay away from thick liquid lipsticks, as well as anything with a matte finish. Lip tints or stains are your best option, as these will give you lasting color but a lighter, just-kissed aesthetic.
Finally, put some thought into your top coat. A clear gloss will make your lips extra juicy and sensual. For a more natural finish, consider a balm. Lip balms will keep your pout soft while minimizing color transfer. You can also opt for a trendy happy medium between a gloss and balm: lip oil. Lip oils bring shine without the stickiness, and have nourishing ingredients like lip balms, which is great for maintaining the luscious, hydrated look of M lips. The M lips method shows how much you can do with minimal makeup, so give this hack a try if you want lightweight, hassle-free plump lips.