Nail Concealer Is A Thing, And It Makes Your Manicure So Much Smoother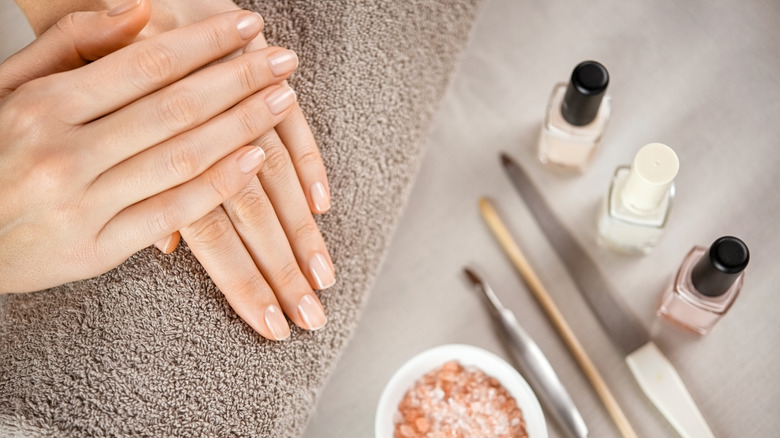 Ground Picture/Shutterstock
A manicure can make you look great and add that perfect finishing touch to your look. It can also make you feel amazing and more put together. To achieve this, have you ever found yourself wanting a nail polish that not only puts a great color on your nail beds but also eases imperfections and makes your fingers look flawless? Put like that, it almost sounds too good to be true, but lo and behold, such a product does exist! 
Advertisement
Nail concealer is the holy grail that will fix any sharp edges, add a smooth gloss over your nail beds, and neutralize any discoloration. It's basically a quick-fix shortcut to the perfect manicure with just one brush. As you might have guessed by the name, it works like a regular concealer in that it mainly hides imperfections rather than eliminates them. We're sure you've got a ton of questions, and we're here to clear all your doubts. 
How does it work?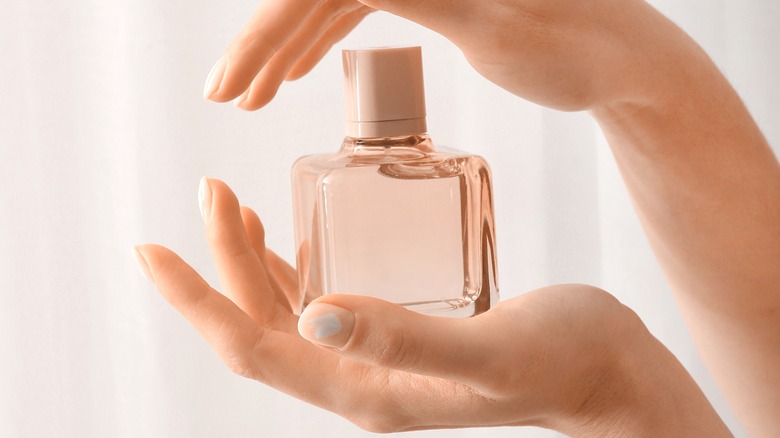 Pixel-Shot/Shutterstock
Speaking to Byrdie, celebrity nail artist Gina Eppolito confirmed that nail concealer is just like the one you use on your face: "Nail concealer is a one-and-done application to achieve the illusion of perfectly natural nails." The product, which is most often seen in nude tones, not only takes care of flaws instantly but actually works to repair some of the damage and prevent more from occurring, too. Nail concealers are typically composed of ingredients that work actively to make stronger and healthier nails. The popular Kur Illuminating Nail Concealer by Londontown, for example, contains silica. This makes sure your nails are able to resist any damage that may come their way. 
Advertisement
Nail artist Syreeta Aaron pointed out to the outlet that she often uses nail concealer to help clients "transitioning back to natural nails" after they've had ongoing harsh salon manicures, like gel nails. We think that's a great tip, especially considering how often nails are damaged from nail applications such as acrylic or dip-powder.
Getting the best out of nail concealer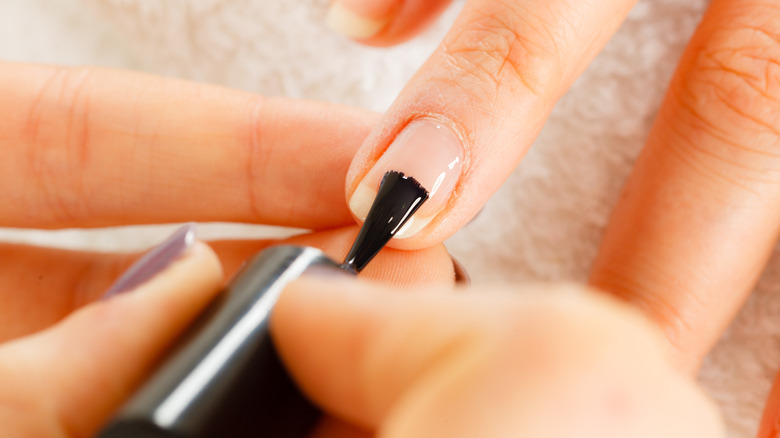 Anetlanda/Shutterstock
Using your nail concealer is pretty straightforward. You really just have to apply a coat of the product, the same way you would apply regular nail polish, onto your nail beds. You can add a top coat to make it last longer, but of course, this step is optional as there's not the risk of obvious chipping the way there is with regular nail polish. 
Advertisement
Last but certainly not least, it's also very important that you take proper care of your nails to have them look the best they can. The American Academy of Dermatology Association notes that you should always take care to keep your nails clean and dry while making sure you file them with an emery board to keep them free of ridges or imperfect edges. The website also mentions that nails should not be bitten or used to open cans or as a tool, as this can cause damage to your nail bed which may result in unsightly breakage or discoloration.