Fancy Flip-Flops Are The Simple Hack To Elevate Your Summer Outfits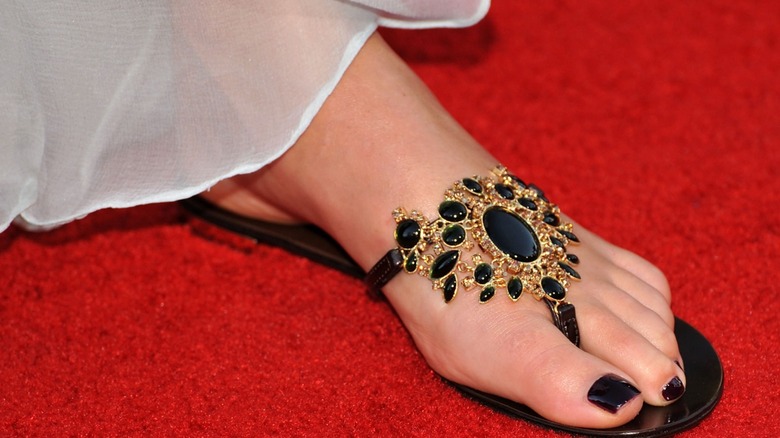 Lester Cohen/Getty Images
We may receive a commission on purchases made from links.
Are you looking for a way to add some pizzazz to your summer outfits while letting your feet breathe and keeping the summer vibes? Then, you need a pair — or many pairs — of fancy flip-flops. Stylish flip-flops will never be as fancy as heels, but dressier-than-traditional flip-flops are still excellent options for daytime looks if you want to add more excitement. Fashion enthusiasts are recognizing the advantages of fashion-forward flip-flops in 2023, as glamorous sandals and the always-popular flip-flops are trendy. "Customers [are] opting for both glamorous flat styles in the daytime to wear with day dresses/denim and also statement heels for evening occasions," Liane Wiggins, head of womenswear at Matchesfashion, told The Zoe Report.
Advertisement
If you have a basic, solid-color sundress or denim skirt in your wardrobe that you want to elevate with fun, semi-fancy-but-not-too-formal footwear, a gorgeous pair of flip-flops can be the perfect detail to add to your outfit. These shoes are so helpful when styling summer day ensembles that the look will likely be worth any potential flip-flop foot pain.
Have fun with fancy flip-flops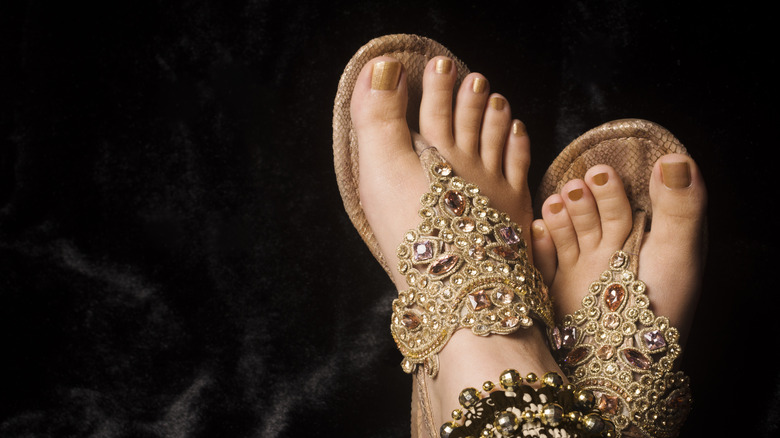 Baiajaku/Getty Images
A prominent reason we enjoy fancy flip-flops is that they're just, well, fun. Traditionally casual, flip-flops are low-pressure footwear options that are cute to experiment with for various summer looks. If you have a creative side and don't want to spend too much money, you can glam up a typical pair of flip-flops at home. For instance, TikTok user @emilia_lilyy posted a video adding sparkly and floral details to white flip-flops that she bought for only $1, explaining in the caption that her bridesmaids will be wearing those embellished flip-flops. Such a fun idea!
Advertisement
On the other hand, it's also exciting to splurge on a pair of fancy designer flip-flops; we all deserve to treat ourselves, don't we? TikTok user @lindseyisfit shared a video unboxing a chic pair of Christian Louboutin flip-flops, and we could certainly imagine those designer flip-flops elevating every summer outfit in our wardrobes. Whether you treat yourself to a designer pair of flip-flops or get creative and embellish a pair of cheap flip-flops, these pieces are excellent for your summer style.
Check out these fancy flip-flops
You don't have to invest in Louboutins or have an artsy side to enjoy the glamorous flip-flop look. You can find a plethora of fashionable flip-flops online, as there are various options of stylish flip-flops you'll want to wear all summer long. For instance, if you want a sparkly look, check out the Hinyyrin Rhinestone Flip-Flop Jeweled Sandals, available for less than $40 on Amazon. With rubber soles, these flip-flops feature dazzling rhinestone details which add a glamorous touch to any summer look, and, at time of publication, the 5,000+ reviews rated them an average of 4.3 out of 5 stars.
Advertisement
Moreover, if you like sparkles and playful bow designs, you should consider the Melissa Harmonic Sweet VII Flip-Flop, available for about $70 at Nordstrom. Made in Brazil with some sustainably sourced materials, these adorable flip-flops are water-resistant and received an average rating of 4.5 stars at the time of writing. One pleased reviewer even wrote, "This is the BEST pair of flip flops! Just like the headline! I'm gonna buy every color!" Furthermore, if you want a hint of glitter but nothing too over-the-top, check out the best-selling Slim Glitter II Flip-Flop, available for just under $40 at Revolve. These sleek flip-flops have sparkly slim straps and received all 5-star ratings and a 100% recommendation rate at the time of writing.
Advertisement