The String Bikini Is Officially Back - Here's How To Make The Risky Trend Realistic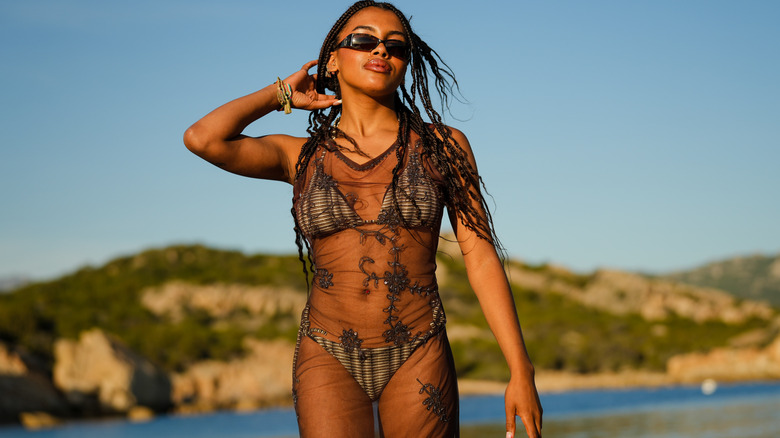 Edward Berthelot/Getty Images
Between beach trips, pool parties, and sunny photo shoots, we love swimsuit season. But before you read up on how to master the art of the bathing suit beach pic, you'll need to make sure you have some stylish swimsuits and start shopping if you don't think any of your old bathing suits are Instagram-worthy. There are many swimsuit options to explore; one-pieces are practical and can be fashionable, but bikinis are so much fun and always scream summer with their sexy, skin-showing designs. We can never resist the desire to flaunt a bikini on a scorching summer day!
Bikinis are available in multiple styles, from corset-inspired options to strapless looks, and, in 2023, one of the summer's hottest swimwear trends is the provocative string bikini. We see more than 50,000 posts dedicated to #stringbikini on Instagram at the time of writing, as people love flaunting these hotter-than-the-sun stringy bikinis. We know it can feel daunting to show so much skin, but we have some advice to help you feel more comfortable in these skimpy bikinis.
Be confident first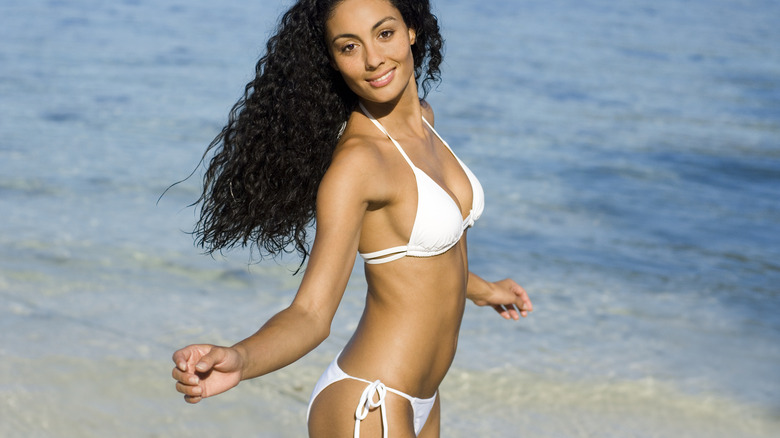 Altrendo Images/Shutterstock
Before worrying about a bikini's style, fit, hue, or any other detail, you must ensure you have a confident mindset. When showing so much skin, focus on feeling good about your beautiful body without caring what other people think, how many likes your bikini post might get on Instagram, or a number on a scale. Don't worry about whether you look like the model in the bikini ad or on the brand's website — just focus on feeling good in what you wear. You might start by searching for the best size-inclusive swimwear brands to shop.
Make sure it fits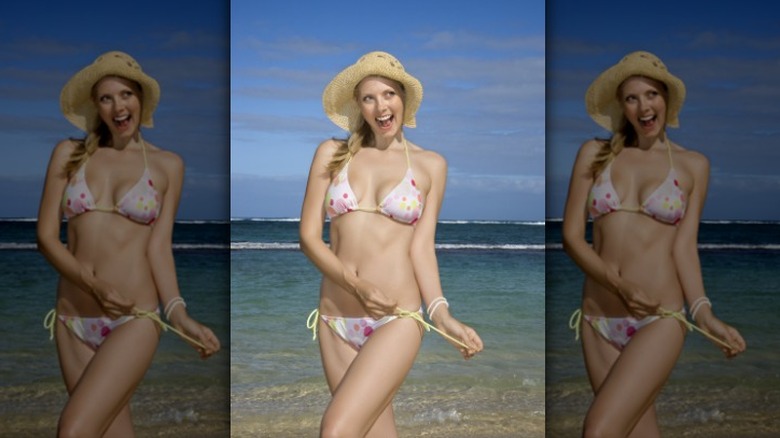 Iofoto/Getty Images
While confidence is a crucial first step in choosing a string bikini, you should also ensure the garments you select fit your body well. We're not saying you should analyze whether the bikini flatters every aspect of your body. We mean that string bikinis don't provide a lot of coverage, so if you choose one that's too loose or tight, you'll likely encounter a wardrobe malfunction. Nothing will ruin a beach or pool day more than your bikini breaking or falling off in front of everyone.
Consider where you'll wear it
If you plan to attend a public pool with very young children around or a family beach day where your grandparents and baby cousins will be, a string bikini might not be the most appropriate choice for the setting. If you plan on going deep in the ocean waves, you might not want to trust a string bikini. But if you're embarking on a girls' trip, attending an adults-only pool, having a fun photo shoot, or going on a summery date, rock that string bikini!
Choose a flattering color you like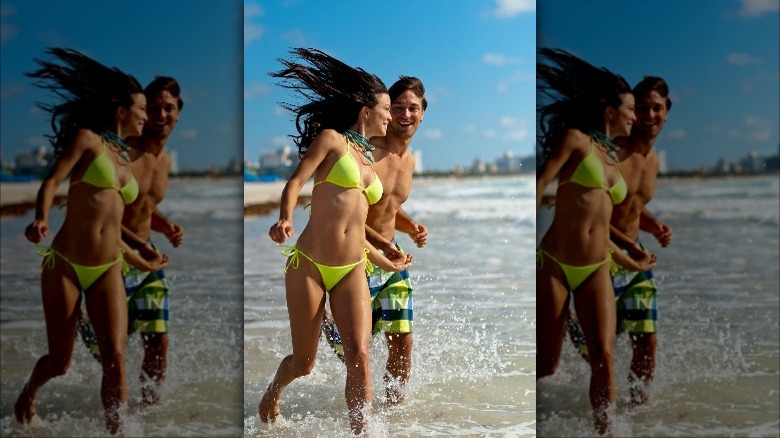 EHStockphoto/Shutterstock
One way to feel more confident in a string bikini is to wear your favorite color. For example, if vibrant yellow boosts your mood and makes you happy, flaunt a bright yellow string bikini to increase your confidence. On the other hand, some people feel most comfortable in practical neutrals such as black and white, so if you feel most comfortable in neutral hues, there's nothing wrong with keeping it classic.
Take inspiration from celebrities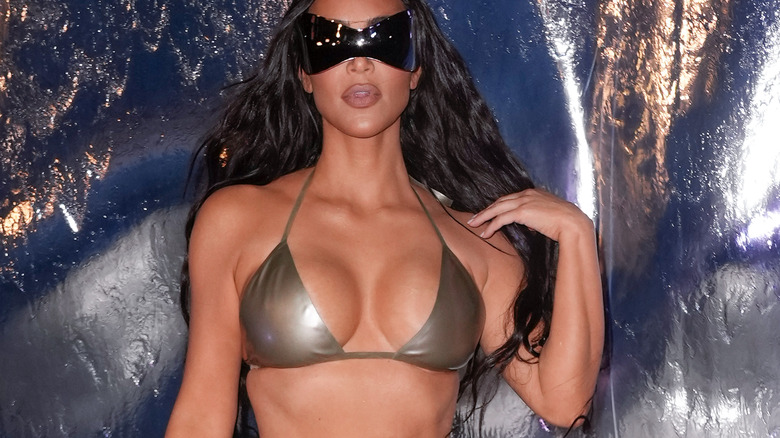 J. Lee/Getty Images
Anyone who wants inspiration regarding different string bikini styles should look to their favorite celebrities rocking these swimsuits, such as Kim Kardashian, Irina Shayk, or the "Bachelor in Paradise" stars. But, by saying to take inspiration from these famous people, we never mean compare yourself to them. It's fun to look at what your favorite celebrities are wearing to get ideas of what looks are trending, but don't ever compare your body to theirs. Famous people typically have heavily edited pictures, personal trainers, and professional photographers, so don't even think about comparing your looks to theirs.
Ease yourself into the look
If you're curious about experimenting with string bikinis but don't feel ready to commit to wearing a stringy bikini top and bottom for a sexy ensemble that leaves little to the imagination, start with just a string top or bottom instead of both in one look. For instance, try a triangle bikini top with shorts-style bottoms for balance or string bikini bottoms with a top that provides more coverage. Easing into the design should help you eventually feel ready to rock a complete string bikini ensemble.
Wear or bring a cover-up
One last realistic approach to wearing a string bikini is to wear a cover-up over it or at least have one packed in your beach or pool bag and ready to put on if you need it. A cover-up will be convenient and come to the rescue if you get cold, experience a wardrobe malfunction, or find yourself in a setting that ends up significantly more modest than anticipated.