The Beauty Sponge Hack That Will Ensure You Never Forget To Reapply SPF Over Makeup Again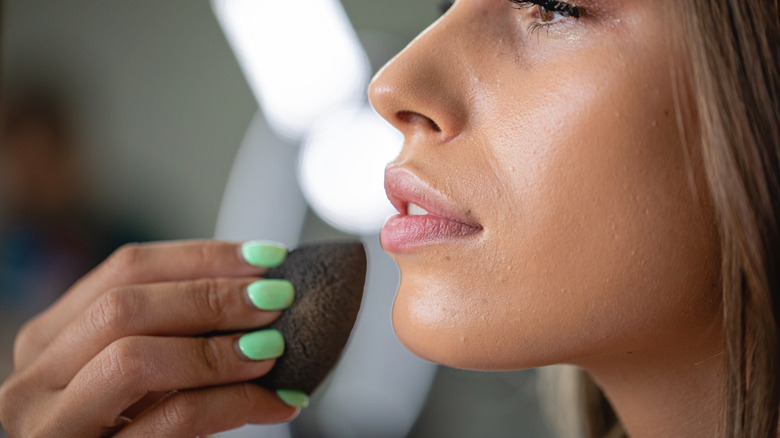 Fluxfactory/Getty Images
We may receive a commission on purchases made from links.
Let's face it, there have been plenty of times when you've forgotten to put reapply SPF after applying your makeup. You may not have wanted to smudge it, so you didn't bother to reapply it, or maybe you didn't remember to bring your SPF with you. However, not wearing sunscreen is more dangerous than having smudged makeup. After all, sunscreen helps prevent our skin from getting sunburned by UV rays and lowers our risk of skin cancer. Even if the sun isn't completely out, a cloudy sky can still cause damage to your skin (via Dignity Health). With this in mind, you'll always want to reapply SPF in your skincare routine, even if you're all glammed up.
Luckily, TikTok has come up with a new, foolproof way to reapply your SPF, this way you never forget or smudge your look. So, there's no need to choose between your flawless makeup application or SPF coverage because all you need is a clean beauty sponge to get ample protection.
How to reapply SPF over your makeup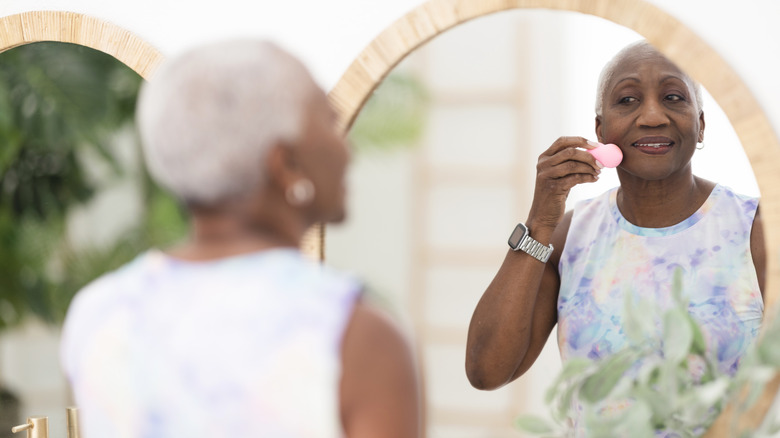 Vitapix/Getty Images
After doing her makeup, Kamille Gregory demonstrated how she successfully placed sunscreen onto a dry beauty sponge and dotted it along her face via TikTok. Keep in mind, Gregory did not directly apply the sunscreen on her face. Not only did the beauty blender not smudge her makeup, but it proves that it's possible to always be shielded from the sun, even after you've applied makeup. Variations of this hack have already made the rounds on social media, with others, like Dr. Michelle Wong, opting for a cushioned puff instead. However, whether you use a puff or sponge, the trick is using a tool that places the sunscreen exactly where you need it.
Although this trick seems simple, you need to consider how much product you are applying. Like any sunscreen application, you need to apply ample sunscreen to your face to get enough coverage. It's not enough to apply a thin layer in only some sections of the face. Therefore, use a significant amount of sunscreen and apply it all over the face, neck, and ears for the best protection against UV rays. Luckily, a beauty sponge isn't the only way to reapply sunscreen after a long time.
More ways to reapply sunscreen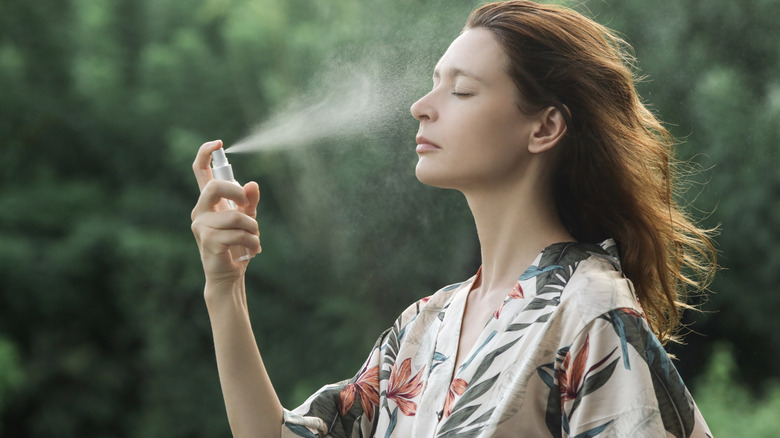 triocean/Shutterstock
Whether you applied sunscreen before or after your makeup, you still need to reapply after two hours, as per Renée Rouleau. So, if you've been out in the sun for a few hours, it's likely your sun protection is gone, and you need more coverage. While using your beauty sponge again is a good way of reapplying sunscreen, there are other ways you can refuel on SPF. A quick and easy way of reapplying SPF can be a travel-sized SPF setting spray you can take anywhere. While SPF spray isn't as shielding as lotion, it's better than not wearing any protection. Not only will an SPF setting spray give your makeup a refresh, but it will also protect you from UV rays, at least until you can get your hands on some SPF lotion. That being said, apply a significant amount of spray as they are known for having sparse coverage.
Another product that can help you with your reapplication is a powder sunscreen. These products tend to be on the pricier side, with some going for around $70 for one via Amazon, but they can be the perfect mix of sun protection and makeup. A powder sunscreen can also help remove some of that extra shine you may have after being out for a few hours. Although more costly than a beauty sponge, it's a great alternative if you find yourself out for various hours and in need of SPF.