How 'Dad Sneakers' Became The Style Du Jour Among The Most Fashionable
Times have definitely changed. Fashion now encourages you to look like your dad, meaning it's time to raid your father's closet and find yourself some chunky shoes.
The trend of "ugly shoes" or, if we were to address it more gently, the trend of "chunky shoes," has been around since 2018 — and it's not going away. With celebrities showing us how to style them and influencers following suit, consider us completely hooked on this fashion trend that embraces retro vibes. So, look at us here in 2023, absolutely loving the chunky, basketball aesthetic on our feet.
Our dads were right all along: comfort can be stylish. That makes the "dad sneaker" a great way to debunk the idea that fashion means pain. And not just celebrities and influencers, but runway models and countless Pinterest posts have shown us the ins and outs of styling "dad sneakers" so you have no reason to question their fashionability. 
The how and why of ugly shoes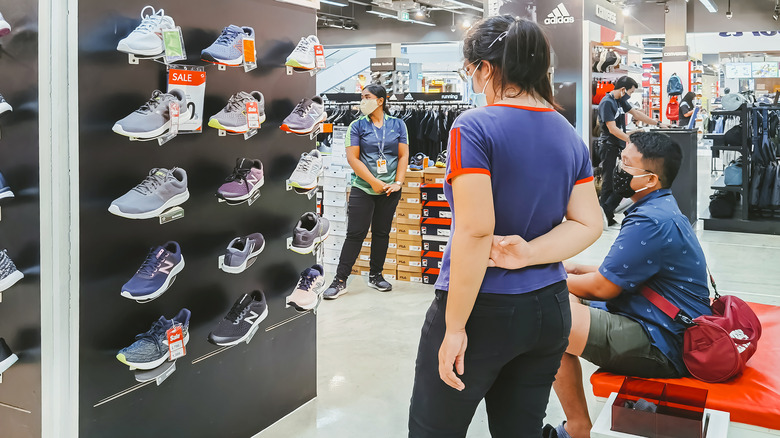 Nach-Noth/Shutterstock
Why are they deemed the "ugly shoes" and, with such a reputation, why are they flying off the shelves of stores? It all involves setting a trend and convincing the right people to follow it.
Drawing from the dads of the 80s and 90s, the fashion world hit on the retro aesthetic of "dad sneakers," hence the trend was set and now we are here. But what about them is actually "ugly"? First off, fashion and beauty are highly subjective, so it's more accurate to deem these shoes "controversial" than ugly. Still, many people were quick to point out that dad sneakers were just a horribly done Pinterest trend — and a trend that needs to end. 
But, it's too late. "Ugly," "controversial," whatever anyone calls them, dad sneakers are hot, and now everyone seems to be hopping on the trend — and enjoying the comfort these shoes offer.
Comfort and fashion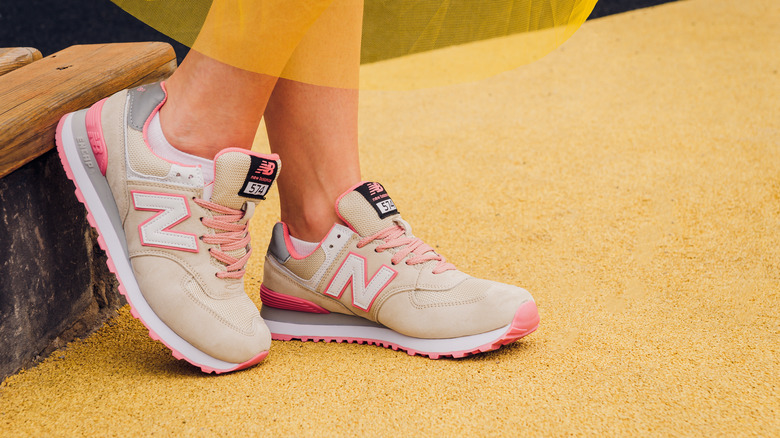 Dudaeva/Shutterstock
For the longest time in fashion history, we have prioritized looking good over being at ease. Standing on the other end of the spectrum from dad sneakers are high heels. At first, we found that it was okay to replace the occasional high heel with a pair of sneakers. It provided an edgy look and everyone dug it. This look evolved and in place of clean, sleek-looking sneakers we have the dad sneakers.
Where exactly does the support component come in with dad sneakers? The archness of the sole and the overall chunkiness of the shoe make it a brilliant choice of footwear for anyone who's on their feet all day.  These features also make it the ultimate go-to comfort footwear. Slip on and lace up a pair, and you will not only look trendy stylistically but will also be leading a backache-free life. And that proves once and for all — or is it yet again? — that our dads were really way ahead of their time.
Women and chunky shoes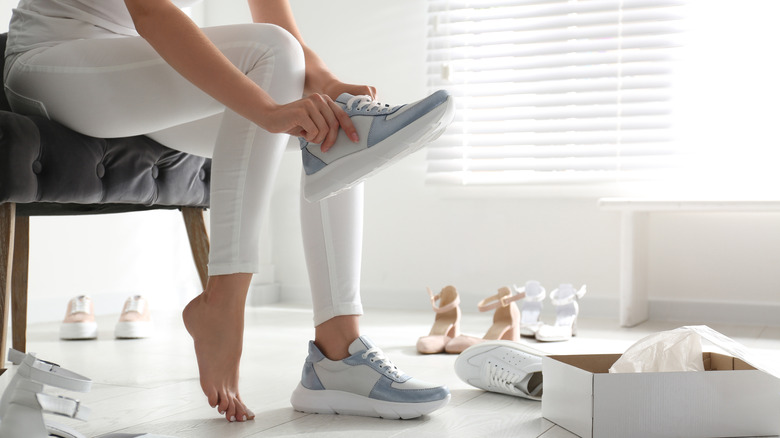 New Africa/Shutterstock
Dad sneakers are a unisex fashion trend. By opting for a pair of dad sneakers, women are choosing easier mobility and support over the restraints of torturous high heels. It is also one of the very few fashion trends that does not require fitting into a certain body or beauty standard. Anyone and everyone of any size or form can hop on the trend and have fun, making it a healthy trend.
Despite its name, the dad sneaker has become a trend that's more in tune with women's fashion choices. The absurdity of pairing chunky shoes with suits has worn off. In fact, the chicness of the choice is highly admired. Long gone are the days of women carrying their sneakers in bags while their toes stay pinched all day. The thumbs up on the chunky shoe trend has women stashing the heels in the closet for now in favor of something more casual and comfortable — without feeling sorry about doing so, marking the trend as part of the feminist movement.
Celebrity endorsements
From partnering up with designers to adding dad sneakers to their wardrobe to rocking them out on the runway, celebrities are to be credited for dad sneakers becoming the style du jour.
Chunky shoes emerged as a fashion standard after we witnessed them on the feet of famously fashionable celebrities: Kendall Jenner, Hailey Baldwin, Bella Hadid, and Kim Kardashian. Not only have they been spotted sporting a pair but the shoes have made it to their social media, hence setting in stone once and for all, the trend of dad sneakers.
When it comes to celebrity endorsements, it doesn't stop there. Stylists have incorporated dad sneakers into their runway designs, and celebrities are joining hands with them to be a part of the creative process. For example, Cardi B's partnership with Reebok encourages her large following to seek out dad sneakers. We also have the Yeezy Season 5's to add to the list of celebrity-inspired "dad-wear." In more recent years, we saw Kanye West release several more versions of the Yeezy's that scream chunky — this includes the Adidas Yeezy Boost 700 MNVN.
Styling your dad sneakers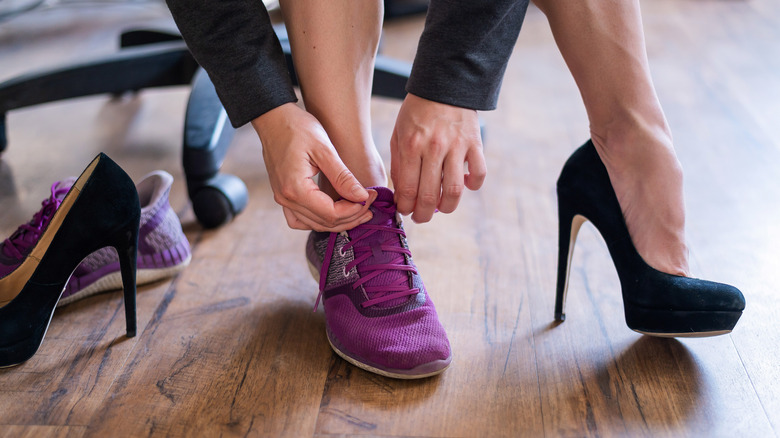 Reshetnikov_art/Shutterstock
Dad sneakers can be styled with anything — if you know how to go about it. They can be a part of your everyday look, paired with a pair of jeans and a t-shirt. And those jeans can be of the straight, cuffed, or loosely fitted variety. Apart from complementing casual attire, dad sneakers add that extra bit of personality to your fancy dresses and "going-out" outfits. So, the next time you feel like heels are too boring, try the chunky shoe option.
Another fun aspect of dad sneakers is that they come in a lot of colors. While some color matches might seem out of place, the go-to color for dad sneakers is white. Really, you can't go wrong with a pair of white shoes. If you choose to go bold, make sure the colors in your fit don't clash. Considering, the "sandwiching method," which entails matching the color of your top and the color of your sneakers.