NYX Cosmetics' Pride Month Campaign Counters LGBTQ+ Bullying Online (& Beyond)
Every June, we see many brands showing their support for the LGBTQ+ community during Pride Month, but, at least most of the time, the support doesn't extend beyond this month. However, NYX Cosmetics believes Pride should be celebrated all year. In 2020, the brand began a partnership with the Los Angeles LGBT Center to create its Proud Allies for All initiative, promoting strong allyship and inclusivity. Since then, NYX has since donated over $500,000 globally to charities that provide resources and support to the LGBTQ+ community.
NYX highlights a specific group within the LGBTQ+ community each year and amplifies these voices through the power of makeup. This year, the brand is highlighting LGBTQ+ gamers with its Game Out Loud makeup campaign, which aims to spread awareness for safer online gaming spaces. According to NYX Cosmetics, "64% of LGBTQ+ gamers have been harassed online." Many people look to online gaming communities for a sense of community, but when they face bullying and harassment, it can become hard to feel like they belong. This is ultimately why NYX is creating inclusive spaces in the video game realm for LGBTQ+ gamers, as well as educational opportunities for allies who want to show their support. 
The Game Out Loud Campaign
The Game Out Loud campaign is highlighting five LGBTQ+ gamers and Twitch streamers, namely featuring Brian Diaz, Frederic Chen, Lilly Teel, Martin Corona, and a gamer known as Glitch. Furthermore, each gamer gets to show off makeup looks inspired by their favorite games. On NYX's website, you can find each product the gamers are wearing, as well as read about how makeup inspires them in both real life and gaming. "[Makeup] It's a way to create a fantasy. And I think gaming is the same way. I can be who I want. No one else is picking for me," Teel tells NYX. The gamers will be hosting live streams that aim to educate people about the LGBTQ+ community and promote inclusivity and allyship.
During Pride month, gamers can access the virtual House of NYX Professional Makeup in iHeartland when playing "Roblox." Non-playable characters (NPCs) in the game will encourage players to pledge allyship, and doing so earns the player an ally badge in the game. NYX also provides an allyship training quiz that allows people to learn about various LGBTQ+ topics and how to be an ally to the community. Completing the quiz gives customers a certificate of allyship and a 25% discount on their next NYX purchase.
NYX Cosmetics' focus on allyship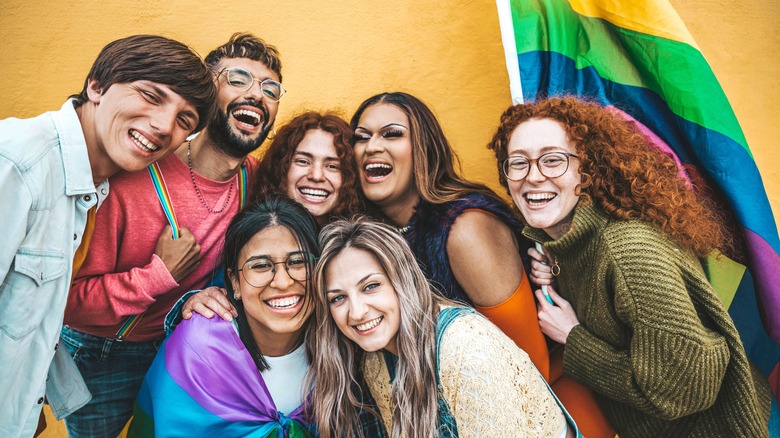 DavideAngelini/Shutterstock
For a lot of brands, advocacy often looks like selling products with rainbows on them, but NYX appears to go above and beyond for their LGBTQ+ customers by focusing on allyship and education. "Our longstanding allyship to the LGBTQIA+ community is a major pillar of our brand values. NYX Professional Makeup stands for artistry for all and proudly advocates for the community's freedom of expression online and offline," says Nicolas Vissat, the assistant vice president of U.S. marketing at NYX (via Beauty Matter). 
An ally is someone outside of a marginalized group who shows their support in several ways, like using supporting someone after they come out, donating to organizations, and standing up against homophobia and transphobia. Allyship is incredibly important for the LBGTQ+ community, and NYX understands this. Through NYX's Proud Allies for All initiative, NYX has provided allyship training to over 10,000 people. If you're looking for ways to support the LGBTQ+ community as an ally, partaking in the Game Out Loud Campaign might be one small step that speaks to you — and makes a difference.